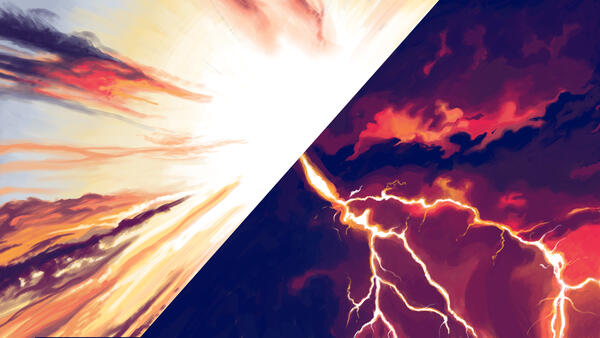 How to Suffer as a Christian
Live Your Hope
Over the last several Sundays, Pastor Jim has been preaching from the book of 1 Peter on living out our hope.
We have learned that no matter what is going on around us, regardless of the state of the world or the circumstances of our individual lives, our focus needs to be on Jesus. He alone can provide the inner strength and hope that is needed when we look around and everything seems to be falling apart.
It is imperative that we maintain our connection to Jesus through prayer and time spent in His Word. This is the "Abide" that we so often speak about. He is our life in the midst all the craziness. He is the vine that we must stay connected to in order for us to stay alive and not wither and dry up like a dead branch of a tree.
This Sunday, Pastor Jim will be preaching on how to suffer as a Christian. This is so important for all of us to learn and understand as God's Church comes more & more under attack.
Please join us this Sunday in the parking lot for Drive-In Church or online on Facebook Live at 9:30 AM.
Sunday Following Church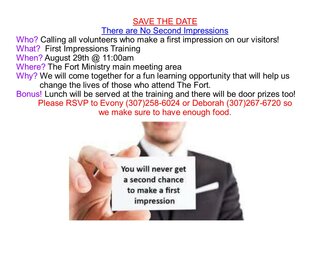 You Have One Chance to Make a Good
First Impression!
If you currently volunteer as a Greeter, do name tags, prepare coffee, serve communion or would like to get involved in The Fort Ministry by serving others, this fun training is for you!
Do You Watch Online? Come Join Us!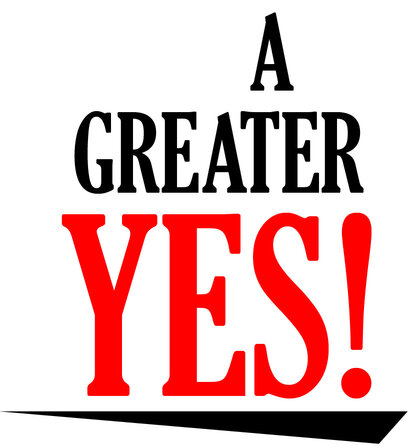 Mark your calendars now and plan to be here at the church for this exciting Sunday!
Sunday, Sept. 12th, at 9:30 AM, we will kick off a new sermon series titled "A Greater Yes!" and we want EVERYONE to be there!
We ask that each of you invite a friend and if you normally watch our service online, we'd love to have you join us (if you live locally) so we can get to know our online family as well. Invites are available at the church.
A tasty BBQ will follow the service and a signup sheet for all of the side dishes will be passed around on Sunday. If you won't be at church in person, but are interested in bringing a dish to share, email us at Connect@thefortministry.com.
We can't wait to fellowship with all of you!
Prayer
"Don't be selfish; don't try to impress others. Be humble, thinking of others as better than yourselves." Philippians 2:3
Dear God,
Help me to be humble and always place others' interests above my own. Please help me to have the right attitude. May I seek Your face and not seek the approval of others.
In Jesus' name,
Amen.
Cheryl Flores – Prayer Ministry Leader
ABIDE ACQUIRE ADVANCE
Our address is: 4741 W Yellowstone Hwy, Mills, WY 82604, USA