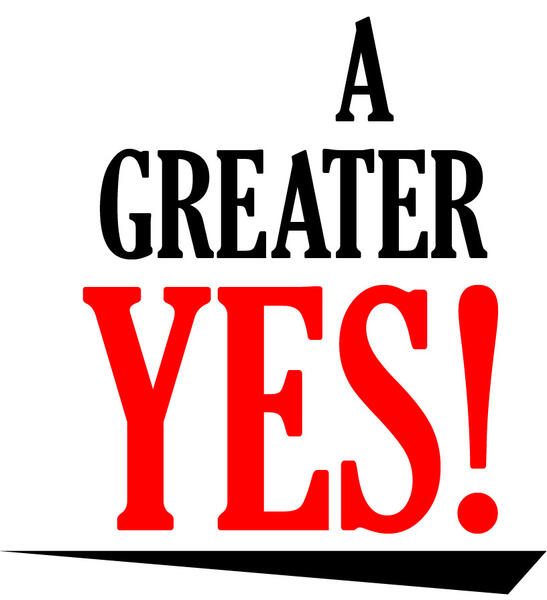 Quit Giving Your Money Away
We are excited to have started the new sermon series "A Greater Yes!"
This Sunday, Sept. 26th, Pastor Jim will be presenting the 2nd message in this 8-week series titled "Quit Giving Your Money Away," which corresponds with chapter 2 in the "Quit Church" book. Books can be purchased before and after the two church services for $4.00 each.
Don't miss out on these awesome messages on how we can move our spiritual life from answering God with a "maybe" or "we'll see" to a whole-hearted "YES!"
Update on Church Services
Hopefully you were able to join us last week as we went back into the church building for our church services, but if not, here's what's going on.
We are no longer meeting in the parking lot for Drive-In Church, but are back inside with two Sunday morning services at 9:30 and 11:00 AM. The online service will continue at 9:30 AM.
Some things you need to know:
At the 9:30 AM service, we are requiring face masks and at the 11:00 AM service masks are recommended.
Our Children's Ministry is offered at the 11:00 AM service only for kids in kindergarten through 5th grade.
Senior Ministry Fun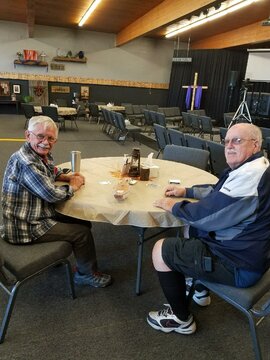 Old kids (did I say that out loud?) just want to have fun!
If you are an old kid and you'd like to join in the fun, Jim & David of our Senior Ministry would like to invite you to join them for a weekly game of cribbage at the church.
Contact David Shade at 605-351-6398 for details on when they get together to play the game.
If you are a part of the 55+ crowd and would like to plan an activity for other older kids to take part in, contact Deborah at connect@thefortministry.com.
Trunk-or-Treat/Carnival Coming Soon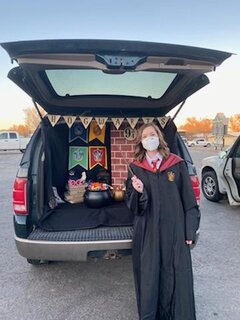 Do you want to get in on the fun this Halloween and bless the kids in Mills and the surrounding community?
It's that time of year to move forward with our Trunk-or-Treat/Carnival plans. We'd love for you to get involved and here are a few things we need volunteers for:
We need kid-friendly, decorated trunks like the one in the picture above to hand out candy to the kids.
We need lots and lots of candy—we have several large garbage cans to fill—so we can overload all the kids who attend the Trunk-or-Treat with way too much candy.
We need kid-friendly carnival booths (cake-walks, ring-toss, etc., but no apple bobbing or other blatant germ-spreaders) decorated to create a fun, carnival atmosphere. Pinterest has great carnival booth ideas and there will be pictures with booth ideas at the church.
We need volunteers to make and sell caramel and candied apples for a Children's Ministry fundraiser booth.
We will need a couple of volunteers to oversee the bouncy house & huge inflated slide.
If you would like to take part in any of these activities, please email Deborah at connect@thefortministry.com. Help us bless the kids in our church neighborhood with a fun and safe alternative on Halloween.
Candy Needed – Gobs Of It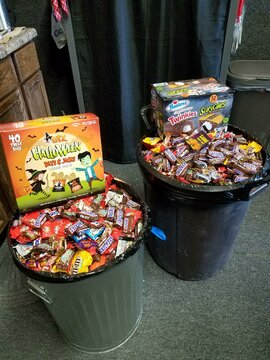 As mentioned above, we are accepting candy donations for our Trunk-or-Treat/Carnival on October 31.
Please bring all candy donations to the church either Sunday mornings at church time or Tuesday through Friday, between 9 AM and noon.
Prayer
"Then they sat on the ground with him for seven days and nights. No one said a word to Job, for they saw that his suffering was too great for words." –Job 2:13
Dear God,
I ask for myself and for my church family that we may have encouragers in our lives. Please help us to surround ourselves with godly people who will be there in our times of need. Thank You, God, for the people you put in our lives.
In Jesus' name,
Amen
Cheryl Flores – Prayer Ministry Leader
ABIDE ACQUIRE ADVANCE
Our address is: 4741 W Yellowstone Hwy, Mills, WY 82604, USA