Joyfully Joining the Journey
Yearn
We have all experienced, at one time or another, something we were so excited about that we thought we might burst if we didn't share it with someone else.
This Sunday, Pastor Jim will preach the final sermon in the series Joyfully Joining the Journey . He will talk about "Yearning" to share joy.
Come learn how we can joyfully live our lives, expressing joy to the world, because of the fullness of Christ within us, because we Abide in Him.
Please join us this Sunday, November 21, for worship services at 9:30 or 11:00 AM or online at 9:30 AM on Facebook Live. Our Children's Ministry is available during the 11:00 AM service only.
We ask that you please wear masks at the 9:30 AM service.
We look forward to worshiping with you this Sunday!
Prayer Ministry Group On Facebook

If you would like to join The Fort Ministry Prayer Group on Facebook, follow the step-by-step process below:
Go to The Fort Ministry Facebook page (The Fort Ministry)
Click on Groups
Click on The Fort Prayer Ministry
Click on Join Group
Check for prayers on Facebook Group page
Children's Ministry—Pizza With A Purpose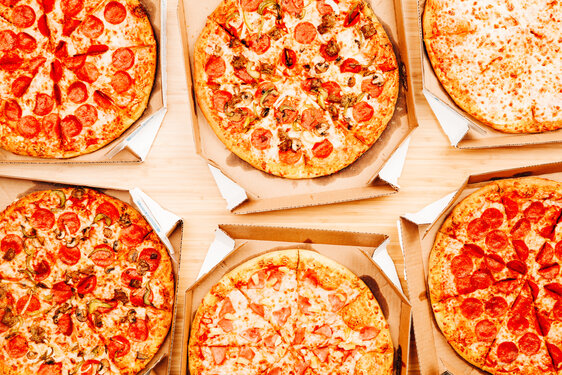 The Children's Ministry will be launching an exciting new program we are calling Pizza With A Purpose.
It is our goal to involve the whole church body in growing young people in our church. Pizza With A Purpose will be an opportunity to gather for a meal (pizza) and fellowship, and then work together on a community outreach project.
We hope to have these events quarterly to start, then possibly monthly. Our first such event will be December 8, at the church, from 6:00 to 8:00 PM. We will eat pizza, get to know each other, and create ornaments to be distributed to local retirement communities.
You do not need to have a child in Sunday School to participate!
Please RSVP by December 5, by emailing us at connect@thefortministry.com, so we know how much pizza to buy! We really are excited to see what God has in mind for us!!!
Prayer
"God created man in His own image, in the image of God He created him; male and female He created them." Genesis 1:27
Father God,
I am a unique sliver of Your pie. You wanted ME in the world! Help me to be an excellent image bearer. How humbling to know I was created to reflect You. Help me to use all the gifts You have given me to seek first the Kingdom of God.
I ask this in Jesus' name,
Amen.
Cheryl Flores – Prayer Ministry Leader
ABIDE ACQUIRE ADVANCE
Our address is: 4741 W Yellowstone Hwy, Mills, WY 82604, USA