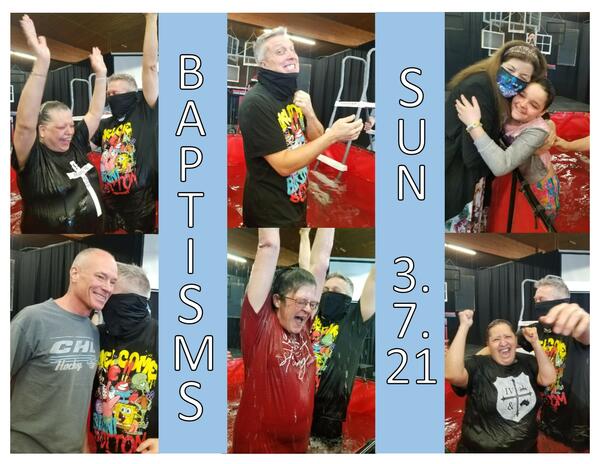 What a Celebration!
This is Why We Do What We Do!
If you were in church this past Sunday or online with us, you got to witness five people say "Yes" to God through baptism. It was a true celebration!
Our church family, friends, and relatives all cheered while Pastor Jim did the dunking and Thomas led us in song and praise to the one true God who saves. You can see for yourself the looks of joy on the faces of those baptized.
When we turn our lives over to Jesus and then share with the world our commitment to Christ through baptism, there is a joy beyond measure! Be sure and congratulate these folks when you see them in person or online.
Watch for a facebook post with additional pictures.
4th Week in "I AM" Sermon Series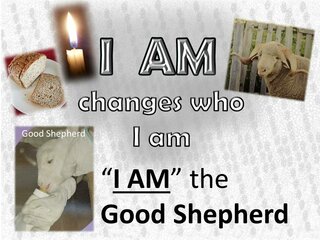 This Sunday, March 14th, is the 4th week in the "I AM - Changes Who I Am" Sermon Series.
This week we will discover what it means when Jesus says, "I AM the Good Shepherd."
Please join us at the church at 9:30 or 11:00 AM or online at 9:30 AM on Facebook Live. We are also on the Radio at 11:00 AM at KUYO AM 830.
Our Children's Church meets during the 11:00 AM Service only.
Virtual Foot Washing
April 1st is Maundy Thursday, the day we reflect on Jesus' meeting with His Disciples in the upper room to fellowship, share a last meal together and wash each of their feet.
Cheryl Flores, our Prayer Ministry Leader, will share more about this in a Facebook video on Thursday, April 1st at 7:00 PM. You and your family and friends can experience your own foot washing ceremony right from the comfort of your homes.
Stay tuned for more information and details to come.
Child Dedication Sunday - April 11th
On Sunday, April 11th, we will dedicate babies and children, pre-school age and under, to the Lord in our 11:00 AM service.
Baby/child dedications are an exciting time in our church family where parents present their young children before the church and the Lord and devote themselves to raise that child in a godly home.
Church members agree to join in covenant with the family to encourage, assist, and equip them in raising their children within the body of Christ. Therefore, baby and child dedications are not just for the child; they are for the parents, the family, and the Church as a whole.
If you have a child you would like dedicated, please email us at Connect@thefortministry.com and a staff member will get back with you.
"Jesus said, 'Let the little children come to me, and do not hinder them, for the Kingdom of Heaven belongs to such as these.'"
Matt. 9:14
Needs for March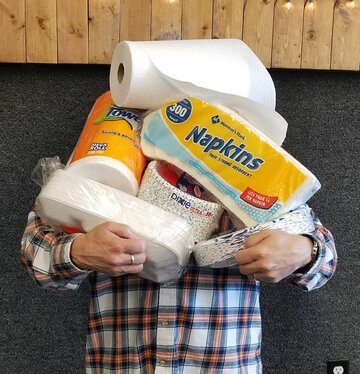 Abide, Acquire, ADVANCE!
When we turn our lives over to Jesus and spent time in relationship with Him (abide with Him), we begin to acquire from Him a new heart and a desire to live with our light on in a sometimes scary and dark world where we are then able to start sharing God's goodness with others (advance with Him).
We have been asking for different donations each month from our church family in order to cut down on the money we would normally spend from our budget. This frees up money for us to spend in other areas to Advance the Kingdom.
We are so blessed to see the amount of generosity that is coming in from you, our church family. We were able to delete the line items in our budget for copy paper and stamps for next year's budget that begins in May due to those of you who donated. We thank God for you!
Paper products like napkins, paper bowls, tissues, etc. are what we are asking for in March. If you have questions on how or what to donate, give us a call at 307-234-FORT(3678).
Prayer
"I AM the gate; whoever enters through me will be saved."
John 10:9a
Dear God,
There are many roads that lead to Christ, but there is only one entrance that leads to salvation. Lord, I pray that those who are struggling in this world will find THE entrance and accept Jesus Christ as their Savior. May they enter that gate and find peace and serenity in Christ that will not take away their struggles but equip them to not be conquered by them. I ask this in Jesus' precious name, Amen.
Cheryl Flores - Prayer Ministry Leader
ABIDE ACQUIRE ADVANCE
Our address is: 4741 W Yellowstone Hwy, Mills, WY 82604, USA