EASTER!
I AM | the Resurrection and the Life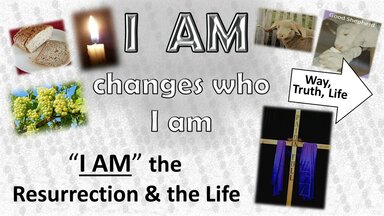 We are on week 7 in our Sermon Series "I AM - Changes Who I Am."
Since it is EASTER Sunday, Pastor Jim will be sharing about Jesus' statement in John 11:25 where He said He is the Resurrection and the Life. Because He was resurrected and lives...we too get to share in His resurrection and live out eternity with Christ. Praise God!
Please join us at The Fort Ministry this Sunday, April 4th, for our Easter Services at 9:30 and 11:00 AM, with Children's Ministry during the 11:00 AM service only. You can also join us online at 9:30 AM on Facebook Live or listen to the Service at 11:00 AM on KUYO Radio AM 830.
We can't wait to celebrate our Risen Savior together this Easter Sunday! See you there!
John 11:25 - "Jesus said unto her, 'I am the resurrection, and the life: he that believeth in me, though he were dead, yet shall he live.'"
Important Dates to Remember
Some important dates and events to remember:
April 1, 7:00 PM – Maundy Thursday Virtual Foot Washing on Facebook led by Cheryl Flores, our Prayer Ministry Leader
April 4, 9:30 and 11:00 AM – Easter Services at The Fort Ministry
April 11, 11:00 AM – Baby/Child Dedication If you have a child you would like dedicated, please email us at connect@thefortministry.com.
April 11, after the second service – Membership Class You must be a member if you want to attend the Annual Membership Meeting. This class will be the last opportunity to become a member before then.
April 18, after the second service – Annual Membership Meeting Members will vote on budgets and delegates for the upcoming District Assembly.
Crisis Care Kits
Crisis Care Kits are a tangible way that our church family can get involved in the Nazarene disaster response process. Thousands of Crisis Care Kits are made, stored, and distributed globally each year as needs inevitably arise around the world.
Normally we have asked for monthly donation items that directly help our church, but throughout the month of April and May we are asking for the donation of the items listed below for these kits so we can bring them with us to the District Assembly in June.
Because of customs regulations, it important to only donate the items listed and in the specific sizes that are specified, so as not to deter a shipment. If you have questions, feel free to email us at connect@thefortministry.com.
INSTRUCTIONS: Into a 2 or 2.5 GALLON ZIPLOC BAG
put the following items:
• 1 medium size bottle of shampoo (12 to 18oz.),
please tape flip-tops closed
• 2 bars of soap (bath-size or larger)
• 1 medium toothpaste (4.0 to 6.4 oz.)
• 3 toothbrushes
• 1 box of Band-Aids (30 or more)
• 1 fingernail clipper
• 1 sturdy hair comb
• 2 hand towels
• 4 pocket-size packages of facial tissue
• 1 Beanie Baby-size stuffed toy
Thank you for giving to those in need
Prayer
"A new command I give you: Love one another. As I have loved you, so you must love one another. By this all men will know that you are my disciples, if you love one another." John 13:34-35
Dear God; all the love, God! Help me to show and give love to everyone I come in contact with. Help me to take every unloving thought captive and toss it away. May all I come in contact with know that I am a disciple of Christ because I love. In Jesus' name, Amen.
Cheryl Flores RN
ABIDE ACQUIRE ADVANCE
Our address is: 4741 W Yellowstone Hwy, Mills, WY 82604, USA