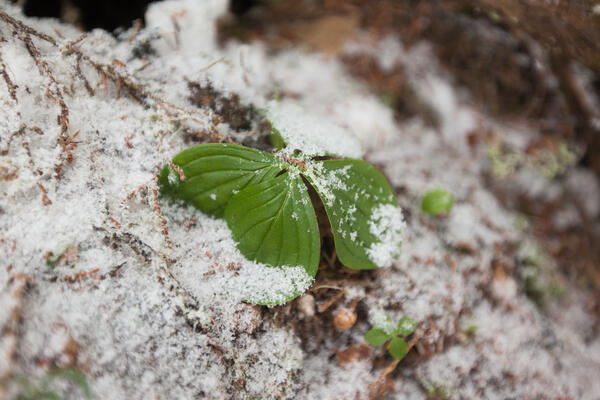 It really is SPRING!
New life springs forth from frozen ground.
Week 8 in the "I AM" Sermon Series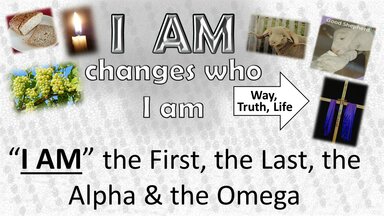 Boy oh boy, was Sunday's sermon on Jesus proclaiming to be the Resurrection and the Life powerful! This was the Easter message that He (Jesus) lives, that He is alive and because of what He did on the cross on Friday and because He was resurrected on Sunday, we too get to live out eternity with Him! Hallelujah!
This Sunday, April 11th, is the last message in the sermon series "I AM – Changes Who I Am." Pastor Jim will share about Jesus being the First and the Last, the Alpha and the Omega.
Please join us at 9:30 or 11:00 AM at the church or online at 9:30 AM on Facebook Live. You can also listen to the service at 11:00 AM on KUYO radio AM 830.
See you on Sunday!
Baby/Child Dedications This Sunday
This Sunday, April 11th, during our 11:00 AM Service we will be excitedly dedicating 7 kids before the Lord.
Baby/child dedications are an exciting time in our church family where parents present their young children before the church and the Lord and devote themselves to raise those children in a godly home.
Church members agree to join in covenant with the family to encourage, assist, and equip them in raising their children within the body of Christ. Baby and child dedications are not just for the child; they are for the parents, the family, and the church as a whole.
If you have a child who is preschool age or under that you would like dedicated, there is still time. Please email us your contact information along with the name(s) of the child to Connect@thefortministry.com, and a staff member will get back with you.
"Jesus said, 'Let the little children come to me, and do not hinder them, for the Kingdom of Heaven belongs to such as these.'"
Annual Membership Meeting
Each year, near the close of our fiscal year, we have a Annual Membership Meeting where those who have become members attend to vote on the official business of the church.
If you have participated in one of our membership classes in the past, then we encourage you to attend the Annual Membership Meeting on Sunday, April 18th, following the second service (around noon) to vote on the new 2021-2022 Fiscal Year Budget and Delegates to send to the District Assembly in June.
If you are not an official member, there is one more opportunity to attend a Membership Class this Sunday, April 11th, following the second service to learn what it means to be a Member of The Fort Ministry.
Those wishing to view the 2021-2022 Fiscal Year Budget can request a copy of the budget by emailing us at Connect@thefortministry.com, otherwise the budget will be available at the Annual Membership Meeting. Any questions pertaining to the budget need to be addressed prior to the meeting as we will only be voting at that time and not engaging in questions concerning it's contents.
If you are a member, we urge you to plan on attending on April 18th.
Crisis Care Kits
Crisis Care Kits are a tangible way that our church family can get involved in the Nazarene disaster response process. Thousands of Crisis Care Kits are made, stored, and distributed globally each year as needs inevitably arise around the world.
Normally we have asked for monthly donation items that directly help our church, but throughout the month of April and May we are asking for the donation of the items listed below for these kits so we can bring them with us to the District Assembly in June.
Because of customs regulations, it important to only donate the items listed and in the specific sizes that are specified, so as not to deter a shipment. If you have questions, feel free to email us at connect@thefortministry.com.
INSTRUCTIONS: Into a 2 or 2.5 GALLON ZIPLOC BAG
put the following items:
• 1 medium size bottle of shampoo (12 to 18oz.),
please tape flip-tops closed
• 2 bars of soap (bath-size or larger)
• 1 medium toothpaste (4.0 to 6.4 oz.)
• 3 toothbrushes
• 1 box of Band-Aids (30 or more)
• 1 fingernail clipper
• 1 sturdy hair comb
• 2 hand towels
• 4 pocket-size packages of facial tissue
• 1 Beanie Baby-size stuffed toy
Thank you for helping us give in this way!
Prayer
"Jesus said to her, 'I am the Resurrection and the Life. Whoever believes in (adheres to, trusts in, relies on) Me [as Savior] will live even if he dies.'" John 11:25 (Amplified Bible)
Dear God, may I remember daily to rely upon, trust in, and cling to Jesus. May I approach each day with the knowledge of my forever home in Heaven. May I share with the world that even death could not stop our precious Lord and Savior. I ask this in Jesus' name, Amen.
Cheryl Flores – Prayer Ministry Leader
ABIDE ACQUIRE ADVANCE
Our address is: 4741 W Yellowstone Hwy, Mills, WY 82604, USA