RCC Weekly Update 06/03/21
The Servant Heart of Jesus
A Message from Pastor Jerry
The great violinist Niccolo Paganini willed his marvelous violin to the City of Genoa on condition that it must never be played. The wood of such an instrument, while used and handled, wears only slightly, but set aside, it begins to decay. Paganini's violin has today become worm-eaten and useless except as a relic.
As followers of Christ, we're called to actively serve in a great mission. However, much like Paganini's violin, we can either invite God to use us for His glorify, or politely decline the invitation, letting the beautiful gift of our salvation decay as we observe from the sidelines.
Join us Sunday as we look at the servant heart of Christ!
Have a great week!
Pastor Jerry

Hey Kids! Ms. Heather has an exciting Bible story planned for you this Sunday! Can't wait to see you! 😊
Here is a fun activity for you to do! Have you ever heard of the Bible story about the Tower of Babel? You can find this story in your Bible, in Genesis 11:1-9. The people of the world decided to make a tower that reached all the way to the sky, to prove that they were bigger and better than God. But God will not be mocked by anyone, and He made them stop! You can pretend-act out this Bible story by building a tower with cups! You can use paper cups if you would like, or you can use plastic cups. You can use little tiny cups, or you can use big cups. Whatever cups you have (that your Mom approves of) you can use.😊 How tall can you make your Tower of Babel before it comes crashing down!?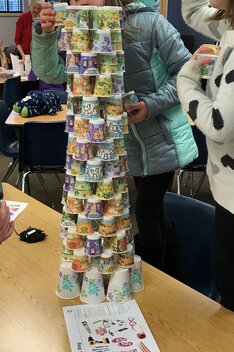 Duplicate Weekly Emails?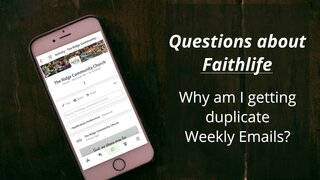 If you are, by chance, receiving duplicate weekly emails please let us know at: amy@ridgechurchlife.org. We are working to resolve this glitch, and we apologize for the inconvenience.
Faithlife Logos Bible Library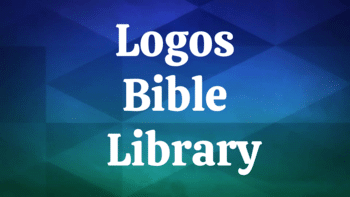 One of the great benefits of being a member of our Ridge Community Church Faithlife Group is access to the Logos Bible Library. The Logos Bible Library is a great resource for helping you go deeper in your study of God's Word!
To access the Logos Bible Library go to: app.logos.com
It is important that you include the "app" at the beginning. If you simply type "logos.com" into your browser, you will not arrive at the library.
You will need your Faithlife login and password to sign in.
How to use the Logos Bible Library:
At the top of your Logos Bible Library screen you will notice a horizontal menu with small icons.
Logos Library
The icon that looks like three little books standing up will take you to the Logos Library. 452 titles are available. Simply type into the search bar what you are interested in. You will find both written books available, as well as video lectures.
Factbook
The icon of the little book with the check-mark is the Factbook. When you click the Factbook, you will notice a small Factbook-tab appear underneath the menu bar. Underneath this small Factbook-tab, will be a Factbook search bar. Simply type into this search bar whatever you are interested in, and you will be given a list of Key Passage which relate to your topic, as well as corresponding articles, dictionary meanings, cultural concepts, and more.
Search Box
To the right of the Factbook icon is a Search Box. Here you can search for anything in the Bible.
· You can search exact phrases, by using quotation marks
(for example: "love one another").
· You can also search for a phrase without using the quotation marks. These search results will return any passage containing any of the words used in your search.
· You can search Bible references.
· You can search multiple words (for example: faith hope love)
Guides give you multiple options for in-depth Biblical Study.
· Basic Bible Study
· Biblical Person Study
· Biblical Theme Study
· Biblical Topic Study
· Devotional
· Inductive Bible Study
· Praying Scripture
We hope you will take some time to check out and explore the Logos Bible Library! And we pray you will enjoy many fruitful hours of study in God's Word.
Let's Support One Another

Call or text us at 206-518-4623.
Email any time with your prayer needs.
Contact us any time for assistance!
Loving God and Living Life Together!
Our address is: 10315 Cedar Park Crescent NE Redmond, WA 98053