RCC Weekly Update 06/10/21
Something fun today!
A Message from Pastor Jerry
Sister Mary Ann, who worked for a home health agency, was out making her rounds visiting homebound patients when she ran out of gas. As luck would have it, a Texaco station was just a block away, so she walked to the station to borrow a gas can and buy some gas. The attendant told her that the only gas can he owned had been loaned out, but she could wait until it was returned. Since Sister Mary Ann was on the way to see a patient, she decided not to wait and walked back to her car.
She looked for something in her car that she could fill with gas and spotted the bedpan she was taking to the patient. Always resourceful, Sister Mary Ann carried the bedpan to the station, filled it with gasoline, and carried the full bedpan back to her car. As she was pouring the gas into her tank, two Baptists watched from across the street. One of them turned to the other and said, "If it starts, I'm turning Catholic."
Have a great week, see you Sunday at 10!
Pastor Jerry

Hey Kids! Ms. Heather has an exciting Bible story planned for you this Sunday! Can't wait to see you! 😊
Hey kids, do you like Scavenger Hunts? Here is a really fun Redmond Ridge Scavenger Hunt just for you! Follow the clues below and see if you can find this very cool tree house, located right here on Redmond Ridge!
From the Community Center, where our church meets,
turn right onto Cedar Park Crescent street.
Go around a big curve … can you find a school?
It's Rosa Parks! Now isn't that cool!
You'll come to a circle, for your car to go around,
Take a right at the circle for your next clue to be found.
You're now traveling south on Redmond Ridge Drive NE
Can you find a "Trail X'ing" for both man and beast?
If you're very lucky you might see a horse
crossing the road, at the "Trail X'ing" of course!
You'll pass two roads on the left, but keep going.
You want the third road, around the turn, so start slowing.
Here you'll turn onto NE 80th street ...
you're almost to the treehouse! What an adventurous feat!
Can you see the road stretching out long and straight?
Drive almost to the end, and on 255th a left-turn make.
Look closely for the very next road on the right …
turn here, on 85th, your prize is almost in sight!
Follow the road round, it becomes 258th.
Whoa! There's a big dip that you have to take!
Go down through the dip that's shaped like a "U" …
just before you reach the bottom, the treehouse comes into view!
Look on your left! … far back in the trees!
Isn't it the coolest treehouse you've ever seen!
Congratulations! You're a winner! Hooray!
You conquered our Redmond Ridge Scavenger Hunt today! 😀
Hey kids ... Do you know anyone in the Bible who climbed a tree in order to see Jesus? Do you think Jesus used to climb trees for fun when he was a little kid? Do you think Jesus and his carpenter dad, Joseph, ever built a treehouse together? It would be fun to learn about Jesus up in a treehouse like this one! 😊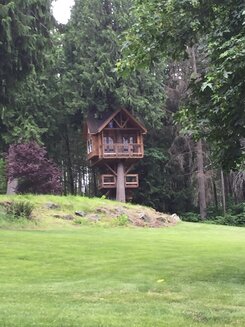 How do I sign up for Faithlife?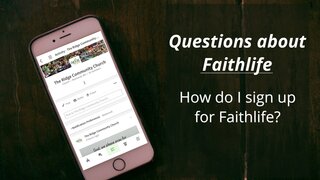 If you are not currently part of our online Faithlife community we would like to invite you to join. Every day there is new content on our church newsfeed: Daily verse-posts (tying in with our sermon series on Intentionality), church prayer requests, and inspirational pieces which draw our hearts closer to Christ.
Please take a moment to go to: www.faithlife.com.
Click "Register" to create an account. It will ask for your name, email, and a password.
Once you have created a Fatihlife account, you can now search for "The Ridge Community Church."
When you arrive at our church homepage, click "Follow" to become a part of our group. Our church Faithlife group is a wonderful place of connection and community, and we would love for you to be a part.
Faithlife TV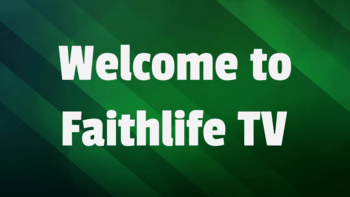 One of the great benefits of being a member of our Ridge Community Church Faithlife Group is access to Faithlife TV.
To access the Faithlife TV go to: www.faithlifetv.com
You will need your Faithlife login and password to sign in.
You will notice that Faithlife TV looks very similar to most other online TV services, with Content categories listed vertically down the left-hand side. Beside each of the different Content categories are horizontal rows of program options to scroll through.
Among the many Content categories available are:
Faithlife Originals
Kids movies
Biographies
Christian Living
Documentaries
Drama
Evangelism
Family movies
Health & Wellness
History
Marriage & Parenting
Science & Creation
Travel
There are also many Bible Study resources available on Fatihlife TV. Of particular interest are:
· Logos Mobile Ed offers a vast, extensive selection of seminary-level courses.
· Bible Programs by World Video Bible School
· The Bible Project
· BibleTalk.TV
· Logos Media
· Our Daily Bread University
· Faithlife Bible Screen – a non-stop loop of illustrated and animated Bible verses set to music (optional).
· Bible Trivia – Challenge your Bible knowledge with this continuous stream of nearly four hours of questions.
We hope you will check out the Faithlife TV library!
Let's Support One Another

Call or text us at 206-518-4623.
Email any time with your prayer needs.
Contact us any time for assistance!
Loving God and Living Life Together!
Our address is: 10315 Cedar Park Crescent NE Redmond, WA 98053