RCC Weekly Update 06/17/21
Happy Father's Day!
A Message from Pastor Jerry
There's a Spanish story of a father and son who had become estranged. The son ran away, and the father set off to find him. He searched for months to no avail. Finally, in a last desperate effort to find him, the father put an ad in a Madrid newspaper. The ad read "Dear Paco, meet me in front of the newspaper office at noon on Saturday. All is forgiven. I love you, your Father."
On Saturday, the street was filled with young men named Paco, looking for forgiveness and love from their fathers.
This weekend, we celebrate Father's Day. Regardless of the brokenness of the world, God offers the gift of the perfect Father – Jesus said "If you then, who are evil, know how to give good gifts to your children, how much more will your Father who is in heaven give good things to those who ask him!" (Matthew 7:11). Join us Sunday at 10am as we celebrate the beauty of that promise!
Have a great week!
Pastor Jerry

Hey Kids! This coming Sunday is extra special! Not only is it Father's Day (when you get to show your Dad how much you love him!), but this Sunday is also when we will be honoring those of you who are graduating! School is a lot of hard work! We are so proud of each of you who have studied really hard this school year and done your very best!
Graduating from Elementary School and moving up to Middle School is a big step! We are so proud of you Mason, and we will be praying for you as you step into your exciting Middle School years!
Graduating from Middle School and moving up to High School is a really big step! We are so proud of you Nora! High School will be a fun time of learning and discovery! We will be praying for you as you step into this new exciting chapter.
Graduating from college and moving into the work force is a huge step! We are so proud of you Kathleen and Miranda! And we celebrate your fantastic accomplishment! We are praying for each of you, that God will provide good jobs for you! And we pray that God will use each of you in a mighty way to make His name great in the career He has called you into.
Ms. Heather has a great Bible story planned for Ridge Kids class this week! See you there! 🙂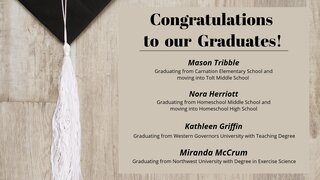 Father's Day!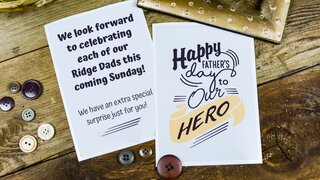 The weather looks like it is going to be sunny and perfect this coming Sunday for Father's Day! We are looking forward to celebrating our Ridge Dads with our first outdoor service of the year!
We also have a very special surprise planned for each of our Ridge Dads which you won't want to miss.
We appreciate each of our Dads and we want you to know how very much you mean to us! Thank you for all you do!
Our website has a brand new look!
Let's Support One Another

Call or text us at 206-518-4623.
Email any time with your prayer needs.
Contact us any time for assistance!
Loving God and Living Life Together!
Our address is: 10315 Cedar Park Crescent NE Redmond, WA 98053