RCC Weekly Update 06/24/21
Our Deepest Need
A Message from Pastor Jerry
In the 19th century, Charles Spurgeon and Joseph Parker both had churches in London. On one occasion, Parker commented on the poor condition of children admitted to Spurgeon's orphanage. It was erroneously reported to Spurgeon however, that Parker had criticized the orphanage itself. Spurgeon blasted Parker the next week from the pulpit, and the verbal attack became the talk of the town after being printed in the local newspaper.
People flocked to Parker's church the next Sunday to hear his rebuttal. Parker began "I understand Dr. Spurgeon is not in his pulpit today, and this is the Sunday they use to take an offering for the orphanage. I suggest we take a love offering here instead." The crowd was delighted, and the ushers had to empty the collection plates three times. Later that week there was a knock at Parker's study. It was Spurgeon. "You know Parker, you have practiced grace on me. You have given me not what I deserved; you have given me what I needed."
This Sunday at 10am, we'll close our "Intentionality" series with a look at God's greatest gift!
Have a great week,
Pastor Jerry

There will be no Ridge Kids class this Sunday. But Ms. Heather will have goodies bags prepared especially for you! See you then! 😊
Hey Kids, are you looking for something exciting to do this summer? "Destination Dig" is the perfect thing for you! This VBS is hosted by Hillside Academy, in partnership with Adventure Church. During the week of August 2-6, discovery awaits as you head to present-day Israel and dig up exciting evidence that proves biblical events were not just stories. As a junior archaeologist, you will explore real-life archaeological finds that have helped to uncover the truth about Jesus! Along the way, you'll discover the truth of Jeremiah 29:13, that God reveals Himself to us when we seek and search for Him with all our hearts.
To learn more, and to register, go to: https://hillsideacademy.com/summer-camps/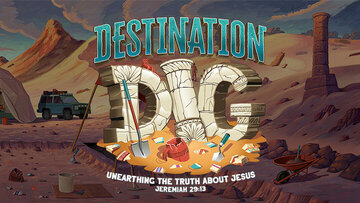 Extreme Heat Alert

The weather forecast is calling for excessive heat this coming weekend. Many in our Ridge Church family do not have air conditioning. We love each of you and we don't want any of you to experience heat exhaustion or heat stroke. If the heat becomes unbearable, please reach out to us and we can coordinate a home where you can hang out and cool down in some AC.
You can contact: amy@ridgechurchlife.org or call 425-478-7124.
As we make it through this heat wave, please reach out to those in our church family, as they come to mind, to make sure all are doing ok. We are here for each other!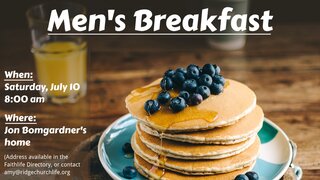 Men, you won't want to miss our upcoming Men's Breakfast, on Saturday, July 10th, at Jon Bomgardner's home.
Jon's address can be found in the Faithlife Directory.
Or contact: amy@ridgechurchlife.org.
Hope to see you there!
Let's Support One Another

Call or text us at 206-518-4623.
Email any time with your prayer needs.
Contact us any time for assistance!
Loving God and Living Life Together!
Our address is: 10315 Cedar Park Crescent NE Redmond, WA 98053