RCC Weekly Update 07/01/21
Summer at The Ridge
A Message from Pastor Jerry
Wow, July arrived much more quickly than I anticipated! As announced the past couple Sunday mornings, the Elder Board of The Ridge Church has designated the next six weeks as a "pastor sabbatical." I'm really excited that time is here (although I'll certainly miss everyone!) and am looking forward to a time away seeking God about His plan and direction for the next season at The Ridge. Although I'm unsure what that looks like at this point, I do know that we're all in community together for a purpose, and each Ridge family is truly a blessing. The Ridge is a special place, and each of you are the reason for that!
As for logistics, we have a great lineup of special guest speakers you won't want to miss! I know each of them will be bringing God's Word from a place of passion and humility as they seek His direction for our congregation. Thank you in advance for your encouragement and thanks to each.
Additionally, Jake Bomgardner (Elder Board) will be taking overall "pastoral point" while I'm away, so please feel free to contact him if you need that resource. I'm so encouraged that Jake, offering his pastoral experience and years of humble wisdom through seeking God in his own life, will be filling that role over the next few weeks. Jake's number is 206-250-0357, email jake@live.com. You can always reach anyone else on the Board (Sam Ericsson, Art Fiala, Axel Wells) if you'd like. Contact Amy Hayes at the office for their contact info (amy@ridgechurchlife.org).
Again, I'm excited to have this time and want to thank you all for the opportunity to spend this time with God and with family.
Have a great week,
Pastor Jerry

There will be no Ridge Kids class this Sunday. But goodies bags will be ready and waiting just for you! 😊
Hey Kids, "Destination Dig" is an exciting Summer VBS where you can pretend to be a junior archaeologist, as you explore real-life archaeological finds in Israel and learn about Jesus! For more information, go to: https://hillsideacademy.com/summer-camps/
If you are not able to attend "Destination Dig" but you would really like to pretend to be a junior archaeologist and learn about real-life archaeological finds in Israel, just ask your Dad or Mom to do a Google search for "Sergio & Rhoda in Israel." Here you can find lots of exciting videos to watch about real places in Israel today which were written about in the Bible hundreds of years ago! You can walk with Sergio on the ancient road that the Good Samaritan traveled! You can go with Sergio & Rhoda to the valley where David fought Goliath! You can even see Capernaum, the town where Jesus did most of his miracles.
Archaeologists learn about people and places from long ago by carefully digging up ancient remains of cities, so that they can discover what life was like in the past. You can pretend to be a junior archaeologist by pretending to dig up exciting discoveries from the past. The best place to pretend to dig up exciting finds is in the sand at the beach. You could ask your Dad or Mom to bury things for you to find, then you can be an archaeologist and carefully dig through the sand to find them! If you are not planning a trip to the beach anytime soon, perhaps your Dad or Mom might let you dig up a corner of the backyard. However you choose to pretend, it's a lot of fun to be a junior archaeologist! 🙂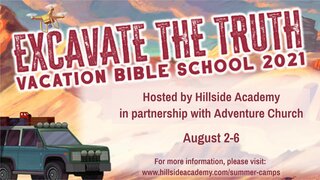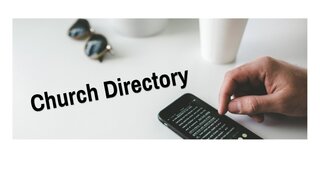 During the time Pastor Jerry is on Sabbatical, you are welcome to contact the Elders of The Ridge Community Church for any questions or concerns that might arise. Their contact information can be found in the Church Directory.
To access the Church Directory:
On your computer, log in to Faithlife. Click on "The Ridge Community Church" group to get to our church's main newsfeed page. The "Directory" is one of the options in the left-hand column.
On the Faithlife App on your phone, you will want to click the three tiny horizontal lines to access the menu … scroll down and you will see "Directory."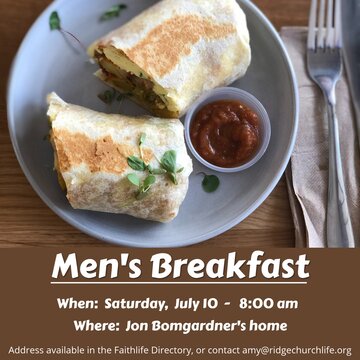 Men, you won't want to miss our upcoming Men's Breakfast, on Saturday, July 10th, at Jon Bomgardner's home.
Jon's address can be found in the Faithlife Directory.
Or contact: amy@ridgechurchlife.org.
Hope to see you there!
Let's Support One Another

Call or text us at 206-518-4623.
Email any time with your prayer needs.
Contact us any time for assistance!
Loving God and Living Life Together!
Our address is: 10315 Cedar Park Crescent NE Redmond, WA 98053