RCC Weekly Update 07/15/21
An Update from Pastor Jerry
Tucson is located in the Sonoran Desert, and June through September is monsoon season. Which basically means you can get about a month of Seattle rain in two and a half minutes, then it's back to arid, hot weather. The rain is usually accompanied by lightning, high winds, and the possibility of significant dust storms - which, as you can see, can provide for some amazing sunset weather (yes, that was actually the color outside).
"Desert" typically brings images of hot, dry, uncomfortable, and lifeless. As I've watched the storms come through, however, I've noticed an incredible diversity of life thriving all around us. We've had cactus blooming, baby lizards, and some form of dove that (loudly) "welcomes" the new day at around 5:30AM! These past couple weeks have been a beautiful reminder that, wherever you find yourself in life, God is there. Even if you feel you're in a "desert," He's right there with you, offering shelter, and comfort, and LIFE.
I pray that you're having a wonderful week and ask that the Lord would reveal that same encouraging picture of His presence in your life today!
Looking forward to seeing everyone in August,
Pastor Jerry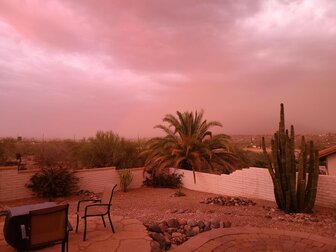 Our Special Speaker this Sunday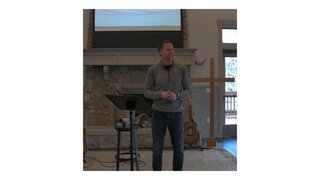 This coming Sunday we have the great privilege of having Jake Bomgardner bring God's Word to us! Jake is the head of our Lead Team, here at the Ridge Church. Jake also served for many years as a Youth Pastor. We are very much looking forward to hearing what Jake will be sharing with us from God's Word!
Thank you Jake!

Hey Kids! There will be no Ridge Kids class this Sunday. But Ms. Heather will have special Goodie Bags waiting for you! Can't wait to see you Sunday! 😊
Summertime Fun!
Hey Kids! Here is a fun Summer activity just for you … the Redmond Ridge Summer Family Variety Show! On August 14, from 2pm-4pm you can find all kinds of excitement at Commons Park (located along Cedar Park Crescent at 227th Way NE).
There will be two different stages set up where you can watch:
Magic Show (2pm-3pm)
The Reptile Man (2pm-2:45pm / 3pm-3:45pm)
Bubbleman (2pm-3pm).
There will also be lots of booths from businesses here on Redmond Ridge, with fun games and activities for kids. If you're looking for something fun to do this summer … this is it!
Lunch Bunch at the Lake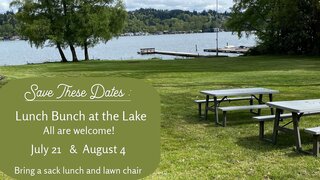 See Janie Augustson for details and directions.
All-Church Summer Picnic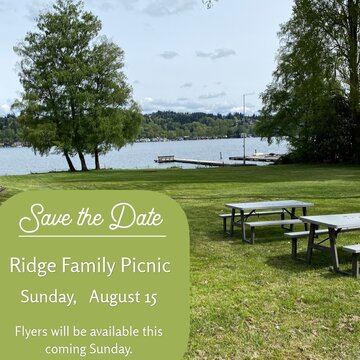 Let's Support One Another

Call or text us at 206-518-4623.
Email any time with your prayer needs.
Contact us any time for assistance!
Loving God and Living Life Together!
Our address is: 10315 Cedar Park Crescent NE Redmond, WA 98053