RCC Weekly Update 07/22/21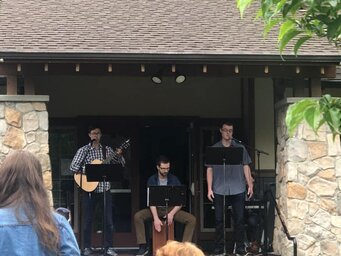 This Sunday we have the great privilege of having Brian Guisinger share God's Word with us! Brian has been such a blessing to our church these past few years, ministering in music with the worship team. We have missed him greatly since his move to Moses Lake this past Spring. We are so excited to have him back again to speak to us!
We also have the added blessing of having Josiah lead worship this coming Sunday!
Thank you so much Brian for making the long trip to come share God's Word with us! We are so grateful! And we appreciate your ministry to us so much!
Thank you Josiah for making the long trip from OR to come lead worship for us! We are so grateful for you! And we appreciate your ministry to us so much!

Hey Kids! You won't want to miss the special Bible story this week for Ridge Kids class! Can't wait to see you there! 😀
Did you know that the Ridge Kids has a Mission and Vision Statement? When I had started as Children's Director about four years ago we just had a Mission Statement. During that time I hadn't really thought much about changing it or adding a Vision statement. But once Covid hit and we were in lock down I thought a lot about Children's and how I wanted it to look moving forward. So, with much thought and prayer, here is our Vision and Mission statements:
Vision:
To help families and every child see the Love of Jesus experienced throughout our community and our world.
Mission:
The Ridge Kids Ministry exists to help kids (and parents)
· connect and BELONG,
· GROW in their relationship with Jesus,
· then go SHARE Jesus with others.
BELONG: We want every child (and parent) to feel loved and to have a sense of belonging to a larger community of believers.
Romans 12:5 "so in Christ we, though many, form one body, and each member belongs to all the others."
GROW: We want every child to hear the Word of God and to understand God's plan for them. Our desire is for every child to own a Bible.
Romans 10:17 "So faith comes from hearing, and hearing through the Word of Christ."
Jeremiah 29:11 "For I know the plans I have for you, " declares the Lord, "plans to prosper you and not to harm you, plans to give you a hope and a future."
SHARE: We want every child to feel confident in sharing the gospel of Jesus Christ with others in their lives.
1 Peter 3:15 "But in your hearts revere Christ as Lord. Always be prepared to give an answer to everyone who asks you to give the reason for the hope that you have. But do this with gentleness and respect."
As Ridge Kids gears up for the fall, please be praying for new and current families to come and experience the Love of Jesus through our church and children's program. Thank you!
Blessings,
Heather
All-Church Summer Picnic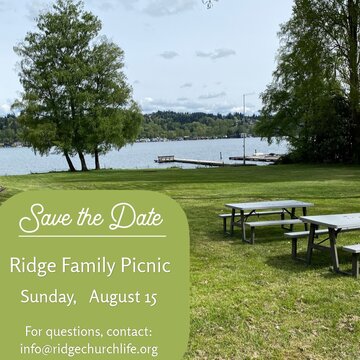 Rapha Team Update
Rapha India recently gave 80 bags of groceries to a village of 200 in the Lonavala area. Each bag cost about $14 and feeds a family of 4 for 2 weeks. Due to their outreach, 29 villagers gave their lives to the Lord. Thanks to all of you for giving to support our India outreach. You are making a significant impact! — meeting needs and transforming lives!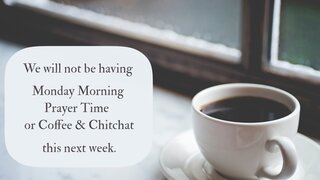 Let's Support One Another

Call or text us at 206-518-4623.
Email any time with your prayer needs.
Contact us any time for assistance!
Loving God and Living Life Together!
Our address is: 10315 Cedar Park Crescent NE Redmond, WA 98053