RCC Weekly Update 08/05/21
This coming Sunday we have the great privilege of having Steve Mount bring God's Word to us.
Steve is an Oklahoma native, transplant to the Greater Seattle area, by way of Southern California. He and his wife, Tonya, have been married for 24 years this November and have 4 children, from 13 to 25 yrs.
Steve spent 20 years in the tech industry before being called to full-time ministry. He helped plant Redemption Church in Duvall, serving as a Resident Pastor and Elder for several years. He then joined the staff of Imprint Church in Woodinville as Ministry Lead where he ran programs, led the Junior High and High School youth group, and filled the pulpit on occasion.
As clearly as God called him to vocational ministry, God called him back into the tech industry, plopping him in a software company in the middle of Capitol Hill in Seattle - where ministry looked quite a bit different.
The Mount family resides in Duvall and currently attends Snoqualmie Valley Bible Church. Steve holds a Masters in Missional Leadership from Mars Hill Re:Train and is currently working on his MBA; he has also spent the last year and a half building a startup software company inside of a small German automotive manufacturer.
Thank you, Steve, for coming to minister to us this week! We are so grateful, and we are looking forward to what God has given you to share with us from His Word.

Hey Kids! There will be no Ridge Kids class this week. But there will be fun goodie bags just for you! See you on Sunday! 😊
Want to know how you can serve your children's ministry at church? Prayer, Prayer, Prayer! I know sometimes it's hard to know how you can help with the children's team, so here are a few easy ways you can pray for them that's very impactful and a way that you can serve.
Pray for the Kiddos in our church.
Pray for their parents.
Pray for new families to attend.
Pray for the Ridge Kids teachers and volunteers.
If you want to do a little extra, let them know you're praying for them by sending a little note, or seek them out in person and ask for ways you can be praying for them. If you're bold enough, pray for them right there on the spot! Praying over someone is extremally impactful for the person receiving it! Regardless if you are coming to church in person or watching online, please remember the importance for praying for your kids ministry.
A Message from Pastor Jerry
I'm so thankful for everyone who has shared God's Word with The Ridge these past few Sundays! I've had an amazing, restful time away. I'll be back on 8/15 and am very excited to begin a new series together!
Missions Update: H Family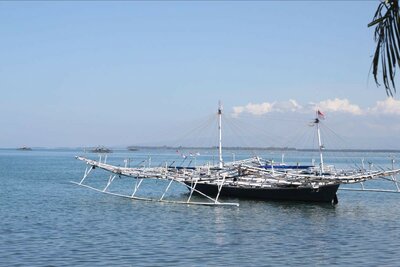 Our family recently journeyed to an area 11 hours north of our current home. As we spent time there with our children, we were praying and asking God to confirm to us whether this is an area He may be asking us to move to.
God has given us connections in this region over the past two years, and this is the same area P was able to visit back in April (where the January earthquake took place). While there, he was honored with the opportunity to preach in the local language for the first time!
This time our family drove together and we spent time surveying the area, observing the town, and "prayer driving" several times.
Please pray with us as we are asking God to confirm what He would have us take as our next step. We are willing to stay in our large unreached city or move to this or another unreached small town or village, but our desire is to follow His leading. There are many factors to consider for ministry and family reasons, so we continually remind ourselves to rest in Him and are glad to know we can trust in His timing and provision.
All-Church Summer Picnic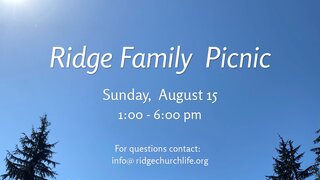 Our Ridge Family Picnic is coming up soon!
Everyone is invited to bring an individual picnic lunch and lawn chair. Plus a small dessert to share.
Lots of fun activities include:
Swimming (no life guard on duty)
Paddle Boards (life vest not provided but required by WA law)
Basketball court
Foosball
Ping Pong
Ladder Ball
Children's play area
Everyone should have received a flyer with details and directions. If you did not receive a flyer please let us know and we will get one to you.
If you have any questions you can contact Thor or Janie Augustson (their address can be found in the Faithlife Directory), or contact info@ridgechurchlife.org.
Let's Support One Another

Call or text us at 206-518-4623.
Email any time with your prayer needs.
Contact us any time for assistance!
Loving God and Living Life Together!
Our address is: 10315 Cedar Park Crescent NE Redmond, WA 98053