RCC Weekly Update 08/12/21
The Beauty of God's Story
A Message from Pastor Jerry
I'll admit it, I'm a fan of the "vacation book." Within the first few pages, you're captured by the intrigue and mystery. And somehow, along the way, you can actually begin to see the action as if you were a part of the story, right up to the end. Now, when was the last time you read the Bible that way?
Let's face it, we live in a skeptical world. People these days are more interested in discrediting God's existence than experiencing His presence. And, truthfully, even our pursuit of relationship can be hindered by worldly baggage, creating a feeling of "disconnect" from God as we navigate the ups and downs of daily life. Just watching the daily news can feel disheartening. However, what if our culture's apparent "death throes" are actually "labor pains" as God prepares us for "all things made new"? What if your worldview was directly aligned with the real story of the Bible and God's eternally redemptive plan for your life with Jesus?
I would like to invite you on a journey of discovery to recapture the intrigue, the mystery, and the beauty of God's story - the story that both begins and ends in perfect relationship with Him.
Have a great week, it's great to be back and I look forward to seeing everyone on Sunday!
Pastor Jerry

Hey Kids! There will be no Ridge Kids class this week. But there will be fun goodie bags just for you! See you on Sunday! 😊
Need something fun to do to pass the time? You can do this fun scavenger hunt anytime of the year, indoors or out!
(*From Lifeway Kids)
Bible Story Scavenger Hunt
Game Supplies:
Basket
Honey
Water
Stuffed animal
Plant
Cotton balls
Something with wheels
Candle
Toy boat
Bread / cracker
First aid kit
Rock
How to play:
- Gather all of the game items together.
- Taking turns, each person gets to select one of the game items. As each game item is selected, try to think of all the Bible stories that relate to that item!
- You can also play this game by naming a Bible story, then each child can search for an item that reminds them of the story.
Have fun! 😃
If you need some ideas, check out these helpful hints:
* Basket:
- Story of Joseph in Egypt, interpreting the dreams of the butler and baker (Genesis 40:1-23)
- Story of baby Moses in the basket (Exodus 2:1-10)
- Jesus feeding the 5,000 people, and 12 baskets of leftovers were collected (Matthew 14:13-21 / Mark 6:30-44 / Luke 9:10-17)
- Story of how the Apostle Paul escaped from Damascus in a basket (Acts 9:23-25)
* Honey:
- Story of Samson finding honey in the lion carcass (Judges 14:5-9)
- Jonathan ate honey after battle (1 Samuel 14:24-29)
- John the Baptist ate wild honey (Matthew 3:4)
* Water:
- The Great Flood (Genesis, chapters 6-8)
- The Nile turning to blood (Exodus 7:14-24)
- Nation of Israel crossing the Red Sea (Exodus 13:17- 14:31)
- Nation of Israel crossing the Jordan River (Joshua, chapter 3)
- Elijah & Elisha crossing the Jordan River (2 Kings 2:8-14)
* Stuffed animal:
- Creation of the animals (Genesis 1:20-26)
- Noah gathers all the animals onto the ark (Genesis, chapters 6-8)
- Frogs (Exodus 8:1-15)
- Gnats & Flies (Exodus 8:16-32)
- Grasshoppers/Locusts (Exodus 10:1-20)
- Donkey that talked (Numbers 22:21-33)
- Bear & lion that came after David's sheep (1 Samuel 17:34-36)
- Daniel and the lions den (Daniel, chapter 6)
- Great big fish that swallowed Jonah (Jonah, chapters 1 & 2)
- Donkey that Jesus rode into Jerusalem (Matthew 21:1-11)
* Plant:
- Creation of all the plants (Genesis 1:11-13)
- The dove came with a freshly plucked olive leaf! (Genesis 8:11)
- The butler squeezed grapes to make fresh grape juice (Genesis 40:11)
- Aaron's rod budded, blossomed, and produced almonds (Numbers 17:8)
- The Promised Land had fig trees, pomegranates, grape vines, and olives. (Deuteronomy 8:7-8)
- A starving man ate a fig cake and raisins (1 Samuel 30:11-12)
- Jesus's disciples ate grain (Matthew 12:1 / Mark 2:23)
* Cotton balls:
- Jacob's future bride, Rachel, was a shepherdess (Genesis 29:4-6)
- The 12 sons of Jacob were all shepherds (Genesis 37:12-14)
- Moses was keeping watch over sheep when he saw the burning bush (Exodus 3:1-2)
- David was a shepherd (1 Samuel 16:11-13)
- Shepherds were in the fields outside Bethlehem when angels showed up to sing to them that Jesus was born! (Luke 2:8-20)
- Jesus is the Good Shepherd (John 10:7-11)
* Something with wheels:
- Joseph sent carts to carry his father, Jacob, down to Egypt (Genesis 45:25-28)
- God made the wheels of the Egyptians' chariots come off (Exodus 14:25)
- Philip rode along in the chariot of an Ethiopian government official (Acts 8:26-31)
* Candle:
- God rained fire down from heaven on two wicked cities (Genesis 19:24-25)
- God led His people in a pillar of fire (Exodus 13:21-22)
- God showed up on the top of Mt. Sinai with fire! (Exodus 19:17-19)
- The Angel of the Lord sent fire on Gideon's offering (Judges 6:20-24)
- God sent fire down from heaven on Elijah's offering at Mt. Carmel (1 Kings 18:36-39)
- God was with Shadrach, Meshack, and Abednego in the fiery furnace (Daniel 3:19-25)
* Toy boat:
- Jesus calmed the storm (Luke 8:22-25 / Mark 4:35-41)
- Peter's amazing catch of fish, so that his boat began to sink! (Luke 5:1-7)
- Jesus's disciples were fishing early in the morning (John 21:3-6)
* Bread / cracker:
- God provided manna for His people (Exodus 16:4-5)
- A widow made bread for God's prophet, Elijah (1 Kings 17:7-16)
- Jesus fed 5,000 people with 5 small loaves of bread (Matthew 14:13-21)
- Jesus broke the bread at The Passover meal with His disciples (Matthew 26:26)
* First Aid Kit:
- Naaman was healed from his leprosy (2 Kings, chapter 5)
- Jesus healed 10 lepers (Luke 17:11-19)
- Jesus healed a man who was paralyzed (Mark 2:1-12)
- Jesus healed a man with a crippled hand (Matthew 12:9-13)
- Jesus healed a little girl (Luke 8:40-56)
- Jesus healed a demon-possessed man (Luke 8:26-39)
- Jesus healed Blind Bartimaeus (Mark 10:46-52)
- Peter and John healed a man who was crippled (Acts 3:1-10)
- The Apostle Paul healed a man who was crippled (Acts 14:8-10)
* Rock:
- God made water come out of a rock! (Exodus 17:1-7)
- Satan tempted Jesus to turn rocks into bread (Luke 4:3-4)
- People were going to throw rocks to stone a sinful woman (John 7:53 - 8:11)
- An angel rolled away the big stone from Jesus's tomb (Matthew 28:2-4)
- People threw rocks to stone Stephen (Acts 7:54-60)
- People threw rocks to stone the Apostle Paul (Acts 14:19-20)
Missions Update: Rapha Team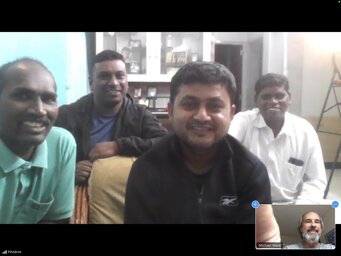 An Update from Mike Ward
We have started to meet with the men on the Rapha Team on a monthly basis. The goal is to deepen connection between our church and our partners in India.
The first meeting was very productive. I spent time just connecting with them and finding out how they are weathering the COVID pandemic in India ... so much more devastating than here in the US.
This is monsoon season in India and that became abundantly clear during the video conference. It started with the men gathered in an open air room at Prabha's house. The rain began to come down so hard they could not hear me. They needed to move to an interior portion of the home. Great! Now we can hear each other! Perfect!
About 10 minutes into our meeting, the video suddenly went black. I thought the connection had dropped but then I started seeing phone lights come on and their illuminated faces. They'd lost power but were still connected by battery back-up!! No problem, we'll continue in the dark. After a few minutes, the power came back on and the lights were restored!! ☺️👍
In addition to wonderful connect time, I gained insight into life in India during monsoon season!
All-Church Summer Picnic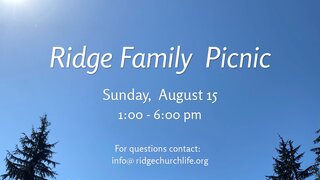 Our Ridge Family Picnic is this coming Sunday!
Everyone is invited to bring an individual picnic lunch and lawn chair. Plus a small dessert to share.
Lots of fun activities include:
Swimming (no life guard on duty)
Paddle Boards (life vest not provided but required by WA law)
Basketball court
Foosball
Ping Pong
Ladder Ball
Children's play area
Everyone should have received a flyer with details and directions. If you did not receive a flyer please let us know and we will get one to you.
If you have any questions you can contact Thor or Janie Augustson (their address can be found in the Faithlife Directory), or contact info@ridgechurchlife.org.
Let's Support One Another

Call or text us at 206-518-4623.
Email any time with your prayer needs.
Contact us any time for assistance!
Loving God and Living Life Together!
Our address is: 10315 Cedar Park Crescent NE Redmond, WA 98053