RCC Weekly Update 08/26/21
"Seeing" God
A Message from Pastor Jerry
C.S. Lewis wrote "How little people know who think that holiness is dull. When one meets the real thing, it is irresistible." Life with Jesus gives you a new perspective and opens your eyes to a new reality.
Andrew Murray speaks to the "irresistible" draw of God's holiness with a simple prayer: "May not a single moment of my life be spent outside the light, love, and joy of God's presence and not a moment without the entire surrender of my self as a vessel for Him to fill full of His Spirit and His love."
This Sunday, we'll take a deeper look at how we might more fully "see" God's presence in our own lives!
Have a great week,
Pastor Jerry

Hey Kids! You won't want to miss our exciting Bible story this Sunday at Ridge Kids! 😊 Can't wait to see you then!
Here at the Ridge Kids we use curriculum called the Gospel Project. This curriculum teaches the kids the entire Bible showing them that the Bible is one cohesive story and that story all points to Jesus and his saving grace.
Lifeway is the company that produces this curriculum and every quarter they send me a magazine with great articles inside. Here is one of the articles that I read that I found very insightful, and I figured would be beneficial for any parent, grandparent, great grandparent, etc.. because we all have children in our lives.
THE FOUNDATION FOR
SPIRITUAL CONVERSATIONS
WITH KIDS
By: Sam Luce
When I first started as a children's pastor, parents would plead with me to warn their kids against different books and TV shows that they thought would draw their kids away from the Lord. It was overwhelming and exhausting. Not that I didn't want to protect children – we should want to help them avoid unnecessary harm, and to protect them from the evil that exists in the world. Rather, it was overwhelming because I was focused on the wrong things.
It's not uncommon for this to happen in Christian communities. We tend to focus on rules: Do's and don'ts. What not to listen to, read, watch, or play. But our primary focus shouldn't be on what not to do. Focusing on the do's and don'ts of the faith trains our kids to believe that they are accepted, loved, and cared for because of what they do, not as a result of what Jesus has done. When we show our kids in our actions and through our words the reach of the cross, the purpose of Christ's substitutionary act of love, the only reasonable response is a life submitted to a holy God. Seeing God as holy and ourselves as sinners only makes His act of love more unbelievable and our need for Him more undeniable.
How we live is determined by who or what we love. We pursue living holy lives because the God we serve is not just holy, but He is "holy, holy, holy" (Isaiah 6:3). We want our kids to develop a love for Jesus, a love for the Bible, and a love for the truth. So how do we do this?
1. READ THE BIBLE OURSELVES
This may seem obvious, but it is most important. We cannot give our children what we do not have ourselves. If the Word isn't present and doesn't matter in our lives, why would it be present and matter in our kids' lives?
2. READ THE BIBLE TOGETHER
It's not enough to tell our children to read the Bible; we need to show them how. The best way to do this is to read it together – even just a couple of verses a day – and discuss what we're reading. Here are three good questions to ask:
· What is this passage about?
· What dos this passage teach about God and myself?
· How does this passage point to Jesus?
3. ASK QUESTIONS
Ask questions about what we're reading in the Bible, but also all of life, especially about what our kids are watching and reading apart from the Bible. Encourage them to be active critics, not just passive consumers, of cartoons, books, television shows, movies, and games. Here are three good questions they can ask:
· What does it say is true about people?
· What does it say is true and important in life?
· How is what it says similar and/or different from what the Bible says is true?
We surely want to do all we can to protect our kids from unnecessary harm. But fear of what is wrong is not the best starting point for spiritual conversations. Rather, it is better that we start with helping our kids develop a love for the truth and a love for the Word. How we act and what we do is dominated by the reality that we are what we love. The Bible is not just a book of facts about God, it is God's self-revelation of Himself to us. It is filled with commands we are to obey, rules that are for our good and His glory. However, the basis of our reading and understanding of God needs to be grounded in His love for us that provides the basis of our love for Him (John 4:19). Our conversations with our kids need to be based in the truth of His self-revealing Word as a God who is completely holy and totally loving.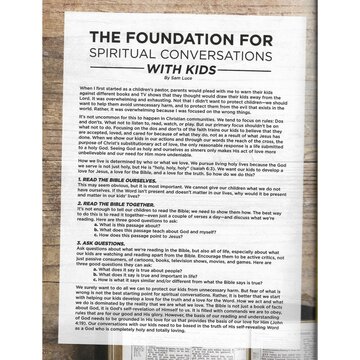 Missions Update: The "H" Family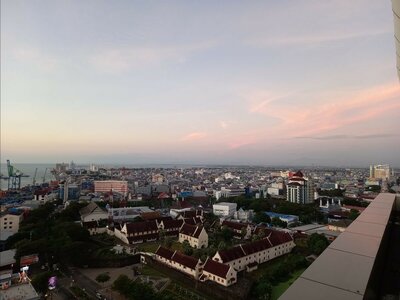 Exciting possibilities!
As you've been praying for a business visa and location opportunities, God has been working. A couple weeks after sending our last newsletter, some friends approached us about a potential business idea for our family. It is early in the exploring process, but we are very excited about the ministry possibilities that come with this opportunity. As we pray and consider this option, we are looking for where He would have us base ourselves on our island. If He continues to lead us towards this business plan, it would be strategic to be centered near multiple unreached people groups. Although we are researching areas on or near our island, there are still many villages to consider. (For reference, our island's size is about the same distance as Seattle to Los Angeles, but without an interstate connecting it all). Within this region, there are at least 70 people groups that are still unreached.
We are taking the steps He puts before us in His timing, depending on Him to provide for and guide us in His purposes.
Thursday Evening Discussion Group
This past Sunday Pastor Jerry announced that coming up in a few weeks we will be starting a Thursday Evening Discussion Group. This group will be meeting at the Community Center (where we have Sunday morning services). The topics will focus on the items which are currently on the hearts and mind of our church family. Pastor Jerry will be sharing truths from Scripture related to each week's topic, then there will be a time of sharing and discussion related to the topic.
Pastor Jerry is currently collecting topics of interest. What questions are on your heart and mind? Are you wondering, "Why is there so much evil and suffering in the world?" Or perhaps, "Why do bad things happen to good people?" Would you like to have some teaching on "Prayer" or "How to have Peace in troubled times"?
Whatever your topic of interest might be, Pastor Jerry would love to hear from you. You can reach Pastor Jerry at: jerry@ridgechurchlife.org.
Let's Support One Another

Call or text us at 206-518-4623.
Email any time with your prayer needs.
Contact us any time for assistance!
Loving God and Living Life Together!
Our address is: 10315 Cedar Park Crescent NE Redmond, WA 98053