RCC Weekly Update 09/09/21
Introducing Our New Sermon Series
A Message from Pastor Jerry
As we approach the anniversary of the 9/11 attacks, I'm reminded again of the unfathomable spiritual forces at work in the world. We often cling to the truth (as we should!) of Bible passages reminding us that God's love is infinite and perfect. However, just as God loves, desires, and offers relationship with ALL who turn to Him through Christ, we must not forget we're involved in a struggle between God's perfect love and Satan's perfect hatred.
This morning, I read a news story entitled "More Local Governments in China Offering Cash Rewards for Reporting 'Illegal Religious Activities.'" The officially stated purpose is to "strengthen the control of illegal religious activities…prevent any COVID-19 cluster resulting from religious gatherings, mobilize the public to engage in preventing, suppressing illegal religious activities, and ensure a harmonious and stable religious landscape." Unsaid but quite obvious is that a "harmonious and stable religious landscape" is one designed to eliminate Jesus and force absolute allegiance to the State.
So, how do we respond to that? In Psalm 119:9-11, the author shares:
"How can a young man keep his way pure? By guarding it according to your word. With my whole heart I seek you; let me not wander from your commandments! I have stored up your word in my heart, that I might not sin against you."
We have a beautiful, eternal spiritual victory on Christ; however, Jesus reminds us that "Man shall not live by bread alone, but by every word that comes from the mouth of God" (Matthew 4:4). We must understand the spiritual story we're caught up in, and God has graciously given us everything we need to do that in His Word. This Sunday, we'll begin a look at the story of God's creation, the impact of "de-creation," and the inevitable movement toward God's "re-creation" as He prepares an eternity for "His very own."
As a preparation for our upcoming series, I'd like to encourage you to read Psalm 119 - with 176 verses, it's the longest chapter in the Bible, and beautifully reinforces the importance of God's truth to our daily lives.
Have a great week!
Pastor Jerry

This Sunday is the official kick off for Ridge Kids Sunday school! Can't wait to see you! 😀
Hey Kids! Remember how in class the lesson videos we watch use a lot of paper bag puppets to tell the different Bible stories? Well, below is how to make your own paper bag puppets. Now you can have fun telling Bible stories at home with your own paper bag puppets for your family!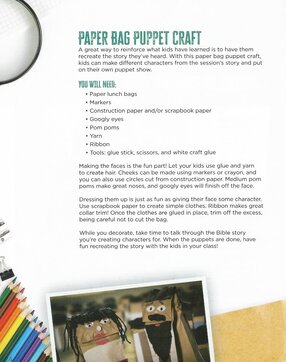 Missions Update: The "H" Family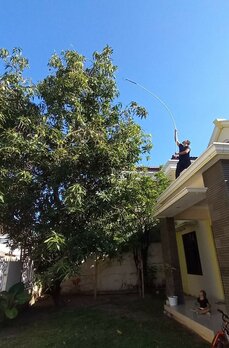 As a personal update, we are in our third week of the new homeschool year! Isaac has begun 7th grade, Eva 5th grade, Josiah 2nd grade, and Elena Kindergarten.
It is also mango season! With the only mango tree on the block, neighbors and strangers stop by often to ask for a few. Its hard to keep track, but we've harvested more than 100 mangoes so far. Although, as you can see in the photo, harvesting from the roof using PVC pipe attached to a metal hook is pretty unconventional. I think we are also offering our neighbors some entertainment in the process!

Thursday Evening Discussion Group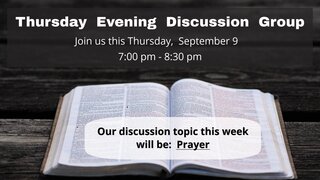 We are looking forward to our very first Discussion Group this evening, September 9. Join us at the Community Center from 7:00pm-8:30pm as Pastor Jerry shares with us insights from God's Word about Prayer.
Let's Support One Another

Call or text us at 206-518-4623.
Email any time with your prayer needs.
Contact us any time for assistance!
Loving God and Living Life Together!
Our address is: 10315 Cedar Park Crescent NE Redmond, WA 98053