RCC Weekly Update 09/23/21
The Impact of the Fall
A Message from Pastor Jerry
During the great New York blackout of 1977, a young couple noticed their little boy becoming increasingly agitated. When questioned, the little boy confessed that, at the exact moment the lights went out, he had kicked a power line pole. As darkness engulfed the city, he thought he was to blame and would be punished! Guilt can have a powerful influence on your life. However, feelings of "guilt" pale in comparison to another internal feeling that can have far, far deeper implications regarding your emotional and spiritual well-being. Join us Sunday as we confront the most effective tactic Satan will ever use to keep you enslaved, as well as God's perfect path to freedom.
Have a great week,
Pastor Jerry

Hey Kids! You won't want to miss our great Bible lesson this Sunday at Ridge Kids Sunday School! Can't wait to see you then! 😀
I am excited to introduce to you our amazing Ridge Kids volunteers for 2021-2022!
Glenice Tay
Cindy Griffin
Stephanie Griffin
They will be faithfully teaching our kids God's truths and helping shape their little lives to become followers of Jesus Christ. If you see one of them on a Sunday make sure to stop them and say "Thank you" for serving in such an impactful way!
Missions Update: Pastor Matthew & Mary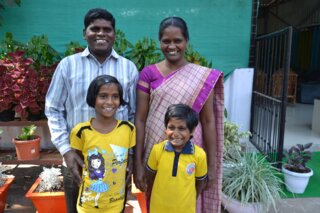 We remain in prayer for Pastor Matthew, Mary, and their two daughters as, two weeks ago, they said farewell to the Rapha Team in Lonavala and moved back to their hometown in the northern part of India, in order to pastor their former church.
We pray especially for Pastor Matthew, Mary, and the girls that God will bless them as they get settled into their new home and area! We pray that God will bless each of them with friendships and encouragement!
We pray for God's blessing over Pastor Matthew's ministry with their former church! We pray that God will use Pastor Matthew to bring God's Truth to God's people in a powerful way!
"Now to Him who is able to do immeasurably more than all we ask or imagine, according to His power that is at work within us, to Him be glory in the church and in Christ Jesus throughout all generations, for ever and ever! Amen." -Ephesians 3:20-21
Thursday Evening Discussion Group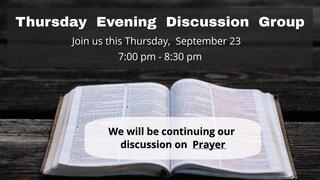 Join us this evening, September 23, at the Community Center from 7:00pm-8:30pm, as we continue our discussion on Prayer.

Christmas Outreach Project
It's time once again to begin preparing for our Christmas Outreach Project!
Last year we were able to share Christmas gifts with each of the residents at Fairwinds Assisted Living. We would like to build on that relationship by providing Christmas gifts once again this year.
The Christmas gift item which we would like to give each resident this year is a neck-wrap warmer, which can be warmed up in the microwave and used as a heating pad.
If you love to sew, we would love to have your help! Click on the photo above to learn more about the neck-wrap warmer we will be making. Included is a description of the item, as well as detailed instructions.
Initially we are in the process of creating and collecting 150 stitched, unfilled neck-wrap warmers. Once we have 150 warmers, our church staff will be filling each warmer with dry rice.
If you would like to participate in sewing neck-wrap warmers but do not have fabric on hand, please reach out to Janie Augustson or Amy Hayes. Extra fabric is available. Also, it's important to use only 100% cotton fabric, as polyester fabric will melt in the microwave.
We look forward to this year's Christmas Outreach Project! It's going to be awesome!
For questions, please contact: : amy@ridgechurchlife.org
Save the Date
A special theatrical presentation of Journey with Jesus will be coming to Galaxy Theater in Monroe on November 17. You can check out the preview trailer, by clicking on the photo above.
If you would enjoy participating as a church group in attending this special performance, please let Pastor Jerry know at: jerry@ridgechurchlife.org .
Let's Support One Another

Call or text us at 206-518-4623.
Email any time with your prayer needs.
Contact us any time for assistance!
Loving God and Living Life Together!
Our address is: 10315 Cedar Park Crescent NE Redmond, WA 98053