RCC Weekly Update 09/30/21
The Light of God's Truth
A Message from Pastor Jerry
On September 14th 1891, workers completed the latest upgrade to the White House as electric lights illuminated the residence for the first time. The President and First Lady, however, were less than enthused. President and Mrs. Benjamin Harrison were reportedly so afraid of this "newfangled" invention that they refused to operate the light switches. If there were no servants standing by at their bedtime, the Harrisons slept with the lights on.
Clearly, nothing much has changed since then. In fact, nothing much has changed since almost the beginning of our story. Fear of things unknown can shape everything about our lives. Consider this: "Levophobia" is the fear of objects on the left side of the body. "Dextrophobia" is the fear of objects on the right side of the body. "Auroraphobia" is the fear of the northern lights. "Calyprophobia" is the fear of obscure meanings. And the list goes on and on. We even have one for fear itself: "Phobophobia" is the fear of being afraid (I'll let you ponder for yourself the circular thinking that one prompts!).
The Bible story is one of overcoming the brokenness of the world and bringing God's light of truth into the shadows of our fears and uncertainties. This Sunday, we'll continue our look at God's story and the path He calls us to walk in His truth!
Have a great week,
Pastor Jerry

Hey Kids! You won't want to miss our great Bible lesson this Sunday at Ridge Kids Sunday School! Can't wait to see you then! 😀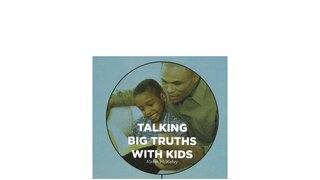 Kids can handle a lot more than we think they can. We often feel like we have to "dumb things down" for them, especially when we are going through more difficult passages of Scripture. But that's not the case. Yes, it's important to teach in a way that is age-appropriate, but we must also be careful not to oversimplify deep truths.
One way we often oversimplify Scripture for kids is when we use stories in the Bible as morality lessons. For example, when we share the story of David and Goliath, we can point to David's bravery and tell kids, "David was so brave, and we should be brave too." This approach can be dangerous, as it ultimately points to behavior modification or acting "Christian," instead of gospel transformation that leads to being more like Christ. Although the Bible does inform us on how we are to live, we need to make sure we are pointing to the One it is truly about - Jesus Christ.
Another way we can oversimplify is by teaching Bible stories in isolation, forcing us at times to try to find ways to apply them incorrectly. The key to teaching kids big truths it to help them understand that the whole Bible points to Christ. Ultimately, this helps the Bible make sense. For kids to understand that the Word is one big story and not multiple unrelated stories helps them connect the dots that God intends to be understood together. As we come to difficult passages, we don't need to skip over them. We need to tell the story in a way that is understandable, and then show our kids how the passage points to Christ. This not only teaches kids what the Bible is about, but also how to study the Bible for themselves. We are giving them the skills to read the Word and then look at how it points to Jesus.
The best way to honor our kids is to recognize where they are, and adjust accordingly, but also to challenge and stretch them. We teach truths in an age-appropriate manner, while not straying from the depth of the Word. And ultimately, we show them how the entire Bible points to the beauty of Jesus Christ.
Missions Update: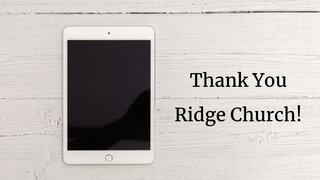 Great news! Thanks to your generosity the need for digital devices for the Rapha Team children's online learning has been completely met! We are so excited! This will be such a huge blessing to Mukilan, Labilan, Muvitha, Jerusha, Jeshua, Raja, and Varsha ... as well as Wilson & Aboli's two little boys, Stavan and Siyon.
Thank you Ridge Church family for your caring hearts and your incredible generosity!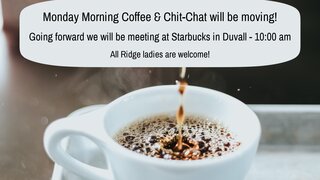 Monday Morning Coffee & Chit-Chat will be having a location change. Going forward we will be meeting on Monday mornings at Starbucks in Duvall - 10:00 am.
All Ridge ladies are welcome! We hope you will join us!
Upcoming Marriage Event
What is Fight Night? A fun date night for couples of any age or stage. Filled with humor, fresh insight, and practical, new strategies for turning conflict into a means for deeper intimacy. Les and Leslie are authentic master communicators. Couples will laugh while they learn new ways to instantly improve relationship.
About the speakers:
Les and Leslie. A husband-and-wife team who not only share the same name, but the same passion for helping others build healthy relationships. Married in 1984, the Parrotts bring real-life examples to their speaking platform. Their professional training – Leslie as a marriage and family therapist, and Les as a clinical psychologist – ensures a presentation that is grounded, insightful and cutting-edge. As #1 New York Times best-selling authors, their books have sold over two million copies.
When: Sunday, October 10, 6:00-8:30 pm
Where: Eastridge Church
24205 SE Issaquah Fall City Rd., Issaquah, WA
Tickets: $15-25
Use promo code Fight20 to receive 20% off.
To register: Click the photo above, or go to www.fightnightout.com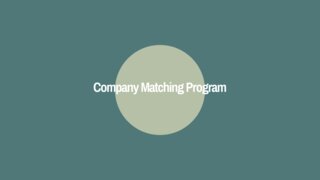 The Ridge Community Life Center
Each year the Ridge Church provides care ministries to individuals locally and internationally. As part of this ministry, donations to our church in both volunteer time and money are matched by many local companies including Microsoft. This program is listed as The Ridge Community Life Center in the matching tools of these companies, and we encourage employees of these companies to have their gifts matched by submitting through their online portals.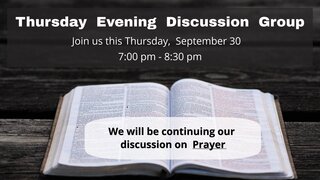 Join us this evening, September 30, at the Community Center from 7:00pm-8:30pm, as we continue our discussion on Prayer.

Call or text us at 206-518-4623.
Email any time with your prayer needs.
Contact us any time for assistance!
Loving God and Living Life Together!
Our address is: 10315 Cedar Park Crescent NE Redmond, WA 98053