RCC Weekly Update 10/07/21
Overcoming Doubt
A Message from Pastor Jerry
In 1981, Norman Shirk of the Dallas Theological Seminary wrote:
Let me meet you on the mountain, Lord,
Just once.
You wouldn't have to burn a whole bush.
Just a few smoking branches
And I would surely be ... your Moses.
Let me meet you on the water, Lord,
Just once.
It wouldn't have to be on White Rock Lake.
Just on a puddle after the annual Dallas rain
And I would surely be ... your Peter.
Let me meet you on the road, Lord,
Just once.
You wouldn't have to blind me on North Central Expressway.
Just a few bright lights on the way to chapel
And I would surely be ... your Paul.
Let me meet you, Lord,
Just once.
Anywhere. Anytime.
Just meeting you in the Word is so hard sometimes
Must I always be ... your Thomas?
Join us Sunday as we continue our look at God's story for our lives!
Pastor Jerry

Hey Kids! You won't want to miss our great Bible lesson this Sunday at Ridge Kids Sunday School! Can't wait to see you then! 😀
October is here and with that comes a lot of fun Fall activities to do as a family. I always love going to a pumpkin patch and picking out my own pumpkins. A lot of pumpkin patches will have a corn maze, goodies to buy, and great photo opportunities. If you are wanting to find a local pumpkin patch to do with your family here are two local farms that I personally love going to.
Pumpkin Patch & Corn Maze in Duvall - Pumpkin Patch & Corn Maze (muddybootspumpkins.com)
Happy Fall!
Men's Breakfast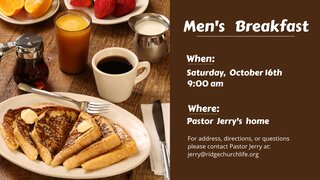 Ridge Men - join us on Saturday, October 16th, at 9:00am for our Men's Breakfast. We will be meeting at Pastor Jerry's home.
For address, directions, or any questions please contact Pastor Jerry at: jerry@ridgechurchlife.org.
Sunday Morning Coffee Fellowship Time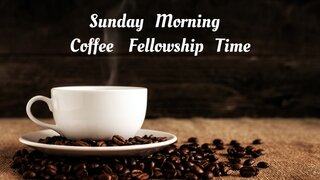 We are starting back up our Sunday Morning Coffee Fellowship Time! Come a little bit early on Sunday Morning to grab a cup of coffee and enjoy fellowshipping together.
Fall Ladies Bible Study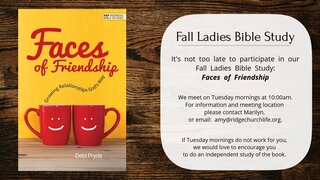 Our Fall Ladies Bible Study is underway, and God is blessing!
We meet on Tuesday mornings at 10:00 am. If you would like to join, it's not too late. Please contact Marilyn Owen or Amy Hayes: amy@ridgechurchlife.org.
If Tuesday mornings do not work for your schedule, we encourage you to do an independent study of the book. Several of our Ridge ladies are enjoying the Fall Bible Study this way.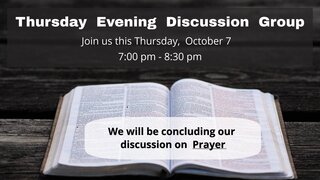 Our Thursday Evening Discussion times have been very rich and rewarding. Last week we had a meaningful time together discussing the importance of praying for the church, the pastor, and the church leaders. This evening we will be wrapping up our discussion on Prayer. We hope you will join us!
Redmond Ridge Community Center
7:00-8:30 pm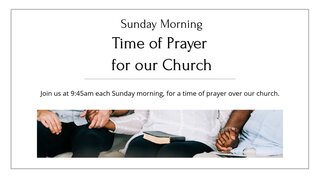 Our Monday Morning Time of Prayer has moved to Sunday mornings! We invite you to join us each Sunday morning at 9:45 am, in the side room of the Community Center.
Our time of prayer is informal, with each person praying as the Holy Spirit guides and prompts. Even if you do not feel comfortable praying out loud, we would encourage you to join us and pray along silently with us as others pray aloud.
Much prayer ... much power!
Little prayer ... little power!
No prayer ... no power!
Monday Morning Coffee & Chit-Chat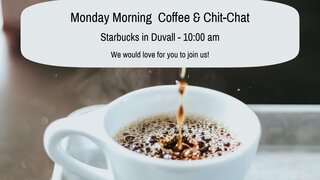 Our Ridge Ladies Monday Morning Coffee & Chit-Chat has moved locations! We are now meeting at the Starbucks in Duvall at 10:00 am each Monday morning. Our fun, encouraging time of fellowship together is such a great way to start off each new week!
We would for you to join us!

Call or text us at 206-518-4623.
Email any time with your prayer needs.
Contact us any time for assistance!
Loving God and Living Life Together!
Our address is: 10315 Cedar Park Crescent NE Redmond, WA 98053