RCC Weekly Update 10/14/21
The "Divine Messiness" of God's Kingdom Family!
A Message from Pastor Jerry
French author Stendhal wrote "One can acquire everything in solitude except character." Solitude can be a beautiful thing, but, at our core, we're a people designed for community. Relationship is a fundamental part of what makes us human – it is integral to our design. Honesty, trustworthiness, loyalty… all are simply impossible to learn outside of relationship within "community."
This Sunday we'll examine the importance of community within the story God is writing. If you don't understand the "why" behind God's community, you'll never understand the "how" in living it out. However, once you engage in that journey with God, you'll come to realize just how beautiful His kingdom family can be!
Have a great week,
Pastor Jerry

Hey Kids! You won't want to miss our great Bible lesson this Sunday at Ridge Kids Sunday School! Can't wait to see you then! 😀
Hey Parents! Did you know that your kids can do devotionals and that it's not just for teens and adults? Here is a link talking about how you can help your child with doing just a 10 minute daily devotion.
10-Minute Devotions for Kids (lifeway.com)
Men's Breakfast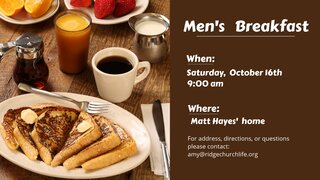 We have an important location change regarding our Men's Breakfast this coming Saturday. We will be meeting at the home of Matt Hayes.
An email went out to all Ridge Men yesterday afternoon with the address details. If you did not receive the email, please check your Junk email as it might have accidently wound up there.
If you have questions, please contact: amy@ridgechurchlife.org
We hope you can join us this Saturday, October 16, at 9:00 am.
Sunday Morning Coffee Fellowship Time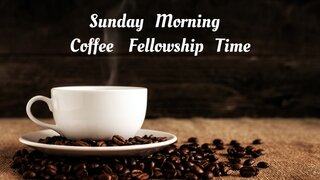 Our Sunday Morning Coffee & Fellowship has started back up! Come a little bit early on Sunday Morning to grab a cup of coffee & a donut, and enjoy fellowshipping together.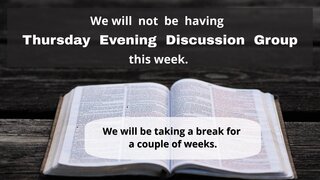 We will be taking a break for a couple of weeks from our Thursday Evening Discussion Group.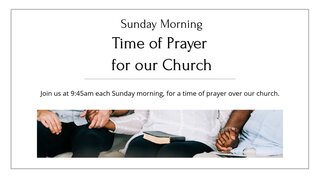 We invite you to join us each Sunday morning at 9:45 am, as we pray over our Sunday morning service, as we pray for our pastor that God would empower him and guide him as he delivers the Word to us, and as we pray over each person who attends or watches the Sunday service online.
We meet in the side room of the Community Center. Our time of prayer is informal, with each person praying as the Holy Spirit guides and prompts. Even if you do not feel comfortable praying out loud, we would love for you to join us and pray along silently as others pray aloud.
If you have needs which you would like the Prayer Team to cover, please let us know at: prayer@ridgechurchlife.org
Monday Morning Coffee & Chit-Chat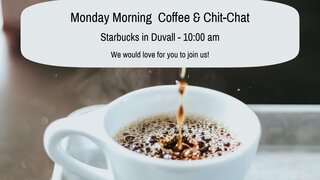 To all Ridge Ladies - we invite you to join us for Monday Morning Coffee & Chit-Chat! We meet at the Starbucks in Duvall at 10:00 am each Monday morning. Our fun, encouraging time of fellowship together is a great way to start off each new week!
We hope you will join us!

Call or text us at 206-518-4623.
Email any time with your prayer needs.
Contact us any time for assistance!
Loving God and Living Life Together!
Our address is: 10315 Cedar Park Crescent NE Redmond, WA 98053