RCC Weekly Update 03/17/22
The Art of Listening
A Message from Pastor Jerry
Franklin Roosevelt, who often endured long receiving lines at the White House, complained that no one really paid any attention to what was said. One day, during a reception, he decided to try an experiment. To each person who passed down the line and shook his hand, he murmured, "I murdered my grandmother this morning." The guests responded with phrases like, "Marvelous! Keep up the good work. We are proud of you. God bless you, sir." It was not till the end of the line, while greeting the ambassador from Bolivia, that his words were actually heard. Nonplussed, the ambassador leaned over and whispered, "I'm sure she had it coming!"
We "hear" every moment of every day, but how often do we really "listen"? This Sunday, we'll tackle one of the more debated, discussed, and misunderstood topics in Christianity: Hearing God's voice.
Have a great week!
Pastor Jerry

As we are starting to come out the pandemic, and back into our regular routines, that time of doing nothing can easily pick back up to being busy every day of the week.
How do we balance life so our children, and as a family, aren't overscheduled with no down time? Here is a great article from Focus on the Family that helps show us how to carve out that much needed downtime.
How to Help Your Overscheduled and Busy Kids - Focus on the Family
Missions Update: The "H" Family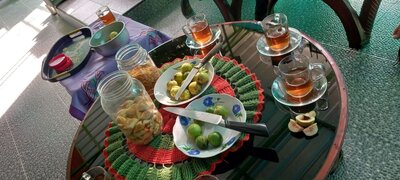 Relationships are everything in this society. The only way to get things done is when you know "a guy who knows a guy, who has a neighbor, whose cousin knows a guy who used to work there."
That's how P got an invitation to attend a formal government event celebrating the 62nd anniversary of the district we will be moving to.
P left at 2:30am to make the long drive and borrowed the required traditional attire. After spending a few hours at the event, he was invited (along with a large group of other people, including regents of the province) to join for lunch at the governor's home.
These were such honoring relationships to make as we prepare to move to the area and already "know a guy" in multiple branches of government who would advocate for and welcome us to the area.
Praise God for answering us with next steps and relationships.
Praise God for His sovereignty over this area and over our lives.
Pray for the process and timing of our move into the new area.
Pray for wisdom as we develop our business to be a tool for engaging with unreached people.
Pray against the spiritual strongholds in this region.
Men's Breakfast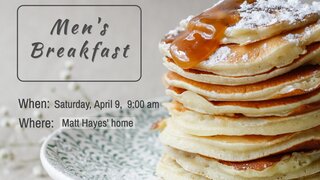 Our next Men's Breakfast will be Saturday, April 9, at 9:00 am.
For directions or questions please contact: amy@ridgechurchlife.org
Ladies Breakfast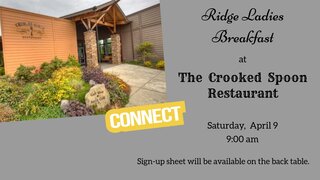 Our Ridge Ladies will be meeting together at The Crooked Spoon Restaurant in Triology for fellowship and breakfast, on Saturday, April 9, at 9:00 am.
We will be needing to make reservations, so a sign-up sheet will be available on the back table.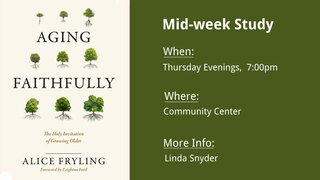 Call or text us at 206-518-4623.
Email any time with your prayer needs.
Contact us any time for assistance!
Loving God and Living Life Together!
Our address is: 10315 Cedar Park Crescent NE Redmond, WA 98053