RCC Weekly Update 04/14/22
Happy Easter!
A Message from Pastor Jerry
On May 2, 1962, an advertisement appeared in the San Francisco Examiner: "I don't want my husband to die in the gas chamber for a crime he did not commit. I will therefore offer my services for 10 years as a cook, maid, or housekeeper to any leading attorney who will defend him and bring about his vindication."
One of San Francisco's greatest attorneys, Vincent Hallinan, read or heard about the ad and contacted Gladys Kidd, who had placed it. Her husband, Robert Lee Kidd, was about to be tried for the slaying of an elderly antique dealer. Kidd's fingerprints had been found on a bloodstained ornate sword in the victim's shop. During the trial, Hallinan proved that the antique dealer had not been killed by the sword, and that Kidd's fingerprints and blood on the sword got there because Kidd had once toyed with it while playfully dueling with a friend when they were both out shopping. The jury, after 11 hours, found Kidd not guilty. After the trial, attorney Hallinan refused Gladys Kidd's offer of 10 years' servitude.
Easter Sunday celebrates the free gift of spiritual freedom through Christ – "For the wages of sin is death, but the free gift of God is eternal life in Christ Jesus our Lord" (Romans 6:23). Regardless of your past, your doubts, or your mistakes, Jesus paid the price to restore you. Join us Sunday at 10AM as we celebrate and thank Him together!
Have a great week,
Pastor Jerry

Missions Update: The "H" Family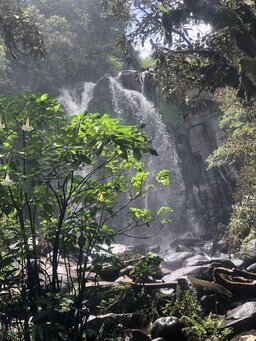 "They feel alone."
"Her family worried about her and pressured her to return."
"We haven't heard from him in a while."
"They're the only ones."
These are the words we hear over and over as we have been meeting and asking missional leaders in country how we can be a support.
We rejoice for the national workers the Lord has connected us with. (National workers meaning they are from this country, but have still gone cross-culturally into some of the 234 unreached people groups within their own borders.) We are excited about the connections He's given us with the national leaders who are sending them. We desire to come alongside them and serve them in the ways that they need.
While there are believers from this country who are burdened to go into the unreached areas, the attrition rate is very high. The sending agencies are still growing and often struggle to provide the ongoing support their missionaries need. When we asked how we could help, this became the answer! They need member care.
As our family shares the love of Jesus and seeks to disciple those living around us, we can also be providing support for the national workers, multiplying our impact. With someone to pray with, receive mentoring and counsel from, and be friends with, they can be encouraged to continue on, not give up, and reach even more people.
With that in mind, our ministry is now two-fold. Our personal evangelism and discipleship is always a focus, but we are now adding a large focus on providing member care for the national workers spread throughout the province. The leadership sending these missionaries would have to travel from other islands 1-2 days in order to reach them, but we are now going to be living just a few hours drive from most and can check in regularly, provide mentoring, and support that would otherwise be difficult for them to receive.
As a foreign family, we have multiple barriers to cross in building relationships with our neighbors. These workers, although from other islands and people groups themselves, have less barriers since they are from the same country. We are better together!
Join us in asking the Lord to sustain these workers longer on the field and may waves upon waves of the unreached people of our adopted province soon be glorifying Him!
Easter Sunday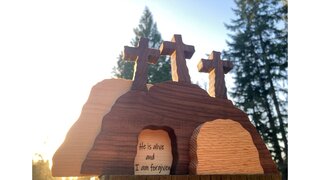 Easter Sunday is this coming Sunday - April 17.
We look forward to celebrating Christ's resurrection and victory over sin!
"Thanks be to God for His indescribable gift!" - 2 Corinthians 9:15

Call or text us at 206-518-4623.
Email any time with your prayer needs.
Contact us any time for assistance!
Loving God and Living Life Together!
Our address is: 10315 Cedar Park Crescent NE Redmond, WA 98053