RCC Weekly Update 05/19/22
Abandonment
A Message from Pastor Jerry
Ever feel abandoned or isolated? During WWII, six Navy pilots left their aircraft carrier on a mission. After searching for enemy submarines, they tried to return to their ship shortly after dark. But the captain had ordered a blackout of all lights on the ship. Over and over the frantic pilots radioed, asking for just one light so they could see to land. But the pilots were told that the blackout could not be lifted. After several appeals and denials of their request, the ship's operator turned the switch to break radio contact--and the pilots were forced to ditch in the ocean.
As Jesus debated with the Pharisees in John 8, He shared "I am the light of the world. Whoever follows me will not walk in darkness, but will have the light of life" (John 8:12). Notice the two promises: WILL NOT and WILL HAVE. Jesus is telling us that the internal voices that tell us we're alone, or abandoned, or not worthy are simply lies. When you follow Christ, God's promises are absolutes, without condition.
This week, my prayer is that you not only understand, but experience the absolute nature of God's promises to the full! This Sunday, we'll look deeper at His plan for redemption and restoration in the Old Testament.
Have a great week!
Pastor Jerry

With the promise of summer right around the corner, here is an easy craft you can do to usher in the sunshine!
PAPER PLATE WATERMELON SUNCATCHERS
Materials:
• white paper plates
• scissors and tape
• green paint and a paint brush
• adhesive clear laminate shelf liner
• black tissue paper (cut into small circles)
• pink tissue paper (cut into 1 inch squares)
Instructions:
1. Cut the paper plate in half.
2. Next, cut off the "plate" part leaving only the textured rim.
3. Paint the bottom half of the textured rim green.
4. Next cut a small rectangle of clear shelf liner (enough to fit inside the space in your paper plate).
5. Invite your child to cut small circles from the black tissue paper and place them directly onto the sticky side of the shelf liner.
6. Next, place small squares of pink tissue paper onto the sticky side of the shelf liner.
7. When the shelf liner is covered, cut another small rectangle (about the same size) and place it over the tissue paper.
8. Trim any ragged ends.
9. Place the tissue paper rectangle into the paper plate (seed side out) and secure it with tape.
10. Trim off excess edges to create a watermelon slice.
11. Hang in the window with tape and enjoy!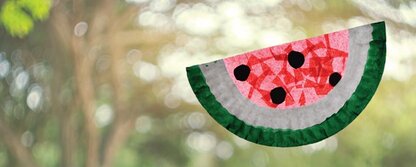 Missions Update: The "H" Family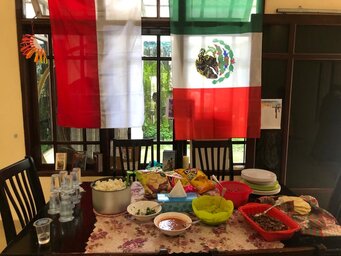 A recent highlight for our family was hosting an authentic Mexican lunch. We had a lot of fun preparing carne asada, handmade tortillas, guacamole, salsa, and pico de gallo.
Fifteen local friends came to our home and after trying this food for the first time, confirmed that it was "enak sekali!" (so delicious!). We cooked and ate for a few hours, then played board games for a few hours, and had a great day.
Please continue in prayer with us that God will provide housing and a vehicle for our upcoming time of furlough in the States. Thank you so much!
Griffin Open House Celebration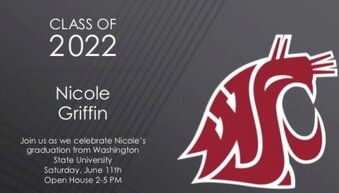 Pastor Jerry & Cindy are excited to host an Open House Celebration on Saturday, June 11th. Everyone is welcome!
This will be a great time of welcoming Nicole back home, enjoying fellowship with our amazing church family, kicking off the summer, and sending Stephanie off to Tucson!
Hope you all can make it!
For address or questions, please contact: jerry@ridgechurchlife.org

Call or text us at 206-518-4623.
Email any time with your prayer needs.
Contact us any time for assistance!
Loving God and Living Life Together!
Our address is: 10315 Cedar Park Crescent NE Redmond, WA 98053