RCC Weekly Update 07/07/22
Over the years, I've learned one very unchanging truth: Change is inevitable (I'll give you a minute to think through that!).
The past couple weeks, my wife and I have been focused on moving two of our daughters. New jobs, new homes, and new life seasons. As dad, of course, I have some very mixed emotions around the idea of all this (understatement!), and it's given me new perspective on the inevitability of being an "empty nester." However, it has been a beautiful time of family and connection and we've really felt God's presence in all of it. Along with that, of course, we've also experienced the inevitability of spiritual distraction. Satan using every possible strategy to try pulling us away from the blessing God has given us with this time together as a family.
And that brings me to my point today: God is a God of momentum. His will, His presence, His plan, and the sweeping story that He's writing is a dynamic, fluid, epic adventure that we're all a part of, whether we realize it or not. This is THE truth of your life that Satan wants to keep hidden from you. That God's call is to bring you back into the story, to restore your identity in Him, and to reveal the fullness of life as a part of His eternal story.
As I began to get pulled into those "distractions" this past week, I read this: "He shall seduce with flattery those who violate the covenant, but the people who know their God shall stand firm and take action" (Daniel 11:32). Daniel records the actions of Antiochus Epiphanes, a pagan ruler who brutally attempted to annihilate God's people. Daniel reminds us that the distractions and plans of the enemy, although very real and often brutal, have no power over the eternal victory we experience when we stand firm in the Lord.
This week, ask the Lord to reveal where you're giving in to "distraction." And, as you do that, follow Daniel's words and "stand firm" in the joy of the story God is writing in YOUR life!
Have a great week,
Pastor Jerry

Kids, get ready to have some summer fun and discover the God of the Universe with "Galactic Starveyors." Our galactic journey begins on Sunday, July 17th!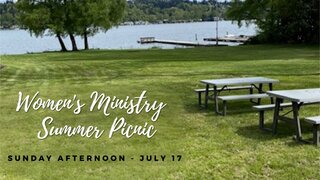 Women's Ministry Summer Picnic
Sunday afternoon, July 17
Time: Any time after church – thru the afternoon
Carpool if possible.
Bring your own non-alcoholic beverages.
Water will be provided.
Bring a lawn chair.
Due to safety measures and liability, for this event children will not be included.
Please sign up by July 10

Call or text us at 206-518-4623.
Email any time with your prayer needs.
Contact us any time for assistance!
Loving God and Living Life Together!
Our address is: 10315 Cedar Park Crescent NE Redmond, WA 98053