RCC Weekly Update 07/14/22
What's your "conversation wish list" when you eventually stand before Jesus in heaven? We all have one, but did you ever wonder what His conversation agenda might be? Lets face it, we long to hear "well done faithful servant," but those "well done" moments may just not be the ones you think they are.
I suspect the greatest moments of clarity will come when we're reminded of those touchpoints in life when we fully and completely set aside our own agendas. That seemingly insignificant moment when you focus not on your own wants and preferences, but when you're most in tune with the greater story of the Holy Spirit working through your life.
This week, we'll expand on that idea as we continue to more deeply experience God's heart for us as "His very own."
Have a great week,
Pastor Jerry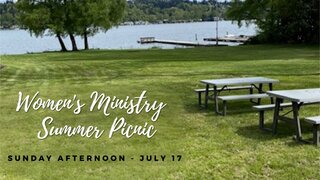 The Women's Ministry Summer Picnic
Sunday afternoon, July 17 has been
CANCELED DUE TO ILLNESS
But don't worry, we're rescheduling for July 30th at noon!
Location and more details to follow shortly.

Call or text us at 206-518-4623.
Email any time with your prayer needs.
Contact us any time for assistance!
Loving God and Living Life Together!
Our address is: 10315 Cedar Park Crescent NE Redmond, WA 98053