RCC Weekly Update 07/21/22
One of those days...
Some days, it feels as though you just can't get ahead. You know those moments when your "to do" list actually seems to spontaneously get longer, regardless of how hard you work? Or it may be a day where bad news just keeps piling on, one event after another... I think those are the days in which we're the most vulnerable. And that vulnerability almost always manifests, one way or another, as "fear."
Let's face it, Satan's original tactic so long ago in the garden was the first example in God's creation of "FOMO." Fear of missing out. He convinced Adam and Eve that somehow God was holding back His best for them, and they gave in to that fear. And "fear" has been foundational to his tactics against us ever since. Fear of the unknown. Fear of uncertainty. Fear of rejection. Fear of failure.
This Sunday, we'll tackle that subject through a familiar Bible story as we continue our look through 1 Samuel. And I'd like to challenge you: If you've ever struggled with fear, please join us at the Ridge as we seek God's truth together. Fear thrives in darkness, but it also grows exponentially when you experience isolation. Let's bring God's light into that darkness and community and fellowship into isolation!
I am so excited to share what the Lord has for us this Sunday and hope to see you there as we worship Him together!
Have a great week,
Pastor Jerry
Calling all Galactic Travelers!

We had fun kicking off Galactic Starveyors last Sunday! We are discovering the God who created our amazing universe created us and loves us! We talked about different ways we could explore the universe and one idea was going to a planetarium. Did you know there is a planetarium at the University of Washington in Seattle and they offer free shows? If you are wanting to do an activity as a family that incorporates our theme, a planetarium is a great option! Here's a link for more information: UW Planetarium – Department of Astronomy (washington.edu)
I'm so excited to continue our "galactic journey" together this Sunday as we discover the beauty of God's universe and our place within it as His very own!
See you all Sunday,
Miss Heather
Women's Ministry Summer Picnic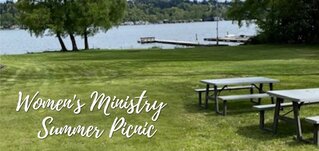 The Women's Ministry Summer Picnic will be held on Saturday, July 30th at noon!
Join us for a time of fun, sun, food, and fellowship!
We'll meet together at Sharon Beba's home on Lake Joy. Contact info@ridgechurchlife.org for address & directions.

Call or text us at 206-518-4623.
Email any time with your prayer needs.
Contact us any time for assistance!
Loving God and Living Life Together!
Our address is: 10315 Cedar Park Crescent NE Redmond, WA 98053