RCC Weekly Update 07/28/22
Walking in Victory
Last week, we identified some of the "fears" that can keep us from the fullness of life through Christ (John 10:10). As we began to look at the familiar story of David and Goliath, we saw an army, and a people, paralyzed by fear as they confronted a seemingly invincible enemy. Hopefully you've had a chance to seek the Lord this week, asking Him to reveal your own personal "fears" that seem overwhelming and undefeatable.
This Sunday, we'll continue our journey through 1 Samuel as we see how young David responds to this situation in part 2 of our look at the story in 1 Samuel 17. Small spoiler: If you join us for this week's message, you'll see that the Philistine army is in for a disappointment in their "champion"!
I'm really looking forward to sharing what the Lord has for us this Sunday and hope to see you there as we join in fellowship to worship Him together!
Have a great week,
Pastor Jerry
Calling all Galactic Travelers!

We've had a great two weeks being Galactic Starveyors and discovering God's love for us! If you're looking for more activities about the universe that you can do with your kids, check out this website to get some great information about our amazing universe that God created! www.go-astronomy.com
See you all Sunday for more galactic fun!
Miss Heather
Women's Ministry Summer Picnic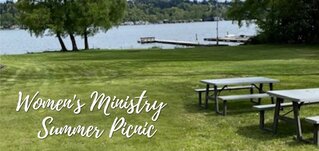 The Women's Ministry Summer Picnic will be held this Saturday, July 30th at noon!
Join us for a time of fun, sun, food, and fellowship!
We'll meet together at Sharon Beba's home on Lake Joy. We look forward to seeing you there!
All-Church Summer Picnic!
Mark your calendars! We'll join together for an all-church picnic at the Augustson's property on Lake Washington after service on Sunday, 8/14.
Note: This is a "bring your own lunch" event, so don't forget to pack something or pick it up on the way.
We'll provide address/direction info shortly!

Call or text us at 206-518-4623.
Email any time with your prayer needs.
Contact us any time for assistance!
Loving God and Living Life Together!
Our address is: 10315 Cedar Park Crescent NE Redmond, WA 98053