RCC Weekly Update 05/13/21
The Beauty of Relationship!
A Message from Pastor Jerry
If you think your family has problems, consider the marriage mayhem created when 76-year-old Bill Baker of London wed Edna Harvey, who happened to be his granddaughter's husband's mother. That's where the confusion began, according to Baker's granddaughter, Lynn.
"My mother-in-law is now my step-grandmother. My grandfather is now my stepfather-in-law. My mom is my sister-in-law and my brother is my nephew. But even crazier is that I'm now married to my uncle and my own children are my cousins."
This Sunday, we'll begin to discuss "intentionality" in relationships. And, regardless of how challenging your relationships may be, just be glad you're not in Bill & Edna's family!
Have a great week!
Pastor Jerry

Hey Kids! There will not be Ridge Kids class this week. But Ms. Heather has goodie bags just for you! 😊 See you on Sunday!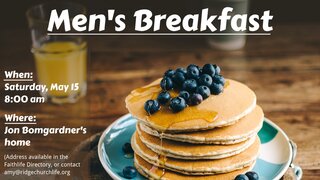 Men ... you won't want to miss this!
When: This coming Saturday, May 15, at 8:00 am
Where: Jon Bomgardner's home
If you have questions or need directions, Jon Bomgardner's address and phone # are available in the Faithlife Directory.
Or you can contact amy@ridgechurchlife.org.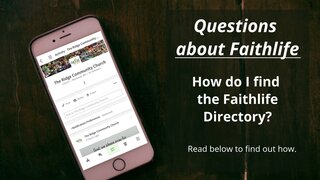 How can I find the Faithlife Directory?
If you are using the Faithlife App on your mobile phone, there are two ways to access the Directory. When you open your Faithlife App on your phone, look in the very bottom right-hand corner. There you will see three tiny horizontal lines in a row. You will want to click on this. It will open a menu-option page ... the fifth menu item down in the list is "Directory."
The second way of accessing the Faithlife Directory on your mobile phone is to open your Faithlife App, click on "The Ridge Community Church" link to go to our church main page. At the very tip-top edge of our church page, up above the header, you will notice three tiny horizontal lines in a row. You will want to click on this. It will open a drop-down of menu options. You will notice the "Directory" is about halfway down the list of options.
You can also access the Faithlife Directory on your computer. Just log into Fafithlife, and go to our church's main Faithlife page. Look for the blue left-hand column off to the side. The "Directory" is in this list of options.
You might notice that your name is not listed in the Directory. Our Church Directory is Opt-In, according to each person's preference. If you would like to be included in the Directory, contact amy@ridgechurchlife.org.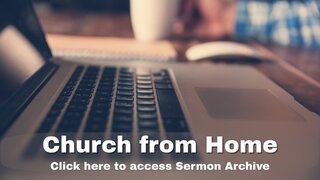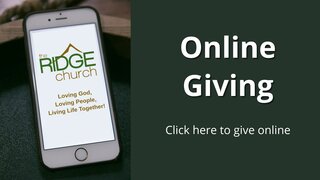 Let's Support One Another

Call or text us at 206-518-4623.
Email any time with your prayer needs.
Contact us any time for assistance!
Loving God and Living Life Together!
Our address is: 10315 Cedar Park Crescent NE Redmond, WA 98053