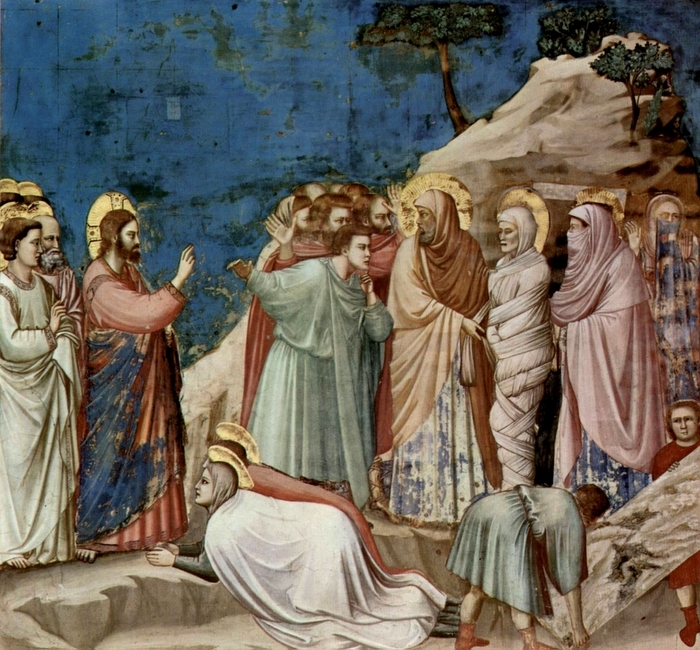 Trinity Lutheran Church - Canton, IL
November 4, 2018 - All Saints' Sunday
Welcome to Trinity!
We're glad you're here!
If you are attending via Facebook Live, please fill out the contact card at the end of today's bulletin to request a pastoral visit, join our mailing list, or update your contact information.
If you are attending in person, we invite you to sign in when the ushers pass around the clipboards, and to include your contact information so that we can send you a card (and Pastor can call you if you'd like).
We celebrate Holy Communion in worship each Sunday at 9:00 AM. Visitors are welcome for Communion—read the "Invitation to Holy Communion section to learn more.
We have weekly education programs for all ages after worship, including Sunday School (age 3+), Confirmation (7th & 8th grade), Youth Group (middle/high school), and Adult Forum.
"Need to Know" Information
Restrooms (all handicapped-accessible):


Located down the hall from the church office (women's first, then men's).
Child and Family Needs—in Fireside Room (entry area):
Children are welcome in worship! The small table has crayons and coloring books if your little ones need to keep their hands busy!
Our Family Room (next to the TV) offers a baby changing table and space for nursing or other family needs during the service!
Hearing Assistance:
You can your set hearing aid to "T" to use our T-coil hearing loop.
Other hearing assistance devices are available as well—please ask an usher if you would like to use one.
God's Mission for Trinity: Welcome. Nurture. Serve.
In order to put Christ first, we WELCOME people into the church, inviting them to receive the love and grace of Jesus so they may know themselves as children of God.
We NURTURE people in faith to support their learning and growth as followers of Jesus.
We send people out to SERVE people in emotional, spiritual, and physical need in the congregation, the community, and the world.
Welcoming & Gathering
Prelude
Welcome & Announcements
Click/tap here for this week's announcements!
NEW for Kids: Learn about the Bible with interactive games, word searches, and puzzles you can play on a phone through Bible Activities Zone! (Please be polite and turn off the sound if you are sitting in church, though!)

Please stand as you are able.

Thanksgiving for Baptism (Luther's Small Catechism—Holy Baptism)
P: In the name of the Father, and of the + Son, and of the Holy Spirit.
C: Amen.
P: Holy Baptism brings about forgiveness of sins, redeems from death and the devil, and gives eternal salvation to all who believe it,
C: as the Word and promise of God declare.
P: Let us give thanks for Holy Baptism, God's gift through which the Holy Spirit has called, gathered, and enlightened all saints in Christ, of all generations.
We give you thanks, O God, for in the beginning your Spirit moved over the waters and by your Word you created the world, calling forth life in which you took delight. Through the waters of the flood you delivered Noah and his family, and through the sea you led your people Israel from slavery into freedom. At the river your Son was baptized by John and anointed with the Holy Spirit. By water and your Word you claim us as daughters and sons, making us heirs of your promise and servants of all.
We praise you for the gift of water that sustains life, and above all we praise you for the gift of new life in Jesus Christ. Shower us with your Spirit, and renew our lives with your forgiveness, grace, and love.
To you be given honor and praise through Jesus Christ our Lord, in the unity of the Holy Spirit, now and forever.
C: Amen
Gathering Hymn "For All the Saints" (v. 1-2) ELW 422
For all the saints who from their labors rest,
who thee by faith before the world confessed,
thy name, O Jesus, be forever blest.
Alleluia! Alleluia!
Thou wast their rock, their fortress, and their might;
thou, Lord, their captain in the well-fought fight;
thou, in the darkness drear, their one true light.
Alleluia! Alleluia!
Please sit.
Remembrance of Saints at Rest
Council Representative: Let us pray. O God of grace and glory, we remember before you today our brothers and sisters who have this year preceded us in death:
The Council Representative names each person in or related to this community of faith from the list. After the list of names has been read, we will observe a moment of silence to remember other beloved saints who are now at rest.
P: God of all grace, we give you thanks because by his death our Savior Jesus Christ destroyed the power of death and by his resurrection he opened the kingdom of heaven to all believers. Make us certain that because he lives we shall live also, and that neither death nor life, nor things present nor things to come, will be able to separate us from your love in Christ Jesus our Lord, who lives and reigns with you and the Holy Spirit, one God, now and forever.
C: Amen.
Choir Anthem "For All the Saints" (v. 3-5)
Oh, blest communion, fellowship divine,
we feebly struggle, they in glory shine;
yet all are one in thee, for all are thine.
Alleluia! Alleluia!
And when the strife is fierce, the warfare long,
steals on the ear the distant triumph song,
and hearts are brave again, and arms are strong.
Alleluia! Alleluia!
The golden evening brightens in the west;
soon, soon to faithful servants cometh rest;
sweet is the calm of paradise the blest.
Alleluia! Alleluia!
Please stand as you are able.
Prayer for Saints Still Striving (Luther's Large Catechism—Creed)
P: The "communion of saints" is the holy little flock and community on earth of pure saints under one head, Christ. It is called together by the Holy Spirit in one faith, mind, and understanding. It possesses a variety of gifts, and yet is united in love without sect or schism.
C: Of this community I am also a part and member, a participant and partner in all its blessings. I was brought into it by the Holy Spirit and incorporated into it by hearing God's Word.
P: Let us pray. Direct us, O God, in all our doings with your most gracious favor, and extend to us your continual help; that in all our works begun, continued, and ended in you, we may glorify your holy name; and finally, by your mercy, bring us to everlasting life; through Jesus Christ, our Savior and Lord.
C: Amen.
Hymn "For All the Saints" (v. 6-7) ELW 422
But then there breaks a yet more glorious day:
the saints triumphant rise in bright array;
the King of glory passes on his way.
Alleluia! Alleluia!
From earth's wide bounds, from ocean's farthest coast,
through gates of pearl streams in the countless host,
singing to Father, Son, and Holy Ghost,
Alleluia! Alleluia!
Prayer of the Day
P: The Lord be with you.
C: And also with you.
P: Let us pray together. Almighty God,
C: you have knit your people together in one communion in the mystical body of your Son, Jesus Christ our Lord. Grant us grace to follow your blessed saints in lives of faith and commitment, and to know the inexpressible joys you have prepared for those who love you, through Jesus Christ, our Savior and Lord, who lives and reigns with you and the Holy Spirit, one God, now and forever. Amen
Nurtured By God's Word
Please sit.
First Reading: Isaiah 25:6-9
A: On this mountain the Lord of hosts will make for all peoples a feast of rich food, a feast of well-aged wines, of rich food filled with marrow, of well-aged wines strained clear. And he will destroy on this mountain the shroud that is cast over all peoples, the sheet that is spread over all nations; he will swallow up death forever. Then the Lord God will wipe away the tears from all faces, and the disgrace of his people he will take away from all the earth, for the Lord has spoken.
It will be said on that day, Lo, this is our God; we have waited for him, so that he might save us. This is the Lord for whom we have waited; let us be glad and rejoice in his salvation.
A: The word of the Lord.
C: Thanks be to God.
Second Reading: Revelation 21:1-6a
A: Then I saw a new heaven and a new earth; for the first heaven and the first earth had passed away, and the sea was no more. And I saw the holy city, the new Jerusalem, coming down out of heaven from God, prepared as a bride adorned for her husband. And I heard a loud voice from the throne saying, "See, the home of God is among mortals. He will dwell with them as their God; they will be his peoples, and God himself will be with them; he will wipe every tear from their eyes. Death will be no more; mourning and crying and pain will be no more, for the first things have passed away." And the one who was seated on the throne said, "See, I am making all things new." Also he said, "Write this, for these words are trustworthy and true." Then he said to me, "It is done! I am the Alpha and the Omega, the beginning and the end.
A: The word of the Lord.
C: Thanks be to God.
Please stand as you are able.
Gospel Acclamation (John 6:68)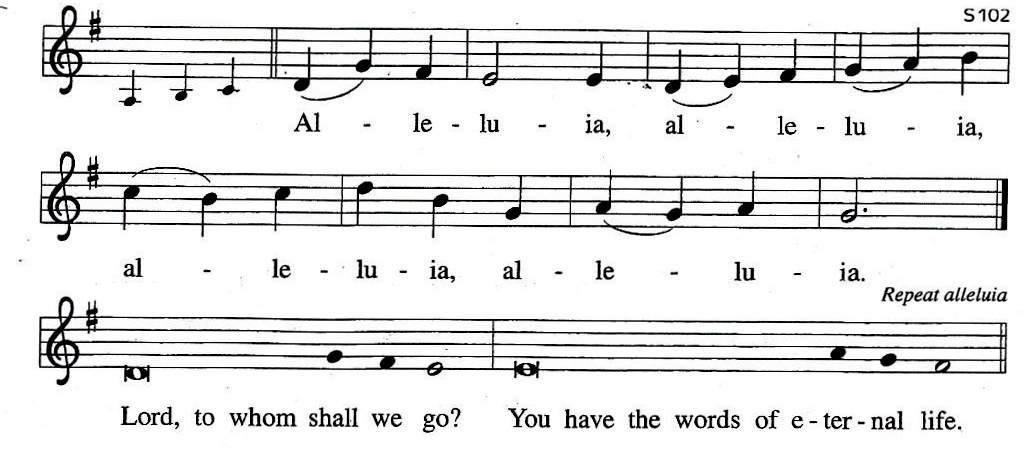 GOSPEL: John 11:32-44
P: This is the Holy Gospel according to St. John, the 11th chapter.
C: Glory to you, O Lord.
P: When Mary came where Jesus was and saw him, she knelt at his feet and said to him, "Lord, if you had been here, my brother would not have died."
When Jesus saw her weeping, and the Jews who came with her also weeping, he was greatly disturbed in spirit and deeply moved. He said, "Where have you laid him?" They said to him, "Lord, come and see."Jesus began to weep. So the Jews said, "See how he loved him!" But some of them said, "Could not he who opened the eyes of the blind man have kept this man from dying?" Then Jesus, again greatly disturbed, came to the tomb. It was a cave, and a stone was lying against it. Jesus said, "Take away the stone." Martha, the sister of the dead man, said to him, "Lord, already there is a stench because he has been dead four days." Jesus said to her, "Did I not tell you that if you believed, you would see the glory of God?" So they took away the stone. And Jesus looked upward and said, "Father, I thank you for having heard me. I knew that you always hear me, but I have said this for the sake of the crowd standing here, so that they may believe that you sent me." When he had said this, he cried with a loud voice, "Lazarus, come out!" The dead man came out, his hands and feet bound with strips of cloth, and his face wrapped in a cloth. Jesus said to them, "Unbind him, and let him go."
P: The Gospel of the Lord.
C: Praise to you, O Christ.
Please sit.
Children's Time & Sermon
Please stand as you are able.
Hymn of the Day "Oh, Happy Day When We Shall Stand" ELW 441
Profession of Faith (Apostles' Creed)
C: I believe in God, the Father almighty, creator of heaven and earth.
I believe in Jesus Christ, God's only Son, our Lord. He was conceived by the power of the Holy Spirit and born of the virgin Mary. He suffered under Pontius Pilate, was crucified, died, and was buried. He descended into hell. On the third day he rose again. He ascended into heaven, and is seated at the right hand of the Father. He will come again to judge the living and the dead.
I believe in the Holy Spirit, the holy catholic Church, the communion of saints, the forgiveness of sins, the resurrection of the body, and the life everlasting. Amen.
Prayers of the Church (1 Timothy 2:1-2)
Each section of the prayers ends:
A: Lord, in your mercy,
C: Hear our prayer.
When we get to this part, please join in reading the names in bold:
A: Today, we pray especially for...these friends on our Prayer List:
C: Dave, JoAnne, Nikki, Lois, Cecil, Andrea, Tom, Ron, Carolyn, Florence, Eleanor, Karen, Ian, Kirk, Dawn, Lois, Lynette, Carole, Paul, Sandy, Brian, Easton, Angela, Brenda, Richard, Chandra & Brooklyn, Mallerie, Eric, Vicki, Jeff, Diane, Eric, Jenny, Lucas, and Cindy.
At the conclusion of the prayers:
P: Into your hands…through Jesus Christ, our Savior and Lord.
C: Amen.
Sharing of the Peace (John 14:27, 20:19-21; Matthew 5:23-24)
P: The peace of the Lord be with you always.
C: And also with you.
Please sit.
Nurtured By Christ's Meal
Offering "The Morning Trumpet" Choir with Brass
Please stand as you are able.
Sung Offertory "Doxology"
Praise God from whom all blessings flow;
Praise him, all creatures here below;
Praise him above, ye heav'nly host;
Praise Father, Son, and Holy Ghost. Amen
Offertory Prayer
A: Let us pray. Creator God, you made everything, and you provide for every need. The bread we break and the wine we pour come from you. As we eat and drink with thanksgiving, fill us with your love; let that love flow through us to others; and join us to the saints before us in a holy and boundless communion; through Jesus Christ our Lord.
C: Amen.

Great Thanksgiving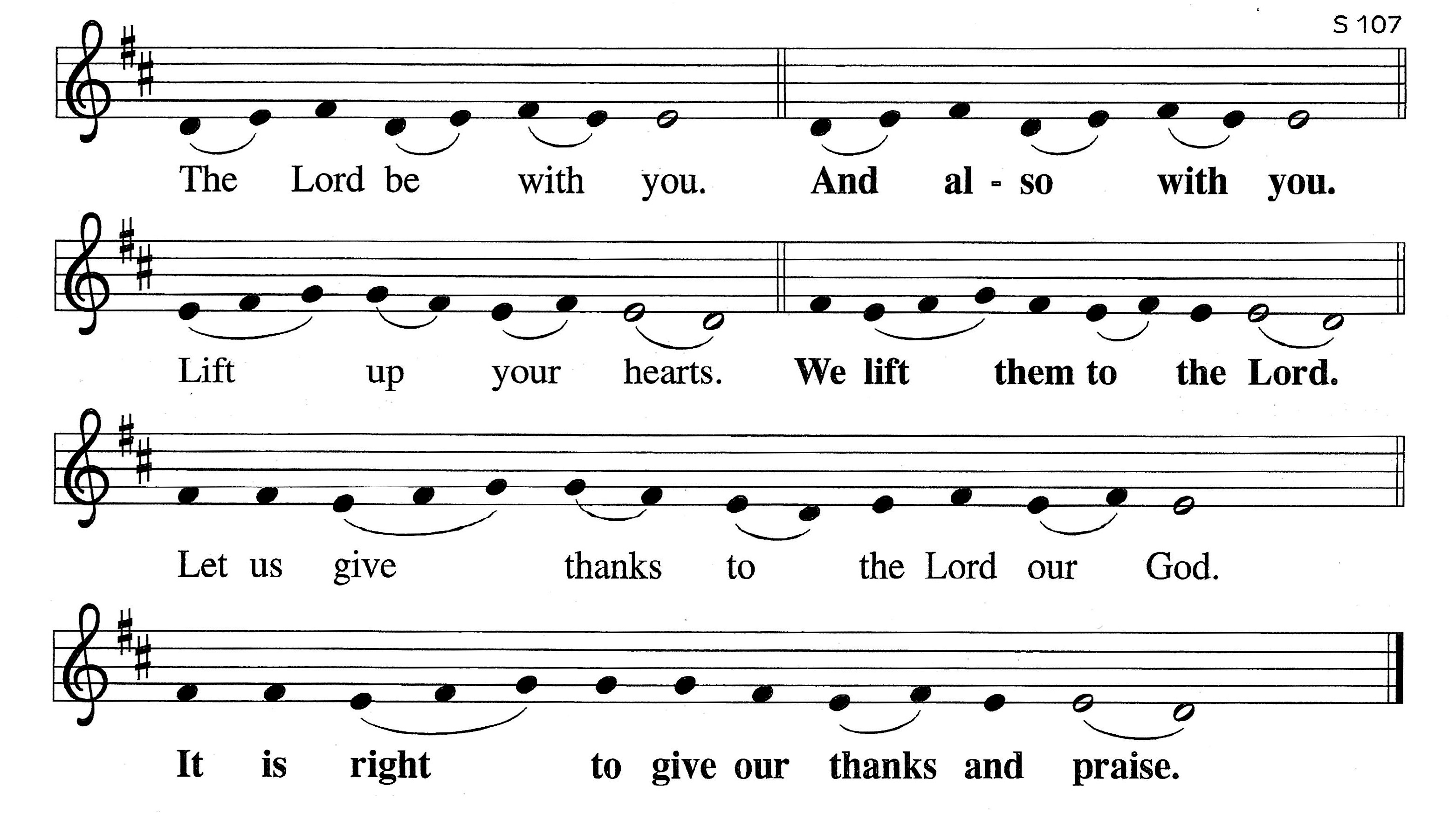 P: It is indeed right...we praise your name and join their unending hymn:
Holy, Holy, Holy (Isaiah 6:3, Psalm 118:26, Mark 11:9-10)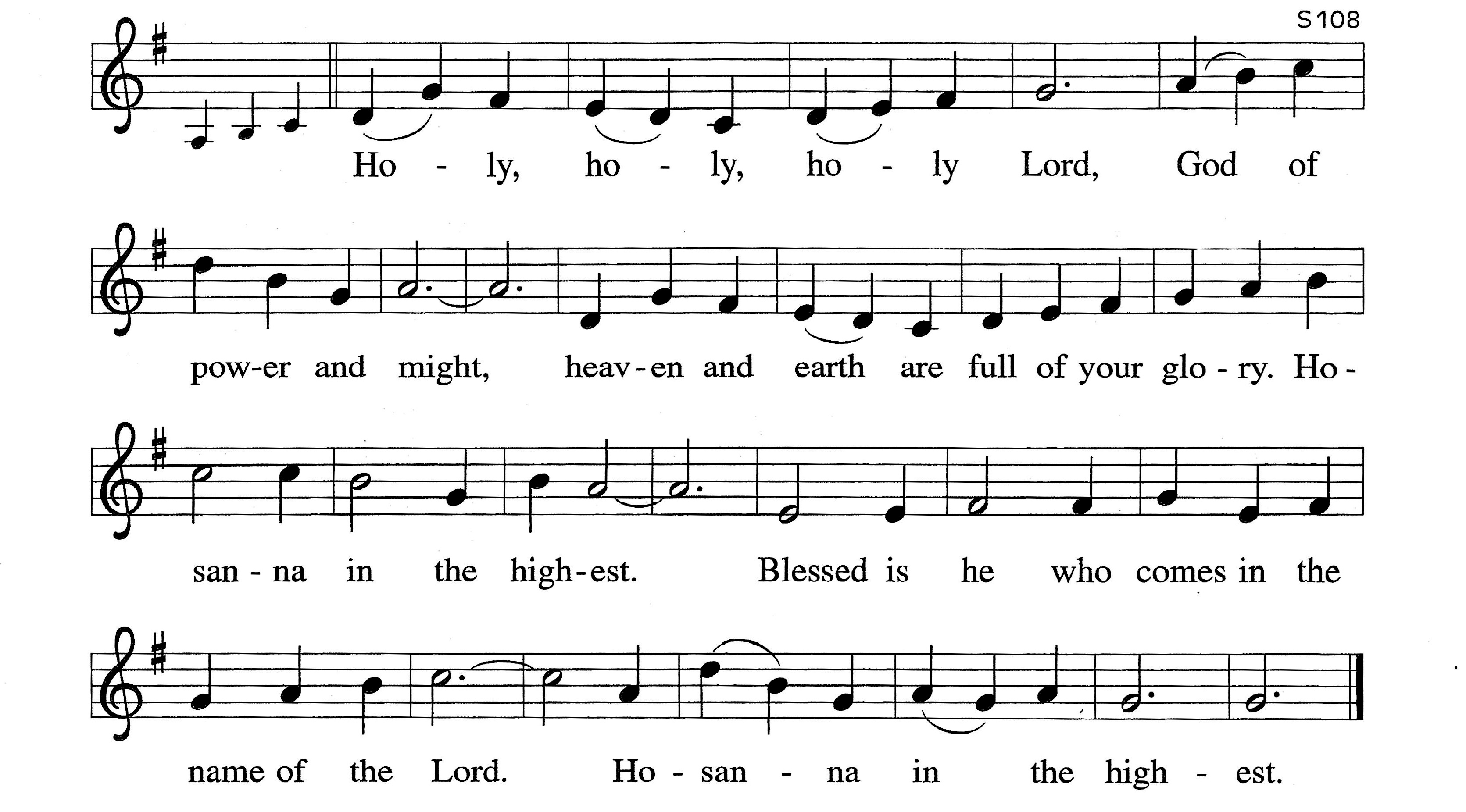 Eucharistic Prayer (1 Corinthians 11:23-26)
P: Holy, mighty, and merciful Lord...
In the night in which he was betrayed, our Lord Jesus took bread...
Again, after supper, he took the cup...
Pour out upon us...now and forever.
C: Amen.
Lord's Prayer (Matthew 6:9-13, Luke 11:2-4)
C: Our Father, who art in heaven, hallowed be thy name. Thy kingdom come, thy will be done, on earth as it is in heaven. Give us today our daily bread, and forgive us our trespasses as we forgive those who trespass against us. Lead us not into temptation, but deliver us from evil. For thine is the kingdom, and the power, and the glory, for ever and ever. Amen.
Please sit.
Lamb of God (John 1:29)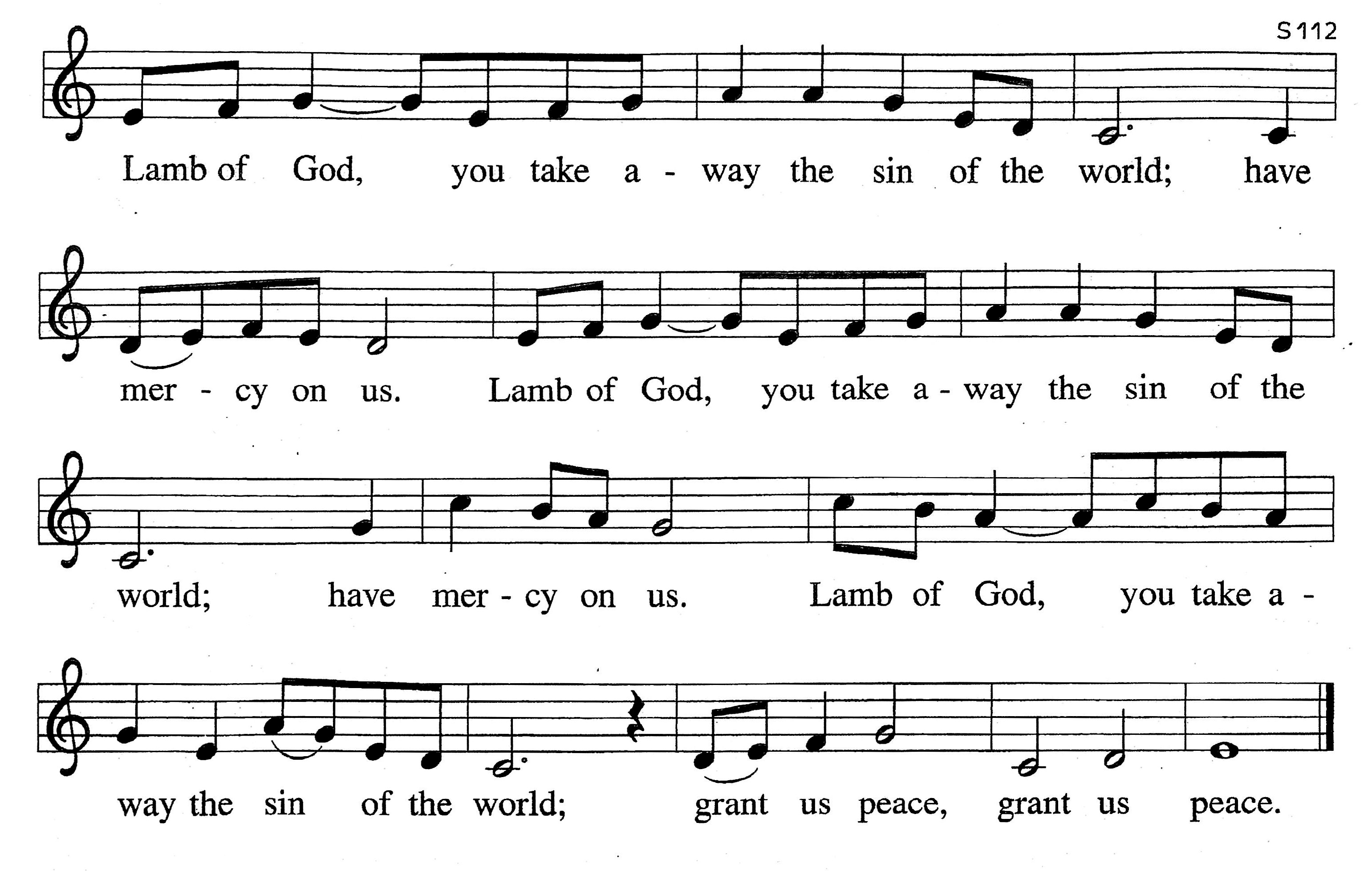 Invitation to Holy Communion
If you are visiting today, you are welcome to receive Holy Communion.
Please come forward when the usher comes to your row. (If you are unable to come forward, please tell the usher, and the servers will come to you.)
Pastor will give you the bread, and then you can choose to either drink wine from the first (silver) cup or to dip your bread in the second (blue) cup, which has both red wine and white grape juice.
If you prefer not to receive Holy Communion, you are invited to come forward with your arms folded across your chest to receive a blessing.
All are invited to sing the following hymns while Communion is distributed:
ELW 428 "Give Thanks for Saints"
ELW 451 "We Are Baptized in Christ Jesus"
ELW 454 "Remember and Rejoice"
ELW 456 "Baptized in Water"

Please stand as you are able.
Prayer after Communion
A: Let us pray. Sovereign God, in this meal you give us a foretaste of the great feast to come. Keep us faithful to you, that we, with all your saints, may at length celebrate the marriage feast of the Lamb, Jesus Christ our Lord.
C: Amen.
Sending Us Out to Serve
Benediction (Numbers 6:24-25, sung)
P: The Lord bless you and keep you.
The Lord make his face shine on you and be gracious to you.
The Lord look upon you with favor and give you peace,
in the name of the Father, and of the + Son, and of the Holy Spirit.
C: (sung response below)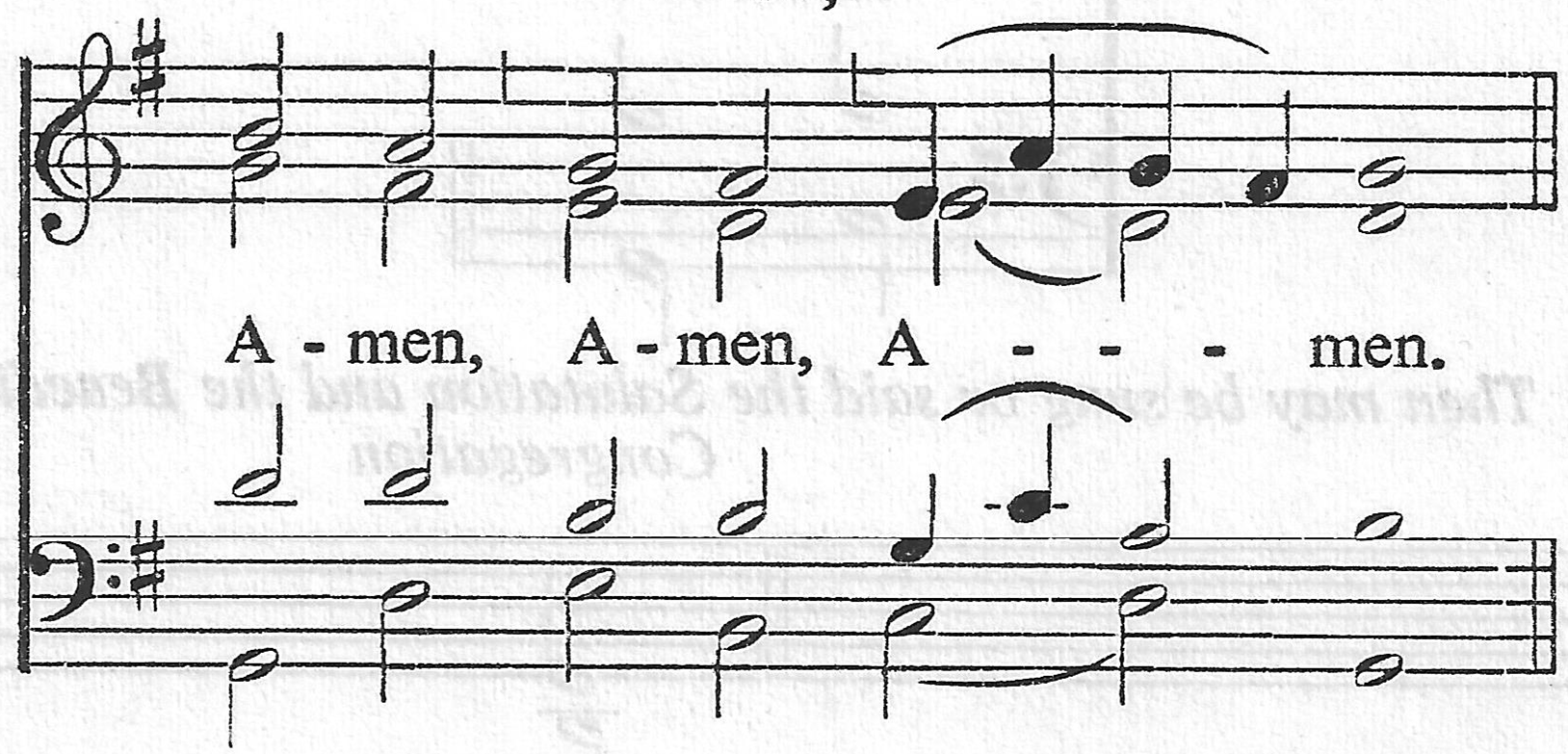 Sending Hymn "Ye Watchers and Ye Holy Ones" ELW 424
Dismissal
A: Go in peace. Serve the Lord!
C: Thanks be to God!
Postlude
Copyright Notices
Service words & music reproduced and streamed under Augsburg Fortress Liturgies License #SBL-14744.
Other hymns streamed under OneLicense #A-715015.
Let us get to know you!
Please take a moment to send us your information so that we may stay connected with you. Your information is carefully managed and protected.
How did you hear about us?