Trinity Lutheran Church - Canton, IL
February 10, 2019 - Fifth Sunday after Epiphany Scouting Sunday
Welcome to Trinity!
We're glad you're here!
If you are attending via Facebook Live, please fill out the contact card at the end of today's bulletin to request a pastoral visit, join our mailing list, or update your contact information.
If you are attending in person, we invite you to sign in when the ushers pass around the clipboards, and to include your contact information so that we can send you a card (and Pastor can call you if you'd like).
We celebrate Holy Communion in worship each Sunday at 9:00 AM. Visitors are welcome for Communion—read the "Invitation to Holy Communion section to learn more.
We have weekly education programs for all ages after worship, including Sunday School (age 3+), Confirmation (7th & 8th grade), Youth Group (middle/high school), and Adult Forum.
"Need to Know" Information
Restrooms (all handicapped-accessible):


Located down the hall from the church office (women's first, then men's).
Child and Family Needs—in Fireside Room (entry area):
Children are welcome in worship! The small table has crayons and coloring books if your little ones need to keep their hands busy!
Our Family Room (next to the TV) offers a baby changing table and space for nursing or other family needs during the service!
Hearing Assistance:
You can your set hearing aid to "T" to use our T-coil hearing loop.
Other hearing assistance devices are available as well—please ask an usher if you would like to use one.
God's Mission for Trinity: Welcome. Nurture. Serve.
In order to put Christ first, we WELCOME people into the church, inviting them to receive the love and grace of Jesus so they may know themselves as children of God.
We NURTURE people in faith to support their learning and growth as followers of Jesus.
We send people out to SERVE people in emotional, spiritual, and physical need in the congregation, the community, and the world.
Welcoming & Gathering
Prelude
Welcome & Announcements
Click/tap here for this week's announcements!
NEW for Kids: Learn about the Bible with interactive games, word searches, and puzzles you can play on a phone through Bible Activities Zone! (Please be polite and turn off the sound if you are sitting in church, though!)
Scouting Sunday Greetings
Boy Scout Troop 124
Cub Scout Pack 124
Girl Scout Troop 4055
Prayer for Scouts
Please stand as you are able.
Gathering Hymn "You Are Mine" ELW 581
Confession and Forgiveness (John 20:23)
P: In the name of the Father, and of the + Son, and of the Holy Spirit.
C: Amen.
P: God of all mercy and consolation, come to the help of your people, turning us from our sin to live for you alone. Give us the power of your Holy Spirit that we may confess our sin, receive your forgiveness, and grow into the fullness of Jesus Christ, our Savior and Lord.
C: Amen.
P: Let us confess our sin in the presence of God and of one another. (A brief silence.) Gracious God,
C: have mercy on us. We confess that we have turned from you and given ourselves into the power of sin. We are truly sorry and humbly repent. In your compassion, forgive us our sins, known and unknown, things we have done and things we have failed to do. Turn us again to you, and uphold us by your Spirit, so that we may live and serve you in newness of life through Jesus Christ, our Savior and Lord. Amen.
P: In the mercy of almighty God, Jesus Christ was given to die for us, and for his sake, God forgives us all our sins. As a called and ordained minister of the church of Christ, and by his authority, I therefore declare to you the entire forgiveness of all your sins, in the name of the Father, and of the + Son, and of the Holy Spirit.
C: Amen.
C: Amen.
Apostolic Greeting & Prayer of the Day (2 Corinthians 13:13)
P: The grace of our Lord Jesus Christ, the love of God, and the communion of the Holy Spirit be with you all.
C: And also with you.
P: Let us pray together. Most holy God,
C: the earth is filled with your glory, and before you angels and saints stand in awe. Enlarge our vision to see your power at work in the world, and by your grace make us heralds of your Son, Jesus Christ, our Savior and Lord. Amen
Nurtured By God's Word
First Reading: Isaiah 6:1-8
(Summary: Through a vision in the temple, the eighth-century prophet Isaiah is called by God to announce judgment against Israel. Like other prophets, Isaiah is initially hesitant because of his awareness of his sin and his shortcomings, but when the Lord calls, Isaiah responds, "Here am I; send me!")
A: In the year that King Uzziah died, I saw the Lord sitting on a throne, high and lofty; and the hem of his robe filled the temple. Seraphs were in attendance above him; each had six wings: with two they covered their faces, and with two they covered their feet, and with two they flew. And one called to another and said: "Holy, holy, holy is the Lord of hosts; the whole earth is full of his glory." The pivots on the thresholds shook at the voices of those who called, and the house filled with smoke.
And I said: "Woe is me! I am lost, for I am a man of unclean lips, and I live among a people of unclean lips; yet my eyes have seen the King, the Lord of hosts!" Then one of the seraphs flew to me, holding a live coal that had been taken from the altar with a pair of tongs. The seraph touched my mouth with it and said: "Now that this has touched your lips, your guilt has departed and your sin is blotted out." Then I heard the voice of the Lord saying, "Whom shall I send, and who will go for us?" And I said, "Here am I; send me!"
A: The word of the Lord.
C: Thanks be to God.
Second Reading: 1 Corinthians 15:1-11
(Summary: Paul delivers in a nutshell the story of the gospel that was given to him. In the lineage of the Christian faith, we have received the good news of God's love from generations of believers before us, and we continue to tell this story to the world.)
A: Now I would remind you, brothers and sisters, of the good news that I proclaimed to you, which you in turn received, in which also you stand, through which also you are being saved, if you hold firmly to the message that I proclaimed to you—unless you have come to believe in vain. For I handed on to you as of first importance what I in turn had received: that Christ died for our sins in accordance with the scriptures, and that he was buried, and that he was raised on the third day in accordance with the scriptures, and that he appeared to Cephas, then to the twelve. Then he appeared to more than five hundred brothers and sisters at one time, most of whom are still alive, though some have died. Then he appeared to James, then to all the apostles. Last of all, as to one untimely born, he appeared also to me. For I am the least of the apostles, unfit to be called an apostle, because I persecuted the church of God. But by the grace of God I am what I am, and his grace toward me has not been in vain. On the contrary, I worked harder than any of them—though it was not I, but the grace of God that is with me. Whether then it was I or they, so we proclaim and so you have come to believe.
A: The word of the Lord.
C: Thanks be to God.
Please stand as you are able.
Gospel Acclamation (John 6:68)

GOSPEL: Luke 4:21-30
(Summary: Jesus' teaching of God's word has begun to draw great crowds. For Simon, James, and John, Jesus' teaching inspires hospitality, then obedience, and then risk. After Jesus' creative power is revealed, fear and amazement lead these three fishermen to leave everything behind in order to become apostles.)
P: This is the Holy Gospel according to St. Luke, the 4th chapter.
C: Glory to you, O Lord.
P: Once while Jesus was standing beside the lake of Gennesaret, and the crowd was pressing in on him to hear the word of God, he saw two boats there at the shore of the lake; the fishermen had gone out of them and were washing their nets. He got into one of the boats, the one belonging to Simon, and asked him to put out a little way from the shore. Then he sat down and taught the crowds from the boat. When he had finished speaking, he said to Simon, "Put out into the deep water and let down your nets for a catch." Simon answered, "Master, we have worked all night long but have caught nothing. Yet if you say so, I will let down the nets." When they had done this, they caught so many fish that their nets were beginning to break. So they signaled their partners in the other boat to come and help them. And they came and filled both boats, so that they began to sink. But when Simon Peter saw it, he fell down at Jesus' knees, saying, "Go away from me, Lord, for I am a sinful man!" For he and all who were with him were amazed at the catch of fish that they had taken;and so also were James and John, sons of Zebedee, who were partners with Simon. Then Jesus said to Simon, "Do not be afraid; from now on you will be catching people." When they had brought their boats to shore, they left everything and followed him.
P: The Gospel of the Lord.
C: Praise to you, O Christ.
Please sit.
Children's Time & Sermon
Please stand as you are able.
Hymn of the Day "Jesus Christ Is Risen Today" ELW 365
Profession of Faith (Apostles' Creed)
C: I believe in God, the Father almighty, creator of heaven and earth.
I believe in Jesus Christ, God's only Son, our Lord. He was conceived by the power of the Holy Spirit and born of the virgin Mary. He suffered under Pontius Pilate, was crucified, died, and was buried. He descended into hell. On the third day he rose again. He ascended into heaven, and is seated at the right hand of the Father. He will come again to judge the living and the dead.
I believe in the Holy Spirit, the holy catholic Church, the communion of saints, the forgiveness of sins, the resurrection of the body, and the life everlasting. Amen.
Prayers of the Church (1 Timothy 2:1-2)
Each section of the prayers ends:
A: Lord, in your mercy,
C: Hear our prayer.
When we get to this part, please join in reading the names in bold:
A: Today, we pray especially for...these friends on our Prayer List:
C: JoAnne, Lois, Cecil, Pat, Tom, Ron, Eleanor, Florence, Ian, Karen, Kirk, Dawn, Lois, Lynette, Carole, Paul, Brian, Susan, Brenda, Diane, Cindy, Lucas, Adrienne, Rosemary, Dave, Alice, Tim, Evan, Mary, and Lori.
At the conclusion of the prayers:
P: Into your hands…through Jesus Christ, our Savior and Lord.
C: Amen.
Sharing of the Peace (John 14:27, 20:19-21; Matthew 5:23-24)
P: The peace of the Lord be with you always.
C: And also with you.
Please sit.
Nurtured By Christ's Meal
Please sit.
Offering Kids' Choir
The refrain for the Kids' Choir's song today is sung in Swahili, the native language of the composer.
Please stand as you are able.
Sung Offertory "Doxology"
Praise God, from whom all blessings flow;
Praise him, all creatures here below;
Praise him above, ye heavn'ly host;
Praise Father, Son, and Holy Ghost. Amen
Offertory Prayer
A: Let us pray. God of all creation, all you have made is good, and your love endures forever. You bring forth bread from the earth and fruit from the vine. Nourish us with these gifts, that we might be for the world signs of your gracious presence in Jesus Christ, our Savior and Lord.
C: Amen.

Great Thanksgiving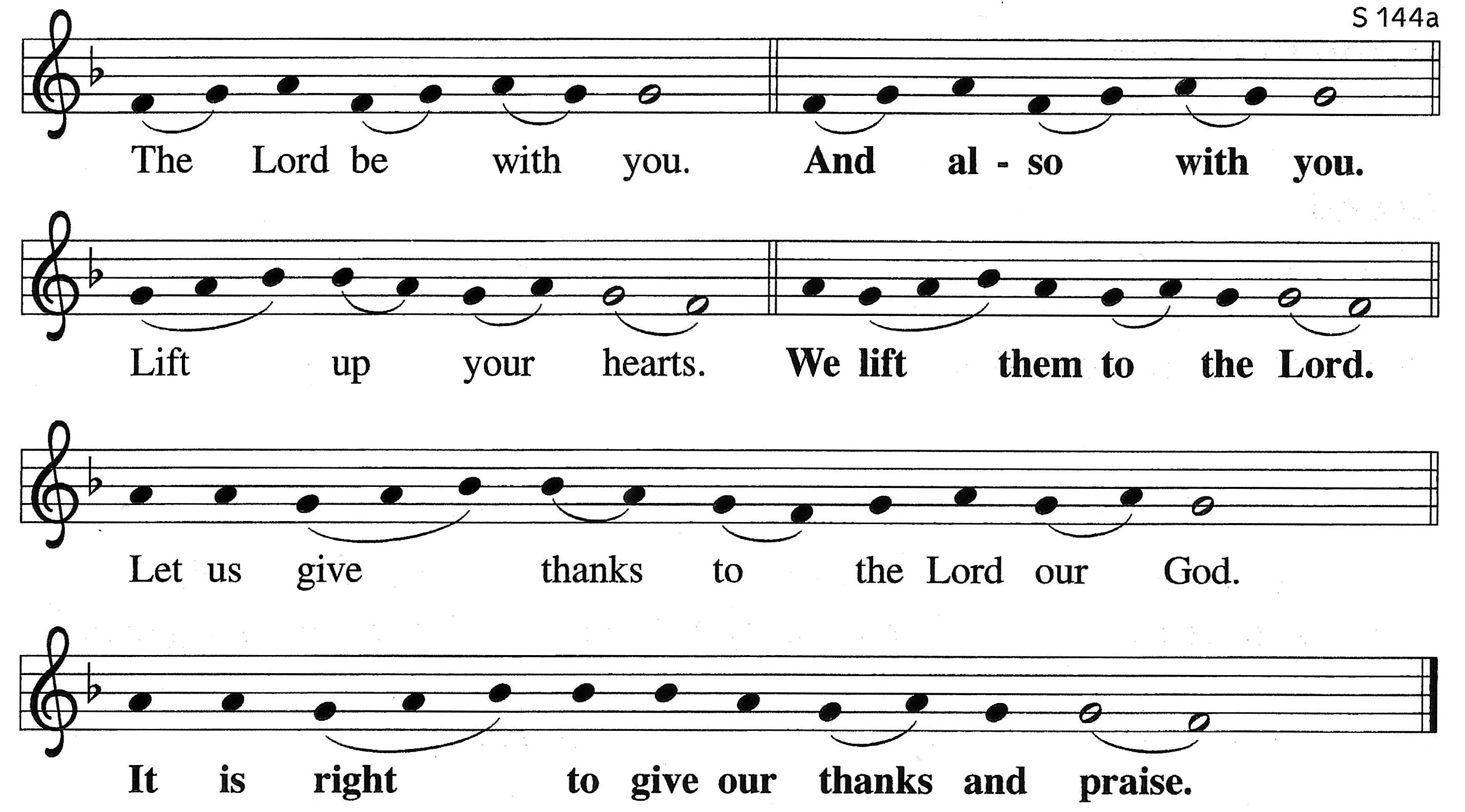 P: It is indeed right...we praise your name and join their unending hymn:
Holy, Holy, Holy (Isaiah 6:3, Psalm 118:26, Mark 11:9-10)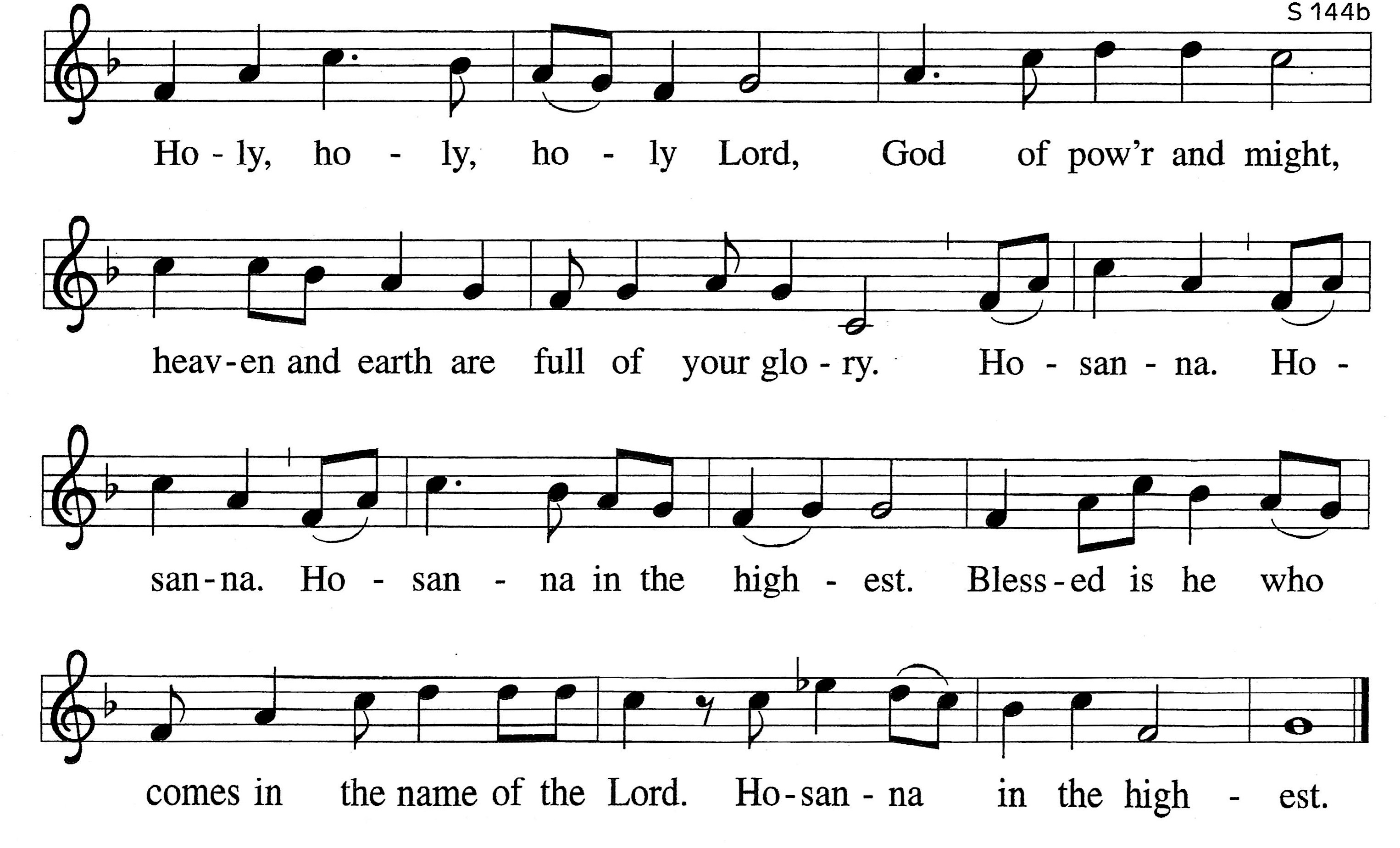 Eucharistic Prayer (1 Corinthians 11:23-26)
P: Holy, mighty, and merciful Lord...
In the night in which he was betrayed, our Lord Jesus took bread...
Again, after supper, he took the cup...
Pour out upon us...now and forever.
C: Amen.
Lord's Prayer (Matthew 6:9-13, Luke 11:2-4)
C: Our Father, who art in heaven, hallowed be thy name. Thy kingdom come, thy will be done, on earth as it is in heaven. Give us today our daily bread, and forgive us our trespasses as we forgive those who trespass against us. Lead us not into temptation, but deliver us from evil. For thine is the kingdom, and the power, and the glory, for ever and ever. Amen.
Please sit.
Lamb of God (John 1:29)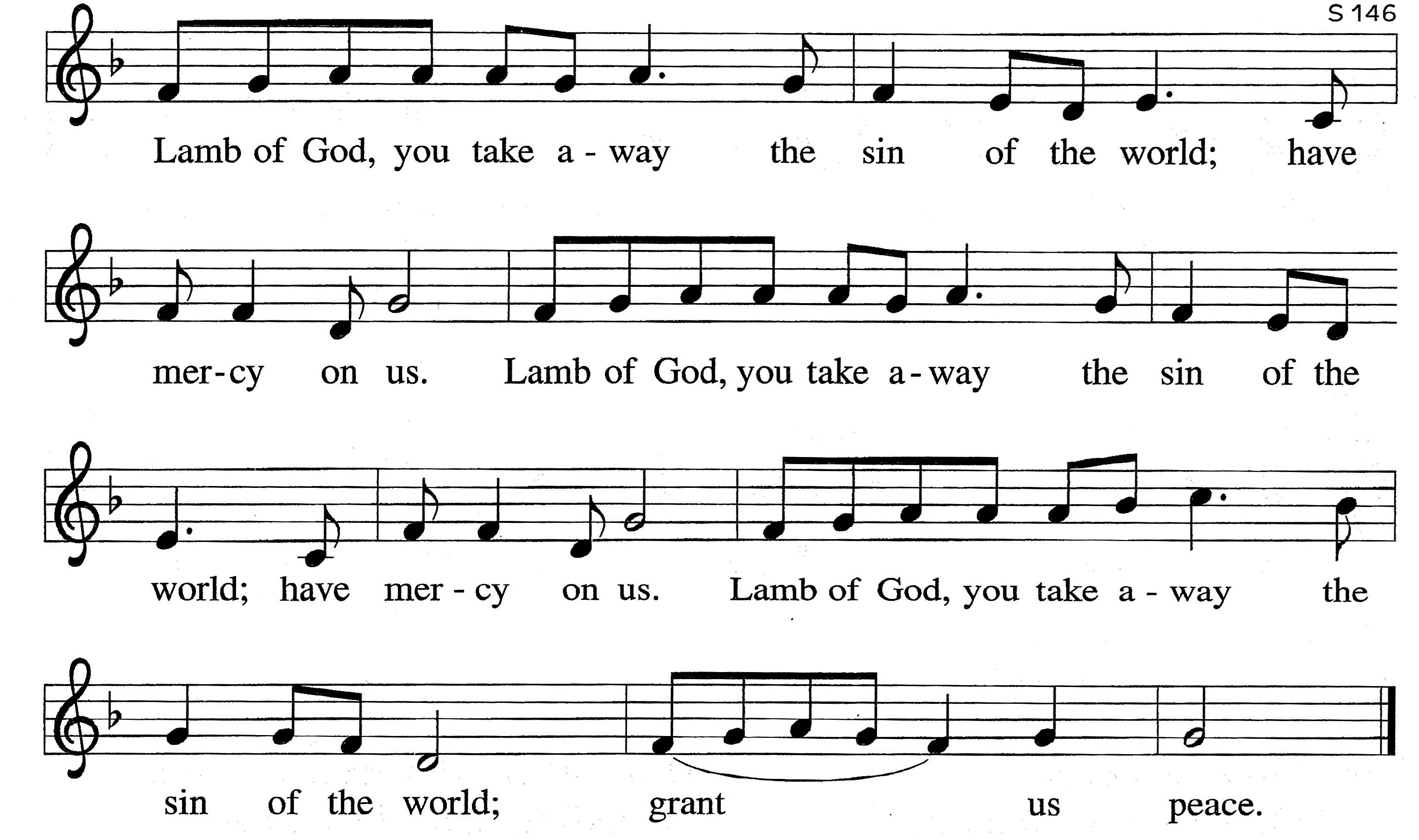 Invitation to Holy Communion
If you are visiting today, you are welcome to receive Holy Communion.
Please come forward when the usher comes to your row. (If you are unable to come forward, please tell the usher, and the servers will come to you.)
Pastor will give you the bread, and then you can choose to either drink wine from the first (silver) cup or to dip your bread in the second (blue) cup, which has both red wine and white grape juice.
If you prefer not to receive Holy Communion, you are invited to come forward with your arms folded across your chest to receive a blessing.
All are invited to sing the following hymns while Communion is distributed:
ELW 496 "One Bread, One Body"
ELW 474 "Bread of Life from Heaven"
ELW 798 "Will You Come and Follow Me"
ELW 471 "Let Us Break Bread Together"

Please stand as you are able.
Blessing
P: The body and blood of our Lord Jesus Christ strengthen you and keep you in his grace.
C: Amen.

Prayer after Communion
A: Let us pray. We thank you, O God, that you have fed us at your banqueting table with bread and wine beyond compare, the very life of Christ for us. Send your Spirit with us now, that we may set the captive free, use your gifts to build one another up, and in everything reflect your glory revealed in Jesus Christ, our Savior and Lord.
C: Amen.
Sending Us Out to Serve
Benediction (Numbers 6:24-25, sung)
P: The Lord bless you and keep you.
The Lord make his face shine on you and be gracious to you.
The Lord look upon you with favor and give you peace,
in the name of the Father, and of the + Son, and of the Holy Spirit.
C: (sung response below)

Gathering Hymn "Holy, Holy, Holy, Lord God Almighty!" ELW 413
Dismissal
A: Go in peace. Serve the Lord!
C: Thanks be to God!
Postlude
Copyright Notices
Service words & music reproduced and streamed under Augsburg Fortress Liturgies License #SBL-14744.
Other hymns streamed under OneLicense #A-715015.
Let us get to know you!
Please take a moment to send us your information so that we may stay connected with you. Your information is carefully managed and protected.
How did you hear about us?