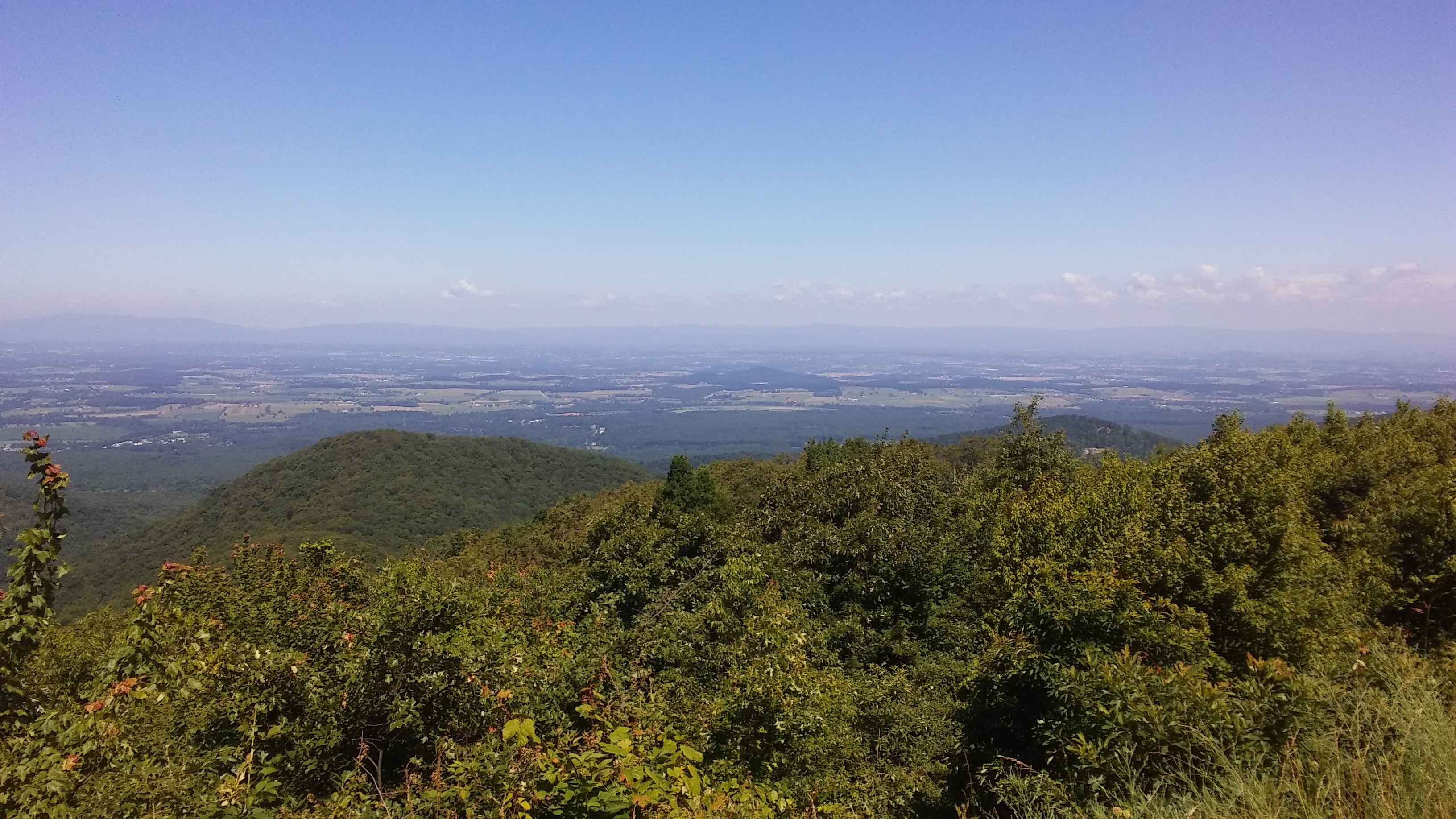 Trinity Lutheran Church - Canton, IL
August 18, 2019 - 10th Sunday after Pentecost Education Celebration Sunday
Welcome to Trinity!
We're glad you're here!
If you are attending via Facebook Live, please fill out the contact card at the end of today's bulletin to request a pastoral visit, join our mailing list, or update your contact information.
If you are attending in person, we invite you to sign in when the ushers pass around the clipboards, and to include your contact information so that we can send you a card (and Pastor can call you if you'd like).
We celebrate Holy Communion in worship each Sunday at 9:00 AM. Visitors are welcome for Communion—read the "Invitation to Holy Communion section to learn more.
We have weekly education programs for all ages after worship, including Sunday School (age 3+), Confirmation (7th & 8th grade), Youth Group (middle/high school), and Adult Forum.
"Need to Know" Information
Restrooms (all handicapped-accessible):


Located down the hall from the church office (women's first, then men's).
Child and Family Needs—in Fireside Room (entry area):
Children are welcome in worship! The small table has crayons and coloring books if your little ones need to keep their hands busy!
Our Family Room (next to the TV) offers a baby changing table and space for nursing or other family needs during the service!
Hearing Assistance:
You can your set hearing aid to "T" to use our T-coil hearing loop.
Other hearing assistance devices are available as well—please ask an usher if you would like to use one.
God's Mission for Trinity: Welcome. Nurture. Serve.
In order to put Christ first, we WELCOME people into the church, inviting them to receive the love and grace of Jesus so they may know themselves as children of God.
We NURTURE people in faith to support their learning and growth as followers of Jesus.
We send people out to SERVE people in emotional, spiritual, and physical need in the congregation, the community, and the world.
Welcoming & Gathering
Prelude
Welcome & Announcements
Click/tap here for this week's announcements!
For Kids: Learn about the Bible with interactive games, word searches, and puzzles you can play on a phone through Bible Activities Zone! (Please be polite and turn off the sound if you are sitting in church, though!)
Today's Favorite Hymns Summer selections were requested by:
"Go, My Children, with My Blessing" - Sue Freeman
Please stand as you are able.
Gathering Hymn "Lord, Take My Hand and Lead Me" #767
Confession and Forgiveness (1 John 1:8-10; John 20:23)
P: Blessed be the holy Trinity, + one God, who forgives all our sin, whose mercy endures forever.
C: Amen.
P: Seeking reconciliation with God and neighbor, let us remember the gift of baptism and confess our sin. (A brief silence.) O God of mercy,
C: we confess that we have sinned against you, against one another, and against the earth entrusted to our care. We are worried and distracted by many things, and we fail to love you above all else. We store up treasures for ourselves and turn away from our neighbors in need. Forgive us, that we may live in the freedom of your Son, Jesus Christ our Lord. Amen.
P: Though we are captive to sin and unable to free ourselves, God made us alive in Christ, forgiving us all our trespasses by taking our sins to the cross. As a called and ordained minister of the church of Christ, and by his authority, I therefore declare to you the entire forgiveness of all your sins in the name of the Father, and of the + Son, and of the Holy Spirit.
C: Amen.
Apostolic Greeting (2 Corinthians 13:13)
P: The grace of our Lord Jesus Christ, the love of God, and the communion of the Holy Spirit be with you all.
C: And also with you.
Prayer of the Day
P: Let us pray together. Merciful God, gracious and benevolent,
C: through your Son you invite all the world to a meal of mercy. Grant that we may eagerly follow his call, and bring us with all your saints into your life of justice and joy, through Jesus Christ, our Savior and Lord. Amen
Please sit.
Nurtured By God's Word
First Reading: Isaiah 1:10-18
Isaiah announces God's displeasure with the offerings and sacrifices of a people who are without compassion. He urges them instead to do justice and defend the oppressed. Indeed, if they repent, the Lord promises, they will be made as clean as new-fallen snow.
A: Hear the word of the LORD, you rulers of Sodom! Listen to the teaching of our God, you people of Gomorrah! What to me is the multitude of your sacrifices? says the LORD; I have had enough of burnt offerings of rams and the fat of fed beasts; I do not delight in the blood of bulls, or of lambs, or of goats. When you come to appear before me, who asked this from your hand? Trample my courts no more; bringing offerings is futile; incense is an abomination to me. New moon and sabbath and calling of convocation—I cannot endure solemn assemblies with iniquity. Your new moons and your appointed festivals my soul hates; they have become a burden to me, I am weary of bearing them. When you stretch out your hands, I will hide my eyes from you; even though you make many prayers, I will not listen; your hands are full of blood. Wash yourselves; make yourselves clean; remove the evil of your doings from before my eyes; cease to do evil, learn to do good; seek justice, rescue the oppressed, defend the orphan, plead for the widow. Come now, let us argue it out, says the LORD: though your sins are like scarlet, they shall be like snow; though they are red like crimson, they shall become like wool.
A: The word of the Lord.
C: Thanks be to God.
Psalm 32:1-7 (sung to the tone below)

L: Happy are they whose transgressions | are forgiven,
and whose sin is | put away!
C: Happy are they to whom the LORD im- | putes no guilt,
and in whose spirit there | is no guile!
L: While I held my tongue, my bones with- | ered away,
because of my groaning | all day long.
C: For your hand was heavy upon me | day and night;
my moisture was dried up as in the | heat of summer.
L: Then I acknowledged my sin to you, and did not con- | ceal my guilt.
I said, "I will confess my transgressions to the LORD."
Then you forgave me the guilt | of my sin.
C: Therefore all the faithful will make their prayers to you in | time of trouble;
when the great waters overflow, they | shall not reach them.
L: You are my hiding-place; you preserve | me from trouble;
you surround me with shouts | of deliverance.
Second Reading: 2 Thessalonians 1:1-4, 11-12
This letter begins with Paul's typical salutation, blessing, and words of praise for what God is accomplishing among the recipients. By remaining faithful and growing spiritually during hardship, the Thessalonian Christians have become witnesses to the glory of God.
A: Paul, Silvanus, and Timothy, to the church of the Thessalonians in God our Father and the Lord Jesus Christ: Grace to you and peace from God our Father and the Lord Jesus Christ. We must always give thanks to God for you, brothers and sisters, as is right, because your faith is growing abundantly, and the love of everyone of you for one another is increasing. Therefore we ourselves boast of you among the churches of God for your steadfastness and faith during all your persecutions and the afflictions that you are enduring.
To this end we always pray for you, asking that our God will make you worthy of his call and will fulfill by his power every good resolve and work of faith, so that the name of our Lord Jesus may be glorified in you, and you in him, according to the grace of our God and the Lord Jesus Christ.
A: The word of the Lord.
C: Thanks be to God.
Please stand as you are able.
Gospel Acclamation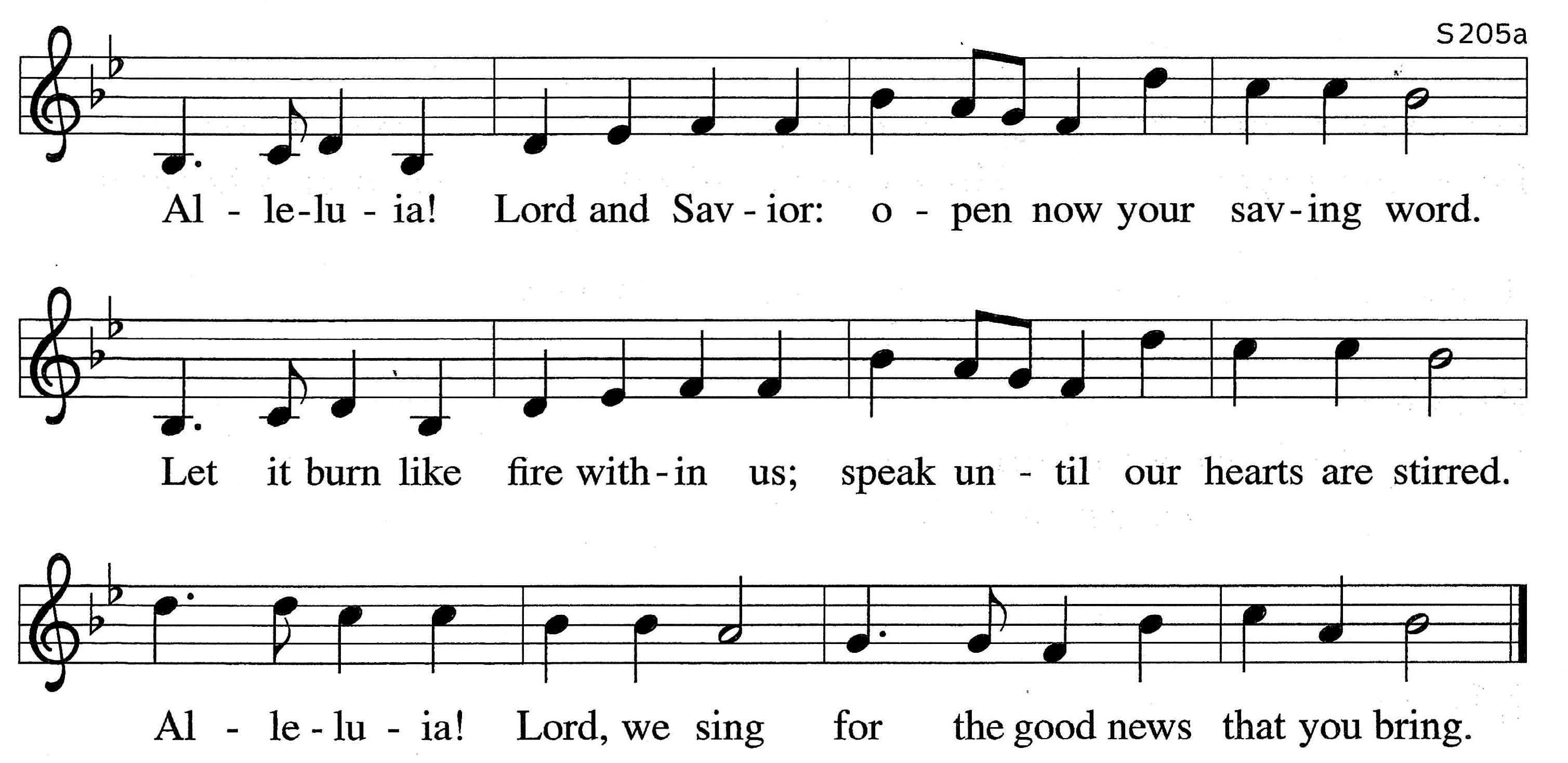 Gospel Reading: Luke 12:32-40
Jesus encounters Zacchaeus, a rich man who is also a lost sinner. Moved by Jesus' acceptance of him, Zacchaeus becomes a model of discipleship. In immediate response to being restored to God's people, Zacchaeus ministers to the poor and seeks reconciliation with those whom he has wronged.
P: This is the Holy Gospel according to St. Luke, the 19th chapter.
C: Glory to you, O Lord.
P: [Jesus] entered Jericho and was passing through it. A man was there named Zacchaeus; he was a chief tax collector and was rich. He was trying to see who Jesus was, but on account of the crowd he could not, because he was short in stature. So he ran ahead and climbed a sycamore tree to see him, because he was going to pass that way. When Jesus came to the place, he looked up and said to him, "Zacchaeus, hurry and come down; for I must stay at your house today." So he hurried down and was happy to welcome him. All who saw it began to grumble and said, "He has gone to be the guest of one who is a sinner." Zacchaeus stood there and said to the Lord, "Look, half of my possessions, Lord, I will give to the poor; and if I have defrauded anyone of anything, I will pay back four times as much." Then Jesus said to him, "Today salvation has come to this house, because he too is a son of Abraham. For the Son of Man came to seek out and to save the lost."
P: The Gospel of the Lord.
C: Praise to you, O Christ.
Please sit.
Children's Time: 2019 Blessing of the Backpacks
Sermon
Please stand as you are able.
Hymn of the Day "Will You Come and Follow Me" #798
Profession of Faith (Apostles' Creed)
C: I believe in God, the Father almighty, creator of heaven and earth.
I believe in Jesus Christ, God's only Son, our Lord. He was conceived by the power of the Holy Spirit and born of the virgin Mary. He suffered under Pontius Pilate, was crucified, died, and was buried. He descended into hell. On the third day he rose again. He ascended into heaven, and is seated at the right hand of the Father. He will come again to judge the living and the dead.
I believe in the Holy Spirit, the holy catholic Church, the communion of saints, the forgiveness of sins, the resurrection of the body, and the life everlasting. Amen.
Prayers of the Church (1 Timothy 2:1-2)
Each section of the prayers ends:
A: Lord, in your mercy,
C: Hear our prayer.
When we get to this part, please join in reading the names in bold:
A: Today, we pray especially...and for these friends on our Prayer list:
C: JoAnne, Marilyn, Cecil, Rebecca, Tom, Ron, Eleanor, Jim, Karen, Ian, Kirk, Pr. Paul, Rosalie, Dawn, Lois, Lynette, Carole, Paul, Becky, Brian, Brenda, John, Marvin, Jerry, Diane, Bob, Gene, Brittany, Paul, and Pete.
At the conclusion of the prayers:
P: Into your hands…through Jesus Christ, our Savior and Lord.
C: Amen.
Sharing of the Peace (John 14:27, 20:19-21; Matthew 5:23-24)
P: The peace of the Lord be with you always.
C: And also with you.
Please sit.
Nurtured By Christ's Meal
Offering
Please stand as you are able.
Sung Offertory "Take My Life, that I May Be" (v. 1 & 4) #685
Take my life, that I may be consecrated, Lord, to thee;
take my moments and my days; let them flow in ceaseless praise.
Take my silver and my gold, not a mite would I with-hold;
take my intellect, and use ev'ry pow'r as thou shalt choose.
Offertory Prayer
A: Let us pray. Blessed are you, O God, for the greening earth given for all, for the talents we are given to share, and for this bread and wine. Transform us to be the body of Christ, that, feasting on this food and drink, our lives may reflect your generosity; through Christ our Lord.
C: Amen.

Great Thanksgiving
P: The Lord be with you.
C: And also with you.
P: Lift up your hearts.
C: We lift them to the Lord.
P: Let us give thanks to the Lord our God.
C: It is right to give God thanks and praise.
P: It is indeed right…we praise your name and join their unending hymn:
Holy, Holy, Holy (Isaiah 6:3, Psalm 118:26, Mark 11:9-10)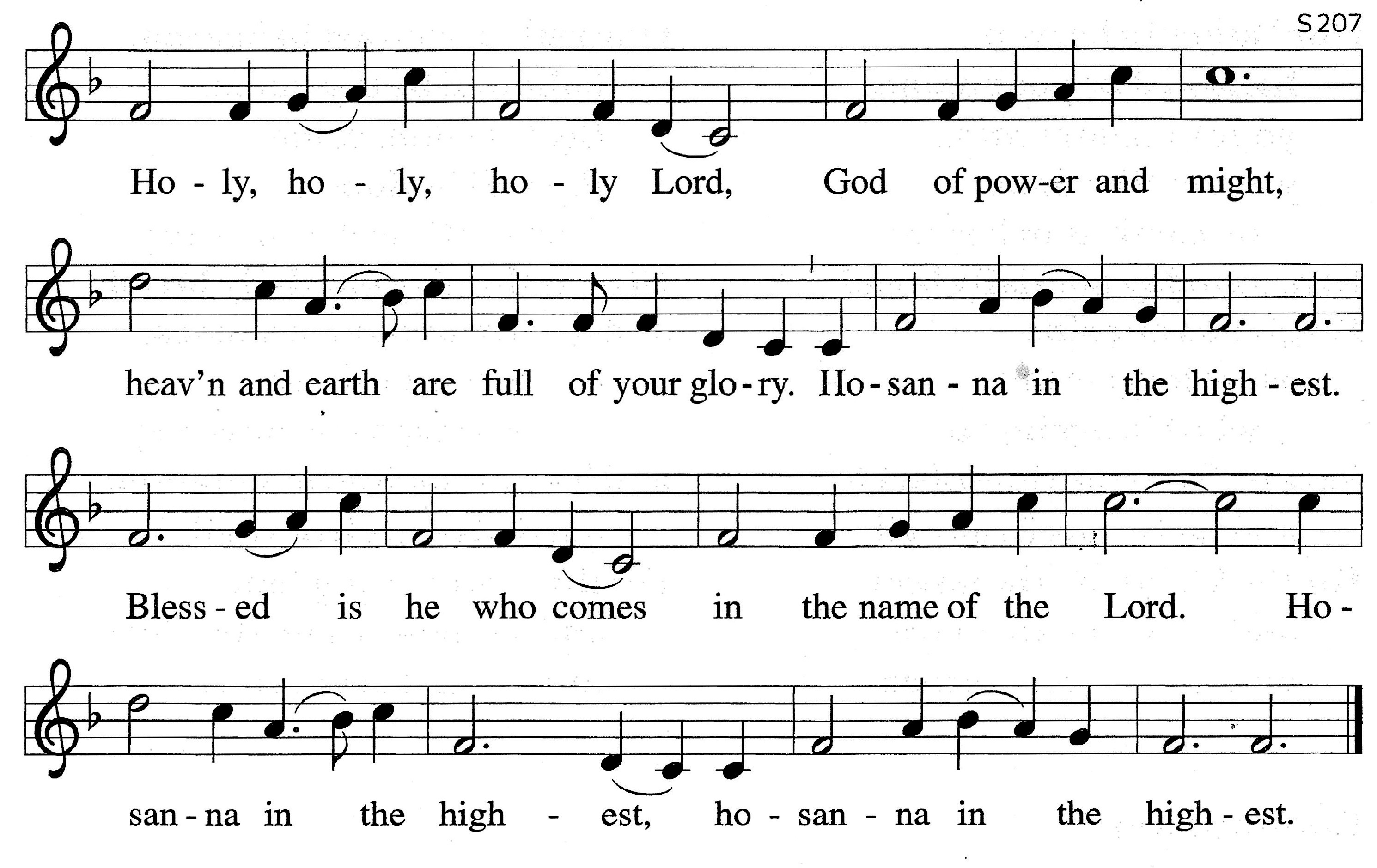 Eucharistic Prayer (1 Corinthians 11:23-26)
P: Holy, mighty, and merciful Lord...
In the night in which he was betrayed, our Lord Jesus took bread...
Again, after supper, he took the cup...
Pour out upon us...now and forever.
C: Amen.
Lord's Prayer (Matthew 6:9-13, Luke 11:2-4)
C: Our Father, who art in heaven, hallowed be thy name. Thy kingdom come, thy will be done, on earth as it is in heaven. Give us today our daily bread, and forgive us our trespasses as we forgive those who trespass against us. Lead us not into temptation, but deliver us from evil. For thine is the kingdom, and the power, and the glory, for ever and ever. Amen.
Please sit.
Lamb of God (John 1:29)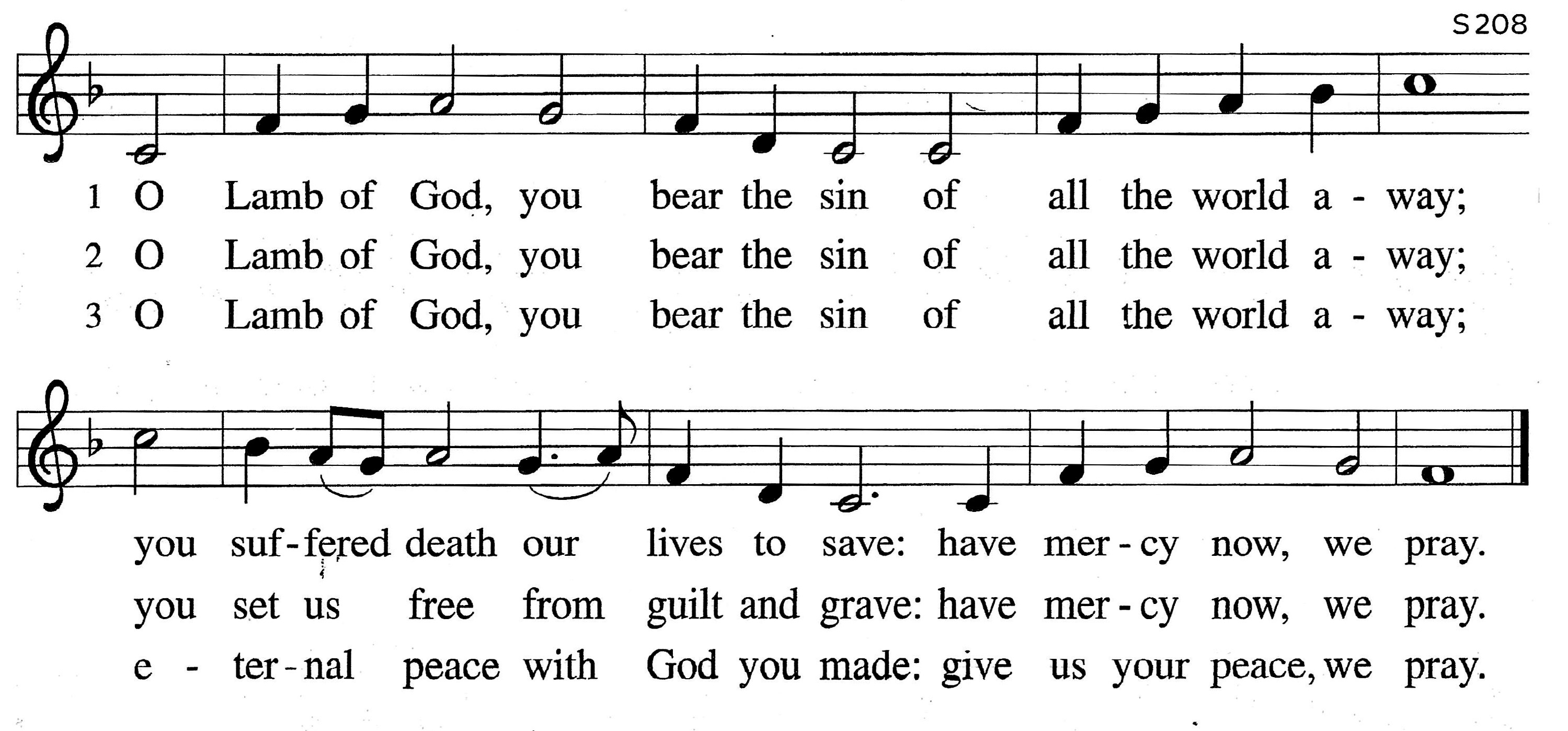 Invitation to Holy Communion
If you are visiting today, you are welcome to receive Holy Communion.
Please come forward when the usher comes to your row. (If you are unable to come forward, please tell the usher, and the servers will come to you.)
Pastor will give you the bread, and then you can choose to either drink wine from the first (silver) cup or to dip your bread in the second (blue) cup, which has both red wine and white grape juice.
If you prefer not to receive Holy Communion, you are invited to come forward with your arms folded across your chest to receive a blessing.
All are invited to sing the following hymns while Communion is distributed:
#595 "Jesus Loves Me!"
#781 "Children of the Heavenly Father"
#581 "You Are Mine"
#471 "Let Us Break Bread Together"

Please stand as you are able.
Blessing
P: The body and blood of our Lord Jesus Christ strengthen you and keep you in his grace.
C: Amen.

Prayer after Communion
A: Let us pray. O God, in this holy communion you have welcomed us into your presence, nourished us with words of mercy, and fed us at your table. Amid the cares of this life, strengthen us to love you with all our heart, serve our neighbors with a willing spirit, and honor the earth you have made; through Christ our Lord.
C: Amen.
Sending Us Out to Serve
2019 Trinity Scholarship Presentation
Hannah Kees, Bradley University
Elizabeth Spahn, University of Illinois at Urbana-Champaign
Benediction (Numbers 6:24-25, sung)
P: The Lord bless you and keep you.
The Lord make his face shine on you and be gracious to you.
The Lord look upon you with favor and give you peace,
in the name of the Father, and of the + Son, and of the Holy Spirit.
C: (sung response below)

Sending Hymn* "Go, My Children, with My Blessing" #543
Dismissal
A: Go in peace. Serve the Lord!
C: Thanks be to God!
Postlude
Copyright Notices
Service words & music reproduced and streamed under Augsburg Fortress Liturgies License #SBL-14744.
Other hymns streamed under OneLicense #A-715015.
Let us get to know you!
Please take a moment to send us your information so that we may stay connected with you. Your information is carefully managed and protected.
How did you hear about us?