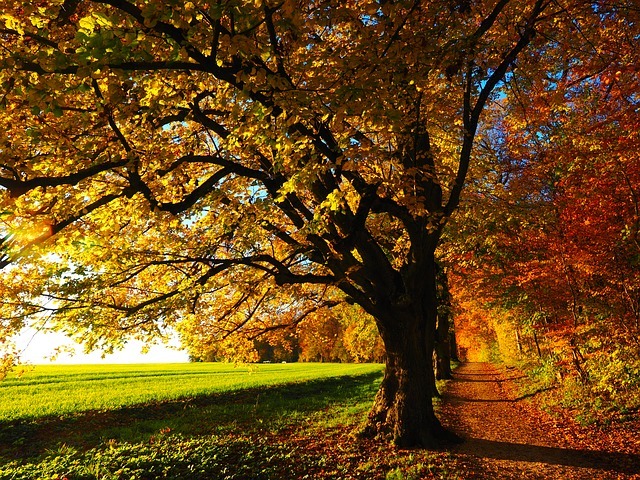 Trinity Lutheran Church - Canton, IL
September 8, 2019 - 13th Sunday after Pentecost
Welcome to Trinity!
We're glad you're here!
If you are attending via Facebook Live, please fill out the contact card at the end of today's bulletin to request a pastoral visit, join our mailing list, or update your contact information.
If you are attending in person, we invite you to sign in when the ushers pass around the clipboards, and to include your contact information so that we can send you a card (and Pastor can call you if you'd like).
We celebrate Holy Communion in worship each Sunday at 9:00 AM. Visitors are welcome for Communion—read the "Invitation to Holy Communion section to learn more.
We have weekly education programs for all ages after worship, including Sunday School (age 3+), Confirmation (7th & 8th grade), Youth Group (middle/high school), and Adult Forum.
"Need to Know" Information
Restrooms (all handicapped-accessible):


Located down the hall from the church office (women's first, then men's).
Child and Family Needs—in Fireside Room (entry area):
Children are welcome in worship! The small table has crayons and coloring books if your little ones need to keep their hands busy!
Our Family Room (next to the TV) offers a baby changing table and space for nursing or other family needs during the service!
Hearing Assistance:
You can your set hearing aid to "T" to use our T-coil hearing loop.
Other hearing assistance devices are available as well—please ask an usher if you would like to use one.
God's Mission for Trinity: Welcome. Nurture. Serve.
In order to put Christ first, we WELCOME people into the church, inviting them to receive the love and grace of Jesus so they may know themselves as children of God.
We NURTURE people in faith to support their learning and growth as followers of Jesus.
We send people out to SERVE people in emotional, spiritual, and physical need in the congregation, the community, and the world.
Welcoming & Gathering
Prelude
Welcome
Click/tap here for this week's announcements!
For Kids: Learn about the Bible with interactive games, word searches, and puzzles you can play on a phone through Bible Activities Zone! (Please be polite and turn off the sound if you are sitting in church, though!)
Introduction to Evangelical Lutheran Worship Setting 6
Confession and Forgiveness (based on the Prayer of St. Francis)
P: In the name of the Father, and of the + Son, and of the Holy Spirit.
C: Amen.
P: Let us confess our brokenness, and the sin that burdens us. (A brief silence.) Lord, make us instruments of your peace.
C: Where we or others have shown hate, let us sow love. Where people are hurting, let us sow pardon. Where we have doubted you or others, let us sow faith. Where we have been in despair, darkness, and sadness, let us sow hope, light, and joy.
P: God, our Divine Master, grants that we may not so much seek to be consoled as to console; to be understood as to understand; to be loved as to love; For it is in giving that we receive; it is in pardoning that we are pardoned; and it is in dying that we are born to eternal life. As a called and ordained minister of the church of Christ, and by his authority, I therefore declare to you the entire forgiveness of your sins, in the name of the Father, and of the + Son, and of the Holy Spirit.
C: Amen.
Apostolic Greeting (2 Corinthians 13:13)
P: The grace of our Lord Jesus Christ, the love of God, and the communion of the Holy Spirit be with you all.
C: And also with you.
Hymn of Praise (Luke 2:14) "Glory to God in the Highest"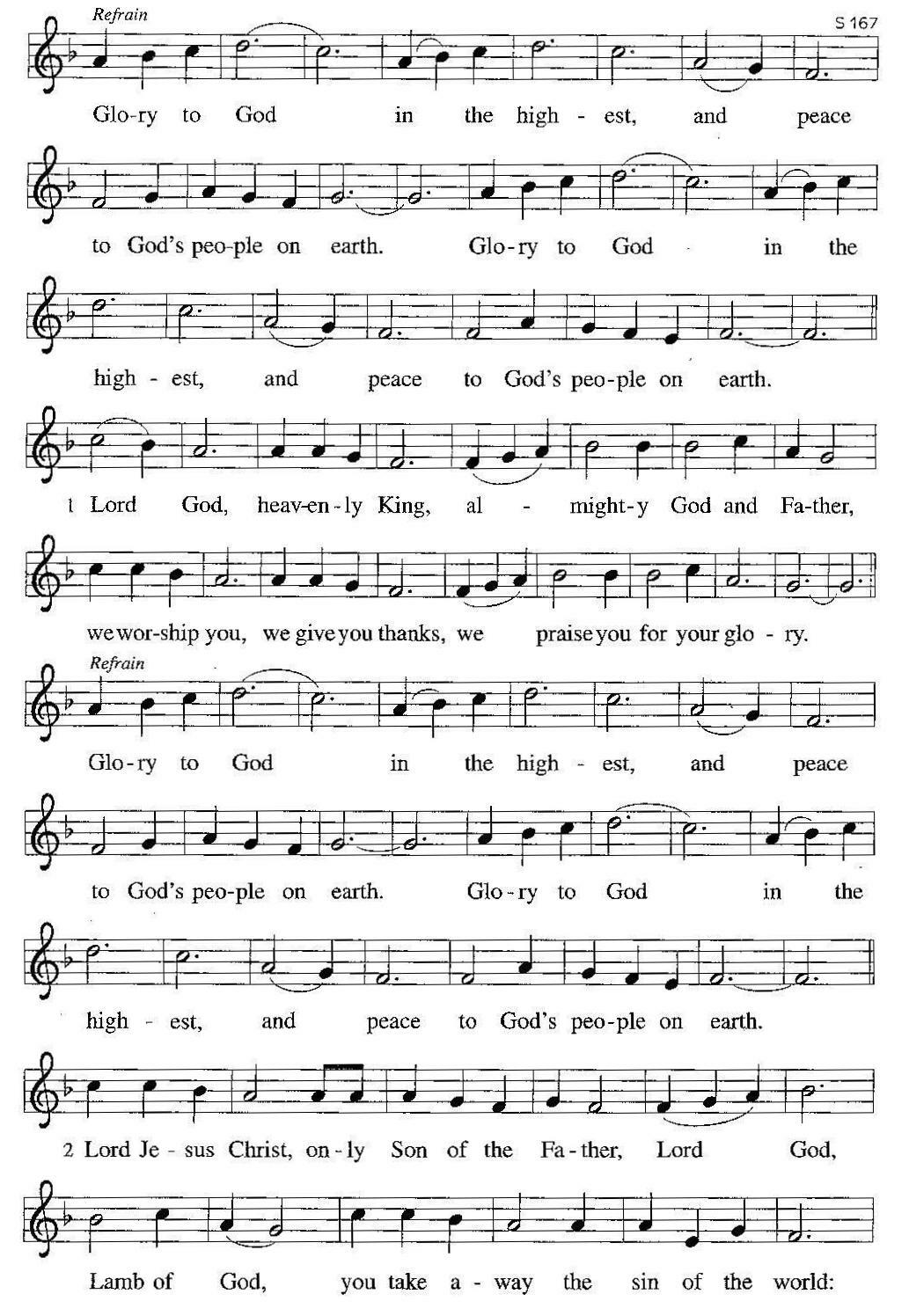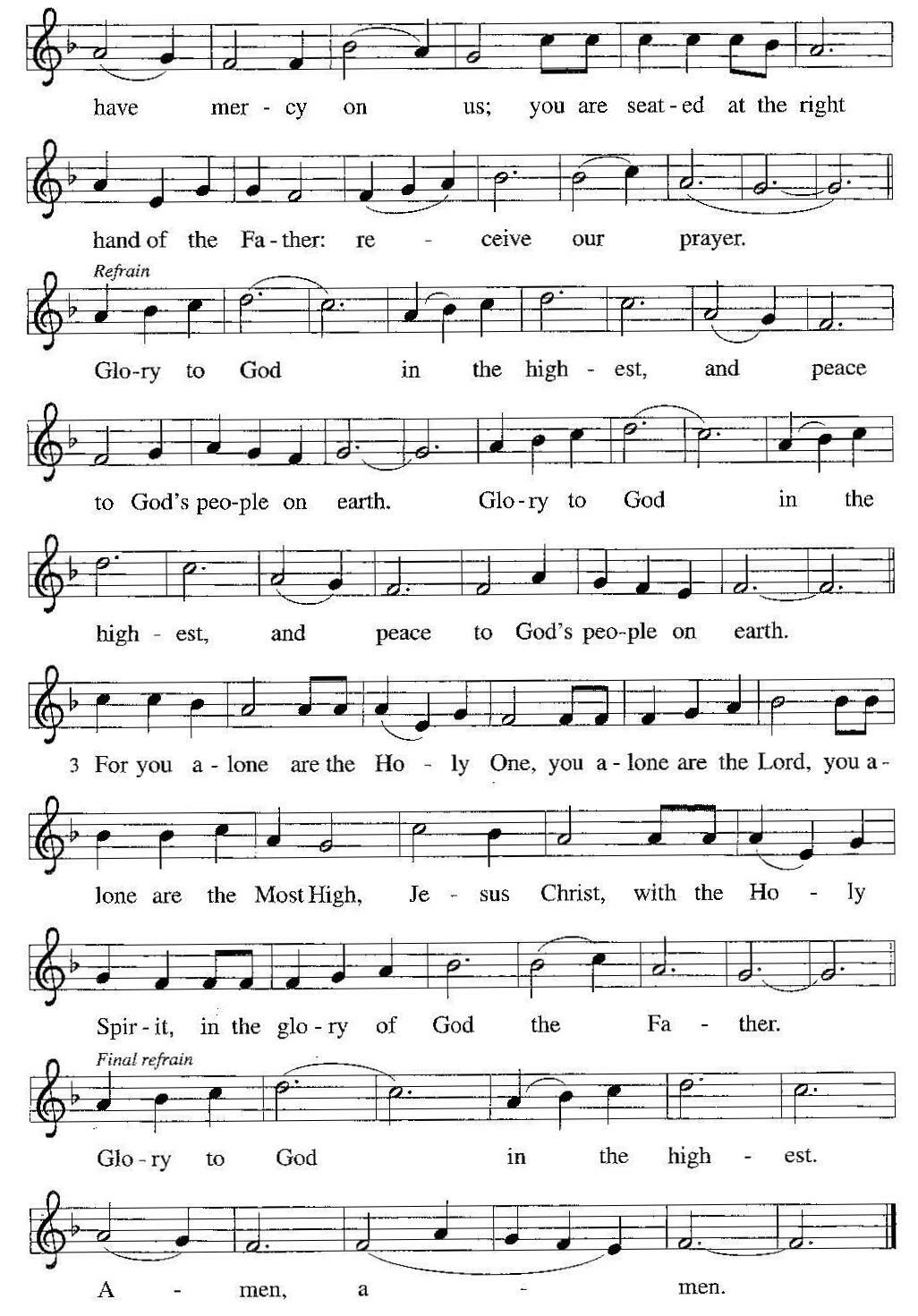 Prayer of the Day
P: The Lord be with you.
C: And also with you.
P: Let us pray together. O God,
C: direct us in all our doings with your continual help, that in all our works, begun, continued, and ended in you, we may glorify your holy name; and finally, by your mercy, bring us to everlasting life, through Jesus Christ, our Savior and Lord. Amen
Please sit.
Nurtured By God's Word
First Reading: Deuteronomy 30:15-20
Moses speaks to the Israelites, who are about to enter the land promised to their ancestors, Abraham, Isaac, and Jacob. In this passage, he lays out the stark choice before them: choose life by loving and obeying the Lord; or choose death by following other gods.
A: See, I have set before you today life and prosperity, death and adversity. If you obey the commandments of the LORD your God that I am commanding you today, by loving the LORD your God, walking in his ways, and observing his commandments, decrees, and ordinances, then you shall live and become numerous, and the LORD your God will bless you in the land that you are entering to possess. But if your heart turns away and you do not hear, but are led astray to bow down to other gods and serve them, I declare to you today that you shall perish; you shall not live long in the land that you are crossing the Jordan to enter and possess. I call heaven and earth to witness against you today that I have set before you life and death, blessings and curses. Choose life so that you and your descendants may live, loving the LORD your God, obeying him, and holding fast to him; for that means life to you and length of days, so that you may live in the land that the LORD swore to give to your ancestors, to Abraham, to Isaac, and to Jacob.
A: The word of the Lord.
C: Thanks be to God.
Psalm 1

L: Happy are they who have not walked in the counsel | of the wicked,
nor lingered in the way of sinners, nor sat in the seats | of the scornful!
C: Their delight is in the law | of the LORD,
and they meditate on God's teaching | day and night.
L: They are like trees planted by streams of water, bearing fruit in due season, with leaves that | do not wither;
everything they | do shall prosper.
C: It is not so | with the wicked;
they are like chaff which the wind | blows away.
L: Therefore the wicked shall not stand upright when | judgment comes,
nor the sinner in the council | of the righteous.
C: For the LORD knows the way | of the righteous,
but the way of the wicked shall | be destroyed.
Second Reading: Philemon 1-21
While Paul was in prison, he was aided by a runaway slave named Onesimus. The slave's master, Philemon, was a Christian friend of Paul. Paul told Onesimus to return to his master and encouraged Philemon to receive Onesimus back as a Christian brother.
A: Paul, a prisoner of Christ Jesus, and Timothy our brother, to Philemon our dear friend and co-worker, to Apphia our sister, to Archippus our fellow soldier, and to the church in your house: Grace to you and peace from God our Father and the Lord Jesus Christ.
When I remember you in my prayers, I always thank my God because I hear of your love for all the saints and your faith toward the Lord Jesus. I pray that the sharing of your faith may become effective when you perceive all the good that we may do for Christ. I have indeed received much joy and encouragement from your love, because the hearts of the saints have been refreshed through you, my brother.
For this reason, though I am bold enough in Christ to command you to do your duty, yet I would rather appeal to you on the basis of love—and I, Paul, do this as an old man, and now also as a prisoner of Christ Jesus. I am appealing to you for my child, Onesimus, whose father I have become during my imprisonment. Formerly he was useless to you, but now he is indeed useful both to you and to me. I am sending him, that is, my own heart, back to you. I wanted to keep him with me, so that he might be of service to me in your place during my imprisonment for the gospel; but I preferred to do nothing without your consent, in order that your good deed might be voluntary and not something forced. Perhaps this is the reason he was separated from you for a while, so that you might have him back forever, no longer as a slave but more than a slave, a beloved brother—especially to me but how much more to you, both in the flesh and in the Lord.
So if you consider me your partner, welcome him as you would welcome me. If he has wronged you in any way, or owes you anything, charge that to my account. I, Paul, am writing this with my own hand: I will repay it. I say nothing about your owing me even your own self. Yes, brother, let me have this benefit from you in the Lord! Refresh my heart in Christ. Confident of your obedience, I am writing to you, knowing that you will do even more than I say.
A: The word of the Lord.
C: Thanks be to God.
Please stand as you are able.
Gospel Acclamation (John 6:68)

Gospel Reading: Luke 14:25-33
Jesus speaks frankly about the fearsome costs of discipleship, which will finally mean renouncing all other allegiances.
P: This is the Holy Gospel according to St. Luke, the 14th chapter.
C: Glory to you, O Lord.
P: Now large crowds were traveling with [Jesus;] and he turned and said to them, "Whoever comes to me and does not hate father and mother, wife and children, brothers and sisters, yes, and even life itself, cannot be my disciple. Whoever does not carry the cross and follow me cannot be my disciple. For which of you, intending to build a tower, does not first sit down and estimate the cost, to see whether he has enough to complete it? Otherwise, when he has laid a foundation and is not able to finish, all who see it will begin to ridicule him, saying, 'This fellow began to build and was not able to finish.' Or what king, going out to wage war against another king, will not sit down first and consider whether he is able with ten thousand to oppose the one who comes against him with twenty thousand? If he cannot, then, while the other is still far away, he sends a delegation and asks for the terms of peace. So therefore, none of you can become my disciple if you do not give up all your possessions.
P: The Gospel of the Lord.
C: Praise to you, O Christ.
Please sit.
Sermon
Please stand as you are able.
Hymn of the Day "Here I Am, Lord" #574
Profession of Faith (Apostles' Creed)
C: I believe in God, the Father almighty, creator of heaven and earth.
I believe in Jesus Christ, God's only Son, our Lord. He was conceived by the power of the Holy Spirit and born of the virgin Mary. He suffered under Pontius Pilate, was crucified, died, and was buried. He descended into hell. On the third day he rose again. He ascended into heaven, and is seated at the right hand of the Father. He will come again to judge the living and the dead.
I believe in the Holy Spirit, the holy catholic Church, the communion of saints, the forgiveness of sins, the resurrection of the body, and the life everlasting. Amen.
Prayers of the Church (1 Timothy 2:1-2)
Each section of the prayers ends:
A: Lord, in your mercy,
C: Hear our prayer.
When we get to this part, please join in reading the names in bold:
A: Today, we pray especially...and for these friends on our Prayer list:
C: JoAnne, Gail, Marilyn, Cecil, Rebecca, Tom, Ron, Don, Eleanor, Jim, Karen, Ian, Kirk, Pr. Paul, Rosalie, Dawn, Lois, Lynette, Carole, Paul, Becky, Brian, Brenda, John, Marvin, Gene, Brittany, Paul, Pete, David, James, John, and Shirley.
At the conclusion of the prayers:
P: Into your hands…through Jesus Christ, our Savior and Lord.
C: Amen.
Sharing of the Peace (John 14:27, 20:19-21; Matthew 5:23-24)
P: The peace of the Lord be with you always.
C: And also with you.
Please sit.
Nurtured By Christ's Meal
Offering
Please stand as you are able.
Sung Offertory (Psalm 51:10-12) "Create in Me a Clean Heart"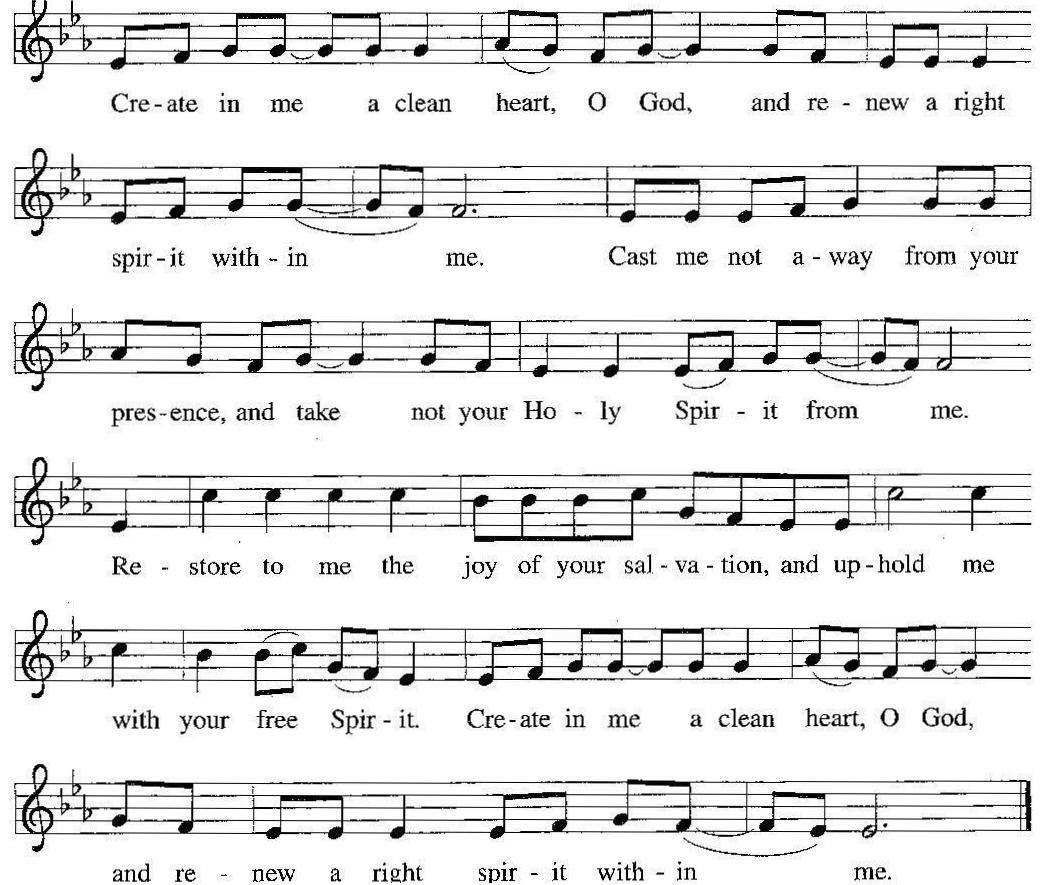 Offertory Prayer
A: Let us pray. God our provider, we bring nothing into this world and we can take nothing out of it. Accept the gifts you have first given us, which we bring to your table, and with them the offering of our lives. Nourish us now with the life that really is life, revealed to us in Jesus Christ, our Savior and Lord.
C: Amen.

Great Thanksgiving
P: The Lord be with you.
C: And also with you.
P: Lift up your hearts.
C: We lift them to the Lord.
P: Let us give thanks to the Lord our God.
C: It is right to give God thanks and praise.
P: It is indeed right…we praise your name and join their unending hymn:
Holy, Holy, Holy (Isaiah 6:3, Psalm 118:26, Mark 11:9-10)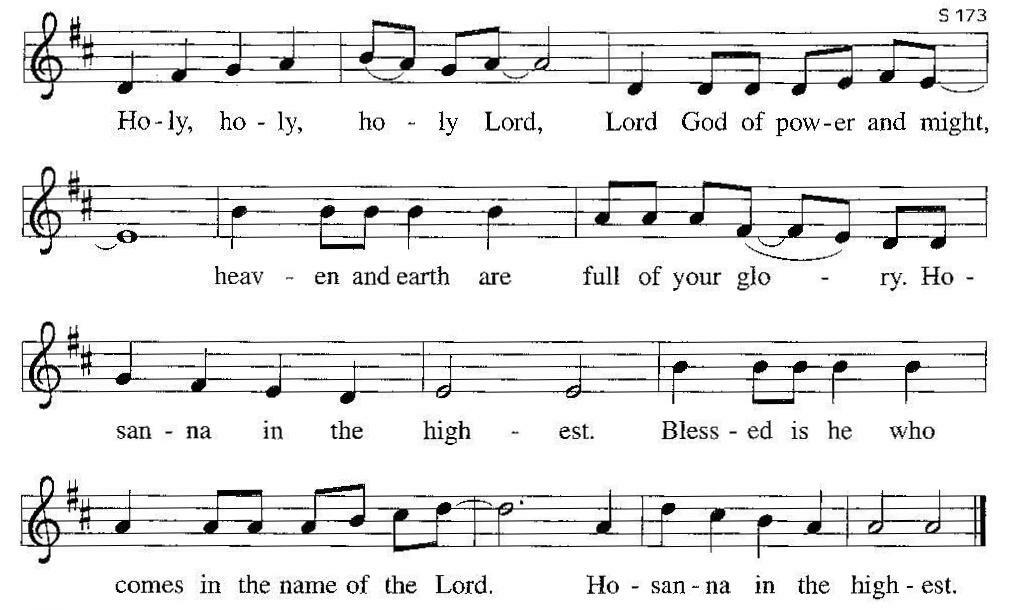 Eucharistic Prayer (1 Corinthians 11:23-26)
P: Holy, mighty, and merciful Lord...
In the night in which he was betrayed, our Lord Jesus took bread...
Again, after supper, he took the cup...
Pour out upon us...now and forever.
C: Amen.
Lord's Prayer (Matthew 6:9-13, Luke 11:2-4)
C: Our Father, who art in heaven, hallowed be thy name. Thy kingdom come, thy will be done, on earth as it is in heaven. Give us today our daily bread, and forgive us our trespasses as we forgive those who trespass against us. Lead us not into temptation, but deliver us from evil. For thine is the kingdom, and the power, and the glory, for ever and ever. Amen.
Please sit.
Lamb of God (John 1:29)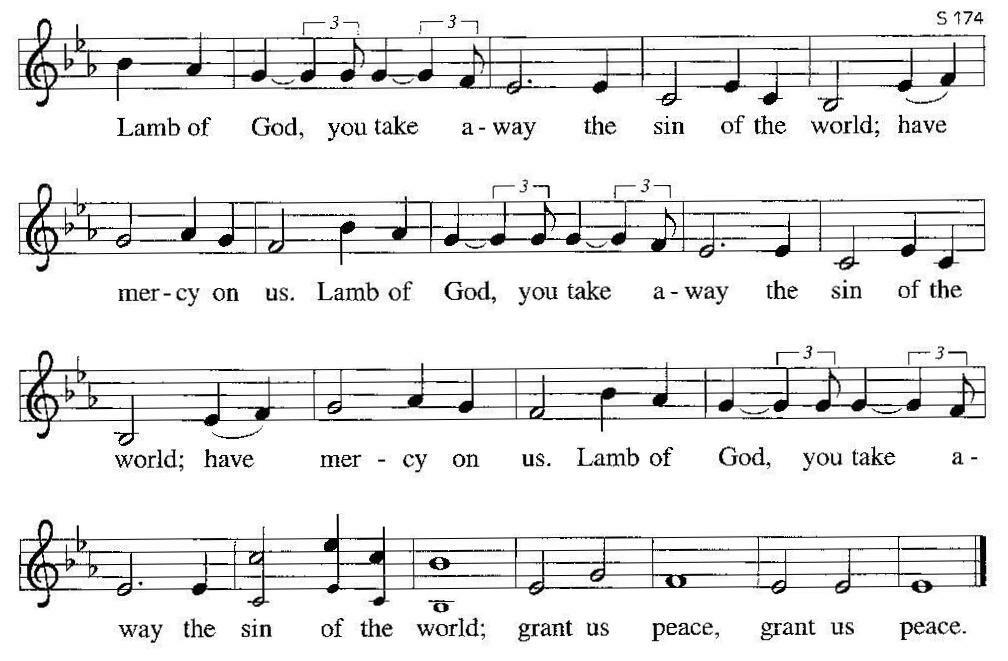 Invitation to Holy Communion
If you are visiting today, you are welcome to receive Holy Communion.
Please come forward when the usher comes to your row. (If you are unable to come forward, please tell the usher, and the servers will come to you.)
Pastor will give you the bread, and then you can choose to either drink wine from the first (silver) cup or to dip your bread in the second (blue) cup, which has both red wine and white grape juice.
If you prefer not to receive Holy Communion, you are invited to come forward with your arms folded across your chest to receive a blessing.
All are invited to sing the following hymns while Communion is distributed:
#712 "Lord, Whose Love in Humble Service"
#575 "In Christ Called to Baptize"
#551 "The Spirit Sends Us Forth to Serve"
#471 "Let Us Break Bread Together"

Blessing
P: The body and blood of our Lord Jesus Christ strengthen you and keep you in his grace.
C: Amen.

Prayer after Communion
A: Let us pray. God of blessing, at this table we have seen you face to face, and in the gift of Christ's body and blood, our hearts have been refreshed. Send us now to shine with your goodness and bear witness to the one we have received: Jesus Christ, our Savior and Lord.
C: Amen.
Sending Us Out to Serve
Sending Us Out To Serve in God's World
Children's Time: Introducing our first Sunday School SERVE Sunday (Humane Society "Adopt-a-Cat Packs")
Ministry Announcements
Please stand as you are able.
Benediction (Numbers 6:24-25, sung)
P: The Lord bless you and keep you.
The Lord make his face shine on you and be gracious to you.
The Lord look upon you with favor and give you peace,
in the name of the Father, and of the + Son, and of the Holy Spirit.
C: (sung response below)

Dismissal
A: Go in peace. Serve the Lord!
C: Thanks be to God!
Postlude
Copyright Notices
Service words & music reproduced and streamed under Augsburg Fortress Liturgies License #SBL-14744.
Other hymns streamed under OneLicense #A-715015.
Let us get to know you!
Please take a moment to send us your information so that we may stay connected with you. Your information is carefully managed and protected.
How did you hear about us?