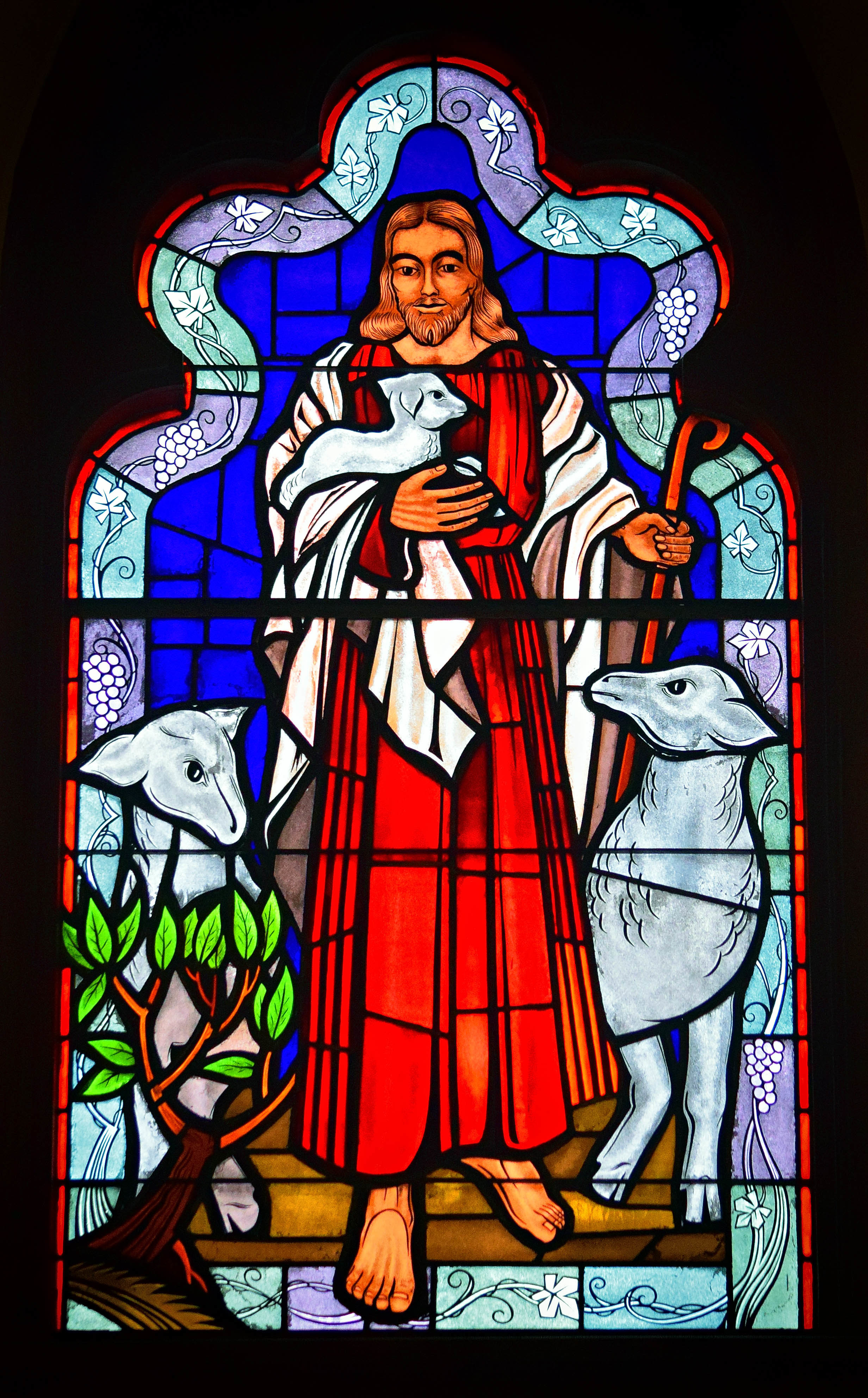 Trinity Lutheran Church - Canton, IL
February 9, 2020 - Fifth Sunday after Epiphany
Welcome to Trinity!
We're glad you're here!
If you are attending via Facebook Live, please fill out the contact card at the end of today's bulletin to request a pastoral visit, join our mailing list, or update your contact information.
If you are attending in person, we invite you to sign in when the ushers pass around the clipboards, and to include your contact information so that we can send you a card (and Pastor can call you if you'd like).
We celebrate Holy Communion in worship each Sunday at 9:00 AM. Visitors are welcome for Communion—read the "Invitation to Holy Communion section to learn more.
We have weekly education programs for all ages after worship, including Sunday School (age 3+), Confirmation (7th & 8th grade), Youth Group (middle/high school), and Adult Forum.
"Need to Know" Information
Restrooms (all ADA accessible):
Located down the hall from the church office (women's first, then men's).
Child and Family Needs—in Fireside Room (entry area):
Children are welcome in worship! The small table has crayons and coloring books if your little ones need to keep their hands busy!
Our Family Room (door next to the piano) offers a baby changing table and space for nursing or other family needs during the service!
Hearing Assistance:
You can your set hearing aid to "T" to use our T-coil hearing loop.
Other hearing assistance devices are available as well—please ask an usher if you would like to use one.
God's Mission for Trinity: Welcome. Nurture. Serve.
In order to put Christ first, we WELCOME people into the church, inviting them to receive the love and grace of Jesus so they may know themselves as children of God.
We NURTURE people in faith to support their learning and growth as followers of Jesus.
We send people out to SERVE people in emotional, spiritual, and physical need in the congregation, the community, and the world.
Welcoming & Gathering
Prelude & Welcome
 For Kids: Learn about the Bible with interactive games, word searches, and puzzles you can play on a phone through Bible Activities Zone! (Please be polite and turn off the sound if you are sitting in church, though!)

 
Please stand as you are able.


Confession and Forgiveness (1 John 1:9, John 20:23)
P: In the name of the Father, and of the + Son, and of the Holy Spirit.
C:   Amen.

P: As we approach the mystery of God, let us come in confession, trusting the love of Christ crucified and risen. (A brief silence for reflection.) God who searches us and knows us,
C: you have shown us what is good, but we have looked to other lights to find our way. We have not been just in our dealings with others. We have chosen revenge over mercy. We have promoted ourselves instead of walking humbly with you. With what shall we come before you? Forgive us our sin, and show us your salvation in the face of Jesus Christ our Savior. Amen.

P: Beloved of God, you have not received the spirit of the world, but the Spirit that is from God, poured out for you in the faithfulness of Jesus Christ. As a called and ordained minister of the church of Christ and by his authority, I therefore declare to you the entire forgiveness of all your sins, in the name of the Father, and of the + Son, and of the Holy Spirit.
C: Amen.
 
 
Gathering Hymn                      "All Are Welcome"                        #641
     

Apostolic Greeting (2 Corinthians 13:13)
P: The grace of our Lord Jesus Christ, the love of God, and the communion of the Holy Spirit be with you all.
C: And also with you.
 
Hymn of Praise (Luke 2:14)
P: (sung) Glory to God in the highest, and peace to God's people on earth.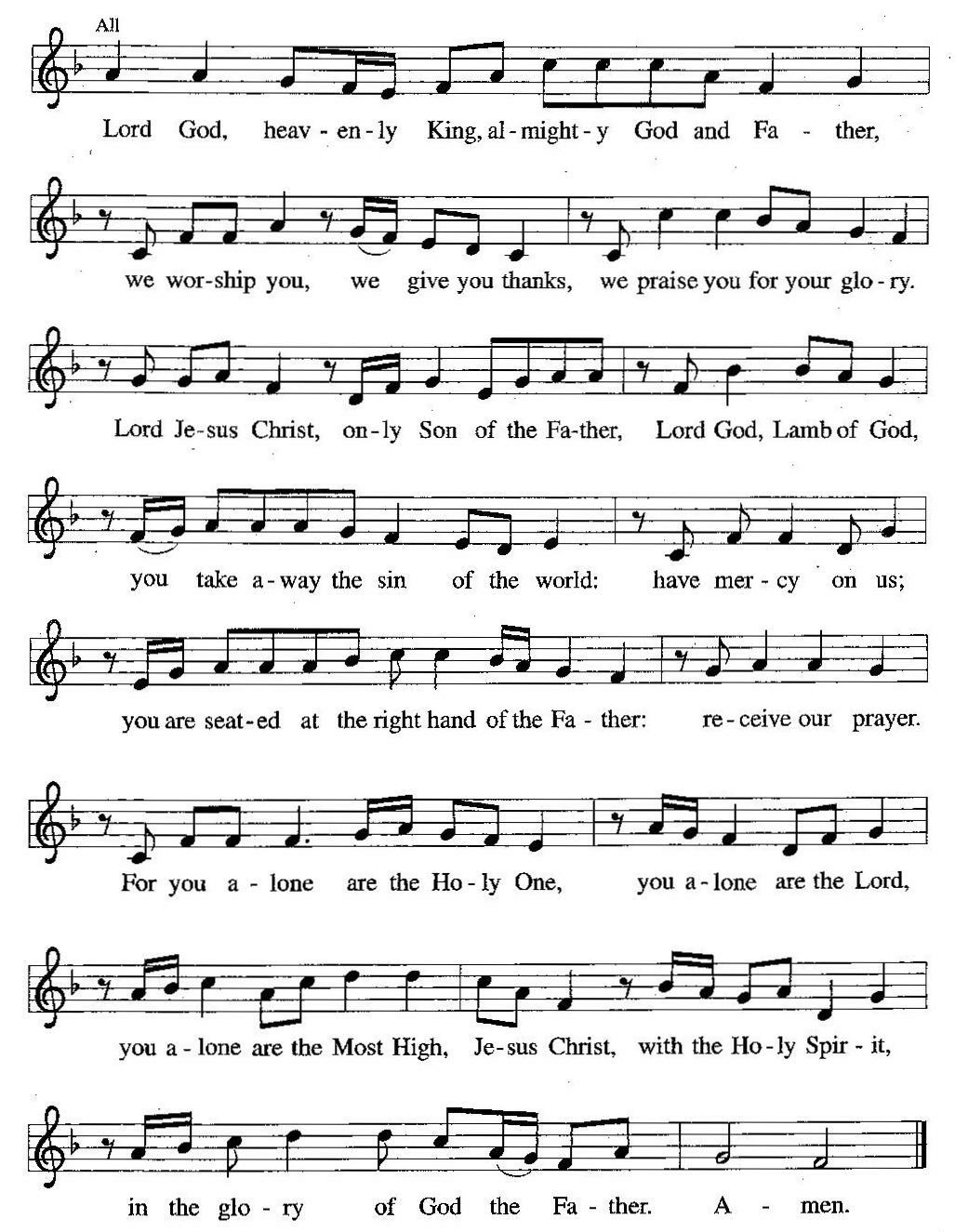 Prayer of the Day
P: Let us pray together. Lord God,
C: with endless mercy you receive the prayers of all who call upon you. By your Spirit show us the things we ought to do, and give us the grace and power to do them, through Jesus Christ, our Savior and Lord. Amen.


Please sit.
Nurtured By God's Word
First Reading: Isaiah 58:1-9a
Shortly after the return of Israel from exile in Babylon, the people were troubled by the ineffectiveness of their fasts. God reminds them that outward observance is no substitute for genuine fasting that results in acts of justice, such as feeding the hungry, sheltering the homeless, and clothing the naked.
A: Shout out, do not hold back! Lift up your voice like a trumpet! Announce to my people their rebellion, to the house of Jacob their sins. Yet day after day they seek me and delight to know my ways, as if they were a nation that practiced righteousness and did not forsake the ordinance of their God; they ask of me righteous judgments, they delight to draw near to God. "Why do we fast, but you do not see? Why humble ourselves, but you do not notice?" Look, you serve your own interest on your fast day, and oppress all your workers. Look, you fast only to quarrel and to fight and to strike with a wicked fist. Such fasting as you do today will not make your voice heard on high. Is such the fast that I choose, a day to humble oneself? Is it to bow down the head like a bulrush, and to lie in sackcloth and ashes? Will you call this a fast, a day acceptable to the LORD? Is not this the fast that I choose: to loose the bonds of injustice, to undo the thongs of the yoke, to let the oppressed go free, and to break every yoke? Is it not to share your bread with the hungry, and bring the homeless poor into your house; when you see the naked, to cover them, and not to hide yourself from your own kin? Then your light shall break forth like the dawn, and your healing shall spring up quickly; your vindicator shall go before you, the glory of the LORD shall be your rear guard. Then you shall call, and the LORD will answer; you shall cry for help, and he will say, Here I am.
 
A: The word of the Lord.
C: Thanks be to God.

 
Psalm: Psalm 112:1-10 (sung to the tone below)

L: Hallelujah! Happy are they who | fear the LORD
and have great delight in | God's commandments!
C: Their descendants will be mighty | in the land;
the generation of the upright | will be blessed.
L: Wealth and riches will be | in their house,
and their righteousness will | last forever.
C: Light shines in the darkness | for the upright;
the righteous are merciful and full | of compassion.  
L: It is good for them to be gener- | ous in lending
and to manage their af- | fairs with justice.
C: For they will nev- | er be shaken;
the righteous will be kept in everlast- | ing remembrance.
L: They will not be afraid of any | evil rumors;
their heart is steadfast, trusting | in the LORD.
C: Their heart is established and | will not shrink,
until they see their desire up- | on their enemies.
L: They have given freely to the poor,
and their righteousness stands | fast forever;
they will hold up their | head with honor.  
C: The wicked will see it and be angry;
they will gnash their teeth and | pine away;
the desires of the wick- | ed will perish.  
Second Reading: 1 Corinthians 2:1-5
Though people such as the Corinthians are enamored with human wisdom, Paul continuously presents God's hidden wisdom--Jesus Christ crucified.
A: When I came to you, brothers and sisters, I did not come proclaiming the mystery of God to you in lofty words or wisdom. For I decided to know nothing among you except Jesus Christ, and him crucified. And I came to you in weakness and in fear and in much trembling. My speech and my proclamation were not with plausible words of wisdom, but with a demonstration of the Spirit and of power, so that your faith might rest not on human wisdom but on the power of God.
 
A: The word of the Lord.
C: Thanks be to God.
 

Please stand as you are able.


Gospel Acclamation (John 6:68)

Gospel Reading: Matthew 5:13-20
In the Sermon on the Mount, Jesus encourages his followers to be the salt of the earth and the light of the world, doing good works and keeping God's commandments.
P:  This is the Holy Gospel according to St. Matthew, the 5th chapter.
C: Glory to you, O Lord. 
P: [Jesus said:] "You are the salt of the earth; but if salt has lost its taste, how can its saltiness be restored? It is no longer good for anything, but is thrown out and trampled under foot. You are the light of the world. A city built on a hill cannot be hid. No one after lighting a lamp puts it under the bushel basket, but on the lampstand, and it gives light to all in the house. In the same way, let your light shine before others, so that they may see your good works and give glory to your Father in heaven. Do not think that I have come to abolish the law or the prophets; I have come not to abolish but to fulfill. For truly I tell you, until heaven and earth pass away, not one letter, not one stroke of a letter will pass from the law until all is accomplished. Therefore, whoever breaks one of the least of these commandments, and teaches others to do the same, will be called least in the kingdom of heaven; but whoever does them and teaches them will be called great in the kingdom of heaven. For I tell you, unless your righteousness exceeds that of the scribes and Pharisees, you will never enter the kingdom of heaven."
 
P: The Gospel of the Lord.
C: Praise to you, O Christ.
 

Please sit.


Sermon


Please stand as you are able. 


Hymn of the Day                     "Christ Be Our Light"                      #715
 
Profession of Faith (Apostles' Creed)
C:   I believe in God, the Father almighty, creator of heaven and earth.

I believe in Jesus Christ, God's only Son, our Lord. He was conceived by the power of the Holy Spirit and born of the virgin Mary. He suffered under Pontius Pilate, was crucified, died, and was buried. He descended into hell. On the third day he rose again. He ascended into heaven, and is seated at the right hand of the Father. He will come again to judge the living and the dead.

I believe in the Holy Spirit, the holy catholic Church, the communion of saints, the forgiveness of sins, the resurrection of the body, and the life everlasting. Amen.
 
 
Prayers of the Church (1 Timothy 2:1-2)
Each section of the prayers ends:
A: Lord, in your mercy, C: Hear our prayer.
     
When we get to this part, please join in reading the names in bold:
A: Today, we pray especially...and for these friends on our Prayer list:
C: JoAnne, Gail, Marilyn, Rebecca, Eileen, Tom, Ron, Don, Pr. Virgil, Eleanor, Jim, Karen, Sue, Gloria, Ian, Kirk, Rosy, Dawn, Lois, Lynette, Joyce, Carole, Paul, Brian, Brenda, John, Caryl, Mike, Tom, Roberta, Jeanne, David, Cliff, and Walt.
 
At the conclusion of the prayers:
P: Into your hands…our Savior and Lord.
C: Amen.
 
 
Sharing of the Peace (John 14:27, 20:19-21; Matthew 5:23-24)
P: The peace of the Lord be with you always.
C: And also with you.
 
Nurtured By Christ's Meal
Please sit.


Offering                        "Nunc Dimittis"                Gathering Choir
   

Please stand as you are able.
Offertory       "Doxology" 
Praise God, from whom all blessings flow;
Praise him, all creatures here below;
Praise him above, ye heav'nly host;
Praise Father, Son, and Holy Ghost.
 
 
Offertory Prayer
A: Let us pray. God of wonder, you formed us in our mother's womb, and from mother earth you bring forth this bread and wine. We place them on your table, together with our lives and all that you have made. Open the heavens to us and pour out your Spirit. We wait for your mercy; we long for your peace; we hunger and thirst for Jesus Christ, our banquet of life.
C: Amen.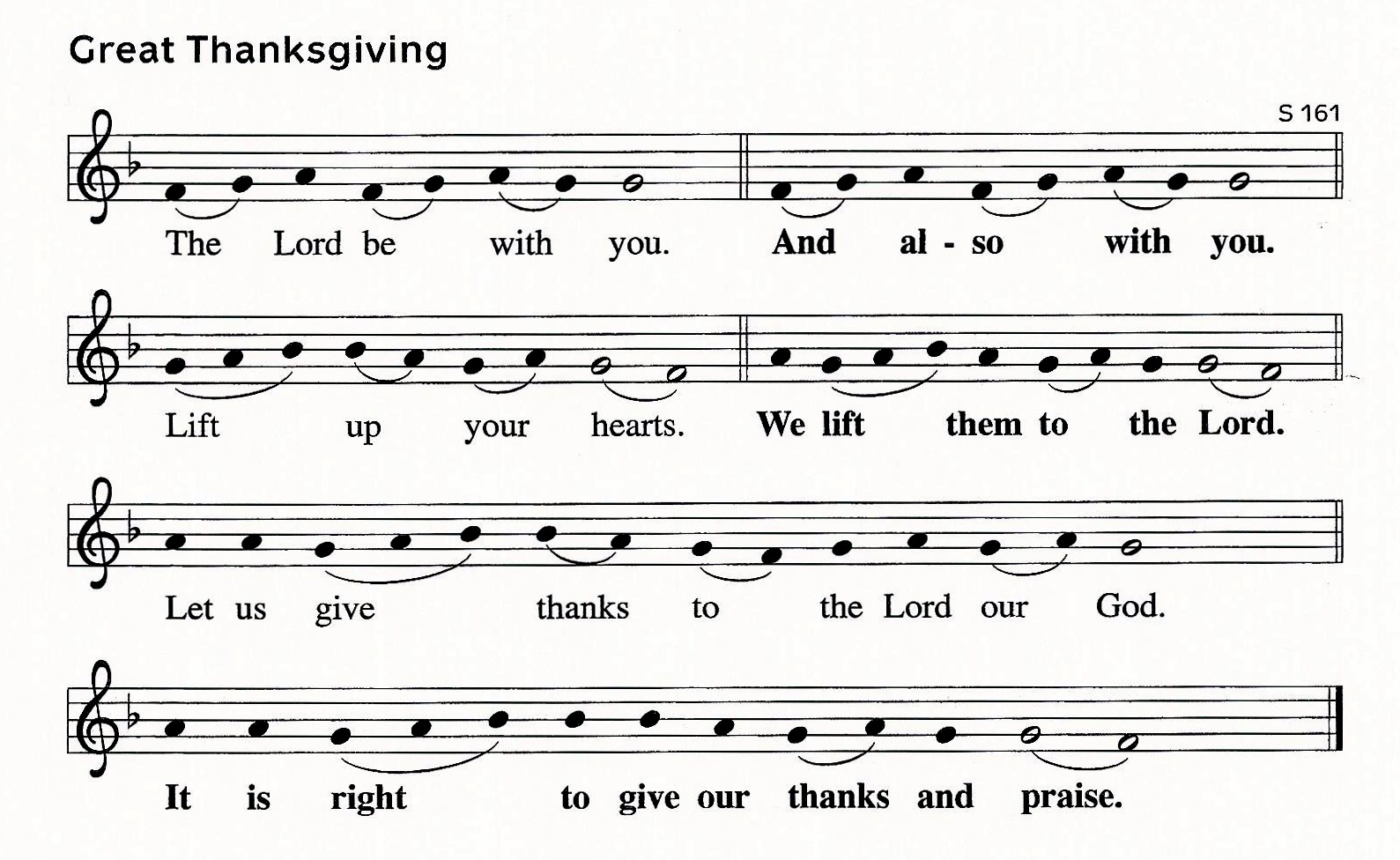 P: It is indeed right...join their unending hymn:
Holy, Holy, Holy (Isaiah 6:3, Psalm 118:26, Mark 11:9-10)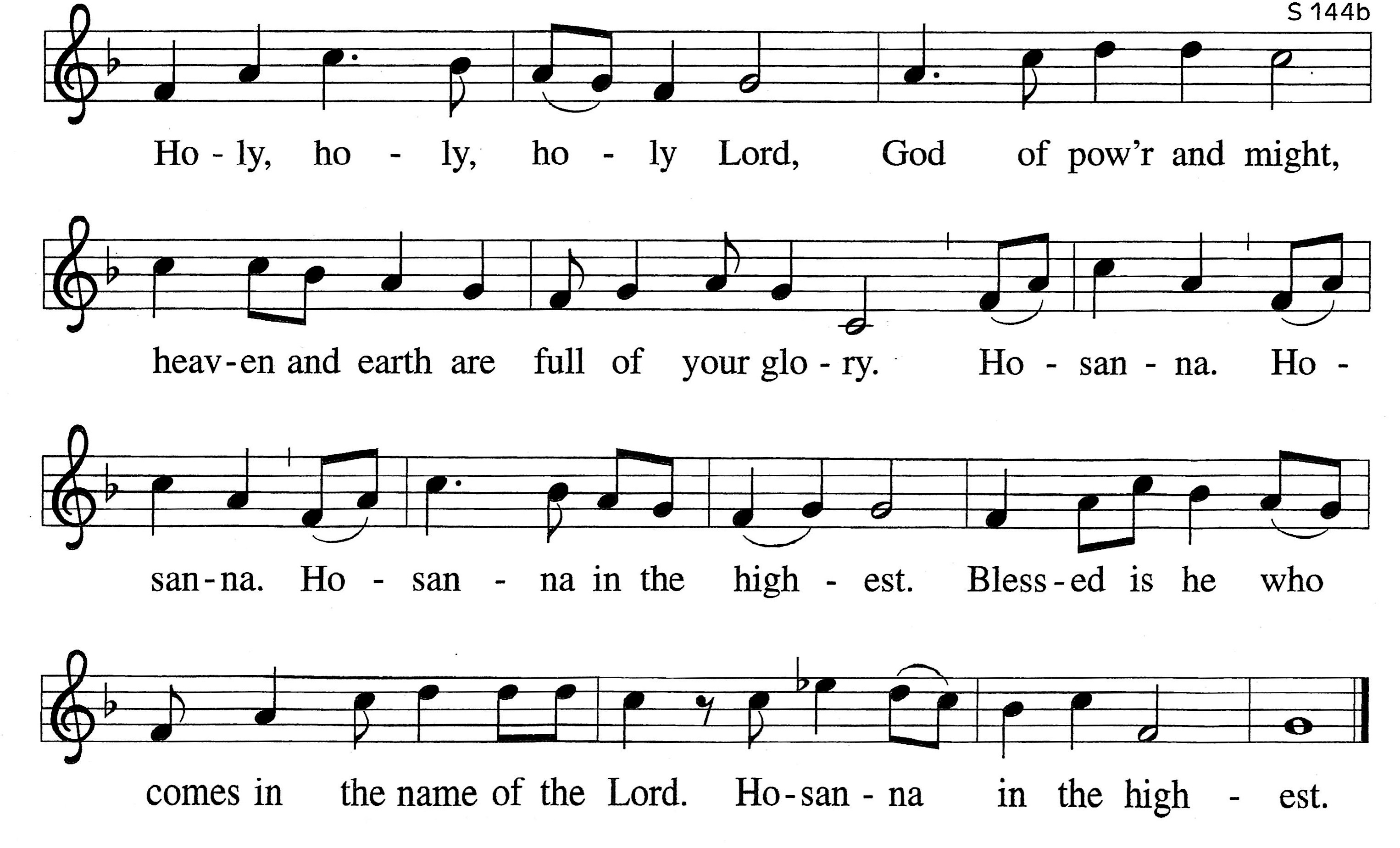 Eucharistic Prayer (1 Corinthians 11:23-26)
P: Holy, mighty, and merciful Lord...
In the night in which he was betrayed, our Lord Jesus took bread...
Again, after supper, he took the cup...
Pour out upon us...now and forever.
C: Amen.
The Lord's Prayer (Matthew 6:9-13, Luke 11:2-4)
C: Our Father, who art in heaven, hallowed be thy name. Thy kingdom come, thy will be done, on earth as it is in heaven. Give us this day our daily bread, and forgive us our trespasses as we forgive those who trespass against us. Lead us not into temptation, but deliver us from evil. For thine is the kingdom, and the power, and the glory, for ever and ever. Amen.
Please sit.
Lamb of God (John 1:29)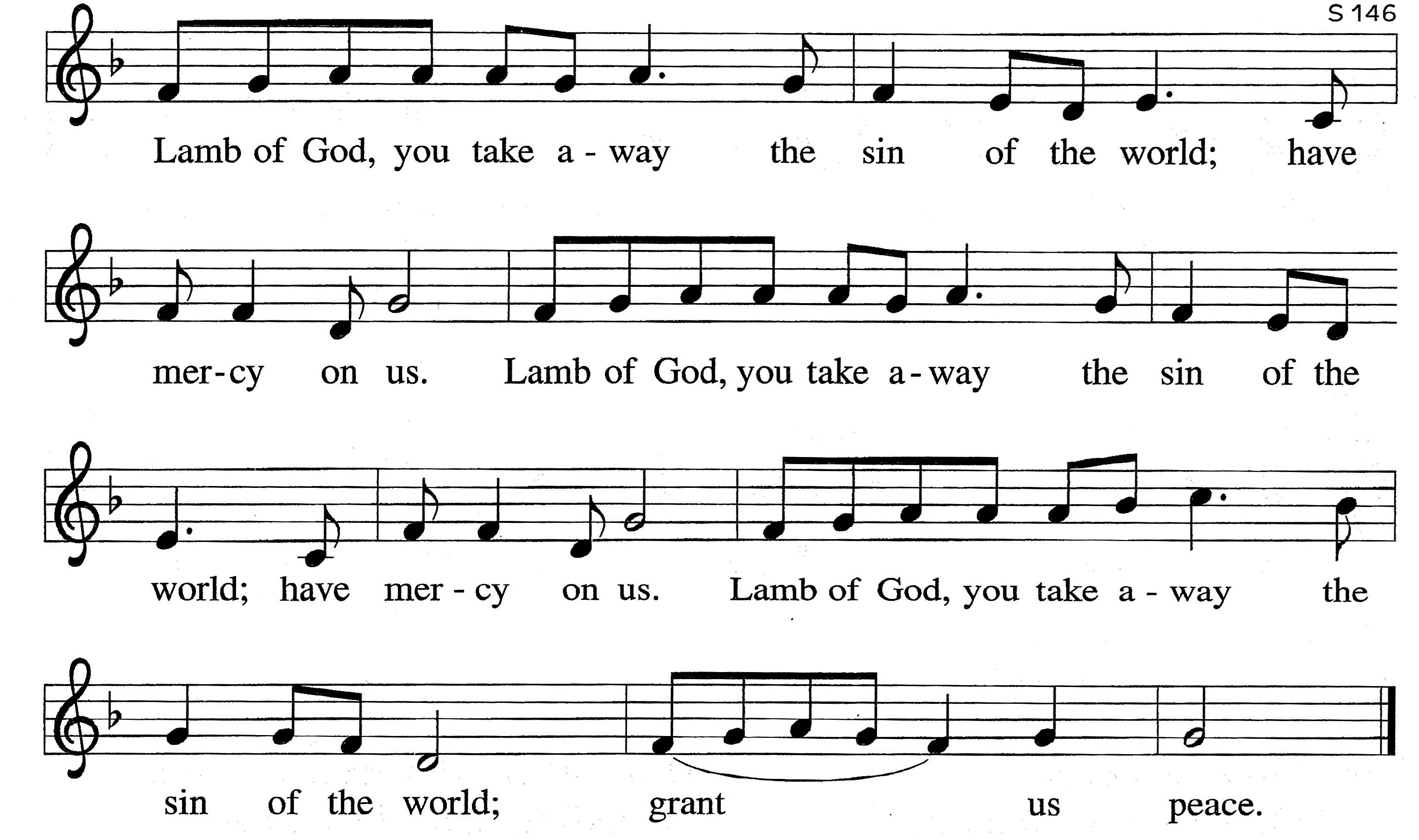 Invitation to Holy Communion
If you are visiting today, you are welcome to receive Holy Communion.
Please come forward when the usher comes to your row. (If you are unable to come forward, please tell the usher, and the servers will come to you.)
Pastor will give you the bread, and then you can choose to either drink wine from the first (silver) cup or to dip your bread in the second (blue) cup, which has both red wine and white grape juice.
If you prefer not to receive Holy Communion, you are invited to come forward with your arms folded across your chest to receive a blessing.

All are invited to join in singing the following hymns while Holy Communion is distributed.
#324  "In the Cross of Christ I Glory"  
#338 "Beneath the Cross of Jesus"
#342 "There in God's Garden"
#471 "Let Us Break Bread Together"
  

Blessing
P: The body and blood of our Lord Jesus Christ strengthen you and keep you in his grace.
C: Amen.
 

Prayer after Communion
A:  Let us pray. Faithful God, you have kept your promise to us in this meal, nourishing us with the gift of salvation. Now send your servants forth in peace, that we may testify to your goodness and share the hope that is ours in Jesus Christ, our Savior and Lord.
C: Amen
Sending Us Out to Serve
Ministries & Opportunities Announcements
The Worship Team needs your help to decide whether or not to have simple meals for this year's Lent Wednesday services! Instead of finding groups to cook a full meal, they want to simplify things by purchasing sandwich ingredients, chips, and other simple items that can be easily served and cleaned up by as few as one or two people each week. To do that, though, they need a leader in place each week for setup and cleanup. If you feel called to serve as a meal setup and cleanup leader, please call or email the church office by Friday, February 14th to choose your Wednesday to serve and make sure we have fellowship meals before the Lent services!
Come for the February service of "Shush-Free Worship for Rejoicers of All Abilities" next Sunday at 3:30pm! Last month, 41 people came to share a lively service and delicious soup supper, prepared by Michele Scharping and the Hospitality Team. Greeters and ushers are needed for this service--please sign up on the "Serve" bulletin board near the main entrance.
On Tuesday, February 25th, Trinity will provide a home-cooked meal for Spoon River College students living in the Snapper Villas apartments on the SRC campus. Church Council members and members of the congregation will serve a delicious meal to the students who reside there. Since there is no evening meal service in the SRC cafeteria, the opportunity to enjoy a home-cooked meal in the evening is greatly appreciated! Last year the meal was a huge success and the 55 students we served urged us to come back. It was heart-warming to see the camaraderie between the students and nothing can match the appreciation of a delicious home-cooked meal than a group of college kids!! If you would like to help with this rewarding community outreach project and get a chance to talk to some of the SRC students, please sign the sheet on the "Serve" bulletin board. Thanks!
Please join the Evelands' for the 3rd Annual St. Jude Trivia Bowl on Saturday, February 29th. Sarah, Maggie, and Sada Eveland will do the Canton to Peoria St. Jude run on July 18, 2020. All funds raised will go directly to St. Jude patients. Dinner and snacks will be available for purchase. Doors open at 6:00pm, first question at 6:30. Please sign up on the bulletin board across from the church office, or contact Sarah at (309) 231-4426 to join a team.

 
Children's Time


Please stand as you are able.


Benediction (Numbers 6:24-25, sung)
P: The Lord bless you and keep you.
The Lord make his face shine on you and be gracious to you.
The Lord look upon you with favor and give you peace.
In the name of the Father, and of the Son, and of the Holy Spirit.
C: (Sung response below)and

Sending Hymn              "We Are Marching in the Light"              #866    
     

Dismissal
A: Go in peace. Serve the Lord!
C: Thanks be to God.

 
Postlude
 
Copyright Notices
Service words & music reproduced and streamed under Augsburg Fortress Liturgies License #SBL-14744.
Other hymns streamed under OneLicense #A-715015.
Let us get to know you!
Please take a moment to send us your information so that we may stay connected with you. Your information is carefully managed and protected.
How did you hear about us?