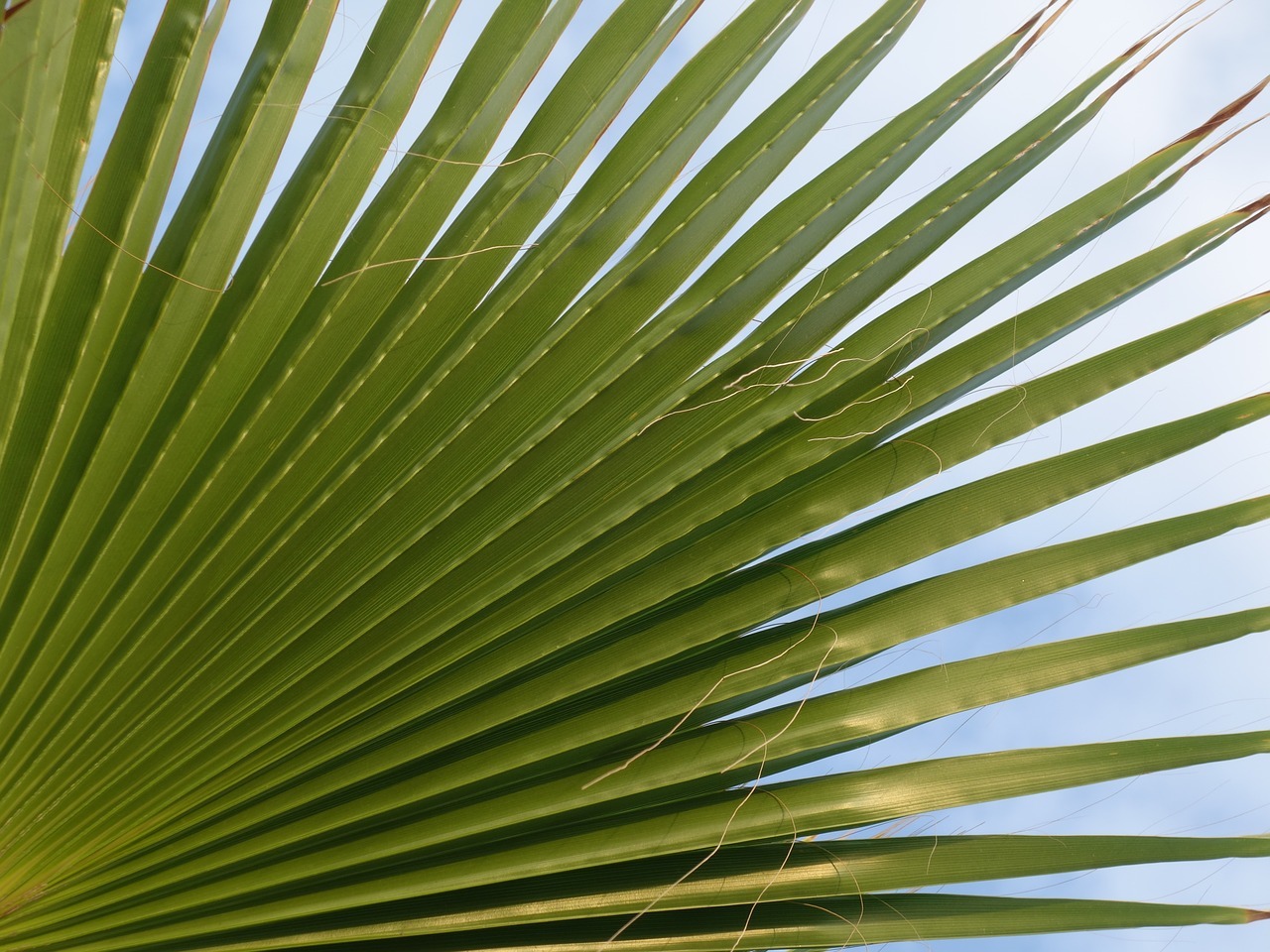 Trinity Lutheran Church - Canton, IL
April 14, 2019 - Palms to Passion Sunday
Welcome to Trinity!
We're glad you're here!
If you are attending via Facebook Live, please fill out the contact card at the end of today's bulletin to request a pastoral visit, join our mailing list, or update your contact information.
If you are attending in person, we invite you to sign in when the ushers pass around the clipboards, and to include your contact information so that we can send you a card (and Pastor can call you if you'd like).
We celebrate Holy Communion in worship each Sunday at 9:00 AM. Visitors are welcome for Communion—read the "Invitation to Holy Communion section to learn more.
We have weekly education programs for all ages after worship, including Sunday School (age 3+), Confirmation (7th & 8th grade), Youth Group (middle/high school), and Adult Forum.
"Need to Know" Information
Restrooms (all handicapped-accessible):


Located down the hall from the church office (women's first, then men's).
Child and Family Needs—in Fireside Room (entry area):
Children are welcome in worship! The small table has crayons and coloring books if your little ones need to keep their hands busy!
Our Family Room (next to the TV) offers a baby changing table and space for nursing or other family needs during the service!
Hearing Assistance:
You can your set hearing aid to "T" to use our T-coil hearing loop.
Other hearing assistance devices are available as well—please ask an usher if you would like to use one.
God's Mission for Trinity: Welcome. Nurture. Serve.
In order to put Christ first, we WELCOME people into the church, inviting them to receive the love and grace of Jesus so they may know themselves as children of God.
We NURTURE people in faith to support their learning and growth as followers of Jesus.
We send people out to SERVE people in emotional, spiritual, and physical need in the congregation, the community, and the world.
About Today's Service
Today's order of service is quite different from our normal one. We begin the day with fanfares and cheers in the Liturgy of the Palms. After the celebration of Holy Communion, however, the service makes a dramatic shift toward somber sounds and terrible shouts of "Crucify him!" in the Liturgy of the Passion as we begin the powerful time of Holy Week. Let our minds be always on Jesus Christ and him crucified, especially during this spiritually important time of the year.
Welcoming & Gathering: Liturgy of the Palms
Prelude, Welcome & Announcements
Click/tap here for this week's announcements!
For Kids: Learn about the Bible with interactive games, word searches, and puzzles you can play on a phone through Bible Activities Zone! (Please be polite and turn off the sound if you are sitting in church, though!)

We welcome all who are able to gather in the Fireside Room for the procession. We carry palm branches in remembrance of Jesus' entry into Jerusalem, where he was welcomed in a manner similar to a king.
Processional Gospel: Luke 19:28-40
P: Blessed is the one who comes in the name of the Lord.
C: Hosanna in the highest.
P: After he had said this, [Jesus] went on ahead, going up to Jerusalem. When he had come near Bethphage and Bethany, at the place called the Mount of Olives, he sent two of the disciples, saying, "Go into the village ahead of you, and as you enter it you will find tied there a colt that has never been ridden. Untie it and bring it here. If anyone asks you, 'Why are you untying it?' just say this, 'The Lord needs it.'" So those who were sent departed and found it as he had told them. As they were untying the colt, its owners asked them, "Why are you untying the colt?" They said, "The Lord needs it." Then they brought it to Jesus; and after throwing their cloaks on the colt, they set Jesus on it. As he rode along, people kept spreading their cloaks on the road. As he was now approaching the path down from the Mount of Olives, the whole multitude of the disciples began to praise God joyfully with a loud voice for all the deeds of power that they had seen, saying, "Blessed is the king who comes in the name of the Lord! Peace in heaven, and glory in the highest heaven!" Some of the Pharisees in the crowd said to him, "Teacher, order your disciples to stop." He answered, "I tell you, if these were silent, the stones would shout out."
P: Blessed is the one who comes in the name of the Lord.
C: Hosanna in the highest.
Blessing of Palms
P: Let us pray. We praise you, O God, for redeeming the world through our Savior Jesus Christ. Today he entered the holy city in triumph and was proclaimed messiah and king by those who spread garments and branches along his way. Bless these branches and those who carry them. Grant us grace to follow our Lord in the way of the cross, so that, joined to his death and resurrection, we enter into life with you; through the same Jesus Christ, who lives and reigns with you and the Holy Spirit, one God, now and forever.
C: Amen.
P: Blessed is the one who comes in the name of the Lord.
C: Hosanna in the highest.
Please stand as you are able.
Processional Hymn "All Glory, Laud, and Honor" ELW 344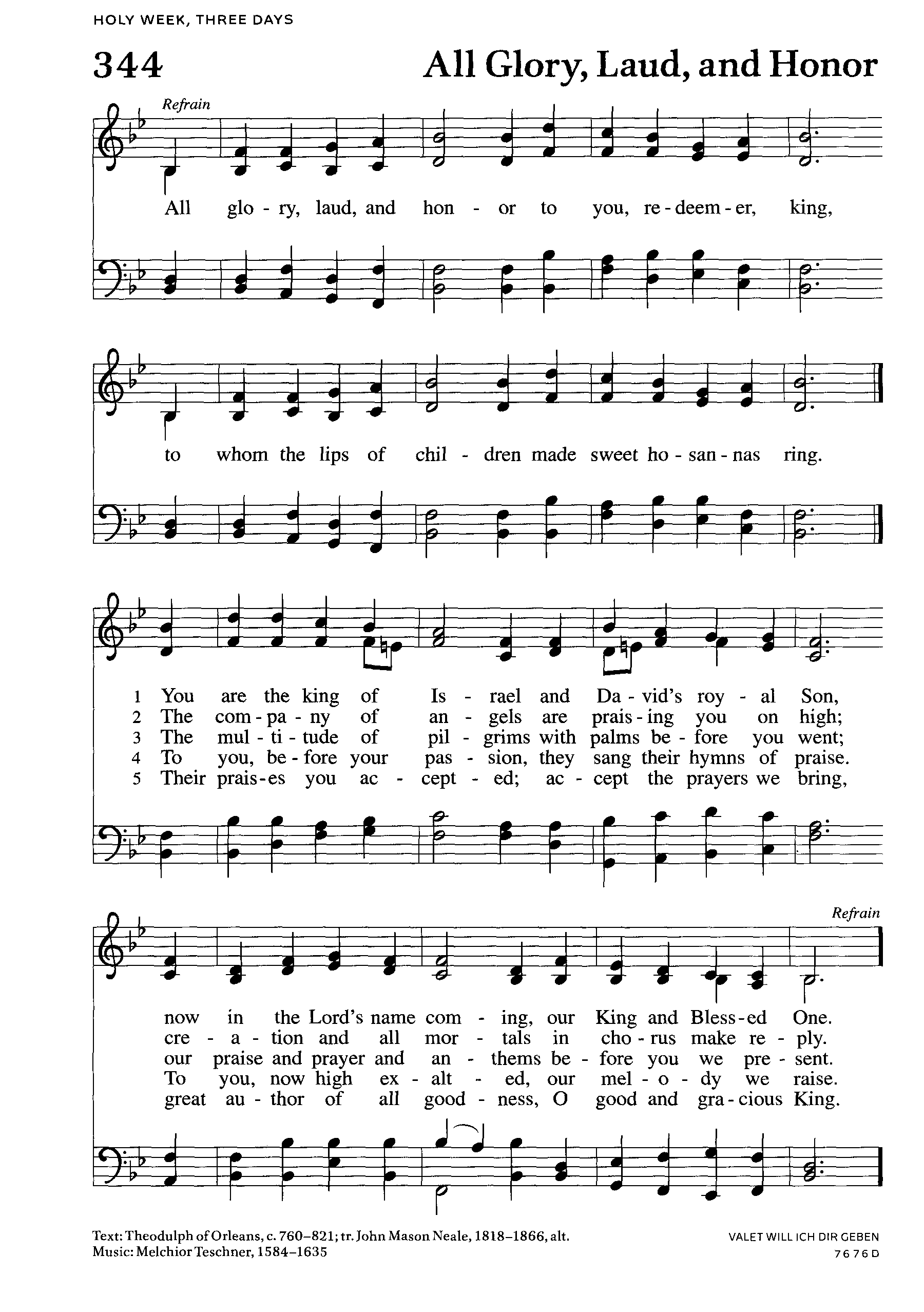 Nurtured By God's Word
Please sit.
Children's Time
Please stand as you are able.
Profession of Faith (Apostles' Creed)
C: I believe in God, the Father almighty, creator of heaven and earth.
I believe in Jesus Christ, God's only Son, our Lord. He was conceived by the power of the Holy Spirit and born of the virgin Mary. He suffered under Pontius Pilate, was crucified, died, and was buried. He descended into hell. On the third day he rose again. He ascended into heaven, and is seated at the right hand of the Father. He will come again to judge the living and the dead.
I believe in the Holy Spirit, the holy catholic Church, the communion of saints, the forgiveness of sins, the resurrection of the body, and the life everlasting. Amen.
Prayers of the Church (1 Timothy 2:1-2)
Each section of the prayers ends:
A: Lord, in your mercy,
C: Hear our prayer.
When we get to this part, please join in reading the names in bold:
A: Today, we pray especially...and for these friends on our Prayer list:
C: JoAnne, Lois, Cecil, Pat, Dave, Tom, Ron, Eleanor, Karen, Barb, Ian, Kirk, Dawn, Lois, Lynette, Carole, Paul, Brian, Susan, Brenda, Adrienne, Alice, Tim, Evan, Cindy, John, and Tom.
At the conclusion of the prayers:
P: Into your hands…through Jesus Christ, our Savior and Lord.
C: Amen.
Sharing of the Peace (John 14:27, 20:19-21; Matthew 5:23-24)
P: The peace of the Lord be with you always.
C: And also with you.
Nurtured By Christ's Meal
Please sit.
Offering
Please stand as you are able.
Sung Offertory "Create in Me a Clean Heart"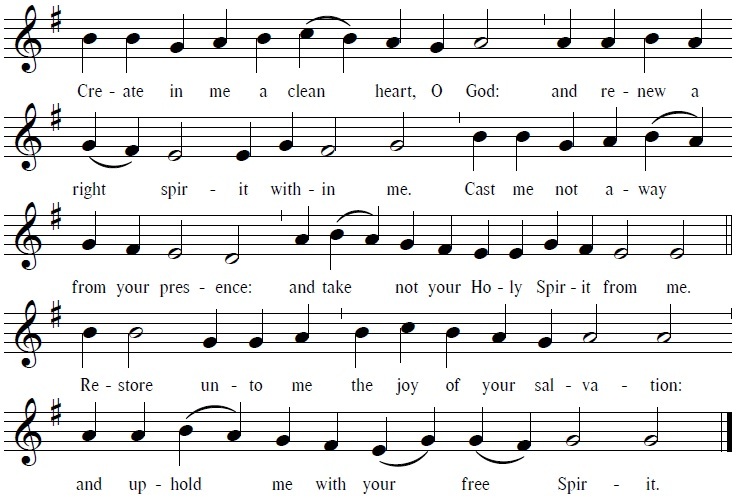 Offertory Prayer
A: Let us pray. Generous God, you feed us with the harvest and provide for our every need. Receive our gifts of money, imagination, and labor, and transform them into a feast that welcomes all, in Jesus Christ, our Lord.
C: Amen.

Great Thanksgiving
P: The Lord be with you.
C: And also with you.
P: Lift up your hearts.
C: We lift them to the Lord.
P: Let us give thanks to the Lord our God.
C: It is right to give our thanks and praise.
P: It is indeed right...join their unending hymn:
Holy, Holy, Holy (Isaiah 6:3, Psalm 118:26, Mark 11:9-10)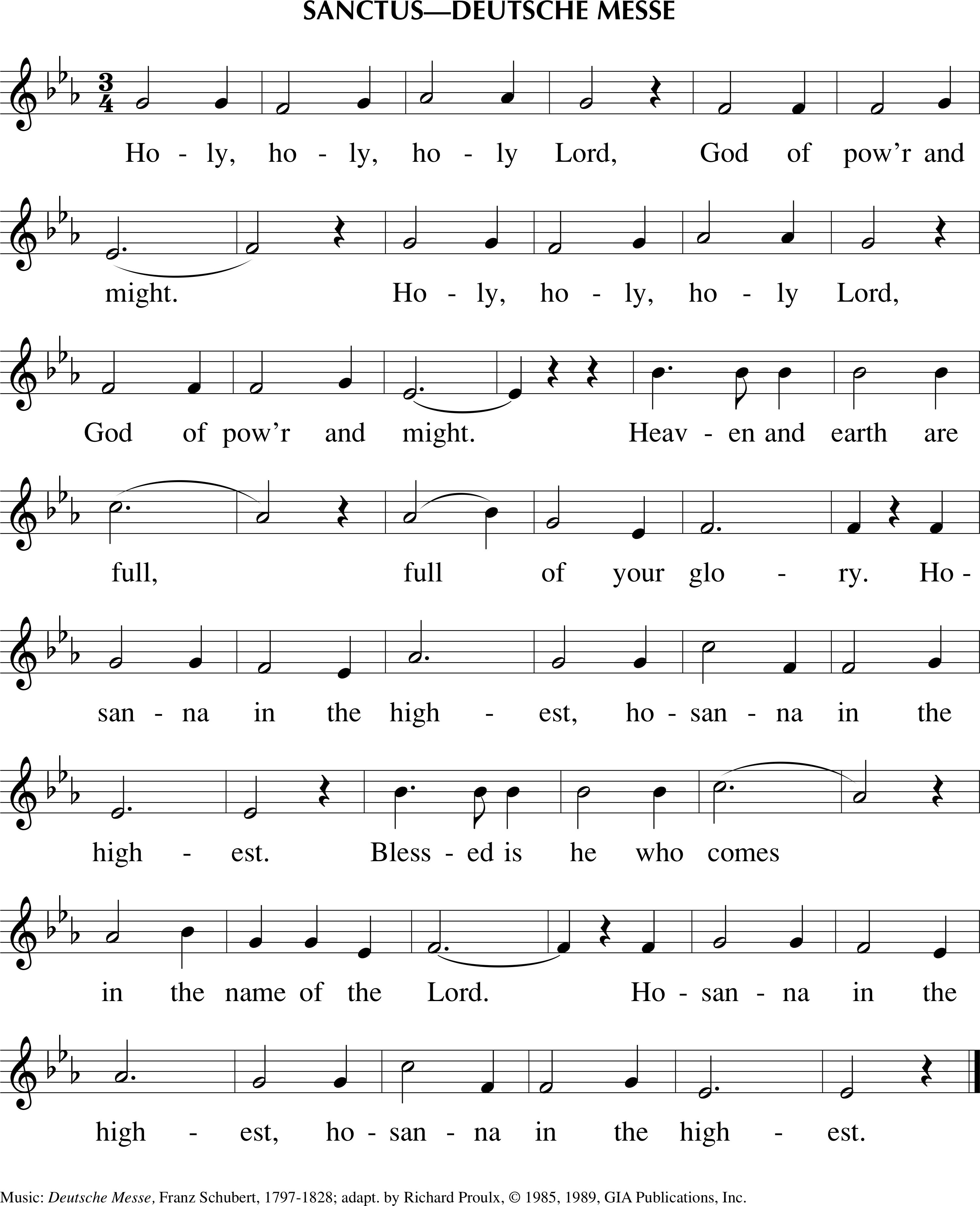 Eucharistic Prayer (1 Corinthians 11:23-26)
P: Blessed are you, O God of the universe...
In the night in which he was betrayed, our Lord Jesus took bread...
Again, after supper, he took the cup...
As often as we eat of this bread...one God, now and forever.
C: Amen.
Lord's Prayer (Matthew 6:9-13, Luke 11:2-4)
C: Our Father, who art in heaven, hallowed be thy name. Thy kingdom come, thy will be done, on earth as it is in heaven. Give us today our daily bread, and forgive us our trespasses as we forgive those who trespass against us. Lead us not into temptation, but deliver us from evil. For thine is the kingdom, and the power, and the glory, for ever and ever. Amen.
Please sit.
Lamb of God (John 1:29)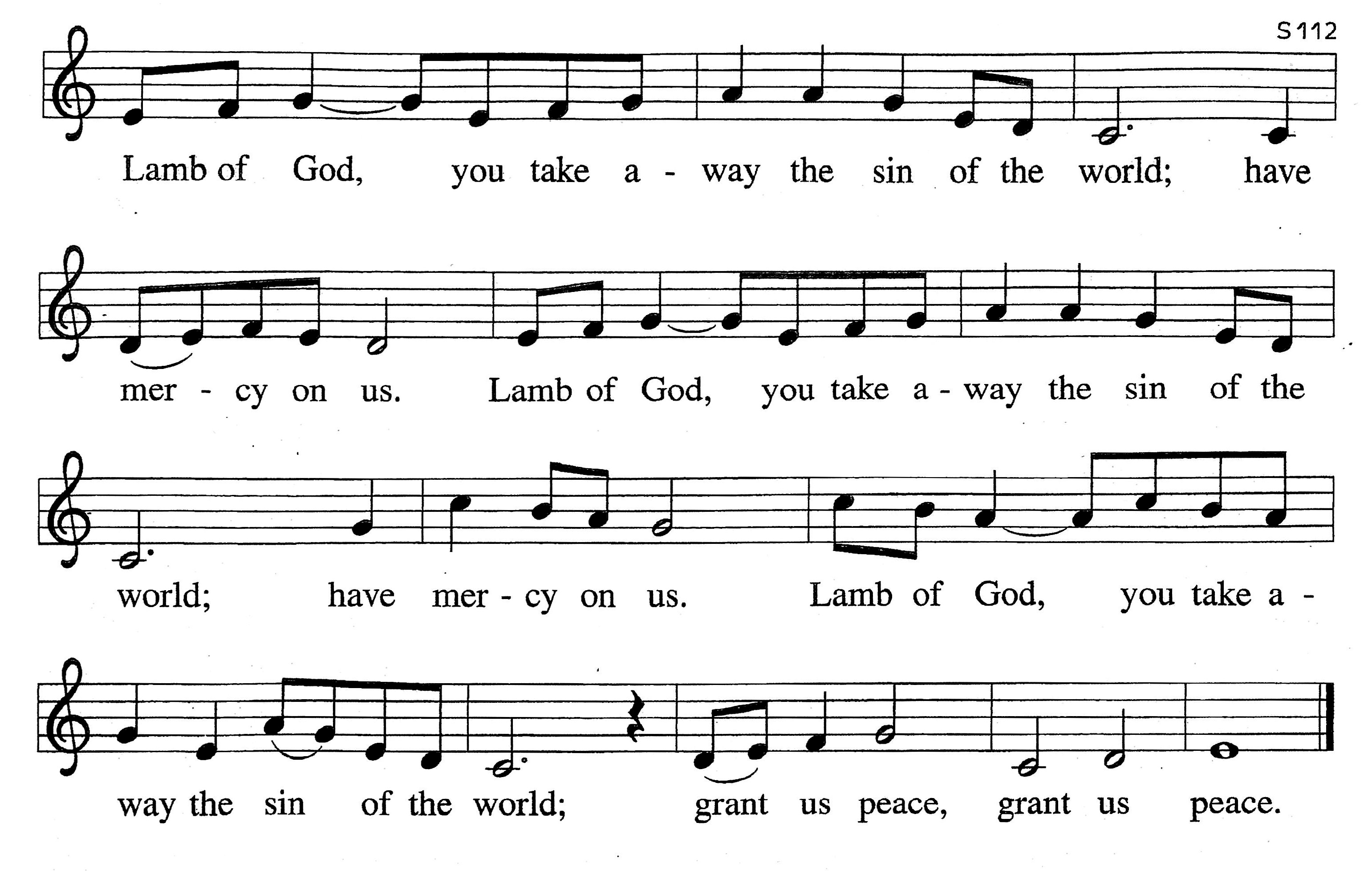 Invitation to Holy Communion
If you are our guest today, you are welcome to receive Holy Communion.
Please come forward when the usher comes to your row. (If you are unable to come forward, please tell the usher, and the servers will come to you.)
We will receive Holy Communion in "tables" today.
You may kneel or stand at the Communion rail.
2. Pastor will give you the wafer, and then you may either drink wine from the first Communion Assistant's cup or to dip your bread in wine (red) or grape juice (white) from the second Communion Assistant's cup.
Please remain at the rail until Pastor dismisses your "table."
If you prefer not to receive Holy Communion, you are invited to come forward with your arms folded across your chest to receive a blessing.
All are invited to sing the following hymns while Communion is distributed:
ELW 666 What Wondrous Love Is This
ELW 639 Abide with Me
ELW 347 Go to Dark Gethsemane
Please stand as you are able.
Prayer after Communion
A: Let us pray. Tender and merciful one, at your feast, you fed us who brought nothing, turning our emptiness into joy. Filled with your abundant grace, send us now to be ministers of reconciliation, mending broken hearts, working for justice, and striving for peace among all people, in the name of Jesus Christ.
C: Amen.
Sending Us Out to Serve: Liturgy of the Passion
Song After Communion "O Lord, Now Let Your Servant"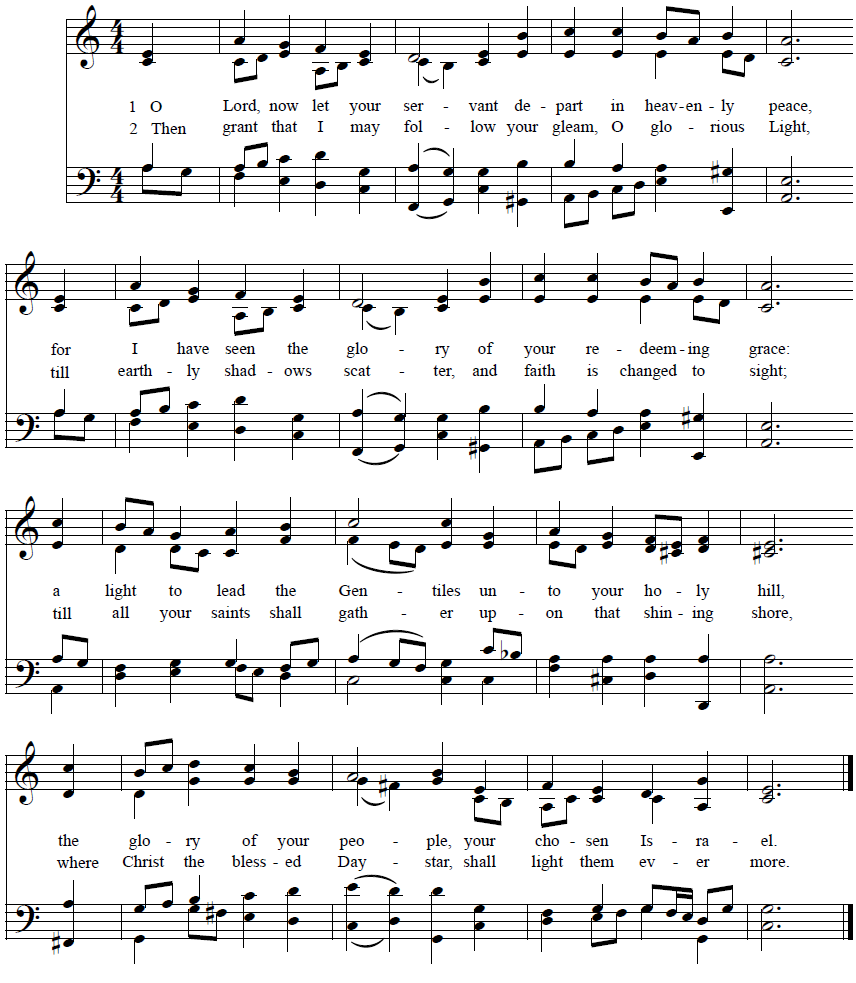 Please sit.
Introduction to Luke's Passion Story/Invitation to Holy Week
The Passion of Our Lord, according to St. Luke (Luke 22:14-23:56)
The congregation is invited to read the part of the People from the Passion booklet, which has a leaf next to it and is printed in bold.
A brief period of silence follows the reading.
Offering "Precious Lord, Take My Hand" Choir
A brief period of silence follows this response.
Prayer for Holy Week
P: O God of mercy and might, in the mystery of the passion of your Son you offer your infinite life to the world. Gather us around the cross, and preserve us until the resurrection, through Jesus Christ, our Savior and Lord, who lives and reigns with you and the Holy Spirit, one God, now and forever.
C: Amen.
Dismissal: Philippians 2:5-11
A: Let the same mind be in you that was in Christ Jesus, who, though he was in the form of God, did not regard equality with God as something to be exploited, but emptied himself, taking the form of a slave, being born in human likeness. And being found in human form, he humbled himself and became obedient to the point of death— even death on a cross.Therefore God also highly exalted him and gave him the name that is above every name, so that at the name of Jesus every knee should bend, in heaven and on earth and under the earth, and every tongue should confess that Jesus Christ is Lord, to the glory of God the Father.
A brief silence is observed.
A: Let us go in peace to confess during this Holy Week, in words and actions, that Jesus Christ is Lord, to the glory of God our Father.
C: Amen. Thanks be to God.

Copyright Notices
Service words & music reproduced and streamed under Augsburg Fortress Liturgies License #SBL-14744.
O Lord, Now Let Your Servant text by Ernest E. Ryden, alt. Micah Garnett (c) 1925 by Board of Publication, Lutheran Church in America. Reproduced under OneLicense #A-715015. Tune is HERZLICH TUT MICH VERLANGEN by J. S. Bach, in the public domain.
Other hymns streamed under OneLicense #A-715015.
Let us get to know you!
Please take a moment to send us your information so that we may stay connected with you. Your information is carefully managed and protected.
How did you hear about us?