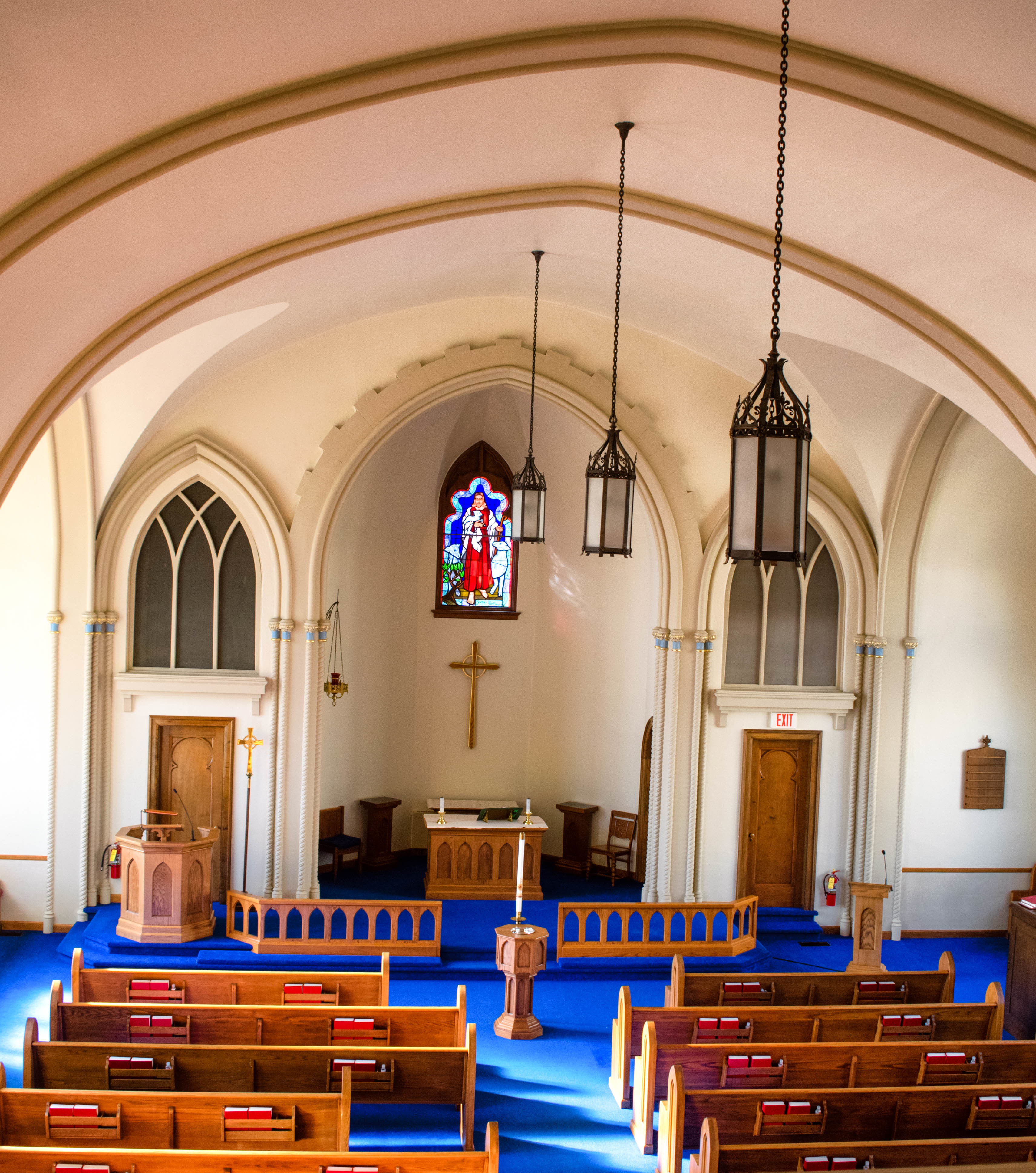 Trinity Lutheran Church - Canton, IL
September 9, 2018 - Sixteenth Sunday after Pentecost
Welcome to Trinity!
We're glad you're here!
If you are attending via Facebook Live, please fill out the contact card at the end of today's bulletin to request a pastoral visit, join our mailing list, or update your contact information.
If you are attending in person, we invite you to sign in when the ushers pass around the clipboards, and to include your contact information so that we can send you a card (and Pastor can call you if you'd like).
We celebrate Holy Communion in worship each Sunday at 9:00 AM. Visitors are welcome for Communion—read the "Invitation to Holy Communion section to learn more.
We have weekly education programs for all ages after worship, including Sunday School (age 3+), Confirmation (7th & 8th grade), Youth Group (middle/high school), and Adult Forum.
We're singing people's favorite hymns all summer! Hymns marked with an *asterisk are requests from our brothers and sisters in Christ!
"Need to Know" Information
Restrooms (all handicapped-accessible):


Located down the hall from the church office (women's first, then men's).
Child and Family Needs—in Fireside Room (entry area):
Children are welcome in worship! The small table has crayons and coloring books if your little ones need to keep their hands busy!
Our Family Room (next to the TV) offers a baby changing table and space for nursing or other family needs during the service!
Hearing Assistance:
You can your set hearing aid to "T" to use our T-coil hearing loop.
Other hearing assistance devices are available as well—please ask an usher if you would like to use one.
God's Mission for Trinity: Welcome. Nurture. Serve.
In order to put Christ first, we WELCOME people into the church, inviting them to receive the love and grace of Jesus so they may know themselves as children of God.
We NURTURE people in faith to support their learning and growth as followers of Jesus.
We send people out to SERVE people in emotional, spiritual, and physical need in the congregation, the community, and the world.
Welcoming & Gathering
Prelude
Welcome & Announcements
Click/tap here for this week's announcements!
NEW for Kids: Learn about the Bible with interactive games, word searches, and puzzles you can play on a phone through Bible Activities Zone! (Please be polite and turn off the sound if you are sitting in church, though!)

Please stand as you are able.
Gathering Hymn "One Bread, One Body" ELW 496
Confession and Forgiveness (1 John 1:8-10; John 20:23)
P: In the name of the Father, and of the + Son, and of the Holy Spirit.
C: Amen.
P: Let us confess our sin in the presence of God and of one another. (A brief silence.) Just and gracious God,
C: We come to you for healing and life. Our sins hurt others and diminish us; we confess them to you. Our lives bear the scars of sin; we bring these also to you. Show us your mercy, O God. Bind up our wounds, forgive us our sins, and free us to love, for the sake of Jesus Christ, our Lord and Savior. Amen.
P: In the mercy of almighty God, Jesus Christ was given to die for us, and for his sake, God forgives us all our sins. As a called and ordained minister of the church of Christ, and by his authority, I therefore declare to you the entire forgiveness of all your sins, in the name of the Father, and of the + Son, and of the Holy Spirit.
C: Amen.
Apostolic Greeting (2 Corinthians 13:13)
P: The grace of our Lord Jesus Christ, the love of God, and the communion of the Holy Spirit be with you all.
C: And also with you.
Hymn of Praise (Luke 2:14) "This Is the Feast"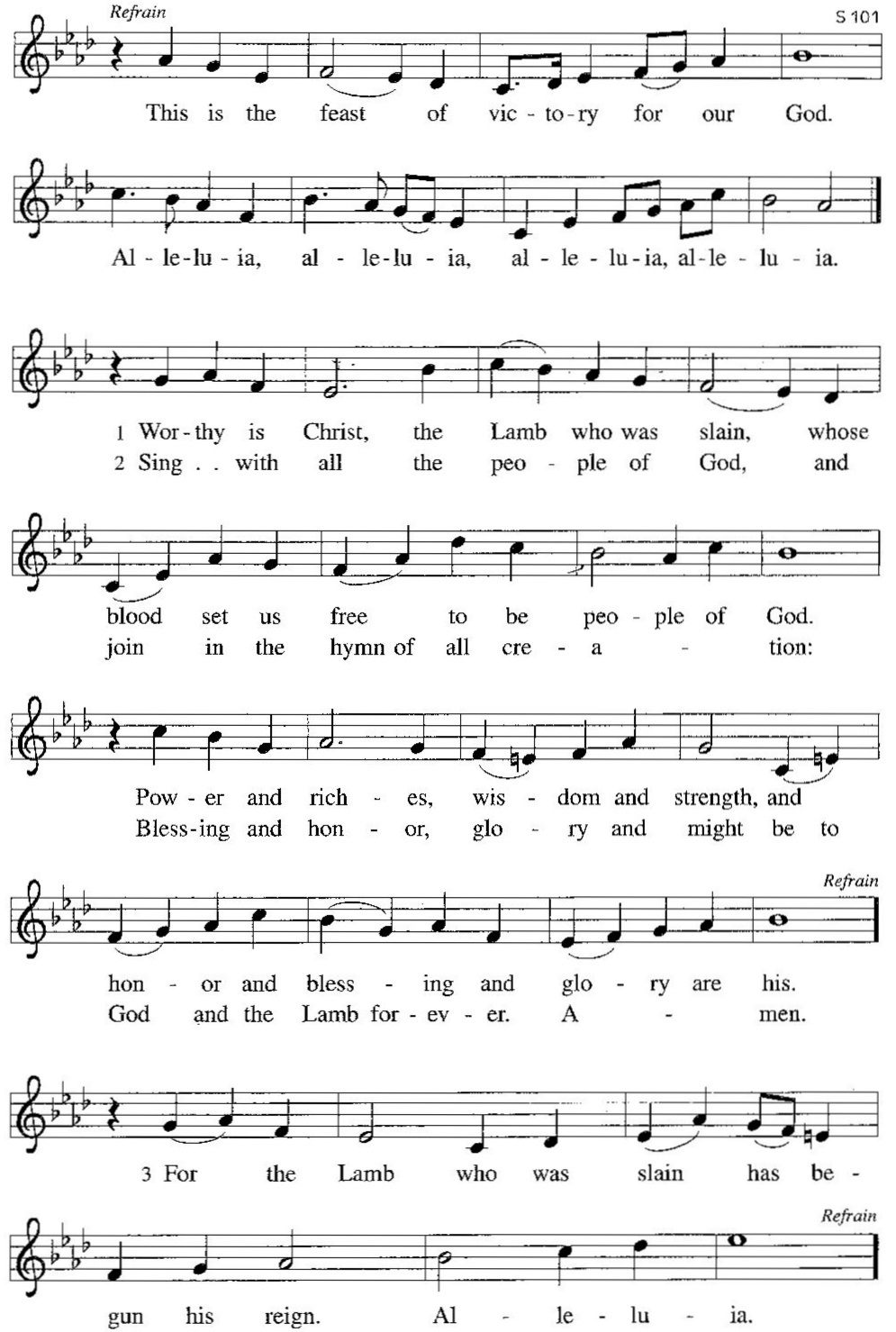 Prayer of the Day
P: The Lord be with you.
C: And also with you.
P: Let us pray together. O God our strength,
C: throughout the ages you transform sickness into health and death into life. Open us to the power of your presence, and make us a people ready to proclaim your promises to the whole world, through Jesus Christ, our healer and Lord. Amen
Nurtured By God's Word
First Reading: Deuteronomy 4:1-2, 6-9
A: Say to those who are of a fearful heart, "Be strong, do not fear! Here is your God. He will come with vengeance, with terrible recompense. He will come and save you."
Then the eyes of the blind shall be opened, and the ears of the deaf unstopped; then the lame shall leap like a deer, and the tongue of the speechless sing for joy. For waters shall break forth in the wilderness, and streams in the desert; the burning sand shall become a pool, and the thirsty ground springs of water.
A: The word of the Lord.
C: Thanks be to God.
Psalm: Psalm 146 (sung to the tune below)

L: Hal- | lelujah!
Praise the LORD, | O my soul!
C: I will praise the LORD as long | as I live;
I will sing praises to my God while I | have my being.
L: Put not your | trust in rulers,
in mortals in whom there | is no help.
C: When they breathe their last, they re- | turn to earth,
and in that day | their thoughts perish.
L: Happy are they who have the God of Jacob | for their help,
whose hope is in the | LORD their God;
C: who made heaven and earth, the seas, and all that | is in them;
who keeps promis- | es forever;
L: who gives justice to those who are oppressed,
and food to | those who hunger.
The LORD sets the | captive free.
C: The LORD opens the eyes of the blind;
the LORD lifts up those who | are bowed down;
the LORD | loves the righteous.
L: The LORD cares | for the stranger;
the LORD sustains the orphan and widow,
but frustrates the way | of the wicked.
C: The LORD shall | reign forever,
your God, O Zion, throughout all generations. | Hallelujah!
Second Reading: James 1:17-27
A: My brothers and sisters, do you with your acts of favoritism really believe in our glorious Lord Jesus Christ? For if a person with gold rings and in fine clothes comes into your assembly, and if a poor person in dirty clothes also comes in, and if you take notice of the one wearing the fine clothes and say, "Have a seat here, please," while to the one who is poor you say, "Stand there," or, "Sit at my feet," have you not made distinctions among yourselves, and become judges with evil thoughts?Listen, my beloved brothers and sisters. Has not God chosen the poor in the world to be rich in faith and to be heirs of the kingdom that he has promised to those who love him? But you have dishonored the poor. Is it not the rich who oppress you? Is it not they who drag you into court? Is it not they who blaspheme the excellent name that was invoked over you?
You do well if you really fulfill the royal law according to the scripture, "You shall love your neighbor as yourself." But if you show partiality, you commit sin and are convicted by the law as transgressors. For whoever keeps the whole law but fails in one point has become accountable for all of it.
What good is it, my brothers and sisters, if you say you have faith but do not have works? Can faith save you? If a brother or sister is naked and lacks daily food, and one of you says to them, "Go in peace; keep warm and eat your fill," and yet you do not supply their bodily needs, what is the good of that? So faith by itself, if it has no works, is dead.
A: The word of the Lord.
C: Thanks be to God.
Please stand as you are able.
Gospel Acclamation (John 6:68)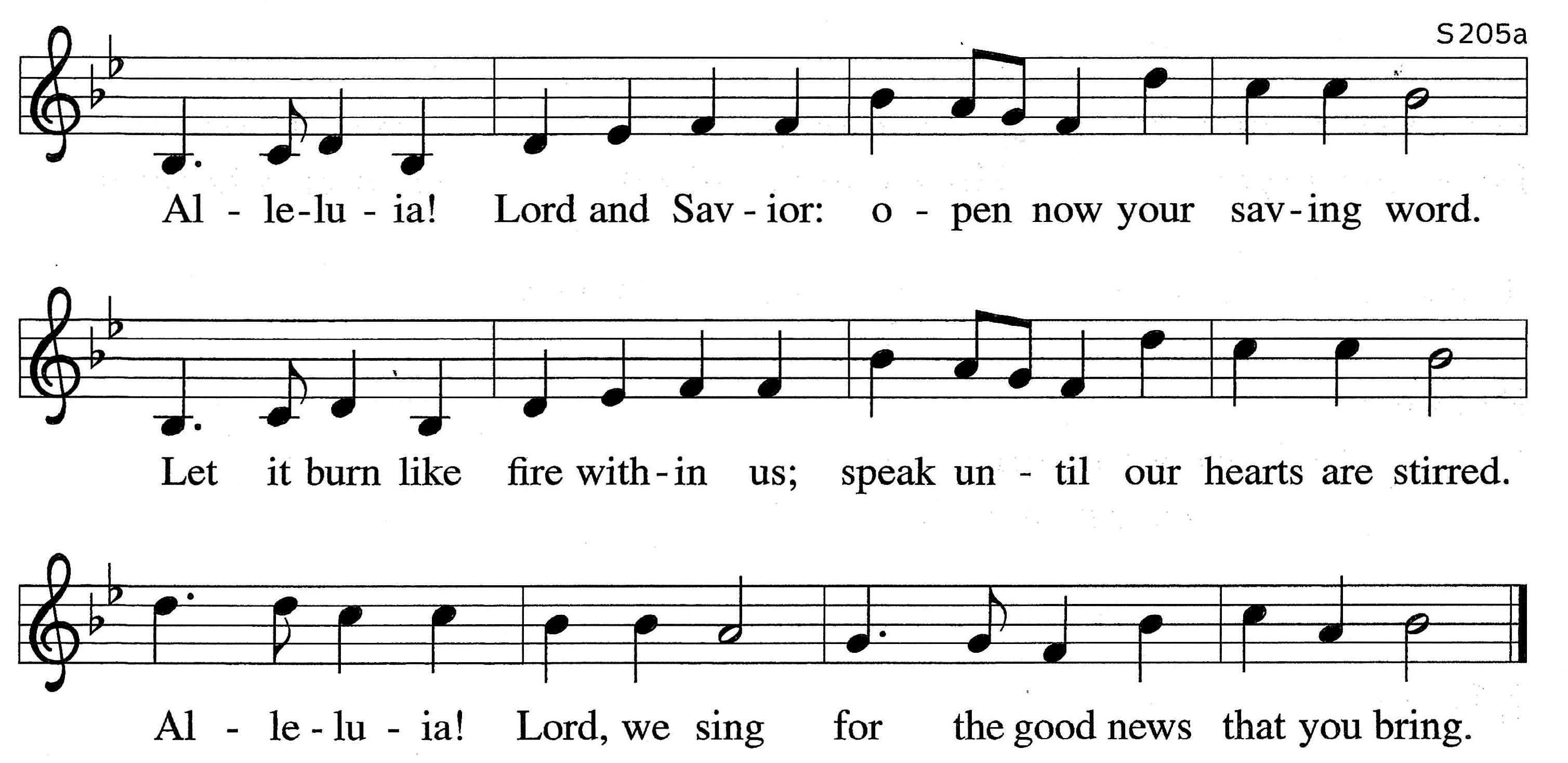 GOSPEL: Mark 7:24-37
P: This is the Holy Gospel according to St. Mark, the 7th chapter.
C: Glory to you, O Lord.
P: From there he set out and went away to the region of Tyre. He entered a house and did not want anyone to know he was there. Yet he could not escape notice, but a woman whose little daughter had an unclean spirit immediately heard about him, and she came and bowed down at his feet.Now the woman was a Gentile, of Syrophoenician origin. She begged him to cast the demon out of her daughter. He said to her, "Let the children be fed first, for it is not fair to take the children's food and throw it to the dogs." But she answered him, "Sir, even the dogs under the table eat the children's crumbs." Then he said to her, "For saying that, you may go—the demon has left your daughter." So she went home, found the child lying on the bed, and the demon gone.
Then he returned from the region of Tyre, and went by way of Sidon towards the Sea of Galilee, in the region of the Decapolis. They brought to him a deaf man who had an impediment in his speech; and they begged him to lay his hand on him. He took him aside in private, away from the crowd, and put his fingers into his ears, and he spat and touched his tongue. Then looking up to heaven, he sighed and said to him, "Ephphatha," that is, "Be opened." And immediately his ears were opened, his tongue was released, and he spoke plainly. Then Jesus ordered them to tell no one; but the more he ordered them, the more zealously they proclaimed it. They were astounded beyond measure, saying, "He has done everything well; he even makes the deaf to hear and the mute to speak."
P: The Gospel of the Lord.
C: Praise to you, O Christ.
Please sit.
Children's Time & Sermon
Please stand as you are able.
Hymn of the Day "Lift High the Cross" ELW 660
Profession of Faith (Apostles' Creed)
C: I believe in God, the Father almighty, creator of heaven and earth.
I believe in Jesus Christ, God's only Son, our Lord. He was conceived by the power of the Holy Spirit and born of the virgin Mary. He suffered under Pontius Pilate, was crucified, died, and was buried. He descended into hell. On the third day he rose again. He ascended into heaven, and is seated at the right hand of the Father. He will come again to judge the living and the dead.
I believe in the Holy Spirit, the holy catholic Church, the communion of saints, the forgiveness of sins, the resurrection of the body, and the life everlasting. Amen.
Prayers of the Church (1 Timothy 2:1-2)
Each section of the prayers ends:
A: Lord, in your mercy,
C: Hear our prayer.
When we get to this part, please join in reading the names in bold:
A: Today, we pray especially for...these friends on our Prayer List:
C: JoAnne, Lois, Cecil, Betty, Tom, Ron, Carolyn, Eleanor, Karen, Ian, Kirk, Dawn, Lois, Lynette, Carole, Paul, Brian, Easton, Angela, Brenda, Mandy, Rod, Ladonna, Carl, and Renee.
At the conclusion of the prayers:
P: Into your hands…through Jesus Christ, our Savior and Lord.
C: Amen.
Sharing of the Peace (John 14:27, 20:19-21; Matthew 5:23-24)
P: The peace of the Lord be with you always.
C: And also with you.
Please sit.
Nurtured By Christ's Meal
Offering
Please stand as you are able.
Sung Offertory "Doxology"
Praise God from whom all blessings flow;
Praise him, all creatures here below;
Praise him above, ye heav'nly host;
Praise Father, Son, and Holy Ghost. Amen
Offertory Prayer
A: Let us pray. God of life, you give us these gifts of the earth, these resources of our life and our labor. Take them, offered in great thanksgiving, and use them to set a table that will heal the whole creation; through Jesus Christ, our Savior and Light.
C: Amen.

Great Thanksgiving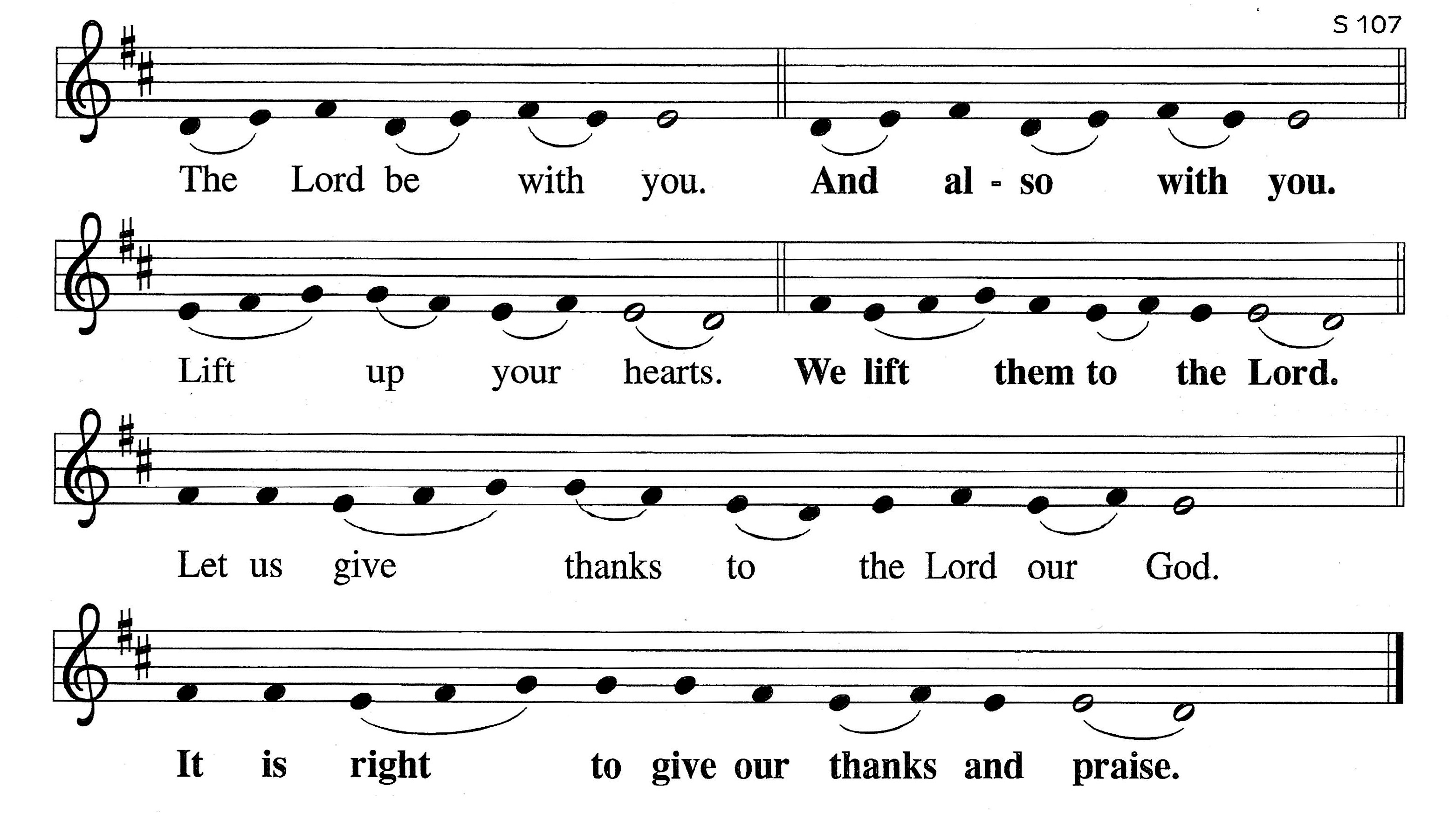 P: It is indeed right...we praise your name and join their unending hymn:
Holy, Holy, Holy (Isaiah 6:3, Psalm 118:26, Mark 11:9-10)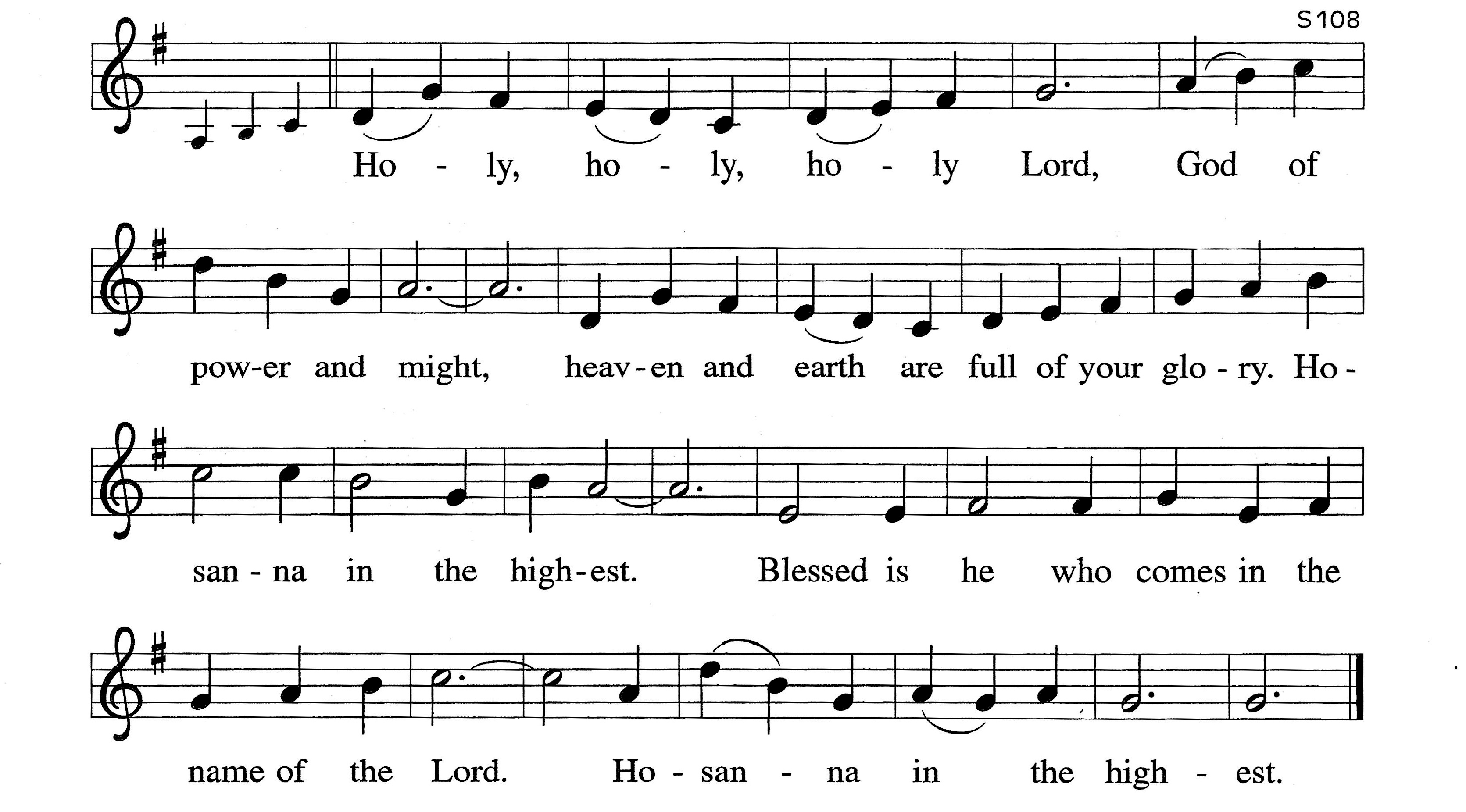 Eucharistic Prayer (1 Corinthians 11:23-26)
P: Holy, mighty, and merciful Lord...
In the night in which he was betrayed, our Lord Jesus took bread...
Again, after supper, he took the cup...
Pour out upon us...now and forever.
C: Amen.
Lord's Prayer (Matthew 6:9-13, Luke 11:2-4)
C: Our Father, who art in heaven, hallowed be thy name. Thy kingdom come, thy will be done, on earth as it is in heaven. Give us today our daily bread, and forgive us our trespasses as we forgive those who trespass against us. Lead us not into temptation, but deliver us from evil. For thine is the kingdom, and the power, and the glory, for ever and ever. Amen.
Please sit.
Lamb of God (John 1:29)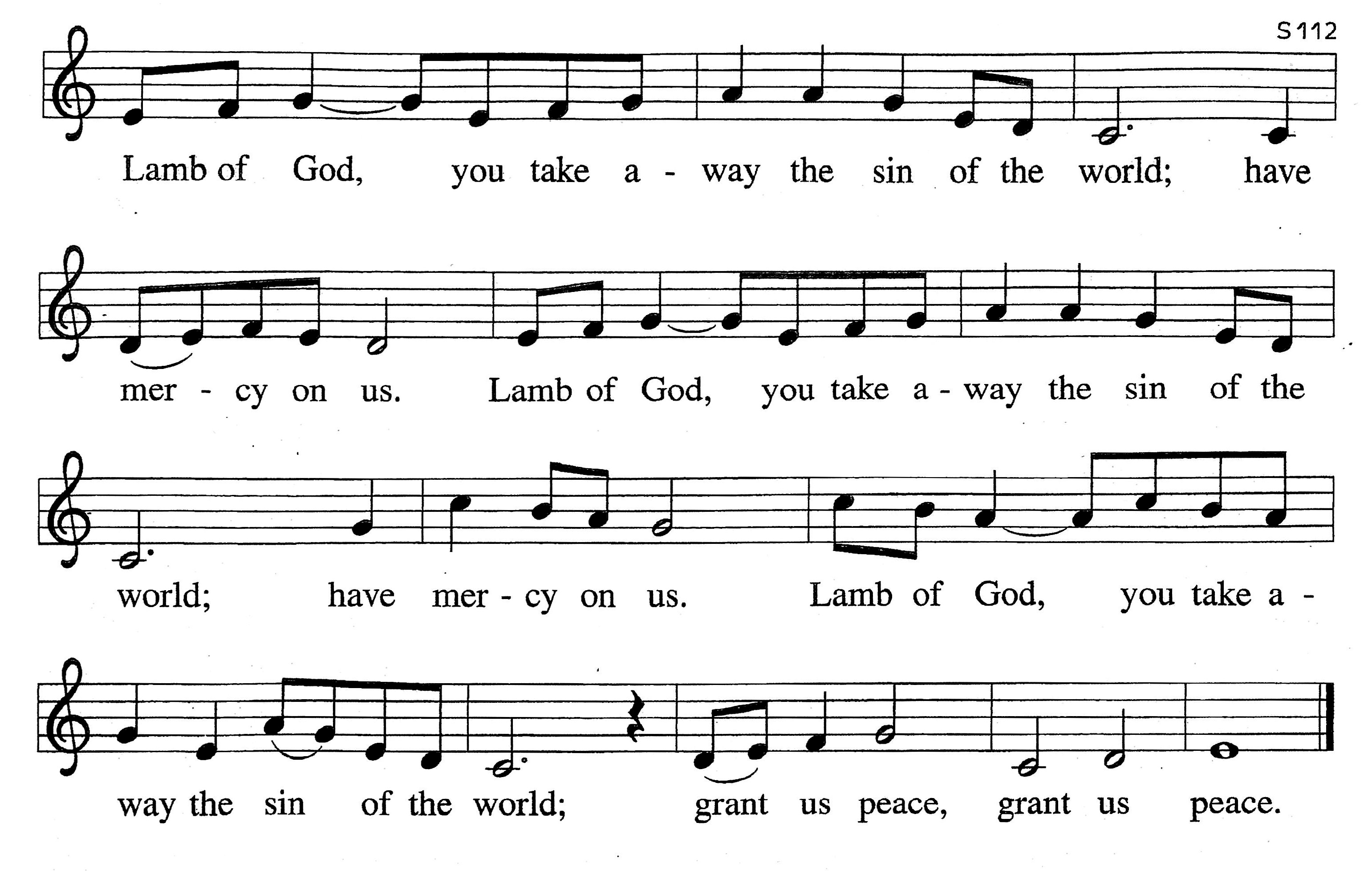 Invitation to Holy Communion
If you are visiting today, you are welcome to receive Holy Communion.
Please come forward when the usher comes to your row. (If you are unable to come forward, please tell the usher, and the servers will come to you.)
Pastor will give you the bread, and then you can choose to either drink wine from the first cup station or to dip your bread in wine (red) or grape juice (white) at the second cup station.
If you prefer not to receive Holy Communion, you are invited to come forward with your arms folded across your chest to receive a blessing.
All are invited to sing the following hymns while Communion is distributed:
ELW 641 "All Are Welcome"
ELW 650 "In Christ There Is No East or West"
ELW 461 "All Who Hunger, Gather Gladly"
ELW 471 "Let Us Break Bread Together"

Prayer after Communion
A: Let us pray. Jesus Christ, host of this meal, you have given us not only this bread and cup, but your very self, that we may feast on your great love. Filled again by these signs of your grace, may we hunger for your reign of justice, may we thirst for your way of peace, for you are Lord forevermore.
C: Amen.
Sending Us Out to Serve
Commissioning of Sunday School Teachers
Please stand as you are able.
Benediction (Numbers 6:24-25, sung)
P: The Lord bless you and keep you.
The Lord make his face shine on you and be gracious to you.
The Lord look upon you with favor and give you peace,
in the name of the Father, and of the + Son, and of the Holy Spirit.
C: (sung response below)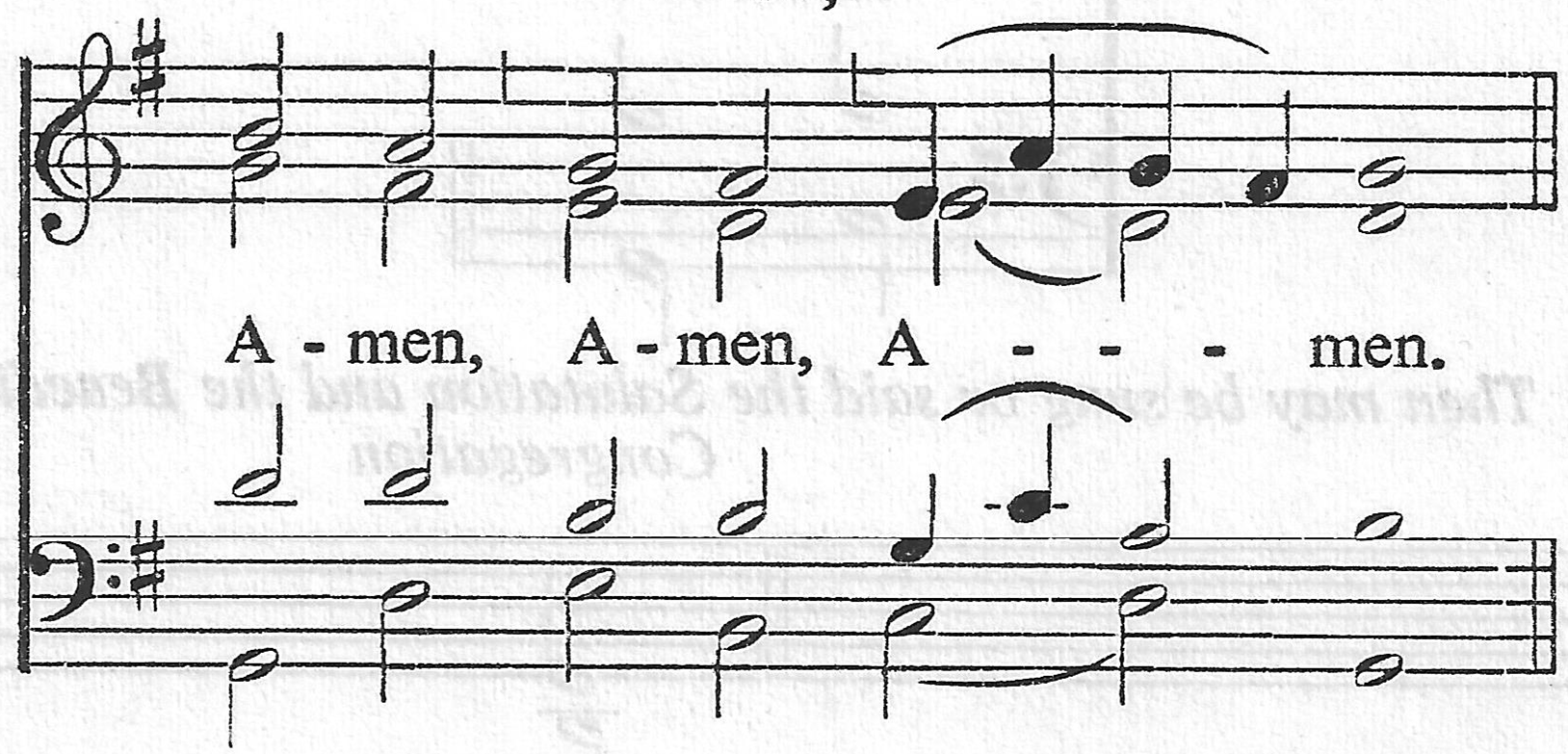 Sending Hymn "Words of Grace"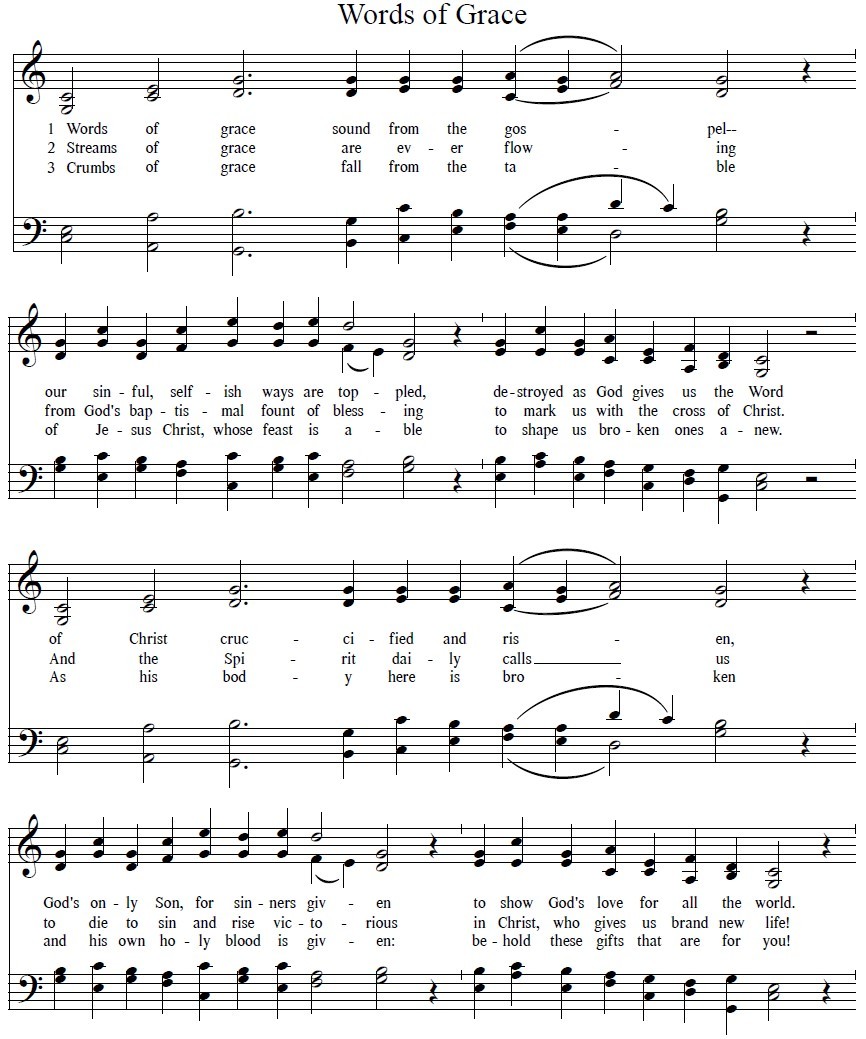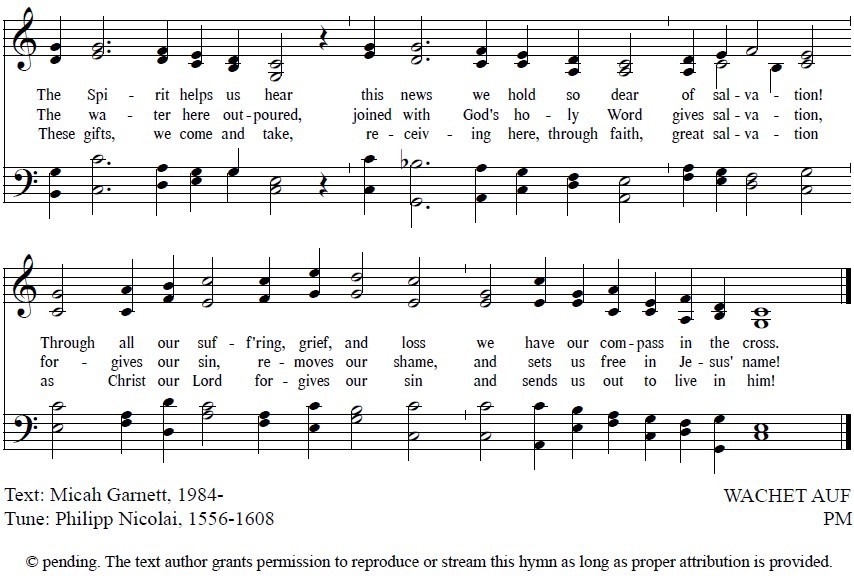 Dismissal
A: Go in peace. Serve the Lord!
C: Thanks be to God!
Postlude
Copyright Notices
Service words & music reproduced and streamed under Augsburg Fortress Liturgies License #SBL-14744.
Words of Grace text reproduced and streamed by permission of the author. Tune is in the public domain.
Other hymns streamed under OneLicense #A-715015.
Let us get to know you!
Please take a moment to send us your information so that we may stay connected with you. Your information is carefully managed and protected.
How did you hear about us?