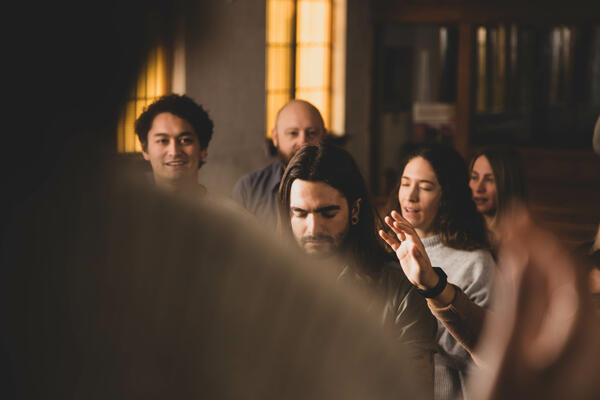 Worship
Coming back together
Lesson #2
How to Sing a Praise Song
Many reformed congregations use modern worship styles, often called Praise & Worship (P&W), featuring guitars and drums. In these settings the words are typically displayed on large multimedia projection screens.
1. Follow the instructions of the song leader.
Someone in the praise band or worship team will invite the congregation to stand up, sit down, repeat certain sections, or divide into men's and women's vocal parts. Pay attention to this person to avoid losing track.
2. Learn the melody and son structure.
Pay special attention to the melody line sung by the band's lead vocalist. P&W songs can be tricky because they are rarely printed with noticed sheet music and are sung differently place to place.
3. Sing along with gusto.
Once the melody has been introduced, join in the singing. When you're comfortable with teh song, experiment with harmony parts.
4. Avoid "zoning out."
Singing often-repeated lyrics that are projected in giant screens can result in certain mental numbness. Avoid this by surveying the worship area. Notice banners, liturgical symbols, pulpit, communion table, baptismal font, cross, designs or Bible stories pictured in stained glass windows (especially in older building). Make eye contact with other people.
5. Identify themes in the songs.
Determine whether the song is being used as a confession, a prayer, a hymn of praise, or whether it serves another purpose. See if you can identify the Bible passages referred to by certain phrases or key references in the hymns.
6. Watch out for raised hands.
A few Reformed people have learned some very good things form Pentecostal and African-American churches. They may suddenly raise their hands in praise to God during a stirring song. Be sure to give these worshippers plenty of room to avoid losing your glasses or getting a black eye. You might even experience God's presence so powerfully yourself that your own are fly up without warning!
Be Aware:
Worship is highly participatory. The praise band or worship team is there to help you and the congregation sing and participate in worship, not to perform a concert.
There are no prohibitions in the Reformed tradition against physical expression during worship.
In some congregations, certain gestures will draw amused stares, but don't worry about that. God is our main observer when we worship. We know God loves music and praise (see Psalm 150) and was even pleased when David, clothed only in his skivvies, danced his way into Jerusalem in front of the Ark of the Covenant (2 Samuel 6:14, 15). So a little jig during a lively song might be exactly the right response.
From The Reformed Handbook
Social Distancing
The session encourages you to consider a few things when coming back together:
There is plenty of seating so choose seats that are distanced from others.
Please bring your own coffee or waters as there will be nothing provided by the church at this time.
There will be no bulletins or hymnals for use for singing. Plan on reading from the screens up front for all lyrics.
If you feel the need please plan on bringing and wearing a face mask.
Consider the love you have for your neighbor when coming back together in this new era.
The elders and deacons will be available to assist you in your needs.
The session trusts that all of you will do the right thing and we have faith in your wisdom in practicing social distancing.
Please be in prayer as we come together for God to bless our joining together in faith and fellowship.
Pastor Hank
Remember to laugh and love
Upcoming Events
Download
Sunday, April 25th  •  11 am – 12 pm (EDT)
Glorify, Grow & Go
Our address is: 607 Jackson St, Thomson, GA 30824, USA