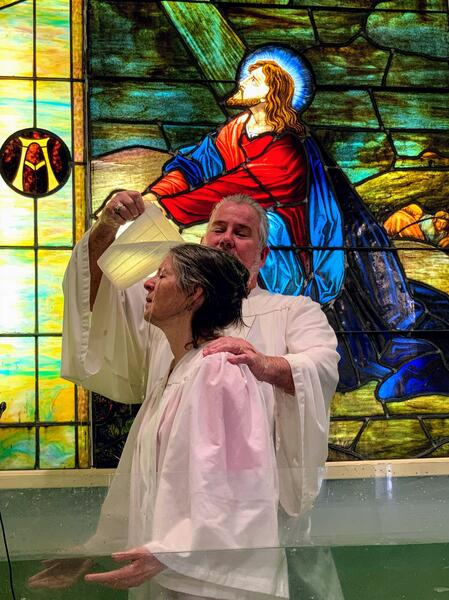 IT'S A NEW SEASON!
Daniel 2:20-21 Blessed be the name of God forever and ever, For wisdom and might are His! And He changes the TIMES and the SEASONS; He removes kings and raises up kings . . .
January 6, 2021
On New Year's Eve, I began experiencing symptoms of sinus congestion and a bad headache and later in the evening I popped a fever. When I woke up early Friday morning, I had severe body and joint pain and felt awful. I had already prepared a powerful prophetic NOW word to share with you Sunday morning, but my voice was becoming hoarse. This is not that unusual for me during this time of the year but as the conditions continued to worsen, I began wondering if I might have COVID 19 or was it simply sinus drainage that was about to turn into bronchitis? We had been tested for COVID 19 prior to Christmas and we both tested negative, and we enjoyed a full gathering after Christmas of our son, daughters, grandchildren, son-in law and daughter in law.
As I was seeking the Lord for wisdom and understanding, early
Saturday morning I discovered that I had lost my sense of taste and smell and in my spirit, I knew that I had COVID 19. It was not too long after that that one of our members (Michele), texted me news that a FREE saliva testing site just opened at a location near our home. So, First Lady Marie and me, immediately went and received the Free saliva test at this location and early Sunday morning I received the results that indicated I had tested positive for COVID 19. Because we had all of our family with us for Christmas, we already had an appointment set up to be retested for COVID 19 but the earliest we could get it was Sunday afternoon. And with the symptoms beginning to manifest Thursday, Friday, and Saturday, especially the loss of taste and smell, I knew I would not be able to deliver the message to our people on the First Sunday of
the New Year!
While the first few days brought my worst symptoms and the few
days sense have been challenging, it has been nothing like so many others have experienced. The COVID 19 diagnosis has had a profound effect upon us and we immediately felt grief and sorrow for anyone we may have exposed while we were asymptomatic. Fortunately, the potential list was a lot shorter than it would
have otherwise been and we were able to contact everyone that we thought possibly could have been in contact with us. Fortunately, to date everyone who had been tested has come back NEGATIVE and this made us shout WELL GLORY!
There are TIMES and SEASONS in our life when we get a chance to
practice what we preach and or apply what we know. This is certainly one of those times for us. In Daniel 2:20-21 the prophet
reminds us that Blessed be the name of God forever and ever, for wisdom and might are His; And He changes the TIMES and SEASONS; He removes kings and raises up kings; He gives wisdom to the wise and knowledge to those who have understanding!
If God changes the TIMES and the SEASONS it will benefit us to
know the difference between TIME and SEASONS. Time is a fallen thing that is void of the supernatural! Prisoners are said to Do Their Time! During this COVID 19 pandemic with lockdowns and restrictions on public gatherings and church attendance, many have begun to feel like a Prisoner Doing Their Time void
of the supernatural presence of God manifesting in their circumstances.
However, I feel compelled to encourage you that we are launching
into a NEW SEASON! I am compelled to encourage you of this truth not because the calendar tells us it is a new season, but because Holy Spirit and Holy Scripture says it is a New Season. The prophet Isaiah says it this way in 43:19 Behold, I will do SOMETHING NEW, now it will SPRING FORTH; Will you not be aware of it?
How can we become aware of God changing our TIME into a NEW
SEASON? My experience has been that by fasting for 21 days at the beginning of the new calendar year helps me divinely align my life and pre-position me for spiritual breakthrough in the new season! I am inviting you to consider some form of fasting and some length of fasting beginning January 10, 2021. When you study Scripture you discover that Esther fasted for three days, Daniel, Shadrach, Meshack and Abednego fasted for 10 days, later Daniel fasted for 21
days, Moses and Jesus fasted for 40 days. The length and type of fast will be directed by God and discerned by each of us. In Isaiah 58:6 God says Is this not the fast that I choose (for you). If there are medical concerns each person should check with there doctor before altering their eating or diet. Many have experienced healing and or tremendous improvement in the medical conditions after joining God on the fast He has chosen for them. If doing without food is not wise for you, then perhaps the Lord will impress upon you other things you could "do without for the purpose of spending the time with Him." This is really at the heart of fasting, doing without food or other things for specific period of time for the purpose of spending that time connecting or reconnecting with God in a more personal and or intimate time!
Please remember, fasting does not cause God to love you any more
than He already does. God has chosen to love you unconditionally and eternally and nothing can separate you from the love of God! However, there are TIMES in our life when we do not experience the manifest presence of God nor hear His small still voice like we once did and we need to discipline our body, soul and spirit to become more sensitive and responsive to the Lord and His promptings.
Fasting can pre-position you and divinely align you for the changing SEASON that you are about to enter into, so perhaps this is something you might benefit from, I know I will!
As we complete our TIME and transition into our SEASON, the
prophet Isaiah encourages us with these words But now says the Lord, your CREATOR . . .He who FORMED you . . . Do Not Fear, for I have REDEEMED you; I have CALLED you by NAME; you are MINE! Do Not FEAR, for I am with You! 
Behold, I will do something NEW . . . I will even make a roadway in the wilderness, Rivers in the desert!
God loved you enough to create you, Jesus loved you enough to die on the cross for you and Holy Spirit is calling you
Our address is: 5705 Memorial Dr, Stone Mountain, GA 30083, USA