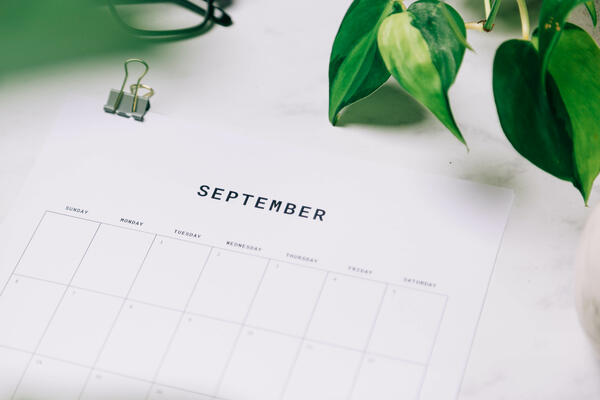 September Newsletter
Dear Church (From Pastor Matt)
Welcome to a new school year! There are two big announcements that I want you to know about:
First of all, this month we will be starting a new curriculum called "The Plan." The goal of The Plan is to help people learn the one long story of scripture, from Genesis to Revelation. Churches are finding that Christians who understand the big story of scripture are more likely to hold onto their faith and better equipped to share their faith with others. In this series we will be following the story of scripture through the whole school year, looking at how each part of the story fits into this one big story about a God who is on a quest to give his people a home where they can live with him and rule on his behalf.
This is not just a sermon series, however—it's also going to be the curriculum for the youth group and treasure seekers. This means that the whole family will be studying the same stories each week and learning the same story! We're really excited about how this new curriculum will bring our church together, give us a better understanding of God's plan for the world, and encourage us to take our place in that plan!
Second of all, we are officially rolling out our new church software this month, called Faithlife! Hopefully you will be getting an email invitation to join Faithlife soon. If not, go to www.faithlife.com or download the Faithlife app and set up an account. Then search for Turner Christian Church and join up. Once you're on Faithlife, you'll have access to all kinds of features from your computer or phone. You can post prayer requests, listen to sermons, access the church directory, chat with your small group or service team, and lots more! If you are a member of the church, you also get access to Logos bible software and Faithlife TV! We encourage you to sign up and start looking around. Feel free to ask if you have questions!
As we head into the fall, please pray for our new classes an groups, as well as for our community's schools, kids, teachers and parents. Pray for safety and health, and pray that the Kingdom of God would grow!
Stay healthy and hopeful!
~Pastor Matt
A Few Words with Pastor Jack
"Priority" is a funny word. It suggests that we hold one thing higher than the other. Actually, it is not a suggestion, it is a statement of fact. If you hold one thing over another, you prioritize that first thing. I apologize, how I have initially been speaking is too obscure. The word "priorities" can be thrown around quite often. The word can be used as an effective tool to establish what you might like an employee to work on first. The word can be used to create boundaries with someone whom you value but might need to be careful with about time or resources. Most often, I find that people prioritize in their personal lives. What they devote much time, money, or energy to takes priority over other aspects of life. I certainly have my own priorities in life, much like others have priorities in their own lives.
Having priorities can be a wonderful and valuable tool in our lives. Done well, they can certainly help us live our lives in a healthy way. Done poorly, and priorities can be detrimental to us and those around us. As Christians, there is one priority I can tell you to have above all else. That priority would be God. That's a bit of a broad statement. In the Old Testament we have the ten commandments where the first three commandments prioritize God in our lives and our handling of Him. However, that's the old law, right? Well, in the New Testament we have Jesus communicate the greatest commandment: "Jesus replied: 'Love the Lord your God with all your heart and with all your soul and with all your mind.' This is the first and greatest commandment." These verses place our greatest priority as loving God. No questions about it, Jesus has placed our greatest priority as loving God and He'd carry on saying that our second priority is loving others.
Our greatest priorities as a Christian are to love God first and foremost and then to love others. Anything else that overtakes these two priorities would be misplaced. That includes our jobs, where we live, our political views or our patriotism, our hobbies, and many other things that we can be swept up in. Quite honestly, these priorities coming first should be comforting. We are simply called to love God and love others first. Everything else should fit into place after that. Maybe your priorities are wonderfully laid out, but maybe like me, you could use a check-up occasionally, of what your priorities actually are from day to day.
Birthdays & Anniversaries:
In the past we have listed birthdays and anniversaries in the monthly newsletter. Because the digital newlsetter is available to the public, we will not be posting private information like birthdays and anniversaries here.
I've Been Thinking... (By Rachel White)
I've been thinking about generosity. My pantry shelves are overflowing, I have enough toilet paper for an apocalypse and there is a brand new (to me) washer and dryer set purring in my apartment alcove. The generosity of others is overflowing in my life.
But what about when it isn't? What about the days and weeks and sometimes, months or years, where the cupboard is bare, and friends have little to offer?
Paul says, "I know what it is to be in need, and I know what it is to have plenty. I have learned the secret of being content in any and every situation, whether well fed or hungry, whether living in plenty or in want" (Philippians 4:12 NIV).
Have we learned that same contentment? I remember well an August in my early 20s where the expense of moving completely tapped me out. I had a good job, but if it wasn't for my mother's generosity, a well-timed summer camp, and the Sunday morning snacks at church . . . I wouldn't have had food to eat the week before payday. I remember gratitude, God thank you that I volunteered for this summer camp and that they feed us. God thank you that my church provides snacks. God, thank you that my mother asked if I was in need. But I also remember anxiety. God, I had promised that student I would buy them coffee, and I'm not sure if my card will go through. God, what if I calculated all my bills wrong and I've forgotten something? What is something unexpected comes up? I don't think I have food for Sunday lunch . . . how much can I get away with eating at church? God, how did I get to this place? I'm trying so hard.
I don't remember contentment. I remember embarrassment, and shame. Paul doesn't have those emotions. He has the secret to being content. "I can do all this through him who gives me strength." (Philippians 4:13 NIV) Paul is citing a generous and abundant God-a God who gives strength to weather the hard storm of want. A God who is stronger than need, and more powerful than hunger. A God who can teach us contentment.
I didn't learn my lesson about contentment back then. I didn't want to. I wanted to be on the other side of that hardship and never look back. I missed an opportunity for growth-I missed a chance to truly delight in the abundance of God.
Allowing God to train us is a challenge. We list our complaints and demand solutions. We often delight in being the givers of blessings and then have anger, or bitterness or resentment when we have to depend on the kindness of others. We savor our independence and often reject opportunities to depend fully on the Lord. We are a stubborn people. And our Savior loves us anyways. His abundant, generous love woos us. He wants to teach us. Will we let him?
God, please help us to be a people that delights in looking for your goodness no matter the situation. Help us be a people who seek contentment by drawing on your strength-knowing full well that our own is never enough. Help us be a people who share our burdens with others-a people who shed shame for confidence in your love. Help us not to push through hard things with resentment, but to seek out your face and your provision in the most difficult of moments. Thank you for being a generous God. Amen.
―Rachel
Connect, Grow, Serve, SHARE.
Our address is: 7871 Marion Road SE