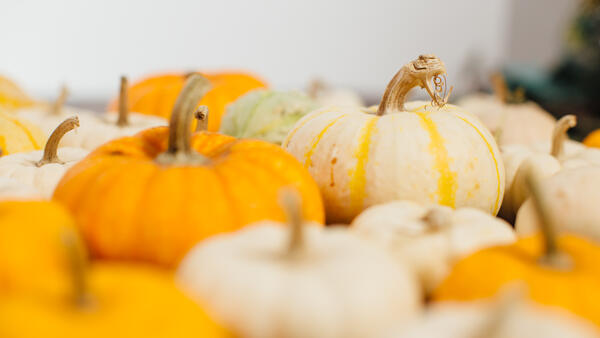 October Newsletter
October, 2021
Read this first!
This newsletter contains all the information that's in the print version (except for the calendar, which you can find here).
Some email servers don't show the whole newsletter at first. You'll know you've reached the bottom because it will say "The End." If you don't see that at the bottom, look for the ellipsis symbol ( ... ) and click on that to reveal the rest of the email.
Trunk or Treat is Coming!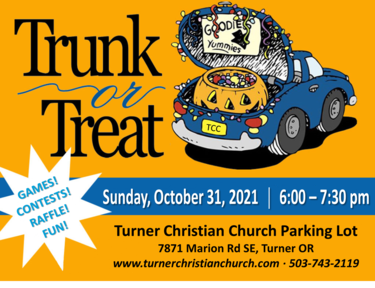 This is one of our biggest outreach events of the year! We could use help with:
--candy donations
--setup and teardown
--running booths
--decorating trunks
If you are available to help, please contact Pastor Rachel.
Dear Church (From Pastor Matt)
First of all, hopefully you have already heard abut our new church software, Faithlife! All of us in the office are excited about Faithlife, for two reasons: first, it makes the work we're already doing in the church (accounting, sending out alerts, posting bulletins and sermon notes, etc. etc.) so much easier! Second, it gives us new abilities we didn't have before. For instance, we now have the ability to make this newsletter available through email and on our website! Our hope is that we can reduce a lot of the expense and time of producing our monthly newsletter by sending it electronically. Don't worry, though: if you want/need to receive it by mail, we will continue to offer that option. The paper newsletter is going to be "opt-in." Here's what that means:
• Starting with the November newsletter, everyone who has given us their email address will being receiving the newsletter electronically instead of by mail.
• If you don't have email (or you haven't give it to us), then don't worry—you'll continue to receive a paper newsletter.
• If you have email but would prefer to receive a paper copy, simply contact the church office at
office@turnerchristianchurch.com, and we will put you back on the mailing list.
How will you know if we have your email? This month's newsletter will be sent out by email and snail mail to everyone on our list. If you don't see our newsletter in your inbox, then check your spam folder to make sure it isn't getting filtered out. If you don't receive our email but you would like to, you can either email office@turnerchristianchurc.com and ask to be added to the list, or you can add yourself by going to www.turnerchristianchurch.com, scrolling to the bottom, and entering your email address in the "Sign up for our newsletter" box.
I will also encourage you to set up a Faithlife account, if you haven't already. Faithlife functions as a kind of social network, allowing church members to see and talk to each other. If you have set up an account, make sure and fill out your profile—especially your profile picture. That way people can see who you are and get to know you! To set up a Faithlife account, go to www.faithlife.com, click on "Register" in the top right corner, and create an account by filling out the form with your email address and password. When you log in, Faithlife will ask you to search for your church. Type in "Turner Christian Church" and select it to start following us!
Secondly, the congregation voted on September 12 to approve the new church bylaws. We are now in the process of transferring over to this new leadership model. The new bylaws state that our current board remains in place until a new board is elected this December, so look for more information as we get closer to implementing the new bylaws!
Finally, I want to thank this congregation for being who you are. I have said this a lot over the past two years, but it remains true: I feel incredibly blessed to be a part of this congregation. You have been so patient, flexible, understanding, compassionate, and faithful throughout every challenge we've faced, and I could not be more grateful. I know that this COVID mess is continuing on longer than we all hoped or expected—I know it felt like we were almost out of it last Summer!—but we as a congregation are coming through this united and moving forward! Pray for all of those who are suffering from COVID, and for those who are caring for them, and pray for God to bring an end to the pandemic.
Stay healthy and hopeful!
Our drama ministry is meeting again!
Download
Everyone is invited to join this group. Actors and people to work with props, costumes, sound, lighting and more are needed! All ages are welcome!
Tuesday, September 28th  •  6:30–8:00 pm
A Few Words With Pastor Jack
One emotion I struggle with the most is anxiety. I have a natural tendency to be anxious about life and what is to come. This is something I am working on and through. Trusting God can be difficult in the day-to-day for me. What is an emotion you struggle with? Maybe it's anxiety like me? Anger? Jealousy? You don't need to tell me, just keep it in mind. For me, I know anxiety reveals a lack in trusting God. I know the ideal; trust God in all that I do. Philippians 4:6 says, "Do not be anxious about anything, but in every situation, by prayer and petition, with thanksgiving, present your requests to God." I know I ought to trust God but, knowing this doesn't mean I am going to immediately be free from anxiety.
Life can feel stressful when we know scripture says "do not be anxious about anything" or when envy, jealousy, or fits of rage are listed amongst the acts of the flesh. We have struggles as humans. In this, I believe Psalm 103:8 has wisdom to offer; "The Lord is compassionate and gracious, slow to anger, abounding in love." Our God is a gracious one. He loves like no other and He is patient like no other. Our shortcomings are ones He has seen before.
If this is true, should we just keep sinning? If He is so gracious and His love abounds, should we be ok with the struggles we have? Absolutely not! Or, as Paul would say to the same question, by no means! How we live matters. We serve a gracious and loving God but also a just God. We should not expect ourselves to be perfect as God doesn't expect us to be perfect, but He expects us to live for Him. He expects us to pursue after the emotions and character that reflect Him. He expects us to chisel out the emotions and character that are contrary to His. This is a long and difficult process, but it is one we can attempt to make progress on each and every day. How are you working on yourself today?
Family Night is meeting!
Download
Bring the whole family for food, worship and small groups!
At Family Night we have groups for all ages, from nursery to seniors, all meeting at the same time! The evening starts with dinner, then worship, then we split into small groups for every age. We'd love for you to join us!
Wednesday, October 6th  •  5:30–7:30 pm
I've Been Thinking. . .by Pastor Rachel
I've been thinking about transitions.
Yesterday I found fallen leaves on the stairs to my apartment and my heart was a little sad. A little sad to say goodbye to the joys of summer: jean shorts, bare feet on soft grass, warm sun on my face, splashing around in a lake somewhere. . . but there's a trade-off. I will now get to cuddle in soft sweaters, drink hot chocolate and listen to the patter of rainfall, watch trees turn into shades of burnt red and orange . . .
This has been a summer of transition for me. I said goodbye to a life knit together with dear friends and family and I opened my mind and heart and arms to a new community, a new church family. There is a sadness. Being present here, attending the meetings and the events and things that I have in my new place means missing countless birthday gatherings and activities in Eugene. I text, call, and visit, but things have changed. And in exchange, there are new gatherings, and new friendships, and new opportunities.
The wisdom of Solomon exhorts us,
"Do not say, "Why were the old
days better than these?"
For it is not wise to ask
such questions."
We may be tempted to look at summer days and long for their return. We may be tempted to insist that sun is better than rain or shorts better than sweaters. But when we focus on what we have lost, or what has changed, we miss the good things right in front of us. Some days it is easy to declare that life was better when I lived next door to my nephews or 5 minutes away from my closest friend. But my heart and mind are more satisfied when I appreciate what I have had previously, yet eagerly look to my current situation: I currently live two minutes from a church I have fallen in love with. I wake up every day in a quiet town in a beautiful place. I am regularly spoiled by the loving spiritual, emotional, and material generosity of this congregation. I get to spend my days doing what I love with people whom I already love.
This may seem soft, or mild, as transitions go. But even in times of darkness, or deep sorrow, or Very Hard Things, we are not to look to the past as the answer, or the superior situation. The old days cannot be better than these, because we are invited to know Jesus better now. In these new days, we can be a different person than we were before. Our faith life should be different than at the start of summer, or last winter, or two years ago. When we lean into Him, He is changing us, as He has promised to do. Transitions are hard, always, no matter what wonderful things they bring. But they grow us, and He guides us.
And who knows what gifts He might bring in the Fall?
Announcements
Church Library News!
Did you know there is a special room in the church building  that is exciting, stimulating, informative, eye-opening, fun and restful? Also you can learn about a lot of people who have lived for long periods of time in other countries. You can also have a special quiet time with God, if you want. All ages can use the room, including toddlers  and 100 year olds!. Come, Check it out! The Library is open any time the church building is open.
Library Book Giveaway
Download
The Library team has updated the library collection, and they have lots of books to give away! Books will be available in the church on Saturday, October 9th from 9am-3pm, and Sunday the 10th before and after Sunday services.
Saturday, October 9th  •  9 am – 3 pm
Operation Christmas Child
Many questions have been asked regarding the $9 per box that we ask for every year during our active Shoebox season.
Let's see if we can clear this up so everyone can better understand the process and how this $9 donation is a huge bargain for getting the Good News to those who've never heard.
Once our Shoeboxes are dedicated and prayed over (numerous times) here at TCC, we load them up and take them to a local drop off location; usually in Jefferson or Stayton. The drop off location has volunteers who count the boxes as they place them in larger cardboard cartons. Volunteers from that drop off location then load up the cartons and transport them to a Central Drop Off location nearby.
That is where the $9 per box donation starts kicking in. The cartons are loaded into semi trucks and hauled to the nearest Processing Center. In our case, that Center is in Orange County, California. A portion of the $9 goes to the cost of operating the semi trucks and another portion goes to the cost of operating the Processing Centers. Although the Centers are staffed by volunteers, there are still costs involved in having those huge warehouses open for three and a half weeks each November.
So that covers a lot already, but we haven't even reached the shipping part yet. These Shoeboxes are shipped to over 100 countries worldwide and we all know the cost of shipping these days. Nine dollars is a bargain for shipping anything, anywhere, it seems.
Meanwhile, overseas, volunteers from local churches and ministries are being trained on how to best receive and then distribute the Shoeboxes once they arrive in their country. There is always a Gospel presentation involved with a Shoebox distribution, so training the locals on how to best present the Gospel message is important. As these volunteers are trained, they are given The Ministry Partners Guide. These colorful visual aides really help the children in learning and understanding the Gospel plan as it's presented to them. The $9 donation helps cover the cost of training the overseas volunteers and the printing of The Ministry Partners Guides.
The sixth component of the donation covers the printing of a Gospel booklet entitled The Greatest Gift. These booklets are printed in the language of the region so that each Shoebox recipient receives God's story of love and redemption to take home and share with family and friends.
It is reported that each Shoebox can impact 7-10 people with the ripple effect. It's hard to think of other ministry opportunities that provide such a big impact for so little money. These Simple Gifts are reaching millions of people where other missions efforts are rejected. Thank you for continuing to support this ministry with your financial support. At this time, we are still in need of around $4000 to finish filling and shipping this year's boxes. Your prayer support is also greatly coveted and appreciated.
―Ann Stoker
Check out the Full-Grown Podcast!
This podcast is designed to help our congregation take their faith and spiritual growth beyond Sunday and into every day of the week and every part of their lives. Each week the ministers of TCC will talk about their response to the weekly service, and then dig deeper into Scripture passages, conversations and practices that help us to grow further in our faith in God and love for him and his people. CClick the pciture above to listen!
Ladies Movie Night
Download
We will be watching " October Sky."  Based on fact, this is the story of a teenager named Homer Hickam, growing up in a coal town in West Virginia where a boy's usual destiny was to "end up in the mines." But Homer had his eye on the sky and a love for flying rockets... as problems much more dire than flying rockets seem to push the young man toward maturity, as well as to his eventual destiny... as an instructor of our shuttle mission astronauts.    We invite you to join us for fellowship and prayer. Bring a snack and a friend!
Friday, October 1st  •  6:30–8:30 pm
THE END!
This is the end of the newsletter!
Connect, Grow, Serve, SHARE.
Our address is: 7871 Marion Road SE