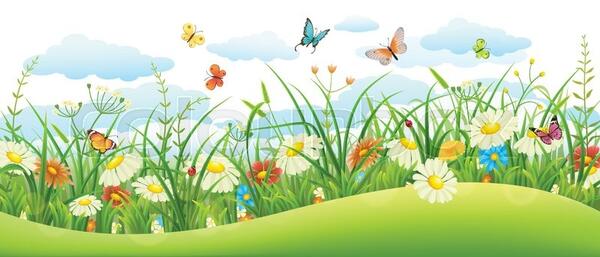 TCC JULY NEWSLETTER

Last month my family got COVID, and the four of us went into quarantine. While we were locked up, I got a package in the mail that made me incredibly happy: the collected works of W. Carl Ketcherside! If that doesn't mean anything to you, don't worry. I'll explain who he is—and why I was so excited to receive a copy of his books!
W. Carl Ketcherside was an evangelist in the Churches of Christ in Missouri. During the first decades of his ministry, he was well-known as a debater: he would travel the country debating with others about the proper way to do church. He never shied away from telling others when they were doing something that wasn't in the New Testament, whether it was worshipping with instruments or hiring a pastor or supporting a seminary or bible college. Ketcherside specialized in defending his approach to Christianity as the only true one.
Then Ketcherside had an experience. While he was visiting a church in Ireland, he had this sudden realization that everything he was doing to divide the church was working against the Holy Spirit. He had a kind of conversion experience that led him to realize that all of the Christians he had been condemning for their different opinions were really his brothers in Christ. From then on, W. Carl Ketcherside dedicated himself to building unity in the body of Christ.
Fast forward about seventy years, and you'll find me, as a youth pastor in Wallowa County, reading a church history book and coming across a quote from Ketcherside that had a profound impact on how I understand the mission of the church. When I received these books during my COVID quarantine, I immediately searched through them for the quote. When I found it, I highlighted it, underlined it, and folded the page corner to make sure I wouldn't lose it. Here's the passage that inspired me so deeply:
"I shall make nothing as test of fellowship which God has not made a condition of salvation. I shall not seek to establish brotherhood by definition of a human document, nor by conformity in matters of opinion. I shall be a brother to all who have been begotten by my Father. Brotherhood based upon fatherhood, fraternity based upon paternity, that shall be my standard because it is scriptural. I will free myself from all partisan traditions, schemes and ideas which men have adopted to offset unity of the Spirit….
"The unity of the Spirit is one of community, not conformity; of diversity, not uniformity. It is rooted in mutual love, not dogmatism; in freedom, not in slavery. Our peace is a person, not a plan or a program!"
What inspires me most about this quote is the phrase "because it is scriptural." The Bible is full of commands to God's people that we love and accept each other—over 30 times in the New Testament!—and yet somehow I thought being right was more important than being God's family. I hope that you are also inspired by that idea. The church—our church—has the power to be a place of peace, reconciliation, and radical transformation because God forms us into a family. God chooses his own children, and he often chooses children that we would not have chosen. But as we accept each other—as we accept all of our brothers and sisters, not just the ones we like or agree with—we experience a love and unity that can transform our broken communities. I am so excited to be a part of that mission with you.
God bless!
_____________________________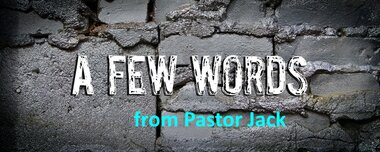 This past month I had the opportunity to
preach through my very first sermon series.
It was a great privilege to put it together and deliver it. Through study, preparations, and compilation, I learned very much throughout those four weeks. The general theme of this series was the idea of transformation. More specifically, within our faith, how we live out, pursue, and recognize simple transformation. Don't get me wrong, transformation can be complicated, tricky, and downright difficult. But it isn't always these things. An underlying theme throughout his series was how we are to care for others. I have a great passion for people caring for one another.
Our world is divided. What's interesting is that the world has been divided for a very, very long time. Just look at the earliest people, Adam and Eve, Cain and Abel, and so many others throughout history. Now, I don't say that lightly. I also don't say that to mean that we ought to be ok with where the world is at. We have, as everyone else has ever experienced, historical nearsightedness, I believe. Everything always seems to be worse when we are living than it ever has been before. The church is struggling more than before, the world is such darker than it ever has been, or Christianity as a whole is struggling more than ever. In reality, I don't know if we can feasibly say any of these things are true.
The church is having conversations that are necessary and beautiful or how we love others. It is continuing to love those around it. The world has always been a dark place full of evil, but it has also always been a place full of beauty and light as well. Christianity is growing all over the world. People are also excited for the gospel and excited to share it. We just have a natural tendency to think we have it worse off than anyone else ever has.
What I'm trying to say is this; following Jesus has always been about loving those placed in front of us. The world has always been a place that makes that difficult. We are facing unique challenges, sure. But we are facing challenges just like those who have walked before us. We must acknowledge these challenges and move forward to love others in a radical, counter-cultural, and Jesus-like way.
Matthew 22:37-39:
Jesus replied: "'Love the Lord your God with all your heart and with all your soul and with all your mind.' This is the first and greatest commandment. And the second is like it: 'Love your neighbor as yourself.'
_____________________________
On Sunday, July 3, Pastor Jack announced that he will be stepping down from his position as of July 31. He will be moving forward to be closer to family, pursue other opportunities in ministry, and to pursue work in the public school system. Jack joined our staff in the middle of COVID and has been a huge help in getting through some very challenging times, especially with youth, technology, and our classes and small groups. We are sad to see him go, but so grateful for the time we had with him and the impact he had on our congregation.
We will be holding a potluck after church on July 31st so the congregation can say goodbye to our brother, Jack.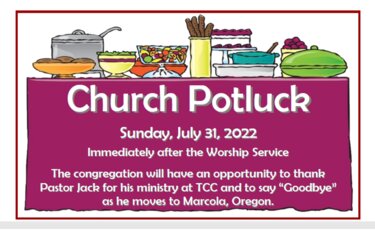 _____________________________

About Camp!
I've been thinking about late nights and early mornings, about excessive amounts of coffee (me, not the kids), about all-out worship and passionate speakers. I've been thinking about card games while we pass the time, and crying girls, and earnest prayer, and picky eaters.
I love camp season. Don't get me wrong; I can be a bit of a whiner and if you stand too close to me during the summer you might hear some complaints about camps that over-exhaust kids or teens, or lean too heavy on emotional appeals, or camps with policies I disagree with or watered-down worship or any number of things. But you'll also see me glow with excitement over a teen who just started to "get that Jesus-thing" or who opened up for the first time or who started asking about baptism, or who allowed themselves to be vulnerable, or who asked a question that showed their wheels are really turning over scripture carefully . . .
I love camp season because I get to do life with kids. Good conversations can happen when you're standing in line at a snack shack. Questions are asked while you walk back to the cabin after a worship set. The speaker that sits down and has dinner with us after preaching the gospel shows teens a new side of community. when someone confesses to a group that they need prayer and a whole group circles up and goes before the King together . . . it teaches kids how the church supports and loves one another, how we walk this road of faith together. When we work on a service project, or raise money for a missionary, teens and kids get to see the body of Christ in action, serving together and impacting the world.
Sometimes I pray over the fact that we often miss these aspects of community as adults. We don't stand in enough lines together, we don't pray over each other enough, we don't live the boring and everyday aspects of life together, or play together. As I watch kids splash around in a pool, or teens cling to each other as they cry and pray over something, I am reminded that we have a lot to learn. The community of Christ can always be growing in the way we love one another, walk alongside one another, serve together. It is my prayer and hope that our community will continue to grow in the ways we invite one another into our lives-the good and the bad-and go faithfully before the King together.
May you love someone well this month, may you grow in vulnerability, may you pray fervently with another. May His Kingdom come.
_____________________________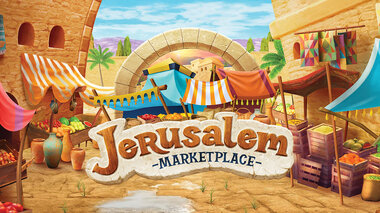 Vacation Bible School
July 26—30
9:00—11:30 am
Welcome to VBS 2022, Jerusalem Marketplace! This summer your child is going to take a trip back in time to see what life was like when Jesus walked the earth! Through fun songs, crafts, outdoor games, and dramas, your child will explore the 1st Century, and learn about Jesus. And don't miss the extra-fun on Saturday -the whole family is invited along for morning VBS and a barbecue lunch afterwards. It's all free!
And come back again Sunday - the kids will sing some of their VBS songs on the stage for Sunday worship, and the service will be followed by a church potluck.
Pre-registration available on:
https://turnerchristianchurch.com/vbs
_____________________________
Vacation Bible School Prep Day!
Saturday, July 9th • 9am―12noon
You are invited to help us get ready for VBS! The preparation day will be led by Kris Jakubowski. Everyone who previously signed up is encouraged to attend. If you have not signed up, but would like to participate, we would love to have you! We are still a few weeks out from VBS week and already have 47 children signed up, so there is a lot to prepare for!
VBS Training Day for All VBS Volunteers!
Sunday July 17th • Immediately after Worship
Please meet in Classroom #1 – Lunch will be provided
_____________________________

Linda Parks passed away and went home to the Lord on May 17, 2022.
Jean Doty passed away and went home to the Lord on June 18, 2022.
_____________________________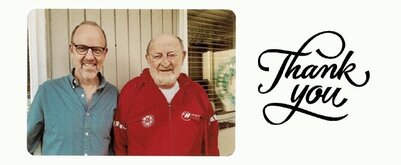 Thank you, Turner Christian Church family, for your extra generous gift. This photo is of me with my dad, Gay, when our family was on furlough last year. Your gift help Diane and me to travel to Vancouver, WA to lead the memorial service. We were honored to share in this time with so many friends and family. Missionaries a century ago wouldn't have had the chance to do such a trip. We thank God for family, for church family and the hope of eternal life that we we have in Christ. We send you our love and thanks.
―Aaron & Diane Lincoln (England)
_____________________________

New Classes for July & August
Study of the Book of Hebrews
Led by David Moore & Jack Holvey
Meets in the Fellowship Hall
The book of Hebrews is the bridge that connects the Old Testament and the New. The entire book is about Jesus and how He is the guarantee of a new and better covenant. Christ is greater than any angel, priest, or old covenant institution; thus the reader, is encouraged to hold on by faith to the true rest found in Christ and to encourage others in the church to persevere.
"Lord, Teach Us to Pray"
Led by Jerry Sygney
Meets in Classroom #1
In Matthew 6 and Luke 11, Jesus taught His followers how to pray. He offered His followers―and us―a model (know as the Lord's prayer) for how to pray when we come before God. In our weekly studies we will reflect on and discuss what Jesus teaches us about the nature of prayer, and about the God we are praying to.
_____________________________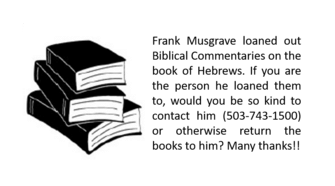 _____________________________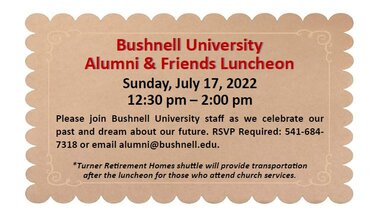 _____________________________
Connect, Grow, Serve, SHARE.
Our address is: 7871 Marion Rd SE, Turner, OR 97392, USA