Turner Christian Church
January 2023 Newsletter

Welcome to 2023! I don't know about you, but 2023 looks like it's going to be a big year for me! Casey and I are presidents of this year's Northwest Christian Convention, which is exciting but also a lot of work! To be honest, however, the convention is not the most exciting thing about 2023 for me. The thing I'm most excited about this year is my new year's resolution—or, should I say, our new year's resolution. For the past 18 months I've been doing a lot of reading about evangelism, and I've reached a conclusion: evangelism is only part of the picture. As important as evangelism is, it's only one part of the ultimate mission God has given His people:
"The most important [command]," answered Jesus, "is this: 'Hear, O Israel: The Lord our God, the Lord is one. Love the Lord your God with all your heart and with all your soul and with all your mind and with all your strength.' The second is this: 'Love your neighbor as yourself.' There is no commandment greater than these." (Mark 12:29‐31, NIV)
Evangelism is part of the great command we have been given by Jesus: to love God, and to love our neighbors. This leads me to our new year's resolution. I was struck by the fact that Turner Oregon labels itself "the good neighbor town." If that's who Turner is, then who should be the best neighbors in this "good neighbor town?" Shouldn't it be the people who have been commanded to love their neighbors? So that's my new year's resolution for our church: we will become a congregation of people who are dedicated to loving our neighbors.
Now, notice how I phrased that. We are not going to be a congregation that loves its neighbors. We are not going to create a bunch of new programs so the whole church can love its neighbors as a group. We are going to be a congregation of people who love their own neighbors. Each one of us is commanded to love the people we live and work with. This is not about a church program—it's about your everyday life.
We are going to pursue this resolution in several ways:
Sermon Series: this year our sermons will be dedicated to uncovering everything the Bible teaches us about why and how to love our neighbors. We'll start in January with a series called "The Blessing" that will follow the first generations of God's family (Abraham, Isaac, Jacob & Jacob's sons) in their struggle to love their neighbors.
All Church January Class: during the month of January, we will spend the Sunday school hour gathering as a church to cast a vision for this new mission. On January 15th, 22nd and 29th we will gather together to talk about what it could look like for the members of Turner Christian Church to have a real impact on their own neighborhoods.
Sunday School Classes: our new Sunday School classes will launch on February 5th. We will be reading and discussing two books: The Art of Neighboring by Jay Pathak and David Runyon, and Placed for a Purpose by Chris & Elizabeth McKinney. We will divide into two smaller classes, but both will cover the same material. (If you're wondering why we aren't offering another class, it's because this topic is so important that I want our full focus on it this winter. In the future we'll go back to offering multiple options).
All Church Gatherings: during the winter semester we'll take several breaks in our Sunday school classes in order to gather as a church and discuss our mission to love our neighbors. We hope to bring in speakers from our community who can talk to us about real, practical solutions to challenges in our town.
There's more coming down the pike, but that's enough to get us started into our new resolution. I hope you will embrace this new focus with me—I truly believe that this is the direction our church has been moving in since before I ever got here, and I am so excited to see what our congregation can do as we go out and love our neighbors!
Happy New Year!
_____________________________

About Beauty!
"Late have I loved you, beauty so ancient and so new, Late have I loved you!" ‐Augustine, Confessions
Beauty often evokes a sense of longing. In a perfect sunset, when everyone we love most is seated around the same table, or when a sleeping child snuggles close, we feel the perfection, and we notice the dissonance. The moment will end. The child will wake. The sunset fades into night. The singer might hit a wrong note, the dancer might stumble or fall―eventually even the best performers will leave the stage. Beauty reflects a beautiful, creative, passionate God. Beauty's imperfections reflect the reality of the brokenness of our world, and the sin nature. Beauty brings us to longing for the days when perfection will never end, where everything will truly be beautiful (Romans 8:19-23).
As the Christmas season fades, and family members head home, the coming winter months can cast a feeling of bleakness. We don't often experience the gray of January and February the same way we do the lights of Christmas and parties, and the flowers and growing days of early spring. In beauty's absence we might also long more desperately for Jesus, but sometimes our desperation can lead us down dark paths, rather than growing in things like patience, hope, and love.
What would it look like to invite beauty intentionally into your experience this winter? What would it look like to rejoice with family and friends all that God has made beautiful, all that God has inspired in humans, on the darkest days? As I am writing this I am listening to BWV 199, IV. Tief gebuckt und voler reue by J.S. Bach and performed by one of my high school classmates, Anna Schubert. Her soaring Soprano praises God in this beautiful confessional piece. My world is a little bit brighter right now, as I appreciate the beauty of her voice, and as I look out the window at winter trees and think about the world that God has made.
Some suggestions on encountering God in beauty:
1. Intentionally draw your mind back to the Lord as you experience beauty. Thank Him for what he has created! Share your thoughts with Him. If a verse comes to mind, linger on it. What might God be offering you?
2. What might you learn about other humans through their art? Can you grow in love, patience, gentleness or peace as you encounter their work? Discussing that which you find beautiful with others can also help create shared experiences for growth.
3. Intentionally share the experience. Watch the musical with friends. Grab your spouse for the morning walk. Read the poem aloud, listen to the favorite song together. Delight in and with community.
4. Be open to new experiences. God often grows us through the uncomfortable. Listen to the ways others experience beauty. Be open to music, art, and nature that's not your preference.
Some beautiful suggestions:
Take a walk in a familiar place, and ask God to help you notice new and beautiful things about His creation.
Take time thinking about the physical beauty and beauty of character that God has given your spouse. Thank God for it. Consider sharing with your spouse what you appreciate.
Listen to Louis Armstrong and Ella Fitzgerald perform What a Wonderful World.
Visit an art museum. Take a friend.
Read the poem Sunday Morning with the Sensational Nightingales by Billy Collins.
Read Aggressively Happy: A Realist's Guide to Believing in the Goodness of Life by Joy Clarkson (available in the church library).
Read Psalm 148, and then respond to it. Maybe write your own song or poem of praise to God, or draw/paint a picture showing all creation praising their Creator.
For those that would like to share, I would love to hear about your experiences with beauty and how it has/or is deepening your relationship with God. Please don't hesitate to email me, call the office, or chat with me at church.
--Rachel
_____________________________

Hello Church! As we head into the new year, I am happy to have this opportunity to begin sharing with you all about our preschool adventures and endeavors. January serves as a halfway point in our school year, a month where we revisit routines and curriculum which struggle to compete against the excitement of the holiday season — and rightfully so! We so deeply enjoyed our December weeks filled with Advent wonder and Christmas cheer. We pray that these last two weeks our students spent at home with their families were touched by that special peace the birth of Christ invites.
In my experience as an educator, the January school days often feel the longest. The world beyond our classroom is still enveloped in winter and waiting. We, too, are enveloped in that tiredness which comes along with the cold and dark; and we, too, are waiting for the weather to change and beckon us to our outdoor classroom. We pray that these next four weeks are marked by a revival of that patience and grace which so often grows tired as our winter days grow short.
Our theme this month is "Transportation." Our students, in both the Preschool and Pre-K classes, will be learning about all kinds of vehicles — from planes and trains, to dump trucks and excavators! There is something so wonderfully innate about the relationship between a small child and those special things which move with great volume, power, and speed. Should you spend a few minutes in a Preschool classroom, you might recognize the shared attributes between a three-year-old child and something like a forceful steam engine or wailing fire truck. We pray that these next four weeks of curriculum will delight our young learners as they engage in playful discovery.
As always, our hopes for this month of Preschool and Pre-K will be that our students encounter the joy of our Savior in their interactions with us, each other, and all those they encounter here at Turner Christian Church. Thank you for your continued support of this ministry. We pray that your outpouring of love and generosity will serve these students and their families in lasting, meaningful ways which glorify our Savior and further His kingdom.
_____________________________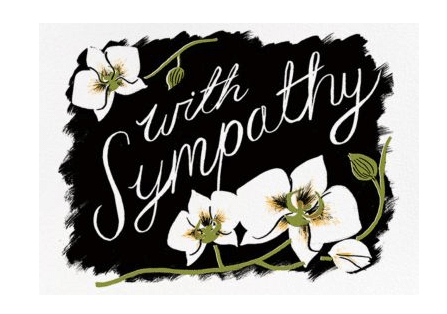 Marvin Bartel
passed away and went home to the Lord on November 30, 2022.
Angie and the family invite everyone to a Celebra􀆟on of Life for
Marvin to be held on Saturday, January 14th from 2:00 – 4:00 pm
at Walery's Pizza (1555 Edgewater St, West Salem).
At 2:30 pm, Ward Hill will lead in sharing remembrances.
Margorie Van Den Haak
passed away and went home to the Lord on December 5, 2022.
Please keep Joe, Lauretta and the family in your prayers.
A Memorial Service will be held at Turner Christian Church
on Saturday, January 21st at 3:00pm.
_____________________________

All church leaders and the church budget
for 2023 were approved by the congregation
by ballot on December 11, 2022.
Chair of the Congregation: Frank Musgrave
Secretary of the Congregation: Julie Leppert
Financial Secretary: Hailiane Sorensen
Assistant Financial Secretary: Kris Jakubowski
Trustees
Don Campbell 2023)
Bill Penhollow (2024)
Larry George (2025)
Elders
Frank Loyd (2023)
Dave Stoker (2023)
Mike O'Dell (2024)
Jon Remy (2024)
Frank Musgrave (2025)
Bill Penhollow (2025)
Deacons
Rhonda Hunter (Library Service Team)
Kris Jakubowski (Hospitality Service Team)
Frank Loyd (Missions Service Team)
Shane Miller (Facilities Service Team)
Virginia Musgrave (Senior Service Team)
Gary Tiffin (Finance Service Team)
Elders and Trustees serve 3‐year terms.
All others serve a 1‐year term.
_____________________________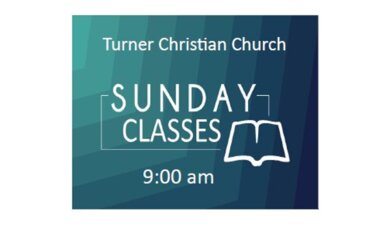 All Church Classes—January 15, 22, 29
An introduction to "The Art of Neighboring"
The Art of Neighboring Class—Starts February 5th
We will divided into two smaller classes,
covering the same material.
Everyone is welcome to attend!
_____________________________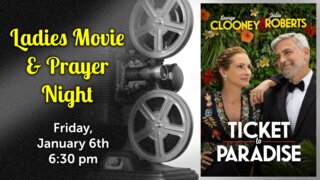 All Ladies are Invited for an
Evening of Fun, Fellowship and Prayer!
We will watch the movie "Ticket to Paradise." Julia Roberts and George Clooney star in this romantic comedy set in Bali.
After the movie we will share in a time of prayer for our church and community.
Invite a friend to come with you and bring a snack to share!
_____________________________

_____________________________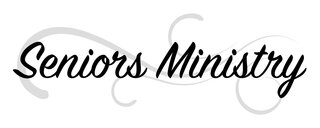 Introduces
New Turner Fire Department
CHAT PROGRAM!
Jon Remy will be leading a meeting to explain the
CHAT PROGRAM
on Saturday, January 21, 2023 • 1:00 pm
at Turner Christian Church.
The CHAT (Community Health Assessment Team) is an organized group of TFD paid and volunteer medical professionals who are prepared to make scheduled home visits to community members experiencing non-emergency medical challenges. Residents needing CHAT support are referred by hospital staff, local doctors, concerned family members or by themselves.
This meeting is open to the Turner Community and supported by TCC Seniors Ministry.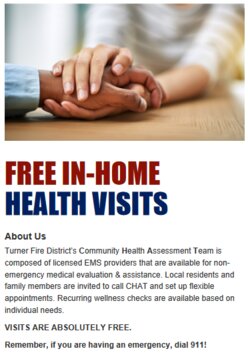 _____________________________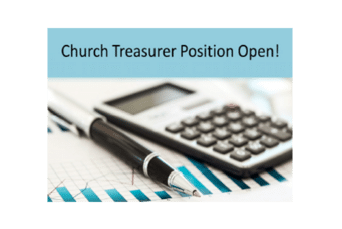 TCC needs to employ a new part-time treasurer early in 2023 to replace Janie Anglen who will be moving out of the area.
The position requires 6 hours/week from a person with accounting experience with QuickBooks, managing accounts payable, bank statements, and payroll software, as well as working with the Finance team in annual church budget preparation.
If interested, please contact Gary Tiffin or the church office.
_____________________________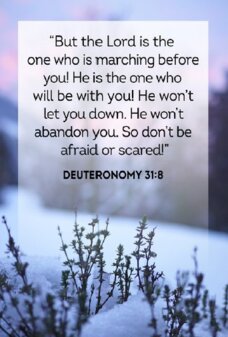 _____________________________
Our address is: 7871 Marion Rd SE, Turner, OR 97392, USA