Turner Christian Church
February 2023 Newsletter

Today (January 26th) I got to see our latest sermon series acted out right before my eyes. This morning Casey came in and set up some tables for the potluck on Sunday, and apparently she pulled or pinched something, because within half an hour of finishing she was sitting in a chair in my office, unable to walk because of the pain. She needed to see a doctor, the kids needed looking after, and she couldn't do either. And then our church family swung into action.
Two people who were here at the church took care of our kids in the nursery while we made plans. A couple others checked in to see how Casey was doing. I packed up the kids and took them home for naps, while another church member came by and picked up Casey. They drove her home, and then switched places with me so I could take Casey to the doctor. While we were there two different church members offered to provide us dinner. I came home to pick up a meal from one of them and feed the kids, and that church member went out and picked up Casey when she was ready to come home. (They also hung out at the house until I was done forcing my dog to puke up the grease he had eaten while we were gone, but that's a different story). And somewhere in the midst of all of that another church member texted to offer help any time we needed it. We were truly blessed to have such loving church neighbors.
And I do mean that, we are truly blessed. After all, as a pastor I got hired into this community. Literally from day one I've had support from this congregation. Most people who move into
this community don't have that level of support. In fact, I expect that not even most of our
own congregation know that there are so many people who are willing to help, because they don't yet have the relationships that make them comfortable asking. I hate to imagine what today would have been like if I had been working any other job and not had a church community to fall back on. And yet, that's likely the situation for most of my neighbors.
We cannot underestimate the value of this kind of active love. A few hours of emergency babysitting, a warm meal, an ear to listen--these can make the difference between hope and despair for a person facing a crisis. But here's the thing: I'm certain that none of our geographical neighbors knew that anything was going on. You couldn't tell just by looking at our house from the outside. The only people who knew were the ones we told. And it will be the same way in your neighborhood, and in this church. You won't even know about most crises unless you have the kind of relationship where (1) you're there when it happens or (2) they're comfortable asking for help. That's why the first step of neighboring is to learn your neighbors' names: it sets the foundation of future opportunities to connect with, love and serve your neighbors.
Having leaned so heavily on this congregation through three pregnancies and a couple of medical emergencies, I can tell you that this community has made all the difference for us. I would love for us to make all the difference for the people in this community who don't already have that kind of support. Wouldn't that be amazing?
_____________________________

About Forgiveness!
A few years ago, a deeply beloved friend put me in a horrible position. The choices they made caused fissures in faith for a lot of people who were important to me. I did my best to serve God and to love others in that time, but I felt the burden of failure a lot. Those months, and the continued consequences, have left a big impression on my life. I am different than before.
I have wrestled with forgiveness for this individual for the last years. I know that they have not repented. I know that they still hurt others. But my anger is not the righteous anger that leads to justice. My anger is the anger of wounding, and of vengeance. And God made it clear that the path forward was to forgive. I wanted to punish. God wants to redeem.
I have read 1 John 2:9 and found false comfort, turning my heart away from truth to say, "Well, I don't hate this person anymore, so I am in the clear." Matthew 6:14, Colossian 3:13 . . . verses like that have been harder to ignore. I have given lip service to forgiveness. At times, I have resentfully prayed for this individual. At other times, I have prayed moved by the Spirit, or truly worked towards forgiveness, only to find that there was more work to be done that I wasn't ready for, or didn't want to engage with.
Almost a month ago today, I forgave them in the deepest way I knew how. And though I know that forgiveness of this magnitude is often a journey, not a destination, I have peace. I believe that, according to God's word, redemption is possible. We see God's mighty mercy again and again in the Old Testament. We see the joy of the Lord in a returned child in the Parable of the Prodigal Son. And though I decided long ago, I would not be the resentful older brother, God has been patient with me in the years it has taken for my thoughts and emotions and actions to line up with my beliefs.
I don't know who you need to forgive or ask for forgiveness from. I know there's probably someone. Often, as believers, we hold others at arms lengths, scared of the cost of forgiveness, scared of what letting go of our hurt will mean. We think, "What if they get off scot-free?" "What if they experience no consequences?" "Who will call them to justice if I do not?"
We forget that the road of redemption is already littered with enough shame, enough pig troughs. Our unrighteous punishment need not also litter the way. If God tells us to speak the truth of their sins to a wayward individual, let us do it with love in our hearts and minds and mouths. If anger is present, let it be of God, and not ourselves. Let us not cast ourselves in the position of God, meting out justice full of our own human error. Let us check our hearts before we speak, let us pray for the conviction of our own sins along that of another, and let us forgive unreservedly, believing that the God we serve is truly capable of miracles.
Our desire for God's justice should never interfere with the human systems He has set into place. If you are forgiving someone, that should never preclude you from contacting authorities, or alerting leaders regarding laws that have been broken or abuses that have taken place. Necessary consequences are part of the redemption process, and can be separate from seeking to punish someone. Forgiveness changes the conversation and the circumstances; it does not keep the same cycle of unhealthy going.
If you need to talk to someone about walking the road of forgiveness, don't hesitate to talk to Pastor Matt or myself. May the way of forgiveness help set you free.
With love, Rachel
_____________________________

Hello church! Last month, the Preschool and Pre-K classes had such a fun time with our Transportation theme. In addition to a multitude of vehicle-themed crafts, games, and stories, we also had visits from the Turner police and fire departments! Our students showed so much enthusiasm around the curriculum and activities we had prepared for January. We thank God for students whose young minds are eager and enthusiastic about learning!
As we transition into the month of February, our new theme is Outer Space. We will be exploring planets, stars, and all those amazing lights and colors that make this universe so awe-inspiring. What an incredible opportunity to nurture in these children an appreciation for the brilliant, creative work of our God. Please pray that our students would delight in the One whose fingertips painted the galaxies and whose breath spoke it all into being.
The January and February months seem to feel even longer in a classroom, as we grow in our longing to be outside enjoying creation. In many ways, the winter season tests the patience and grace of both students and their teachers. Through this season of waiting, our hope is that our students will discover a deepening sense of camaraderie as they "hibernate" together in our classroom. Please pray that our classroom will continue to be a place where our students can experience real, compassionate fellowship.
As always, thank you all for your continued prayers and encouragements as we minister to these children. The Lord has certainly blessed us with such wonderful families to love and pour into. We feel honored to walk with these parents and grandparents as we journey through the school year. Please pray that the love of Christ will be abundantly clear to every family member who steps into our classroom.
PS. We are collecting empty tissue boxes for an upcoming craft. There is a designated box outside the sanctuary. Thank you in advance!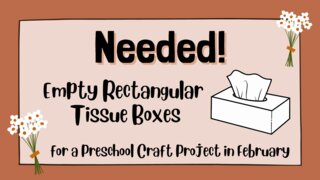 _____________________________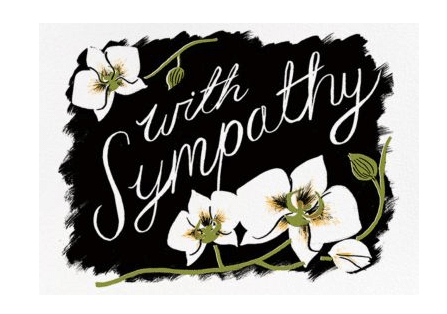 Myrleen Christensen
March 30, 1929—December 27, 2022
Dear Family and Friends of Myrleen,
We are writing this letter to tell you of the passing of Myrleen on December 27, 2022. I had helped her write her other monthly letters and decided this was the right way to tell you all of her peaceful passing.
She had moved from Turner Retirement Homes to our home on June 28th—after receiving a diagnosis of pancreatic cancer. The family decided to move her to Redmond. Regi and I, with help of Partners in Care hospice services as our guide, and her 4 daughters would take care of her through her last months.
Your letters, cards and phone calls were the highlight of her day. Myrleen had a special story of each of you and how your lives were connected. It helped with her memory as she visualized where you would be with her. Myrleen's month of December was full of changes—your communications supported her and she felt your prayers and positive thankfulness.
We will be taking her ashes to the Tillamook Cemetery, to be placed by her husband Willard.
Myrleen closed her Winter letter with this: Much love and I close with John 3:16 & 17—as a reminder of God's great love for one and all.
In closing, we were with her until the last breath and she was peaceful and comfortable.
-Virginia Christensen-
_____________________________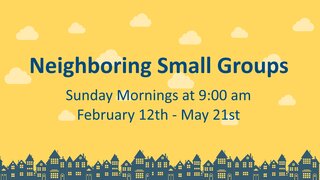 Each group will be reading and discussing two books: The Art of Neighboring by Jay Pathak and David Runyon and Placed for a Purpose by Chris & Elizabeth McKinney. Sign up (Hi School-Adults) in the lobby to choose a group & order books.
Kids are also included in our upcoming focus on loving our neighbors! They will follow the same topics as adults, but at an age-appropriate level. Younger ones will learn through story, crafts and play. Older kids will learn through discussion, activities and games.
Group A: Pre-K ― 3rd Grade Group B: 4th ― 8th Grades
Sign up in the Church lobby or contact Pastor Rachel
_____________________________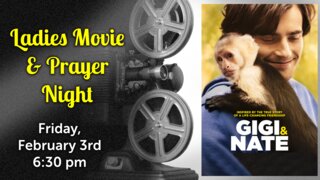 All Ladies Are Invited
To An Evening of Fun, Fellowship and Prayer!
We will watch the movie "Gigi and Nate." Based on a true story about a young man whose life is turned upside down after he suffers a near fatal illness and left a quadriplegic. Moving forward seems impossible until he meets his unlikely service animal, Gigi—a curious and intelligent capuchin monkey.
After the movie we will share in a time of prayer for our church and community. Invite a friend to come with you and bring a snack to share!
_____________________________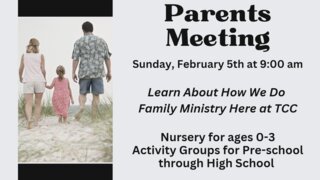 Learn about how we do Family Ministry here at TCC, and why do things the way we do. You'll hear about upcoming events, meet volunteers, mingle with other parents, and ask any questions.
Nursery care will be provided for ages 0-3. Games and crafts for Pre-K ― 5th Grade. Youth Room Fun for Middle and High School students.
Please RSVP to Pastor Rachel!
_____________________________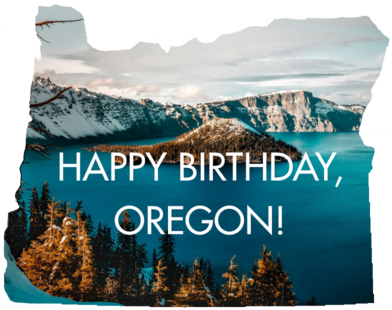 Oregon became the 33rd State on February 14, 1859!
The Seniors Ministry Is Hosting a Celebration
Honoring Oregon's 164th Birthday!
Tuesday, February 14, 2023 at 1:00 pm.
All Seniors from TCC, TRH and the Community are
invited for an afternoon of fun, snacks and trivia!
_____________________________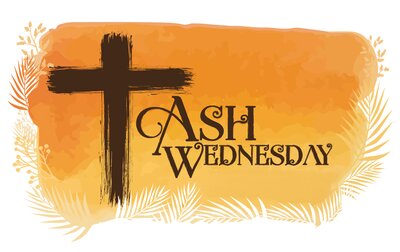 February 22, 2023
7:00-9:00 am - Open to Individuals
6:00 pm - Congregational Service
On Ash Wednesday, Christians around the world begin lent through a special church service focused on repentance. They will often use that day to commit to certain spiritual practices like scripture reading, fasting, or giving for the rest of Lent. We will be offering two ways of observing Ash Wednesday:
1. From 7:00-9:00 am, the sanctuary will be open for anyone who wants to come in and spend time in prayer and receive ashes at the start of their day. We will have prayer stations set up and a minister available to sprinkle ashes as a sign of repentance.
2. We will hold a full Ash Wednesday Service at 6:00 pm in the sanctuary, including prayer, scripture reading, music and ashes.
_____________________________

It is time for someone else to take over Stitches of Love which was organized in 2007. Over these years the ladies have participated in making quilts, afghans, stuffed animals, pillow cases, clothes, bags, yarn caps, eating smocks for TRH, paint smocks and Christmas costumes for the pre-school and much more. All items have been made from donations of fabric and yarn from church members and their friends. All items have been made with love and prayers, that those who receive them will know they are loved.
If you are interested in leading this group or have suggestions for leadership, please call the church office or Elizabeth O'Dell (503-769-2862).
I will no longer hold any meetings and Stitches of Love will discontinue unless someone steps forward to lead. However, for the next few months, I will take fabric and yarn that you wasn't to clear out and see that it goes to good use.
We appreciate your prayers and donations of time and yarn fabric.
Thank you,
Elizabeth
_____________________________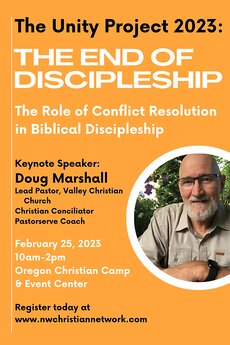 Unfortunately, conflict is often the end of discipleship. After the initial excitement and commitment fade, the messiness of real life in the church often leads to conflicts that stall our attempts to grow as Christians. It can feel like conflict with other people is the main obstacle to growing as a Christian, so we often run from conflict and try to find a church with people who are just like us.
​
But what if conflict was the end of discipleship in another way--what if it was part of the goal of discipleship? What if growing as a Christian means learning to resolve conflicts with others in a Christ-like way? What if conflicts aren't obstacles to Christian growth, but the best opportunities we have to become more like Jesus?
​
At this year's Unity Project, our entire event will be focused on this idea: learning to view conflict, not as an obstacle to real ministry, but as the very core of discipleship. Our keynote speaker is Doug Marshall, lead pastor at Valley Christian Church as well as a certified Christian councilor and Pastorserve coach. We hope you can join us on February 25th for a day of great speaking, challenging practical discussions, and meaningful fellowship!
_____________________________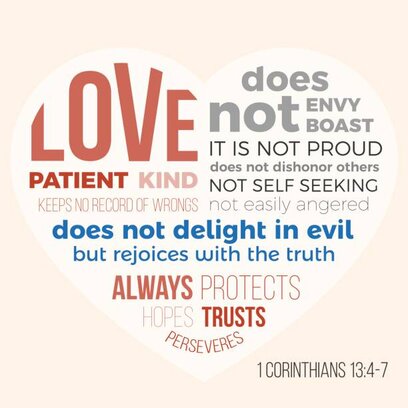 _____________________________
Our address is: 7871 Marion Rd SE, Turner, OR 97392, USA