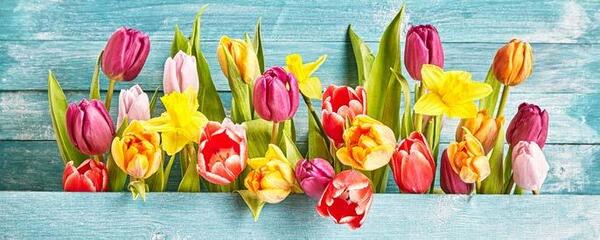 Turner Christian Church
May 2023 Newsletter

"I don't like it when I can't get what I want." This is the new favorite phrase of my four-year-old son. He has reached an age, and a life-situation, where he is realizing how little control he has over his life. He is seeing the gap between what he wants in this world and what he actually gets, and he doesn't like it one bit. And I totally understand. In the past I might have been tempted to write this off as childish ignorance about how the world works--a childish notion that kids just have to get over to live in the real world. After what I've experienced this year, however, I realize that James is not stuck in a childish power struggle with his parents. He is fighting his first battles with his lifelong nemesis: mortality.
That may seem like an extreme interpretation, but let me explain. At our root, human beings are a paradox--we are part angel, part animal. We are dirt formed into the image of God. As Ecclesiastes puts it, "[God has] set eternity in the human heart; yet no one can fathom what God has done from beginning to end." (Ecclesiastes 3:11) We have hearts and minds that can imagine amazing things, but we are stuck in these bodies that have limitations. We can only be in one place at a time. We can only run so fast, jump so high. We have to pause for sleep, for food, for water, for breath. As much as we want to be purely angels, we are stuck in these mortal, material bodies. And we hate it. This is exactly what my son is starting to experience: the limits of his body compared to the freedom of his imagination. He hates being mortal.
James is not being childish when he says, "I don't like it when I can't get what I want." He is speaking for the entire human race, every person in every stage of life, saying out loud what our hearts are feeling all the time. His complaints about bedtime and my complaints about paying taxes are two battles in the same war. His frustration with leaving the playground is the same as my frustration with missing that promotion. Neither of us like it when we can't get what we want.
How can we win this battle with mortality? James' response is to fight for control of his life--to resist every limitation life puts on him. Sometimes that resembles what we might call a "temper tantrum."
And of course the temper tantrum is the very definition of childishness. It is what separates the adults from the children, right? Children lose control and fight against the inevitable, but adults adapt to reality with calm acceptance. Right?
Well, it is true that we try to avoid outright tantrums, but I think that has more to do with pretending we've matured, rather than actually outgrowing our frustration. The truth is we adults are still constantly finding ways to fight against the world, to take what we want, to "win" at life any way we can. We are terrified of losing, of missing out. Our temper tantrums look different: they look like dishonesty in our relationships, corruption in our workplaces, selfishness in our politics, greed in our finances. We are no more accepting of our fate than James, we're just better at hiding it.
But Jesus offers us a better way, the way of resurrection. The first step is the hardest: you have to die. You have to surrender your war with mortality. You have to give up your quest to get "what you want." It is no exaggeration to call this surrender death, because it means giving up on every instinct of self-will and self-preservation you have. But the second step is easier, mainly because we don't have to do it ourselves: you have to be raised from the dead. This week I'm working on a sermon from John 6, in which Jesus says, I am the bread of life. Whoever comes to me will never go hungry, and whoever believes in me will never be thirsty. … All those the Father gives me will come to me, and whoever comes to me I will never drive away. For I have come down from heaven not to do my will but to do the will of him who sent me. And this is the will of him who sent me, that I shall lose none of all those he has given me, but raise them up at the last day. For my Father's will is that everyone who looks to the Son and believes in him shall have eternal life, and I will raise them up at the last day. (John 6:35–40)
As we surrender our lives to Christ--as we give up our quest to get what we want--we entrust our lives to Christ, believing that he will raise us to new life. And that faith, that trust in our future, gives us new life today. It gives us the strength and the reason to live in a different way, freed from the desperation that so often drives us to sin. Romans 6 says, We were therefore buried with him through baptism into death in order that, just as Christ was raised from the dead through the glory of the Father, we too may live a new life.
For if we have been united with him in a death like his, we will certainly also be united with him in a resurrection like his. For we know that our old self was crucified with him so that the body ruled by sin might be done away with, that we should no longer be slaves to sin—because anyone who has died has been set free from sin. (Romans 6:4–7).
When we trust in the resurrection, we are dead to sin―we are immune to its power because we no longer need to win, we no longer need to conquer. We only need to obey God and let him look after our lives.
This is a lesson that takes a lifetime to learn but maybe, if I can model the way of resurrection well enough for my son and daughters, I can give them a good head start.
_____________________________

About Crying!
I know, I know―not the cheeriest subject.
And one that I often hear Christians address with derision: "That solves nothing." "I just wish I wasn't a super-emotional person." "I hate this (crying)."
Brothers and sisters, our own Savior wept for His friend (John 11:35). Can we let that sink in? Our Christ, weeping at the tomb of a man He was about to raise from the dead. If we want to talk about the confusion of emotions, that scene has always done it for me. Jesus knew that Lazarus would be alive again shortly, and yet He is "deeply moved (John 11:39)."
The perfect man. Weeping, with his friend Mary at his feet, also weeping. It's a strange scene for us modern American readers.
In my mid-20s I got into Spanish TV dramas and was shocked by how often the male protagonists were openly, visibly emotional. A different culture, a different set of norms. And yet, I am hesitant to dismiss crying purely as a cultural acceptability.
Revelation seems to indicate that crying is a sign of this world (Revelation 21:4)―something that will not be in the world to come. Not because crying is sinful, but because the world to come will not have the reasons we cry present in it. Outside of those who might use it for manipulation, or for acting―we mainly cry from a deep place of emotion, an overwhelming sense of wrongness, of pain, of injustice or unrighteousness.
We cry over broken relationships, and death, and per-
fect moments ruined, and people being ignored or overlooked. We cry from stress, and sadness, and loss and grief. And even if we cry from happiness―we cry because there is not that level of happiness all the time. It is temporary, or a struggle to hold on to, unlike the endless contentment, peace, and joy of eternity.
Or we don't cry. We've been taught not to, we've been told that tears are gender-specific or that "strong" people don't do that. We've been taught that crying is useless. But Jesus―the perfect man, certainly mentally and emotionally "stronger" than any of us, fully aware that the death of Lazarus was about to be reversed . . . He cried.
Do you cry? If not, why?
Do you dislike when you cry? What would it be like to honor your tears, and recognize them as God-given―an acknowledgement of this sinful world, and a reminder that there is something different to come?
Do you dislike when others cry? What would it look like to meet others in their emotional moments? You can help them acknowledge their grief at our fallen state, and the promise of the presence of Jesus in all of our moments.
Go forth and cry, my friends. And when you do, in whatever scenario, I pray that you see Jesus more clearly because of it.
_____________________________

Hello, church! We can't believe it's already May…Miss Maritza and I both agree that April went by like the blink of an eye. We were able to enjoy our "Spring Is Coming" theme with lots of learning and discovery. One of the things we studied was the life cycle of a butterfly—and we are watching it firsthand! Some little caterpillars arrived by mail a few weeks ago, and our students have diligently observed them as they grew larger and (very recently) became cocoons. We are not patiently waiting for our butterflies to emerge! We also learned about the water cycle, and the students brainstormed all of the many uses for water. It helped that it rained so much this month! Our last focus for the month has been the five senses, which are "superpowers" we are using to find out if spring is coming. On our nature walks, we have tried to find things we can see/hear/smell/taste/touch that communicate the advent of spring. In all our learning, we praise God for designing a world so full of magic and beauty. What a joy it is to observe little humans watching with wonder the Creation around them.
As we transition into the new month, our classroom will become something of a zoo! We are studying animals in May. We will encounter all kinds of creatures from the many different habitats around our planet, from the African safari to the Amazon rainforest! During this month, we will be taking our second day trip as a Preschool group—to the Oregon Zoo in Portland! Parents and students alike are looking forward to this field trip with enthusiasm. Our class mascot is a little stuffed Red Panda, named "Pabu" after an actual Red Panda born in the Oregon Zoo a few years ago. While Pabu is no longer at this zoo, his father is! The preschoolers are excited to meet the "real" Pabu's dad. As we prepare for a busy month of fun and discovery, we pray that God blesses our classroom with joy and laughter. May this last month of our school year be one of silliness and fun.
As always, thank you all for your continued support and prayers as we endeavor to show Christ's love to this wonderful group of students. Maritza and I both agree that we have been truly blessed this year by such sweet children and encouraging parents. As the school year starts to wind down, we find ourselves reflecting on the joy of doing life with these families. We praise God for allowing us opportunities to create and deepen relationships with families as the school year has unfolded. What a beautiful gift!
_____________________________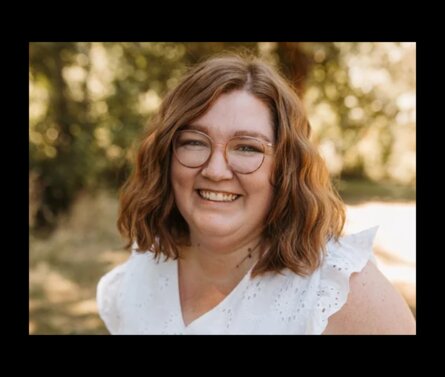 Bethany Robinson
has been hired as the next Director
of Little Lamb Christian Preschool!
Bethany, her husband Steven and their three daughters (Evelyn, Myra Josie) are longtime members of TCC. Bethany will begin serving as Director in July, 2023.
_____________________________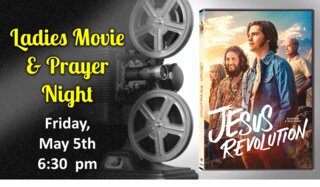 All Ladies Are Invited
To An Evening of Fun, Fellowship and Prayer!
We will watch "Jesus Revolution" – the story of Greg Laurie, (Joel Courtney) founder of Harvest Christian Fellowship. Told through the lens of the Jesus movement that swept the United States in the early 1970s, the film centers on two people who helped usher that movement in: Calvary Chapel Pastor Chuck Smith (Kelsey Grammer) and his protégé, Lonnie Frisbee (Jonathan Roumie).
After the movie we will share in a time of prayer for our church and community. Invite a friend to come with you and bring a snack to share!
_____________________________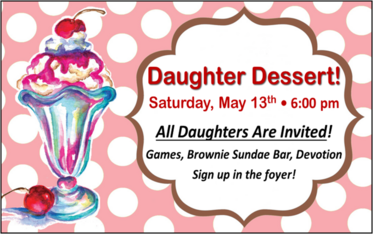 _____________________________

Kathy Ham
graduates from George Fox University, Portland Seminary, with a Doctorate in Ministry (Leadership & Spiritual Formation) on May 4th.
Kathy and Keith serve as missionaries in Kenya and are supported by the TCC congregation. Her address is: PO Box 486, Pacific City, OR 97135.
_____________________________


The LIFE AND LEGACY OF WILLIAM McKINNEY
A presentation sponsored by
Turner Area Historical Society
(Yesterday In Turner)
Everyone is invited to a attend a presentation by Patti Russell the author of a recently published book focused on the life of the early pioneer McKinney family who arrived in the Turner area in the late 1840s. The book features detailed information not only about the McKinney family but also about the descendants of the McKinneys, many of whom still reside in the Willamette
Valley. The book will be available for purchase.
The program will begin at 6:30 pm Friday May 19th, at Turner Christian Church. There is no admission fee. Light refreshments will be available but no child care will be provided. Contact Diana Maul (503-743-3639) or Gary Tiffin (503-871-4776) for further information.
_____________________________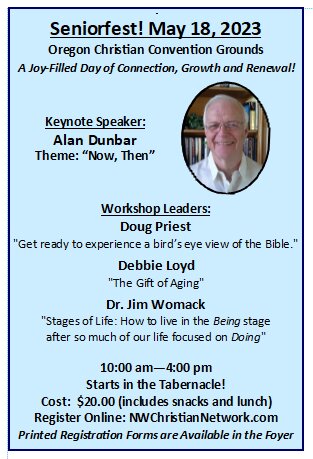 _____________________________

Would you like to be involved in VBS this year? We would love to get you plugged in! There are options to be involved in VBS prep, set-up, group times and activities, and tear-down.
We have jobs where you would get to participate the entire morning, and jobs that would take about an hour.
If you have any interest in getting involved,
please stick around after church on Sunday, May 21,
for a quick information meeting.
_____________________________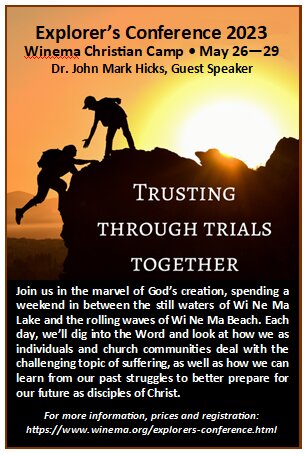 _____________________________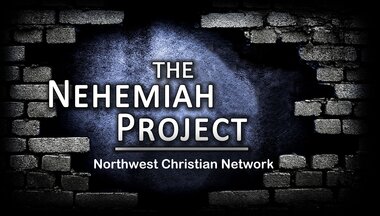 The Nehemiah Project is a work and witness weekend. It's based on how the Israelites, under the direction of Nehemiah, rebuilt the wall around Jerusalem. Nehemiah said "Let us rise up and build" and they set their hands to do this good work." That's exactly what happens during the Nehemiah Project. Projects are lined out for all ages and skill levels. All ages work together on projects for three great days of relationship building. You will be blessed as you spend time making a difference at the Nehemiah project!
Everyone who has a "mind to work" is invited to come and stay on the grounds Friday, Saturday and Sunday, May 19-12. Each day we share meals together, work together and worship together. God always does something amazing as we spend these sharing with each other in work and worship.
If you would like to take part in Nehemiah Project 2023 please email info@nwchristiannetwork.com You can come for any part of the event. Please indicate if you would like to stay on the grounds and which days you will be attending. All meals and housing are free.
_____________________________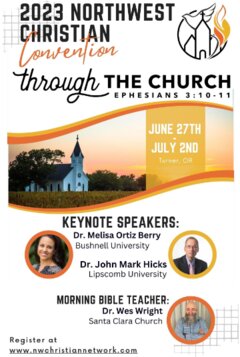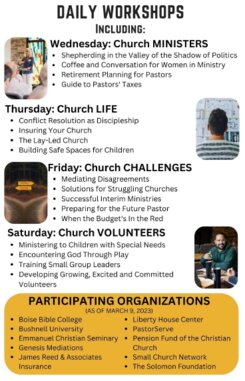 _____________________________

Hello Turner Friends and Neighbors,
Around the Garden we are busily preparing not only for our upcoming planting season, but we are extremely happy to be working on getting ready for our 100th anniversary of the Turner Flower Club Commemorative Flower Show at the annual Marion County Lamb and Wool Show in Turner on June 3, 2023!
We hope to see lots of enthusiasts join us in celebrating the history of this vital group who brought beauty to the street corners of Turner beginning in 1923 and continually through the 1990's. It has been our pleasure here at the Garden to be entrusted with carrying on this legacy of care for our local hometown gardening community.
Our flower show group will join in the parade as well as present a garden table in the school gym with the Lamb Show offering. We are asking all our friends in the local community to join us by considering making a bouquet entry into our flower show. It can be cut flower bud or bloom bouquets as well as succulent or flower pot offerings! And we will have awards for each age level within each category, so get growing and join us Saturday, June 3rd at the Show!
For more information, follow us on Facebook @ Turner Community Garden & Turner Garden and Flower Club.
-Lorie Bays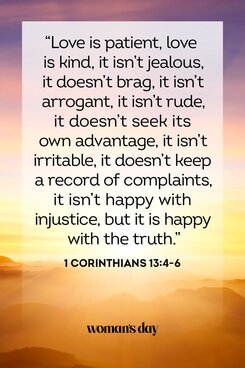 Our address is: 7871 Marion Rd SE, Turner, OR 97392, USA