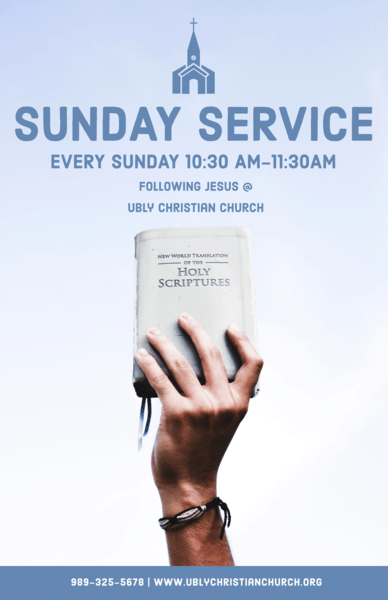 March 2020 Newsletter
Established since January 2018 Austin Keller, Lead Minister Contact Us Phone: (989) 325-5678 Mail: P.O. 76 Ubly, MI 48475 Email: ublychurch@gmail.com
New Sermon Series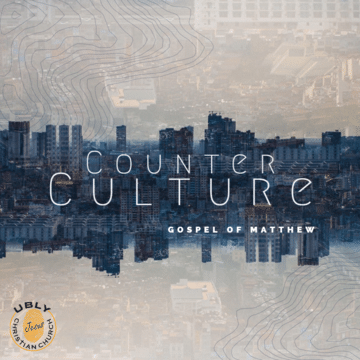 This month, Ubly Christian will be launching a new eight-week series from the Gospel of Matthew called "Counter Culture." In this series, God's citizens draw a line in the sand where to stand on crucial hot topic issues such as the value of life, sexual ethics, economics, and violence.
As the world shifts in their value and identity, Believers are to remain active in the culture founded by Jesus Christ. Join us and learn how to overcome the changing culture of today for the everlasting culture of the kingdom.
Students Youth Group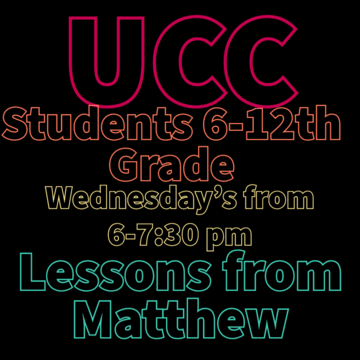 All Jr. High & High School students are invited to join us at Betty Bensinger's house in Ubly. Come & experience worship, unique & challenging games, tasty snacks, and a great community of Christ followers.
Wednesday Nights from 6-7:30pm
Meet us @ 1969 Main Street, Ubly, MI 48475
Thursday Nights Small Group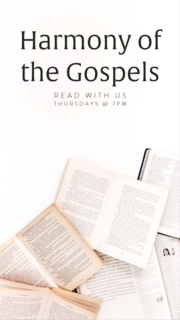 When listening to music, the best songs have a catchy chorus, great lyrics, and jamming instruments playing in the background. The same goes for the harmony of the Gospels. When read together, we get the broadest picture of what Jesus is doing in our broken world.
Join us Thursday nights at the Sleeper Public Library to unpack the story of God breaking into our world and redeeming humanity, led by Jedediah McCollough.
Tuesday Morning Ladies Group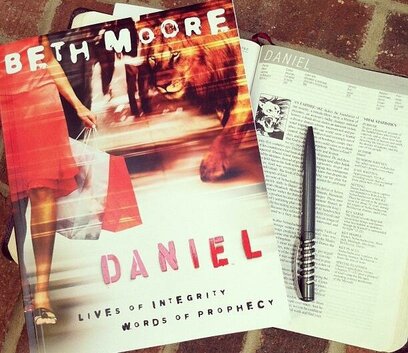 Beth Moore will guide us through the book of Daniel. Join us as we learn more about relevant living for today and the prophetic words of Daniel. All ladies of all ages welcome! Meet them at Ubly Sleeper Public Library @ 10am- noon every Tuesday.
People Serving This Month:
Morning Devotion:
3/1 Mike Zmierski
3/8 Michael Daskam
3/15 Carl Keller
3/22 Ken Peters
3/29 Craig Maurer
Closing Prayer:
3/1 Mark Zmierski
3/8 Abigail Deering
3/15 Jedediah McCollough
3/22 Moses Garner
3/29 Thomas Mittlestat
Communion Prep:
3/1 Peggy Decker
3/8 Lynette Coon & Sharon Binder
3/15 Tiffany Tenbusch
3/22 Kayla Zmierski
3/29 Kerry Brown
Greeters:
3/1 Jerry & Sandy Peplinski
3/8 Sharon Binder
3/15 Mike & Mark Zmierski
3/22 Travis & Tiffany Tenbusch
3/29 Carl & Linda Keller
Ushers: Floyd Tenbusch, Mark Zmierski,
Travis Tenbusch, Jerry Peplinski,
others as needed
Facts and Figures for the Past Month
Weekly offering average (to date): $1,114.30
Attendance average (to date): 55
UCC Board Meeting
Open board meeting on March 29th at 7 pm at Ubly Heights. If you would like to receive copies of last months minutes please talk to Becky Zmierski. We hope you'll join us and help touch more lives in the thumb of Michigan.
Good Friday and Easter
Special Holiday services at Ubly Christian for Good Friday and Easter. Save the dates for April 10th, Good Friday service starting at 1 pm and Easter service, April 13th starting at 10:30 am. We hope to see you there.
Placing the fingerprint of Jesus on the Thumb of Michigan!
Our address is: 2409 E Atwater Rd, Ubly, MI 48475, USA