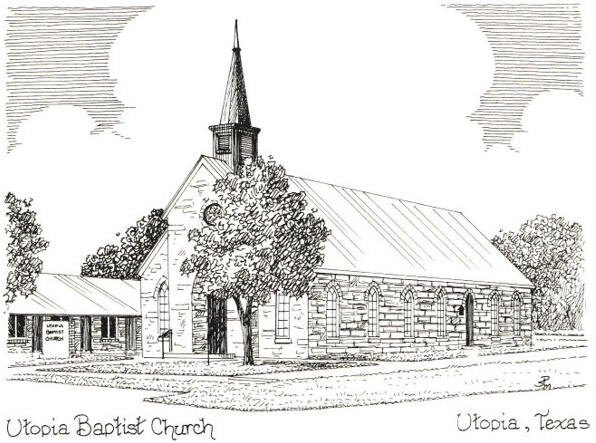 Utopia Baptist Church
20210203pm Wednesday
Prayer Meeting & Bible Study 02/03/2021
How often do you read the Bible?

Daily
Twice a Week
Once a Month
Sometimes
Prayer List Feb 3, 2021
Utopia Baptist Church's Prayers
Scheduled
FEBRUARY 6, 2021
2 - That God will undeniably reveal himself to His people. AND that He would use us to do so.
Notes: Brittany A.
JT
3 - Utopia Schools
Notes: Pray for our administrators, teachers, staff, children, and parents! We are all in need of Divine direction.
Adam Sandifer
Notes: From Rodney Hill:
I have a nephew Adam Sandifer who is diagnosed with cancer. Doctors said nothing they can do for this very young man. Please pray for him and his family. He knows one day he will see his Mother in heaven but he's fighting to stay here for his 7 year old daughter.
Update 01-27-21
Please continue prayer he is home recovering he has cancer and that was 13th surgery.
Anna & Sergio - Families
Notes: Please pray for the families of Anna & Sergio. Their loss will affect many.
Branson - Susie B grandson
Notes: this is
for Susie Barnet's grandson
Branson has been admitted to the Hospital for 2 reason!!
Today Ambulance was called to the school cause Branson was confused and unsure of who he was and where he was and couldn't answer any questions when he was ask snd seemed Drug up!!
Branson in a short period of time at nurse office cont to get worse very fatigue and weakness in his legs and able to walk!! EMT and fire Dept check him out and was stable enough to be taken by Car to the hospital!
Toxic screen came back Negative and labs are normal and CT scan normal but Tested positive for COVID!
Other then the event happening at school today Branson is Non-symptomatic no fever no sore throat no headaches -yesterday was doing fine eating and sleeping!
However Branson is unable to answer Question and is having delayed response to everything ask to him! He rolling him eyes back so now we pending a Brain MRI because of? Seizures!
They did a Spinal tap also pending results!
ER doctor snd Hospitalist pediatrician are unsure if events happening with Confusion and unable to answer questions are a separate issue or CoVID related!
In COVID - contact frame they are asking is last 5 days putting ? Exposure The 14th on Thursday which is home and school! Unsure!
No one else is showing any Symptoms at home! Everyone is non-symptomatic - no fevers no sore throat no headaches no fatigue no unusual behavior like Branson is having today!! However everyone in my household has to quarantine for the next 14 days and will be tested with a nasal swab by my office!
Please Pray for Branson! Unsure what is going on!
Currently has a IV, heart monitor and watching his Respiratory status! All stable at this time!!
Update this afternoon - Susie was able to facetime with Branson. Branson still needs prayers! (So does Susie)
Update 02-02-21
He is recovering. The dr's are going to wait until after he is done with COVID to continue to understand the reasons for siezures.
Brent McC
Notes: He is trying to get treatments, but he has to come off medicine so that Dr's can get information. The goal is long-term improvement, but in the short term Brent may be facing some difficult times. Pray for his wife and children. Pray for Dr's, nurses, treatments, and answers. Pray for healing.
UPDATE 11-11-2020
Brent is feeling better than he has in a while. He is on a very low dose of medicine. There is still concern about winter and travel. His daughter made it through procedure well.
Carlton - Jovonne family friend
Notes: Jovonne called and said Carlton has COVID. Please pray for Carlton and his health.
JP, Carlton's dad was a friend of the Calks. Jp had double pneumonia and COVID. JP passed Monday morning. Please pray for Carlton as he maneuvers all things related.
Carlton seems to be better from COVID, but please continue prayers as he navigates his loss.
Churches Nationwide
Notes: As COVID has affected the world, COVID has really affected churches. Our prayer would be that God is honored in all churches - even in the times of change. We pray His kingdom come, and His will be done - in each person and church - as it is in heaven.
Clayton Neighbors
Notes: Kelly L's friend, Clayton is experiencing heart trouble. He is in hospital in SA. He is a bass for God's Scrap Iron.
David Hillis
Notes: He had shingles on his head. The shingles moved to his brain. He has experienced sever negative effects. Please pray for recovery. Please pray that God moves in this situation.
Update 01-20-21
He has a few weeks of recovery still to go.
Dr Gary Manning
Notes: Jan 15, 2021
Gary has Covid-19. He started getting a fever, cough and feeling bad on Wednesday evening. He was tested yesterday afternoon at our doctor's office. He is getting an antibody infusion this afternoon in SA.
His wife's name is Paulette and is Sandy D's cousin.
Update on Dr Gary M.
Gary M is better but had to go to ER a few nights ago. Evidently Covid meds caused him to have a pancreatitis attack.
Paulette has
covid now but they are doing ok. she went and had an antibody infusion. also
From Sandy D.
Elvie Duke
Notes: Elvie Duke & Rip
She will be having shoulder surgery - rotator cuff -next month. (February 18) She has been having pain in her neck and shoulder. Please pray for her comfort, the surgery, and the recovery. Please pray for Rip as he cares for her during this time.
Geneva B
Notes: Ms. Geneva (friend of the McCarty's) experienced high blood pressure. She went to hospital. She is supposed to have a stress test or angiogram done. Pray for her, the caretakers, and the doctors.
UPDATE: She is having angiogram 2-5-21
Jerry B's Brother
Notes: 01-23-21
Jerry's brother had a heart attack
Last night, they had to shock him
In the ambulance
He is in ICU , he needs open heart surgery , not sure what they are going to do
Please pray for him and his wife Linda
He had surgery. Quadruple bypass
Update 02-02-21
He is continuing recovery and doing well.
Joe Paul Rainey
Notes: 01-20-2021
His alternator went out on his truck. He started walking to get help, and he fell down and hit his head. He laid in the ditch on the side of the road all night in the cold and rain until someone found him about 8am the next morning. He was taken to Uvalde and then to SA. He is in Methodist Hospital.
John & Tommy
Notes: Tommy has Covid
John Dale Chaney - Family
Notes: From Jacque OBryant Chaney on Fb
I wanted to let those of you who knew John Dale, my brother-in-law, know that he passed away yesterday at home. He had pneumonia in January and was beginning to struggle with his breathing. He will be missed by many.
Johnny Webb
Notes: Went in for procedure on his ear. At some point, his heart quit beating? He was revived . He went home? He still has to have his ear worked on.
UPDATE 09-23-2020
Still testing on Johnny's ear. They are waiting on results. They need to meet with DR again. He may be looking at another surgery, but it is a lengthy surgery, and they are trying to weigh options. There are multiple things they are trying to balance and are asking for our support in prayer.
Update 10-07-2020
Jerry B talked with him , and he told Jerry that he was fine. Keep praying for Johnny and Nancy.
Update 10-14-2020
Johnny had a heart cath and 2 stints - everything is ok. He will go Friday to get a port so they can treat with therapy. He will receive 1 treatment every 3 weeks for 9 weeks.
Kathy Cumby
Notes: COVID, pneumonia, pleurisy. She has been sick since the middle of December.
Update:
Kathy had Dr appt recently. He said he could see air in her lungs! He also said that most people who are that sick usually end up in the hospital. Please continue prayer
Laura Holder
Notes: 01-18-2021
Would you add to the prayer list Laura Holder who has COVID and is getting worse and her mother, Virginia Brady, who is in the hospital with Covid pneumonia. From Evelyn
Update 01-25-21
Laura is better. Laura's mom is still struggling with breathing. Her labs are getting better. They have put her on insulin because of the medications.
Lee & Kelly S
Notes: Kelly has not been feeling well. (tummy trouble) She has since started feeling better. Lee has recently started having tummy trouble, also. Lee is also feeling a little better.
McCarty house
Notes: Pray that the house in Monahans sells.
Perry Calk - Family
Notes: January 31, 2021
Ms. Jovonne just called. She said Perry Calk has just passed. Please keep Jana and Editha and all their family in prayer. Keep Jovonne in prayer, as well.
Rebecca Taylor - 17 y.o. now. 7 when this started.
Notes: Please pray for her and her family. She has faced many health issues. She continues.
Update 01-20-2021
KEEP PRAYING FOR REBECCA AND HER FAMILY. God has done some amazing things! Keep praying for them.
Rodney H family
Notes: Rodney lost a beloved pet this week.
Susie B
Notes: She is experiencing severe leg and hip pain. She has had a couple doctor appointments. They were awaiting info and plan of treatment.
UPDATE:
She is still in pain. Jerry is taking care of her. They have had Dr appt's and scans. They are trying to decide plan of treatment.
Please pray for Jerry and Susie's health in general. They both have had a go of it lately.
Tim & Diana Pfieffer
Notes: Diana is in CA still engaged in battle with cancer. Please pray for them.
Todd
Notes: From Rodney H.
Todd ( also my cousin had brain cancer tumor surgery yesterday. Was supposed to be 3 hour surgery lasted 16 hours. I'm ICU has bleeding and doctor sure it was malignant. Diagnosed on a headache visit to doctor last Thursday. Todd is intubated in ICU and we hope we get thru this and to chemo one day. He is a Captain on Ft Worth police department and in his late 40's great awesome christian man
Tom Power
Notes: Kelly L. reported that he was in Methodist hospital.
Trisha
Notes: My friend Tricia who had a liver transplant a few months ago is back in the hospital. Her body may be trying to reject the new liver. They have done a biopsy but do not have results yet. She is a young lady with husband and one child in elementary school.
This is from Sandy Duke
FEBRUARY 7, 2021
1 - That You transform us to be whom You have created us to be as we prayerfully worship You in seeking, sharing, and serving Your kingdom and righteousness.
Exported from Logos Bible Software, 1:41 PM February 5, 2021.