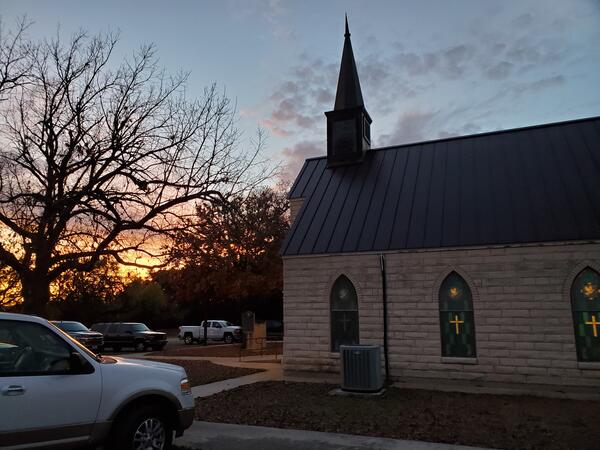 Construction & Updates
We have construction going on!!! God is doing great things at UBC. The estimate is around 60 days for interior construction, electricity, lighting, and sound.
The concrete work is wonderful! It looks great and functions extraordinarily well.
We must remember that as God blesses us, which He has done so wonderfully and continues to do, we are to be a blessing to others. All of the great things God is doing with UBC is for us AND our community - for His kingdom and His glory! It is so exciting that God is working here, with you and with us all! We are eagerly anticipating His moving in our hearts, minds, and lives into our community.
Business Meeting Wednesday August 12, 2020
There are three important items regarding this month's business meeting:
We will be announcing deacon election unto ordination - this will start the process of new deacon election/ selection for UBC. This process will continue for months.
We will be discussing/ electing a decorating committee - this will likely be a temporary committee that will last a while. This committee will make recommendations in regards to paint, color schemes, etc... of things being affected by construction (this may possibly extend to carpet and pew cushions).
We will elect members to the Constitution & Bylaws review Committee. This committee has been suggested for 5 members. If you or someone you think would be a great candidate and would serve well on this committee, please bring your list for nominations to the meeting Wednesday.
Above all, be in prayer for all these things. Be in prayer for the life and excitement that God is providing to UBC. Pray that God continues equipping and strengthening our body - that He transforms our hearts, minds, attitudes, and desires to be more like His - as we prayerfully seek, share, and serve His kingdom and His righteousness in our selves, with our church, and to our community.
Utopia Baptist on Faithlife
Utopia Baptist Church is currently using a mobile app and website through Faithlife. This mobile app is invaluable for prayer list and updates, so far. There is capability for communication in every aspect of UBC. (It is kinda like Facebook, but only for our church)
If you are interested in this electronic communication platform - it also includes Faithlife TV, Logos, Bible reading plans, group prayer list, a directory, and more - send an email to utopiabaptistchurch@gmail.com to let us know your interest. We will send a return email invitation.
We have a website that we are testing through Faithlife, as well. That website address is utopiabaptist.faithlifesites.com . This website hosts live streaming and has been pretty reliable, so far. One of the great aspects of the website and the app is the calendar that is available.
Check it out. See what you think. Your feedback will help us to move forward.
Utopia Baptist Prayer list - currently
Seeking Him - above all else, Sharing Him - and all His blessings, Serving Him - to and through the body
Our address is: 241 E Johnson St, Utopia, TX 78884, USA