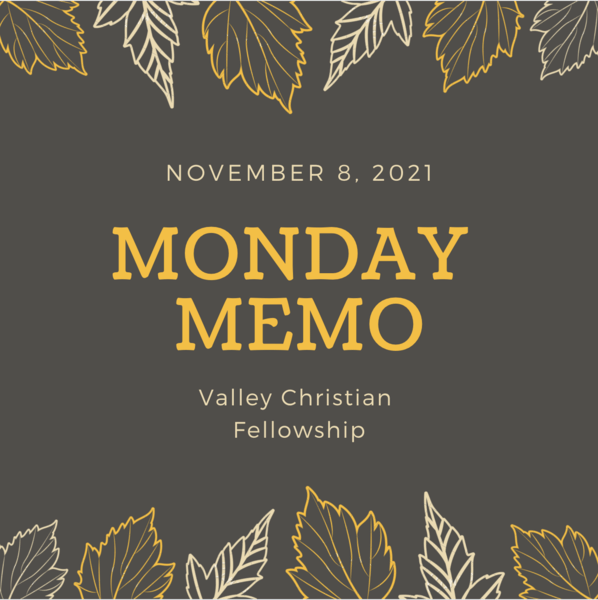 Monday Memo
November 8, 2021
Weekend Recap
Hey Valley!
I am praying this morning for our church family, that as we pursue devotion to God, we grow in discernment from God's Word.
While words like "discernment" and "prophecy" can be a bit intimidating, this past weekend we wrestled with these ideas and how the Scripture instructs believers to think about them and how to test any teaching we come across. I encourage you to bookmark this weekend's message so you can have a quick reference point as you listen to sermons, podcasts, or even songs. The message can be found here and the sermon notes are here. The youtube message is actually Saturday night's and in that sermon, I did not get to the clear application. I am including that below for you also.
Application for growing in discernment:
Read the Word! This may mean listening to an audio book or reading. It could be following the VCF Reading plan or just reading a few verses every day. The goal is daily, consistent intake. If you need help figuring out where to start let me know.
Listen to the Word! Some puritans considered listening to a solid sermon for an hour more beneficial than reading for an hour on your own. The idea is that you can grow a ton when you have someone a bit further down the road who can show you truths from the Scripture. You may want to relisten to the Valley sermon each week instead of listening to music during some of your commutes. Or you can ask about other solid preachers who rightly handle God's Word.
Think about the Word! My hope is you learn how to test as you think about what people teach. That in time you can see when someone is straying from the Scripture or even twisting it.
As for life around Valley, here are a few final notes:
Please keep Randy Adams in your prayers as he recovers from the pulmonary embolism he suffered on Saturday. He is the Executive Director of the Northwest Baptist Convention and a friend of Valley. You may remember him from this past spring when he preached on "Transformation in Tragedy" from John 16:33.
This coming Sunday (Nov 14th, 5:30 pm) is our annual meeting. We are going to answer the question, "How is Valley doing?" and present next. year's budget. I hope to see you there as we celebrate what God is doing and prepare for the future together.
Also, Friday, Nov 19th we have a great Thanksgiving meal planned. You can find the details here including the breakdown of what each family can bring to share!
Loving People Toward Jesus,
Pastor Mike
VCF Podcast: New Episode "Can we trust the Bible?"
Nov 8 Dan 12–Hos 1 & Heb 11
Nov 9 Hos 2–3 & Heb 12
Nov 10 Hos 4–5 & Heb 13
Nov 11 Hos 6–7 & 2 Tim 1
Nov 12 Hos 8 & 2 Tim 2
Do not despise prophecies, but test everything; hold fast what is good. Abstain from every form of evil. 1 Thessalonians 5:20–22
Upcoming Events
Download
Sunday, November 14th  •  5:30–7:00 pm
Download
Come for a meal of Thankfulness as we gather as a family for our Annual Thanksgiving Potluck. Friday November 19th from 6:30 to 8:30.
Valley will provide the Turkeys, Hams, and Refreshments, all other food will be assigned by the last name. Please bring enough of your assigned food for double your family (Please know that if bringing food is an obstacle for you, you and your family are more than welcome to come without bringing anything. This is about gathering as a family).
Please see the food assignments below and let us know what you are bringing in the comments when you RSVP.
Desserts: A - E
Salad, Fruit or Vegetable: F - J
Potatoes and Gravy : K - 0
Casseroles: P - T
Breads/Rolls: U - Z
(If you want to make a dessert along with your assigned item, you are more than welcome to)
Friday, November 19th  •  6:30–8:30 pm
1 Thessalonians 5:20–22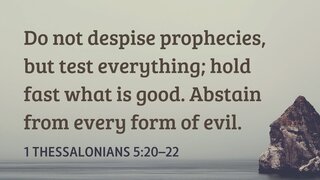 Do not despise prophecies, but test everything; hold fast what is good. Abstain from every form of evil. 1 Thessalonians 5:20–22
Our address is: 2911 Pacific Way, Longview, WA 98632, USA