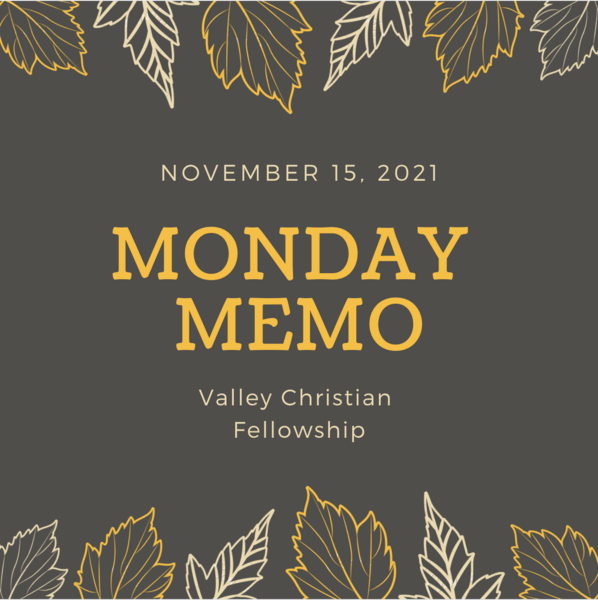 Monday Memo: Nov 15, 2021
Weekend Recap
Hey Valley!
I am having another morning of simply giving thanks to God for this past weekend.
First of all, we concluded our "On Track" series by finishing the book of 1 Thessalonians. The text reminds us not only to live in grace but that "God will see you to the finish line of faith." His faithfulness is worthy of remembering, rejoicing in, and resting in all day every day. You can find this weekend's message and the whole series here. Also, notes for this weekend are right here.
Also, this past weekend we had our church "business meeting" which was more of a family meeting. While there have been some challenges over the last 19 months, it was wonderful to hear about all the amazing things God is doing around Valley.
Coming up next is our Thanksgiving Feast this Friday evening! You can find info and RSVP here.
-------------------------
Also, starting last week, I began sending this message to you through both this email list and our new Faithlife platform. Come the first of the year, I will be sending this update only through our new Faithlife platform. If you want to continue to receive the Monday Memo, first, check to see if you find 2 versions of this in your inbox. If so, you are good and do not need to do anything else. If not, email me back and we can make sure you are signed up for future communication.
-------------------------
Loving People Toward Jesus,
Pastor Mike
VCF Podcast: New Episode ""
Nov 15 Hos 9–10 & 2 Tim 3
Nov 16 Hos 11–12 & 2 Tim 4
Nov 17 Hos 13–14 & 2 Pet 1
Nov 18 Joel 1 & 2 Pet 2
Nov 19 Joel 2-3 & 2 Pet 3
He who calls you is faithful; he will surely do it. 1 Thessalonians 5:24
Upcoming Events
Download
Come for a meal of Thankfulness as we gather as a family for our Annual Thanksgiving Potluck. Friday November 19th from 6:30 to 8:30.
Valley will provide the Turkeys, Hams, and Refreshments, all other food will be assigned by the last name. Please bring enough of your assigned food for double your family (Please know that if bringing food is an obstacle for you, you and your family are more than welcome to come without bringing anything. This is about gathering as a family).
Please see the food assignments below and let us know what you are bringing in the comments when you RSVP.
Desserts: A - E
Salad, Fruit or Vegetable: F - J
Potatoes and Gravy : K - 0
Casseroles: P - T
Breads/Rolls: U - Z
(If you want to make a dessert along with your assigned item, you are more than welcome to)
Friday, November 19th  •  6:30–8:30 pm
Download
Sunday, December 5th  •  12:30–2:30 pm
Memory Verse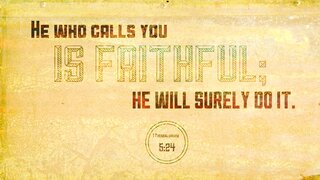 "He who calls you is faithful; He will surely do it." Thessalonians 5:24
Our address is: 2911 Pacific Way, Longview, WA 98632, USA