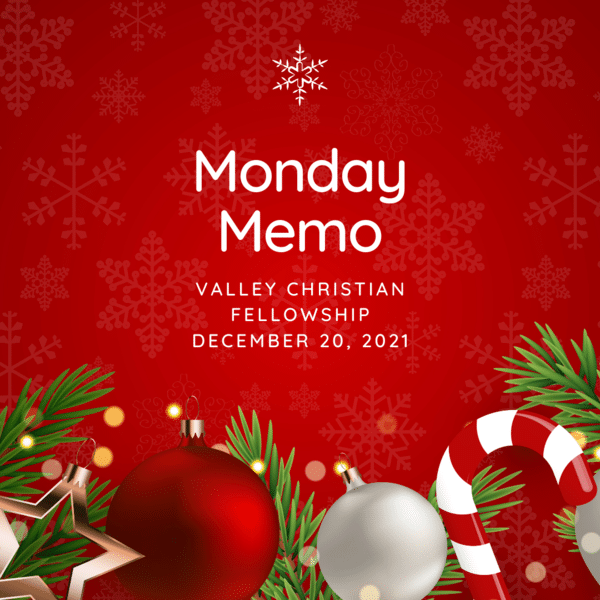 Monday Memo
December 20, 2021
Weekend Recap
Hey Valley!
It is sure great to be back, and even more, it is so great to remember together how Jesus is the way the truth and the life. This weekend I hope you were able to join us or catch the service online and hear what it means to call Jesus the "Key of David." If you want to listen again, you can find the sermon here and the service notes here.
This week our major focus is Valley's Christmas Eve services. They will happen at 5 pm, 7 pm and 11 pm on Christmas Eve and I am so eager to celebrate with you. Remember you can invite friends and even rsvp for any service by going to www.vcflongview.org/christmaseve
I also want to give you a bit of a preview for the New Year. Starting in 2022 we will be preaching through Geneses 37-50 and looking at the life of Joseph. There is so much to learn from his amazing life of faith. Additionally, later this week I will be sending a link to the 2022 VCF Bible reading plan. I hope you will join us in a steady diet of Scripture this coming year!
Loving People Toward Jesus,
Pastor Mike
VCF Podcast:
Upcoming Events
Download
Friday, December 24th  •  5–6 pm
Download
Friday, December 24th  •  7–8 pm
Download
Friday, December 24th, 11 pm – Saturday, December 25th, 12 am
Weekly Bible Reading
Dec 20 Zech 5-6 & Rev 14
Dec 21 Zech 7 & Rev 15
Dec 22 Zech 8 & Rev 16
Dec 23 Zech 9 & Rev 17
Dec 24 Zech 10 & Rev 18
Revelation 3:7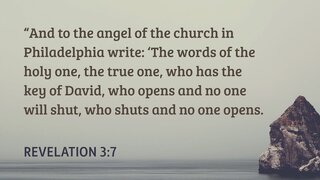 "And to the angel of the church in Philadelphia write: 'The words of the holy one, the true one, who has the key of David, who opens and no one will shut, who shuts and no one opens.
Our address is: 2911 Pacific Way, Longview, WA 98632, USA